Combinations of chocolate and coconut hardly go unnoticed around here, so when I saw this recipe for Dark Chocolate Banana Bread (with Coconut) from Tasty Kitchen members Chrissy and Lauren, I just had to try it. I had to. The line between "need" and "want" gets kind of blurred when chocolate is involved. And dark chocolate in moderation can be a healthy thing, don't cha know?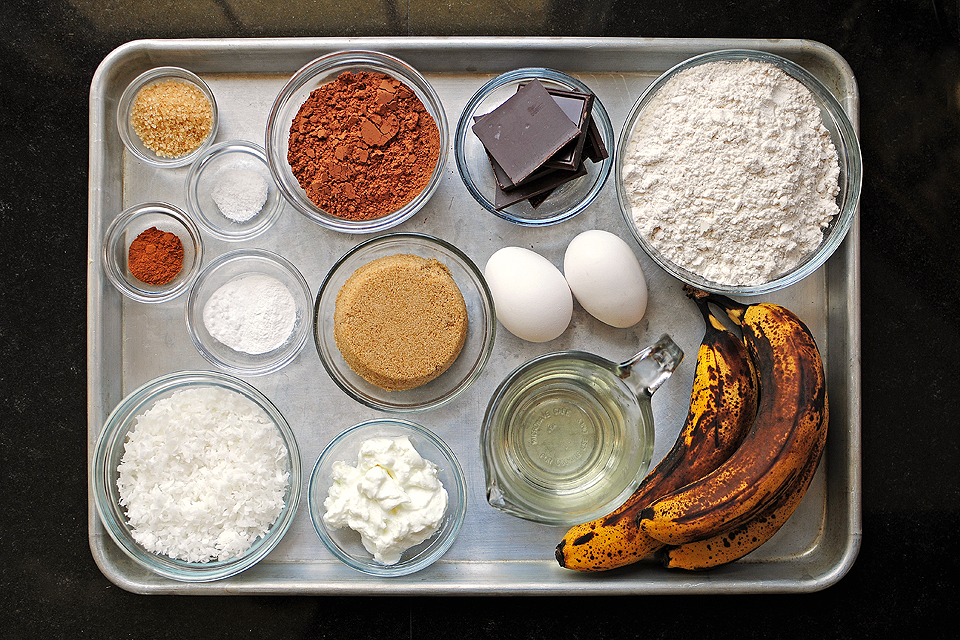 Overall this bread may look sinful, but considering the list of ingredients, it's on the healthier side: dark chocolate, flour, cocoa powder, baking powder, baking soda, salt, cinnamon, eggs, brown sugar, Greek yogurt, coconut oil, overripe bananas, shredded coconut, and a little turbinado sugar.
(Just so you know, I made a couple of substitutions using what I had on hand: all-purpose white flour instead of whole wheat, and sweetened shredded coconut for the unsweetened coconut.)
Begin by preheating your oven to 350°F and preparing a 9x5x3″ (or thereabouts) baking pan.
Chop the dark chocolate. Don't eat any! The cake needs it.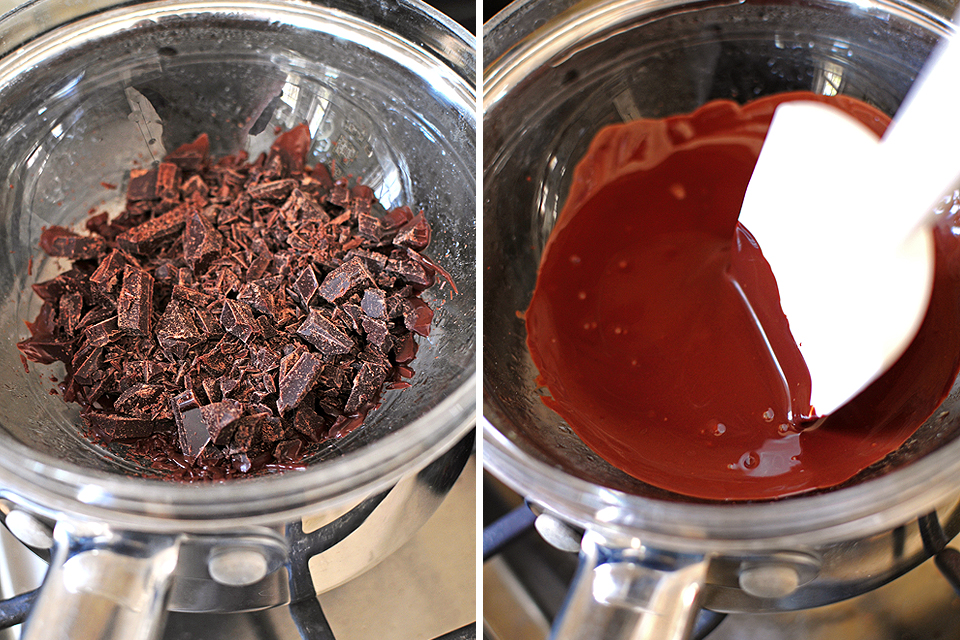 In a double boiler or in the microwave, melt the dark chocolate and set aside.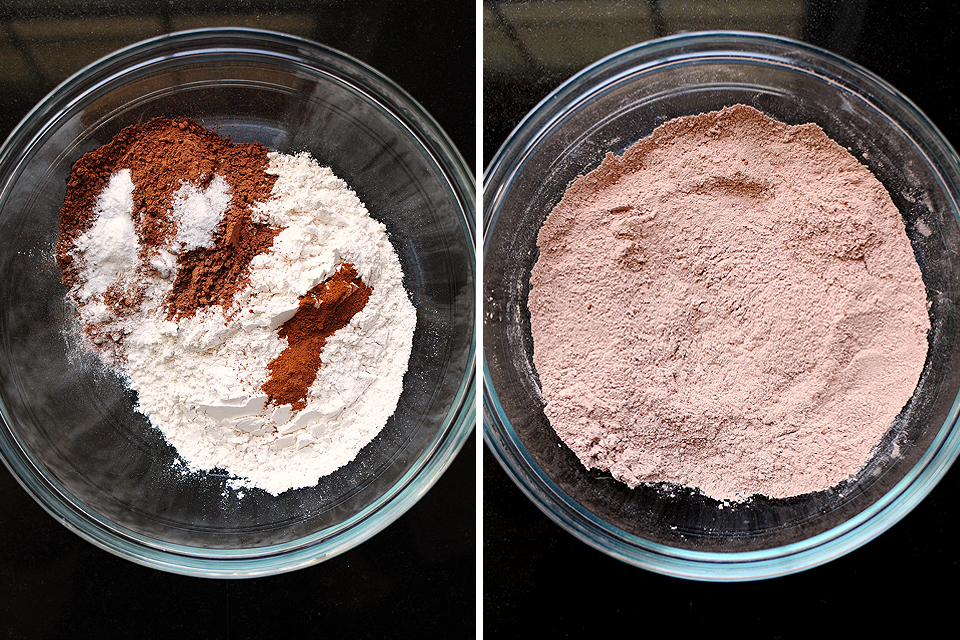 Sift together the flour, cocoa powder, baking powder, baking soda, salt and cinnamon. Set aside. (Shhh … don't tell anyone, but I just whisked mine altogether. My sifter is wonky and leaks all over the place. Whisking worked just lovely for me.)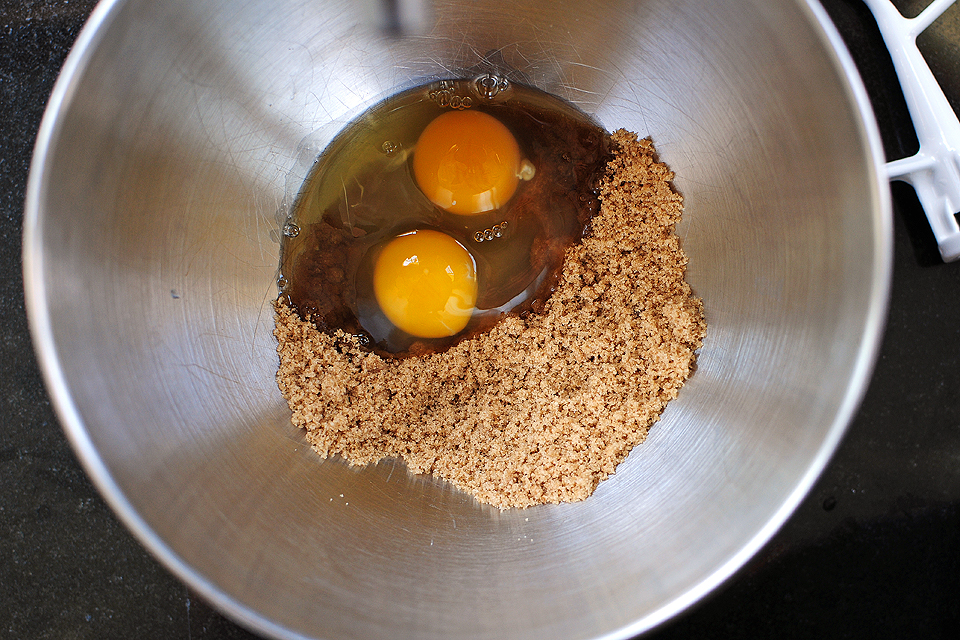 Add the eggs and brown sugar to a large mixing bowl, and beat them together on medium speed.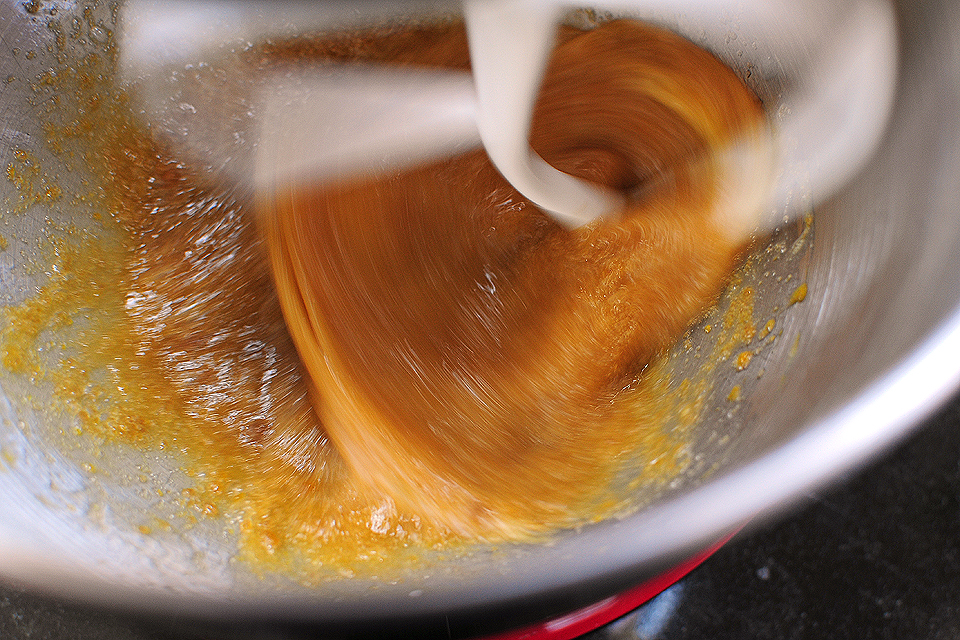 Look, an action shot! Beat for about 30 seconds.
The Greek yogurt, coconut oil, and mashed bananas go in next for a little mixing.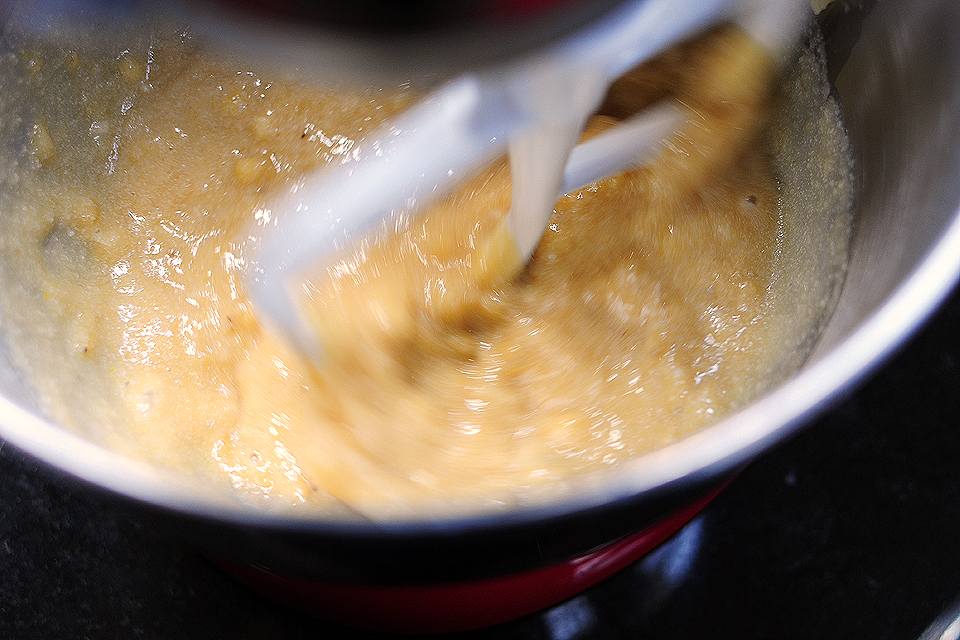 More action! Mix until well combined.
On a low setting, gradually add in the flour mixture.
Mix until just incorporated. Nice.
Fold in the shredded coconut.
(Again, I used sweetened shredded coconut instead of the unsweetened called for in the recipe. I liked it with the added sweetness and didn't feel it was overly sweet.)
Evenly spread the batter in the prepared baking pan.
Now for the healthy melted dark chocolate. Pour the melted chocolate over the batter.
To swirl in the melted chocolate, drag a knife back and forth several times through the batter. Can you say "yum?"
Sprinkle the top with more shredded coconut and the turbinado sugar.
Bake until done (see recipe below for bake times). Notice the toasted coconut? Toasted coconut is one of the most delectable things ever. I could eat it as a snack. It's lovely on this bread, but be careful to avoid burning the coconut while baking. If needed, loosely cover the top with foil the slow the toasting.
This bread turned out wonderfully. It was so gorgeous I hated to cut it. But I did anyway.
I'll be making this one again soon. Maybe in muffin form next time.
Thank you so much to the Chrissy and Lauren for sharing this new favorite with me and my family. Check out other wonderfulness over at their site: From the Little Yellow Kitchen.
Printable Recipe
See post on LittleYellowKitchen's site!
Description
The best version of banana bread out there! The dark chocolate swirls and yummy coconut flavor make for the perfect complements to a classic.
Ingredients
3 ounces, weight Dark Chocolate
1-¾ cup White Whole Wheat Flour
½ cups Cocoa Powder, Unsweetened
1 teaspoon Baking Powder
¾ teaspoons Baking Soda
¼ teaspoons Salt
½ teaspoons Cinnamon
2 whole Large Eggs
½ cups Packed Brown Sugar
⅓ cups Greek Yogurt
⅓ cups Coconut Oil, Melted/liquid
3 whole Medium Overripe Bananas, Peeled And Mashed (3 Should Yield About 1 1/2 Cups)
¾ cups Shredded Coconut, Unsweetened, Plus 3 Tablespoons More For The Top
1 Tablespoon Turbinado Sugar, For The Top
Preparation Instructions
Preheat oven to 350 F. Lightly grease a 9x5x3 pan.
Finely chop the chocolate and melt it in the top of a double-boiler or in the microwave in 30 second increments, stirring in between each increment and continuing until melted. Set the melted chocolate aside.
In a medium bowl, sift the flour, cocoa powder, baking powder, baking soda, salt, and cinnamon; set aside.
In the bowl of your stand mixer, beat the eggs and sugar on medium speed for about 30 seconds. Add the yogurt, coconut oil and mashed bananas and mix until well combined. While mixing on low, slowly add the flour mixture until it's just incorporated. Fold in the coconut.
Pour the batter into the greased pan and spread evenly. Pour the melted dark chocolate over the top, dragging a knife back and forth several times, until the chocolate is swirled throughout the entire loaf. Sprinkle the top with some shredded coconut and turbinado sugar.
Bake for about 50-60 minutes or until a toothpick inserted into the center of the loaf comes out clean. If the coconut on top looks like it is browning quickly, loosely place a piece a foil over the top to slow the toasting.
Remove pan from oven when done, and set it on a cooling rack. Let bread cool for 10 minutes in the pan. Then carefully remove it from pan and transfer to a wire rack to finish cooling before cutting into the loaf.


_______________________________________
Amy Johnson is a blogger who writes about food, travel, the home (both inside and out), and various observations and random musings about anything and everything. Visit her blog She Wears Many Hats for a dose of deliciousness, practicality, hilarity, or just plain fun. She lives in South Carolina with her husband and two children.