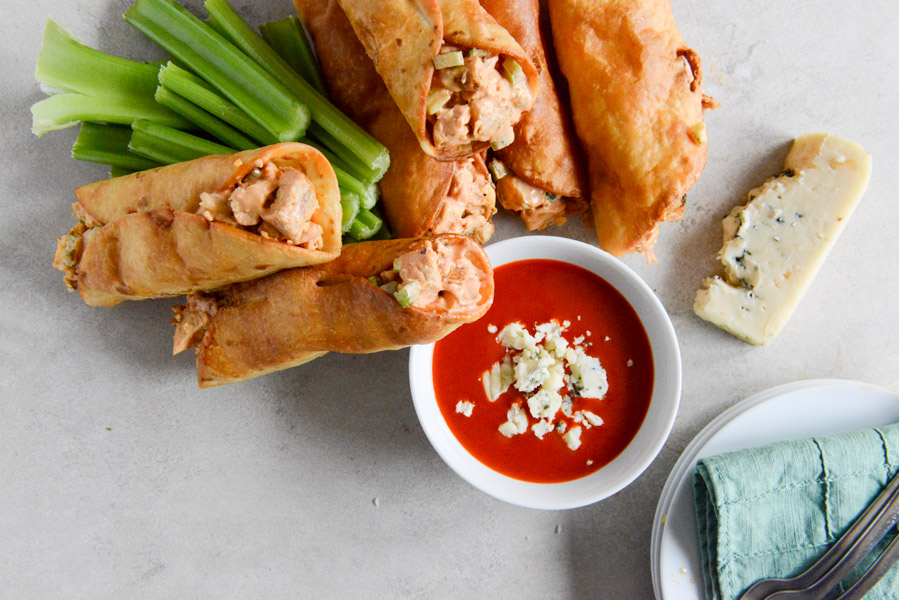 As a lover of all things Buffalo chicken, I am constantly trying to find new ways to use the flavor combination. You could say that I'm a bit of a Buffalo chicken … freak? But that's okay. The first step is admitting you have a problem, right?
Well. I might have a big problem now. Buffalo chicken cannoli? One of my favorite things, stuffed inside a fried shell, topped with blue cheese? I cannot take it.
This recipe from TK member Sandy is completely decadent and wonderful and fun. I'm going to tell you all about it, too.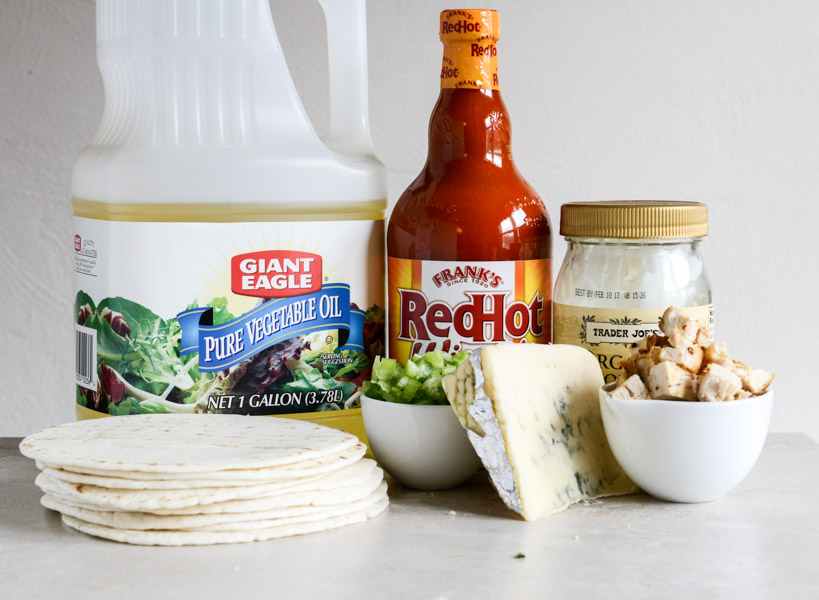 These babies take just a few ingredients: flour tortillas, oil for frying, Buffalo wing sauce, mayo, cooked and cubed chicken, diced celery and blue cheese. Oh, and a little salt and pepper if needed.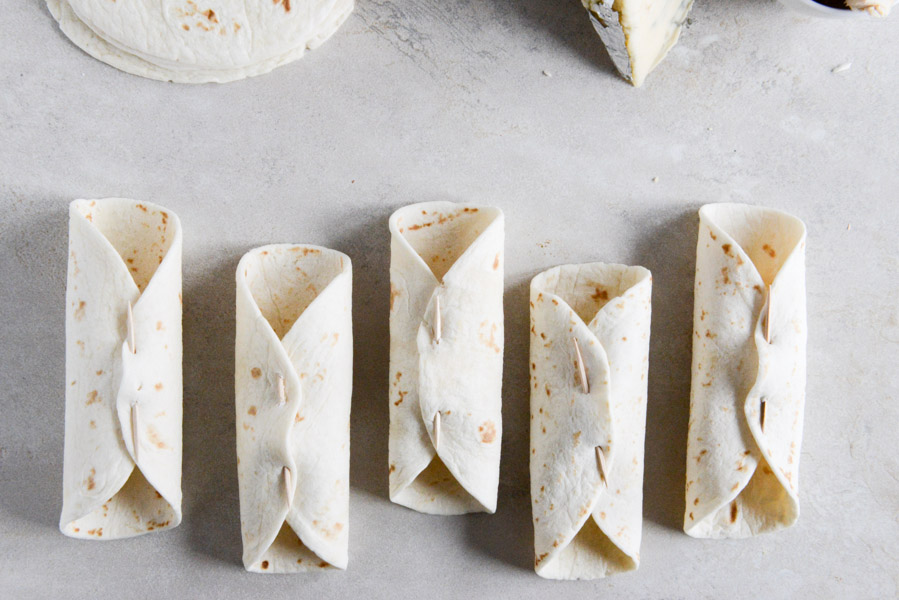 Since I didn't have a thing-a-ma-jig to wrap cannoli, I secured the tortillas with a toothpick. This worked perfectly. After doing that, I began to heat the oil in a large pot.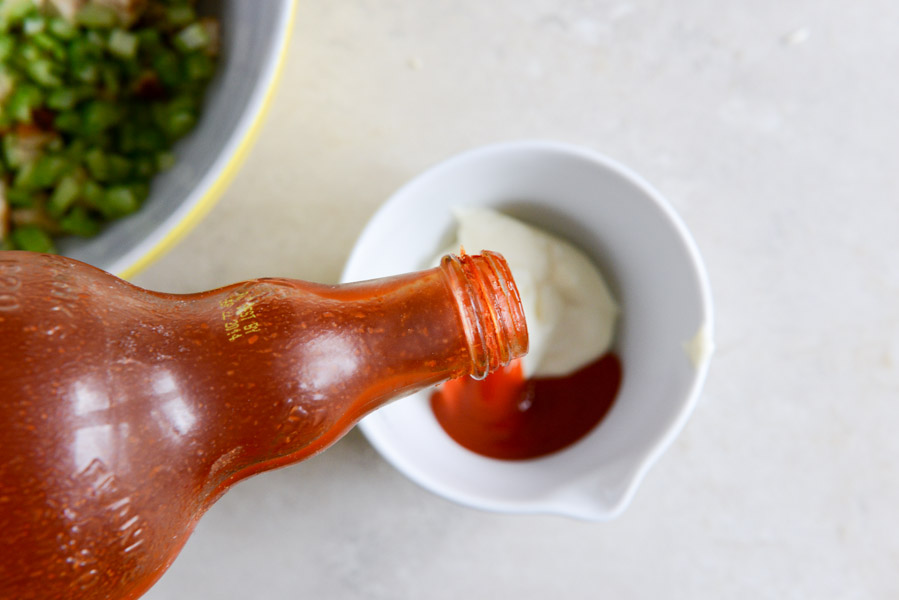 While the oil is coming to temperature, mix together some mayo and Buffalo wing sauce. You want it to have a little kick!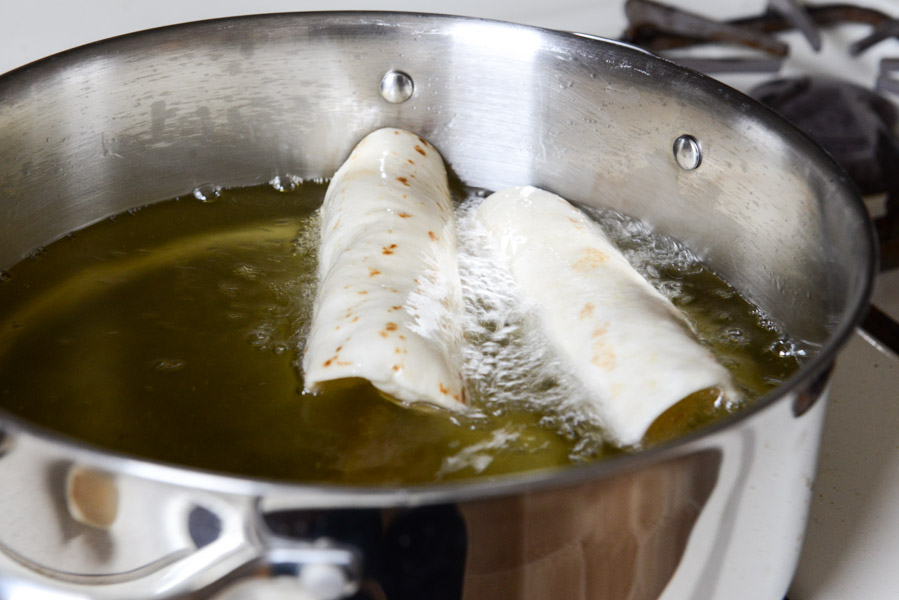 Once the oil is hot enough, fry the tortillas (just a few at a time) until golden. I found that keeping the toothpick in was fine, just as long as I had enough of it to grab and remove it before filling.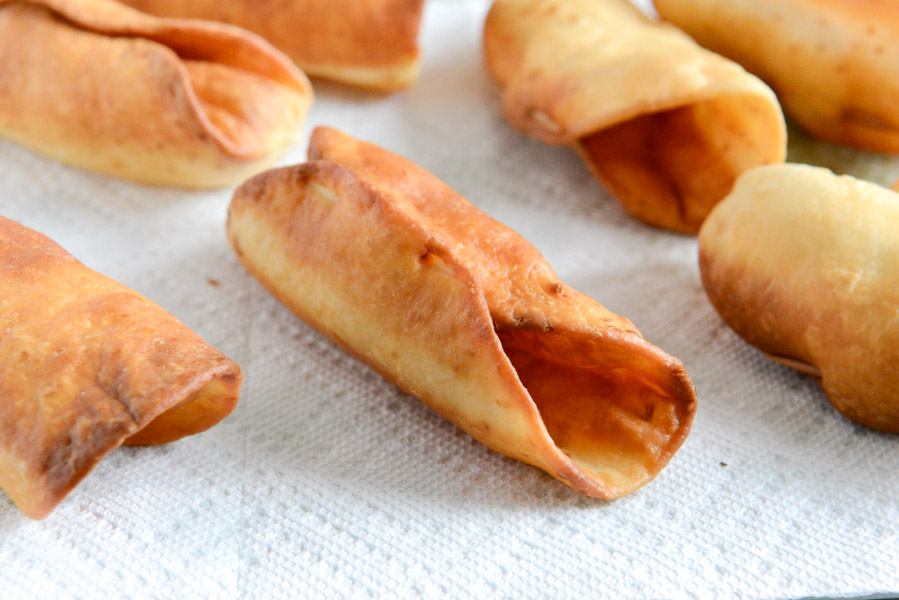 Once each cannoli is done, place on a paper towel to drain and become cool enough to touch.
While the tortillas are cooling, add the chicken and celery to a bowl. Add in the buffalo wing/mayo sauce and mix, mix, mix.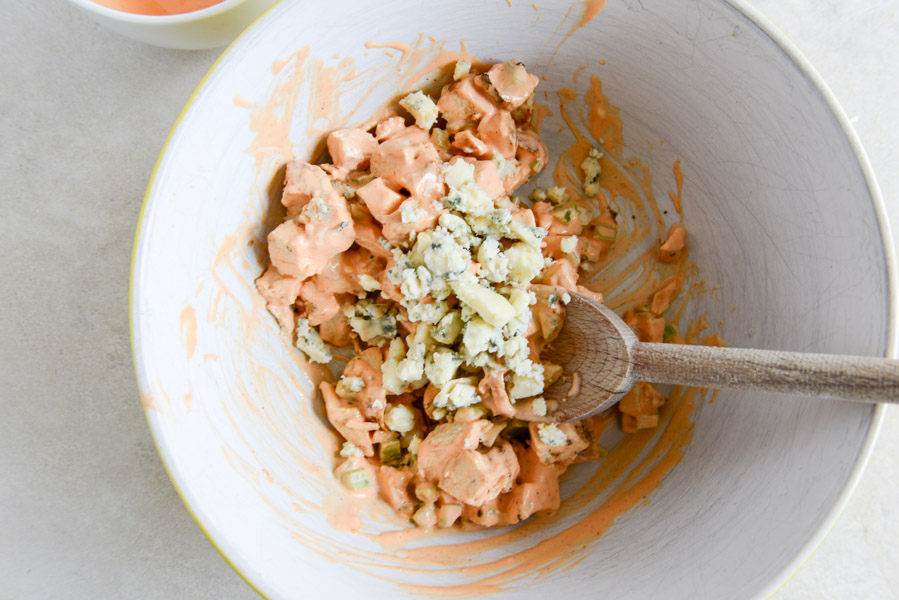 Toss in some crumbled blue cheese. I actually used smoky blue cheese. It is to die for.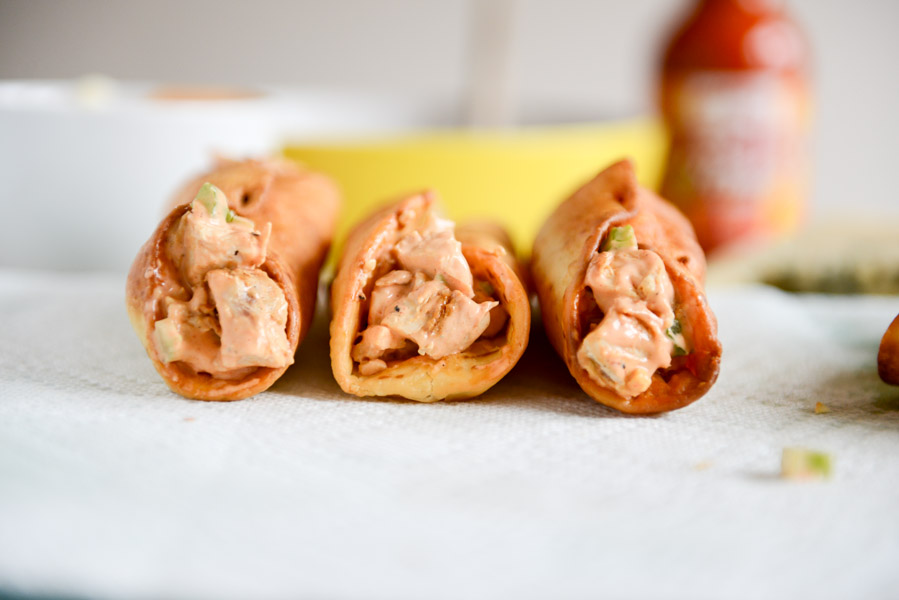 Once the tortillas have cooled, use a small spoon and fill each with some of the chicken mixture. A few of the insides may puff up, so simply press down on the bubble gently to make room for the chicken.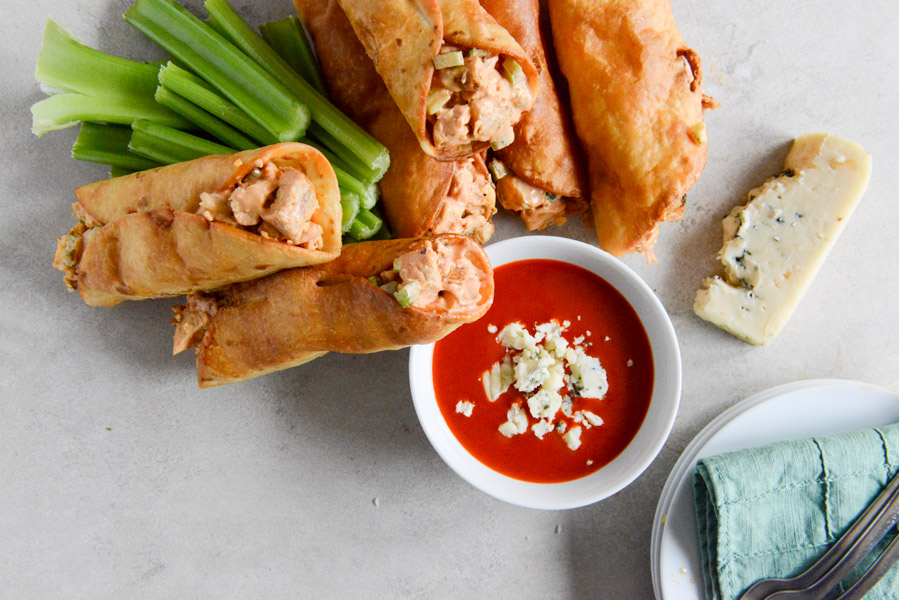 Once they are all filled, serve with additional Buffalo wing sauce, blue cheese crumbles and celery.
And to take things over the top, cover each cannoli with a big drizzle of sauce!
Oh, and more blue cheese. Yes. It's necessary.
These are totally insane in the best way ever. I'll say it again: I adore all things Buffalo chicken, so it's safe to say these will make a frequent appearance in my kitchen. They are such a fun twist on two traditional foods and I get giddy just thinking about them. Thanks so much for the recipe Sandy! Be sure to check out her fab blog, Everyday Southwest.
Printable Recipe
See post on Sandy | Everyday Southwest's site!
Description
Crunchy flour tortilla cannoli shells stuffed with spicy Buffalo chicken salad.
Ingredients
20 whole Flour Tortillas
24 ounces, fluid Vegetable Oil For Frying, Or Enough To Fill A Frying Pan 1 Inch Deep
2-½ cups Cooked Chicken, Diced
1 whole Large Celery Stalk, Finely Diced Or Minced
¼ cups Mayonnaise
¼ cups Prepared Hot Wing Sauce, More If Desired
¼ cups Blue Cheese Crumbles
½ teaspoons Salt, If Necessary
½ teaspoons Black Pepper, If Necessary.
Preparation Instructions
Cut the flour tortillas into 5-inch circles. Loosely wrap the tortilla around a cannoli shell and secure with a toothpick. Or, if you prefer, fold the tortilla around two of your fingers and secure with toothpick. Overlap the tortilla only as much as you need to secure it with a toothpick leaving a nice wide center to fill with chicken mixture.
Use a frying pan or pot that is large enough to fill with 1 to 1 1/2 inches of oil to fry the tortillas. The pan should still have plenty of room so that the oil will not boil over. Heat the oil to 360ºF or until bubbles form when a scrap of tortilla is place in the oil. Place the tortillas in the hot oil with tongs one at a time. Leave the cannoli mold in the tortilla or use the tongs to keep the shape of a cannoli until the tortilla is cooked enough to hold its own shape then continue with the next tortilla. Only fry up to 4 to 5 at a time.
Fry the tortillas until golden brown and crispy; they will continue to brown a little when removed from the oil. Drain on paper towels. While the tortilla is hot, push down any of the bubbles that my have formed on the inside of the cannoli shell so that the center is open for the filling.
In a mixing bowl, toss together the diced chicken and diced celery.
in a small bowl, combine the mayonnaise and hot wing sauce in a small bowl. Add more hot wing sauce slowly and taste as you go for the desired flavor. The sauce mixture should be hotter than you expect because you will be adding it to the chicken and filling the tortilla with it, which will dilute the flavor of the sauce.
Fold the hot wing sauce mixture into the chicken a little at a time to achieve the desired consistency. Stir in the desired amount of blue cheese crumbles and save the remaining for garnish. Salt and pepper to taste. If you add the blue cheese to the mixture, you may not need salt so be sure to taste.
Fill the cannoli shells with chicken from both ends with a small spoon. Use the end of the spoon to push the filling into the middle of the cannoli.
Serve with hot wing sauce and blue cheese crumbles.


_______________________________________
Jessica Merchant is a personal trainer turned food writer and blogger. Her blog, How Sweet Eats, is where she proclaims her love for all things sweet, all things bacon, and everything else in between. She works her magic in her Pittsburgh kitchen, which she shares with her husband of 2 years.