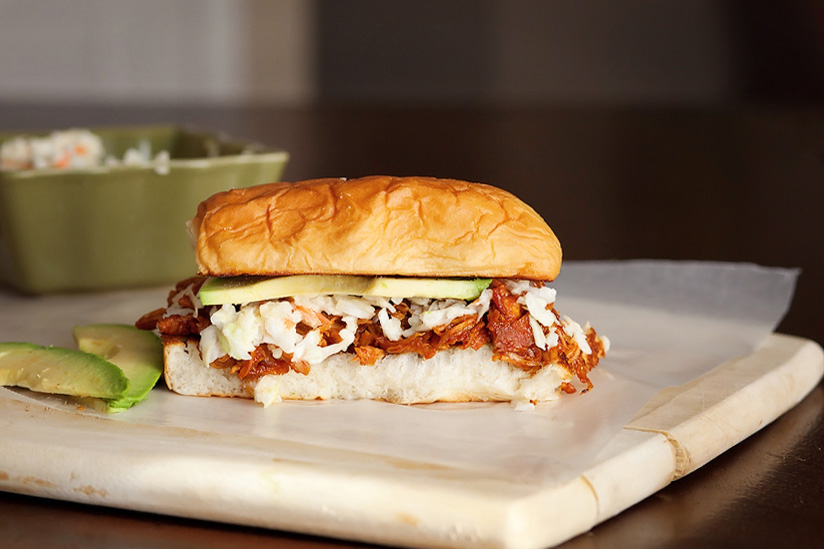 Can you ever have too many slow cooker recipes? I don't think so. I love coming home at the end of the day to dinner all ready in the crockpot, just waiting to be devoured by my hungry family. Slow cooker recipes are a life saver when you're too busy to mess with dinner prep. Just throw a little of this and a little of that in the pot and you're good to go. Just don't forget to plug it in—yeah that's happened to me before, if I'm being honest. More than once.
If you're looking for a tasty new slow cooker recipe to try, then these Slow Cooker Peach BBQ Chicken Sandwiches from TK member Marie are perfect to try out. The chicken slowly simmers in a rich sauce of barbecue sauce (I used my own homemade sauce), sticky sweet peach preserves, onions, and garlic. Then top it all off with creamy coleslaw, some fresh sliced avocado, and you've got yourself one tasty sandwich.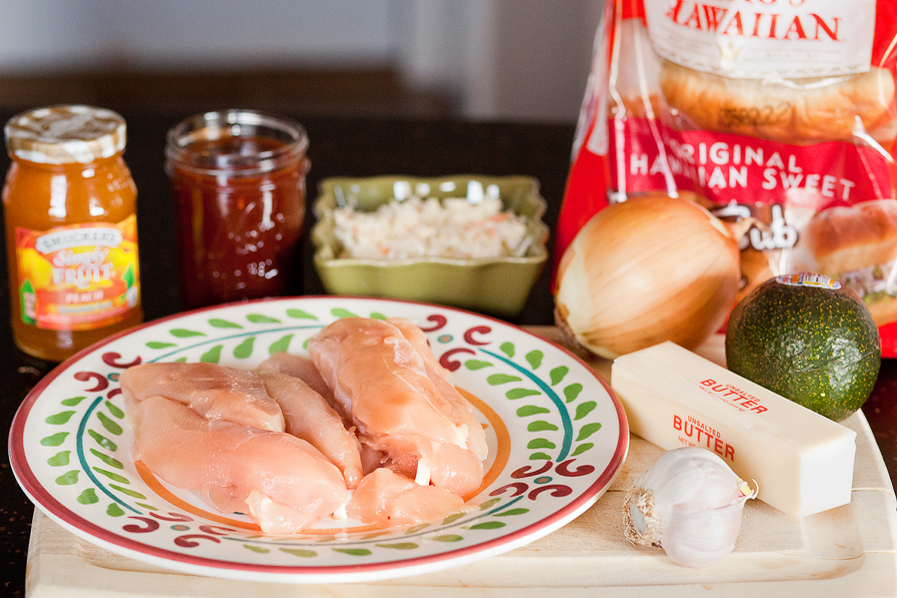 You'll need: chicken breasts, spicy barbecue sauce, peach preserves, onion, garlic, bread, butter, coleslaw, and avocado.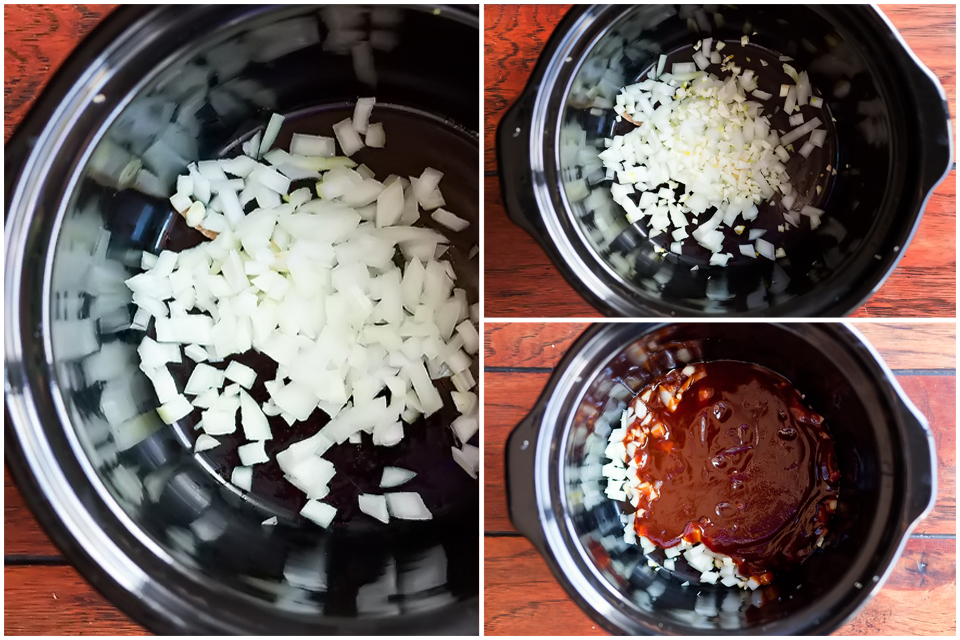 Place the onion, garlic, and barbecue sauce in your slow cooker.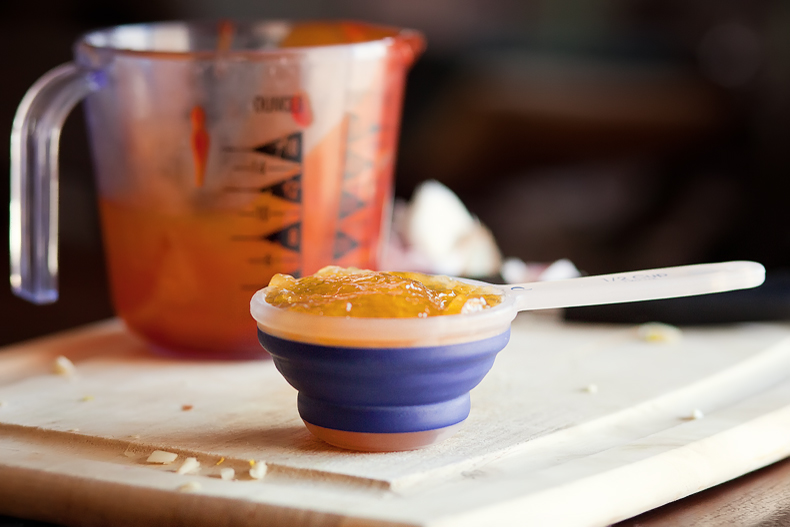 Get a nice scoopful of the peach preserves.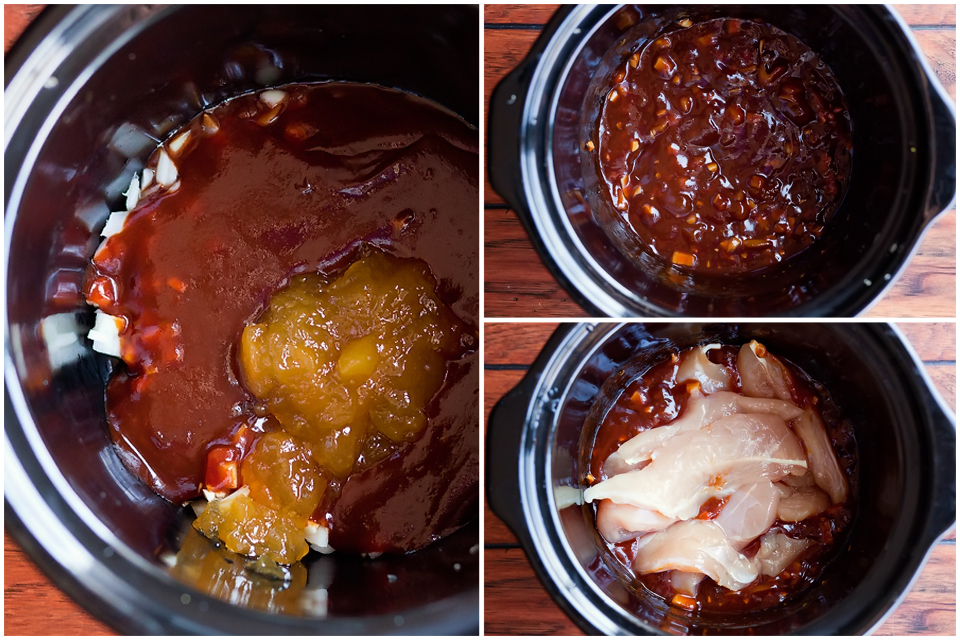 Add the preserves, give it a good stir, then place the chicken on top. Cook on low for 6-8 hours or on high for 3-4 hours.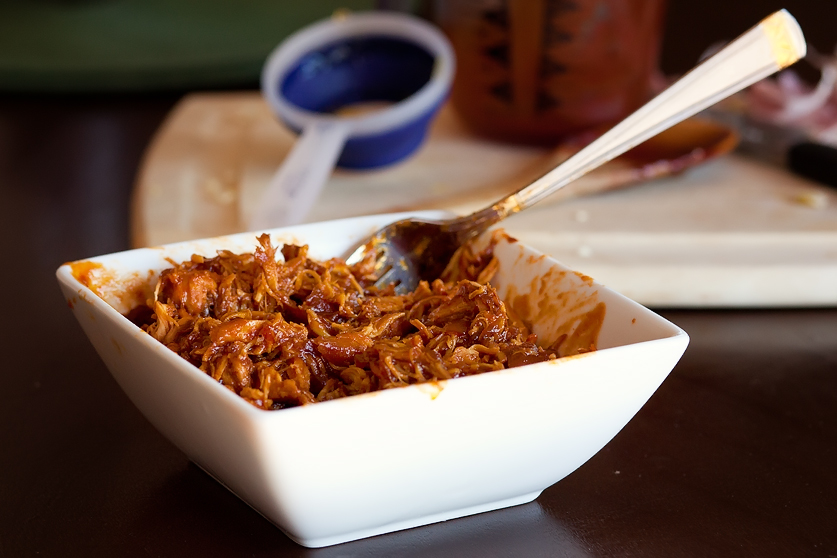 When chicken is done, remove it from the slow cooker along with some of the sauce, and use a fork to shred the chicken.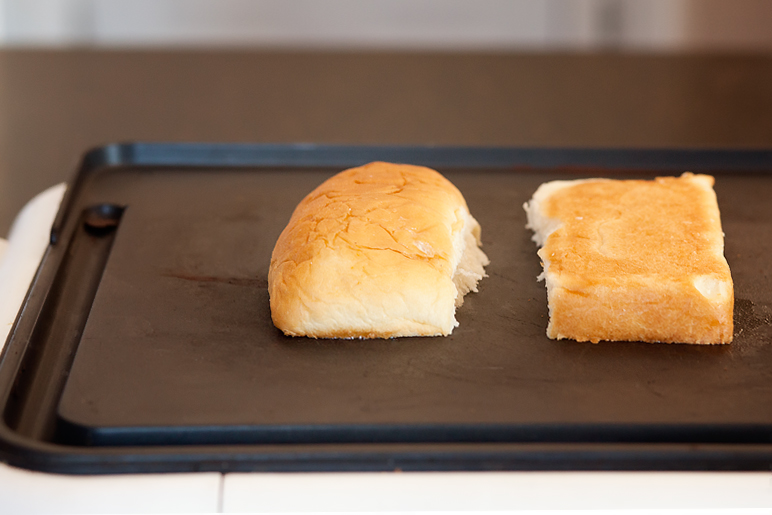 Toast your bread with a little butter. I used Hawaiian rolls but your favorite bread will work.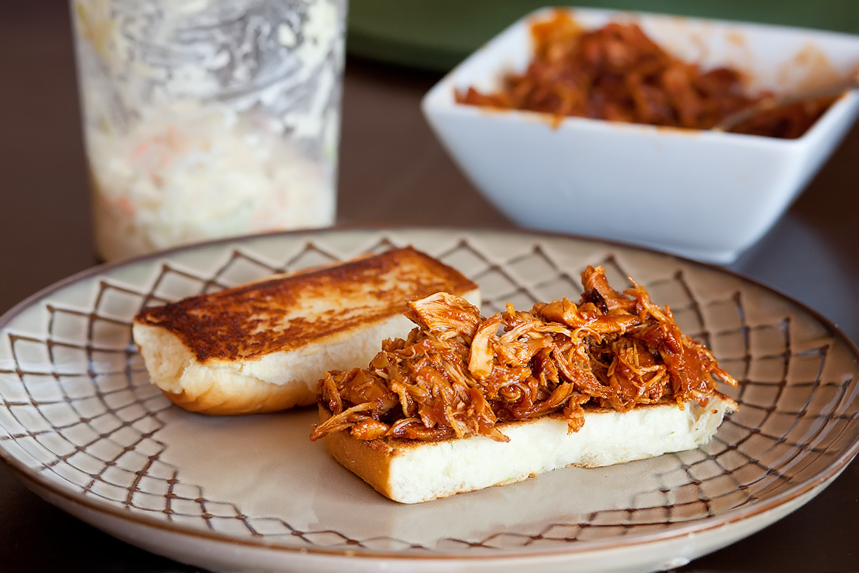 Now assemble your sandwich. Place some of the chicken on your bread.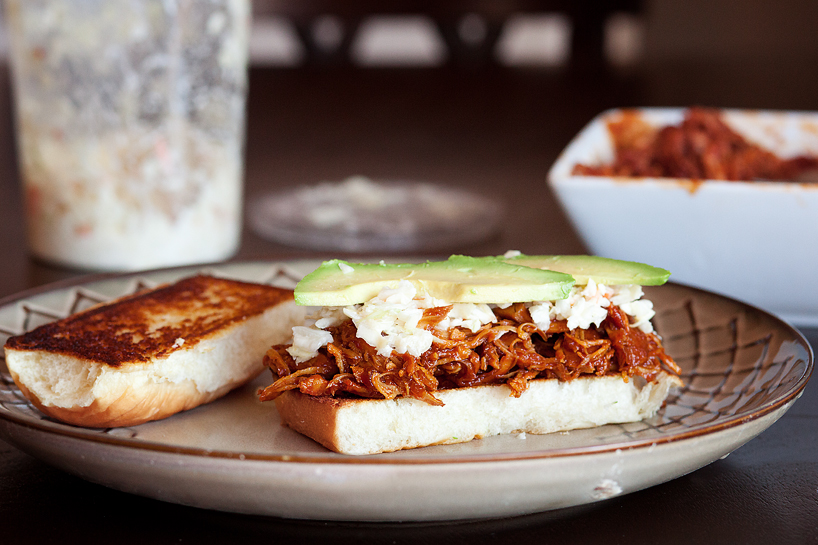 Top with the coleslaw and sliced avocado.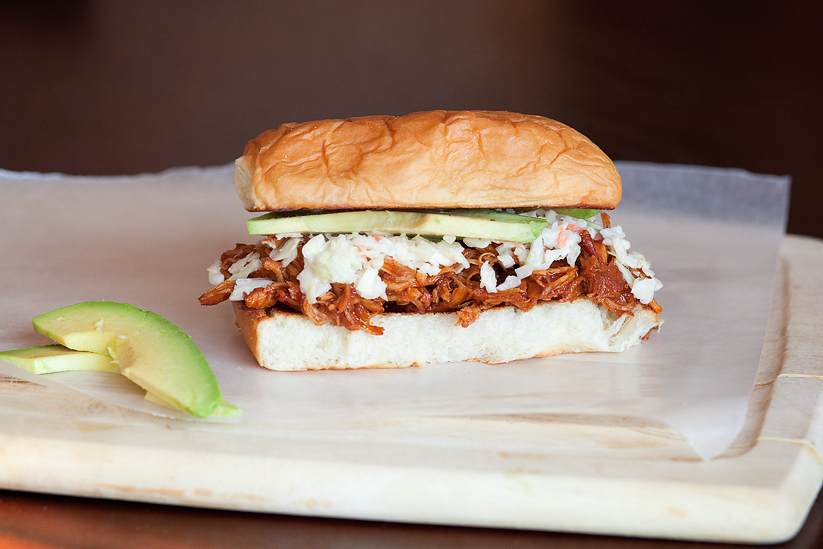 Top with another slice of bread, stand back, and enjoy your handiwork.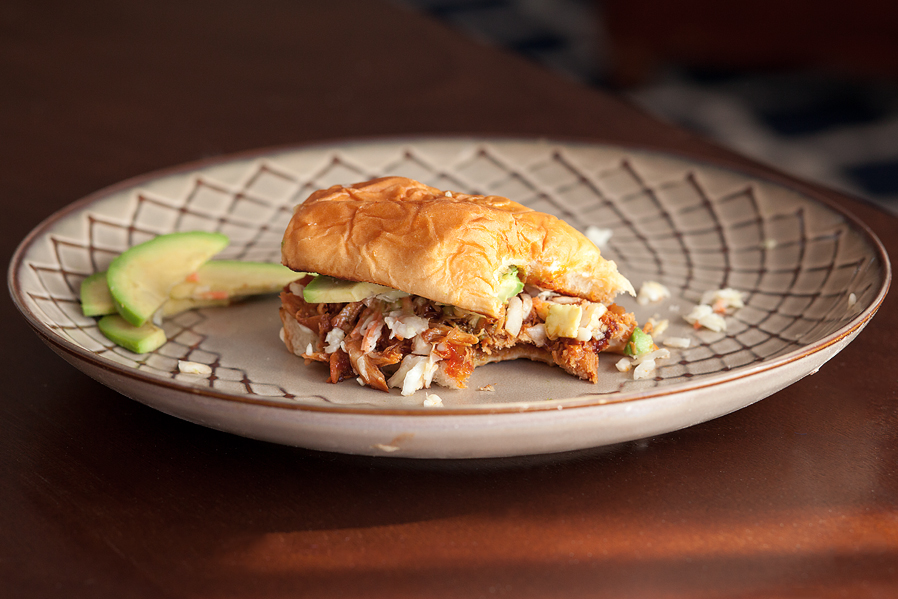 Now dig in! And try not to drool too much.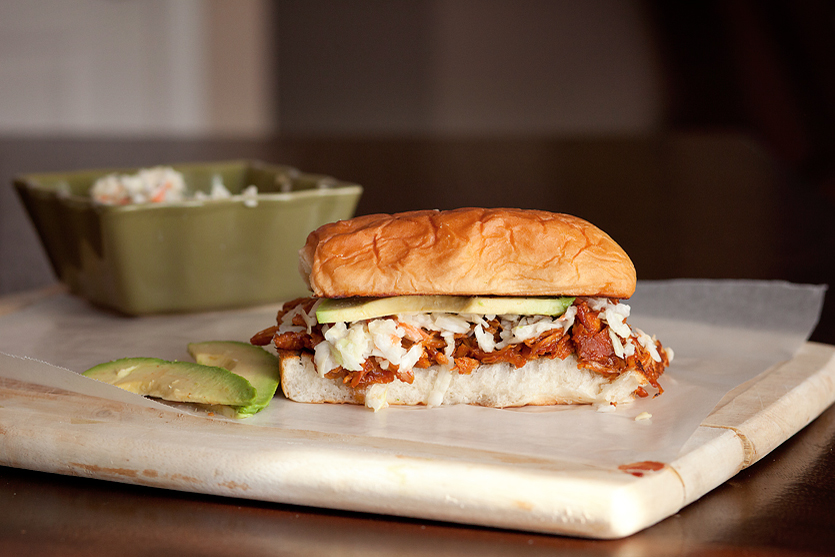 Thank you Marie for sharing this delicious sandwich with us. Marie blogs at The Little Kitchie, where she shares her joy for cooking, baking and eating. Now if you aren't already hungry enough, go check out her lovely blog full of yummy recipes!
Printable Recipe
See post on Marie @ Little Kitchie's site!
Description
Sweet-spicy BBQ made super easy!
Ingredients
1 pound Chicken Breasts
16 ounces, fluid Spicy BBQ Sauce
8 ounces, fluid Peach Preserves
½ cups Onion, Chopped
4 cloves Garlic, Minced
8 slices Sourdough Bread
1 Tablespoon Butter
1 whole Avocado
1 cup Coleslaw
Preparation Instructions
Place chicken, BBQ sauce, peach preserves, onion, and garlic in your slow cooker. Mix well so that everything is combined. Cook for 6-8 hours on low or 3-4 hours on high.
When chicken is finished cooking, remove it from the slow cooker, along with a bit of the sauce, and place it in a bowl. Shred using 2 forks and add more sauce as desired.
To assemble your sandwiches, toast up your bread in a skillet with butter. Top bread with chicken, slices of avocado, and 1/4 cup coleslaw per sandwich. Top with other slices of bread, and enjoy!


_______________________________________
Amber is a stay at home mom who lives in the heart of the Missouri Ozarks. It's a long way from where she grew up, in Wales (yes, way over in the U.K.). The recipes in her blog Sprinkled with Flour include her original creations as well as her family recipes. Go check them out!