After having my third baby last summer, I'm beginning to understand the desperation I sometimes hear from moms who want fast, easy meals. Because I love to cook, spending 15 minutes chopping vegetables isn't a big deal to me, but it is if I have a baby crying at my feet (or strapped to my chest), and two other small children begging for snacks and/or tormenting each other. 
I can't imagine what that's like for someone who dislikes being in the kitchen. What a frightening thought.
For that reason, finding meals like this easy and fairly quick Butternut and Black Bean Enchilada Skillet really make my day. (And days down the road when I'm ready to pick up the phone and order pizza.) Let's all give TK member Monique a great, big virtual hug for adding to our weeknight repertoire!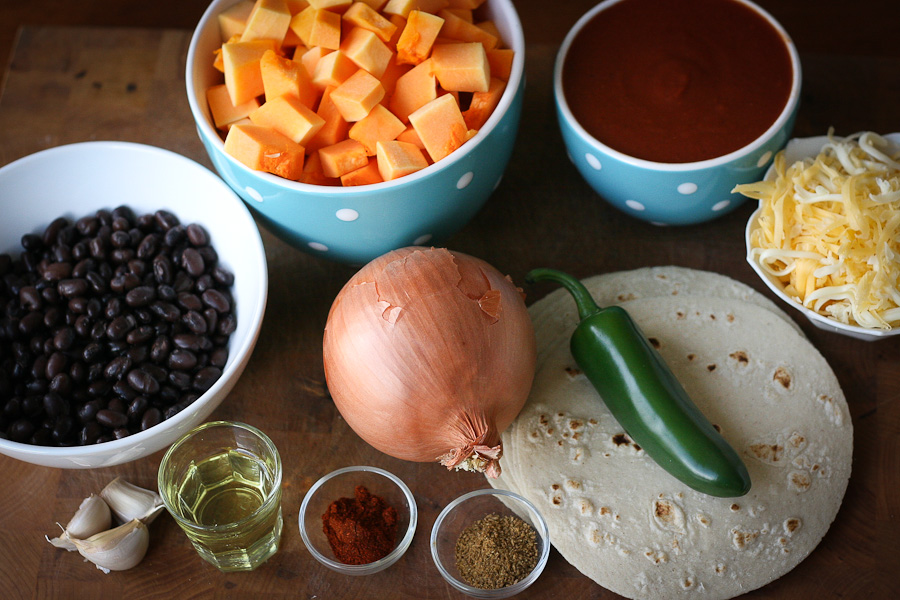 Here's what you need: butternut squash, black beans, enchilada sauce, grated cheese, a jalapeno, some corn tortillas (I used a wheat-corn blend), an onion, cumin, chili powder, garlic cloves, and heat-safe oil (like coconut or grapeseed oil).
First, dice the onion.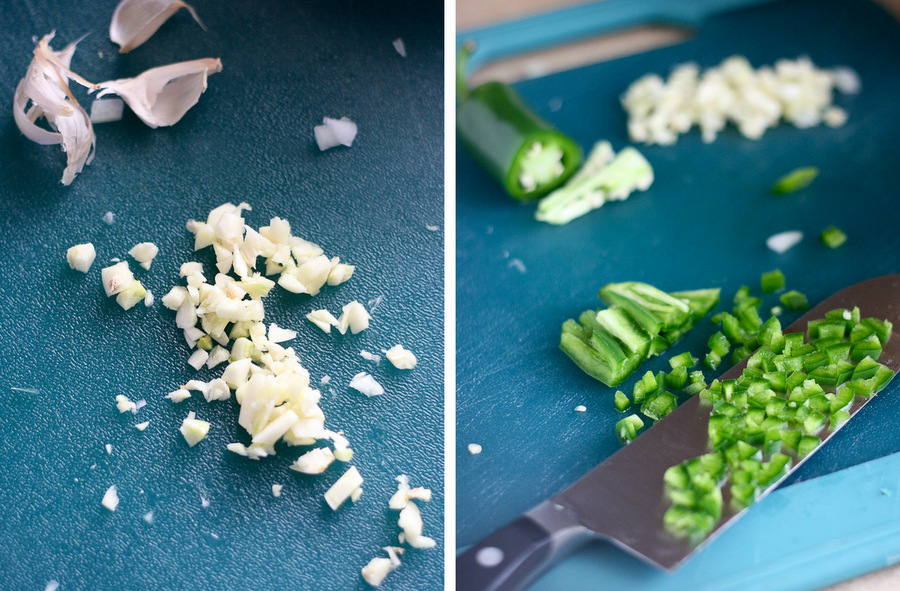 Chop the garlic and half the jalapeno. (Save the rest for later!)
 




Pour the oil into a large, oven-proof skillet and bring to medium-high heat.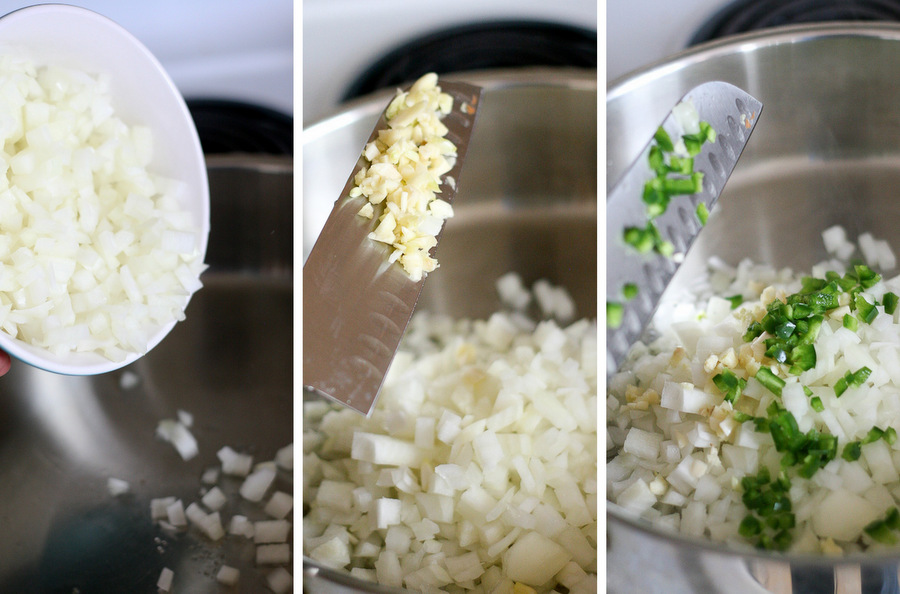 Throw in the chopped onion, garlic, and jalapeno.
 




Saute for 3-4 minutes until the onion becomes soft and translucent.
 




Add that gorgeous squash. You can find butternut squash pre-diced, which isn't a bad idea, considering the manual labor it takes to peel and chop one. 
 




Add the chili powder and cumin, as well as a few generous pinches of salt and black pepper.
 




At this point, you're supposed to cook it for 8-10 minutes until the squash is fork-tender. I may have diced my squash too large because after 4-5 minutes, it was still rock-hard. 
 




Here's where some improvisation may be handy. If this also happens to you, add the enchilada sauce, cover the pan, and bring the temperature down to medium-low. Add a little water if too much evaporates. The squash will cook perfectly without sticking to the pan or burning before the center is cooked!
 




While the squash is simmering away, cut the tortillas into strips. I used a wheat-corn blend, which were slightly thicker than regular corn tortillas. I only used 6, but I will reduce the number even more when I make this again. 
 




Add the tortillas and beans to the skillet. Oh, and most of the cheese!
 




Stir it up, and cook it for a couple more minute until the tortillas get softer and everything is combined well. Taste, and season with salt and pepper if necessary. Sprinkle the remaining cheese over top, and stick it under the broiler for a few minutes.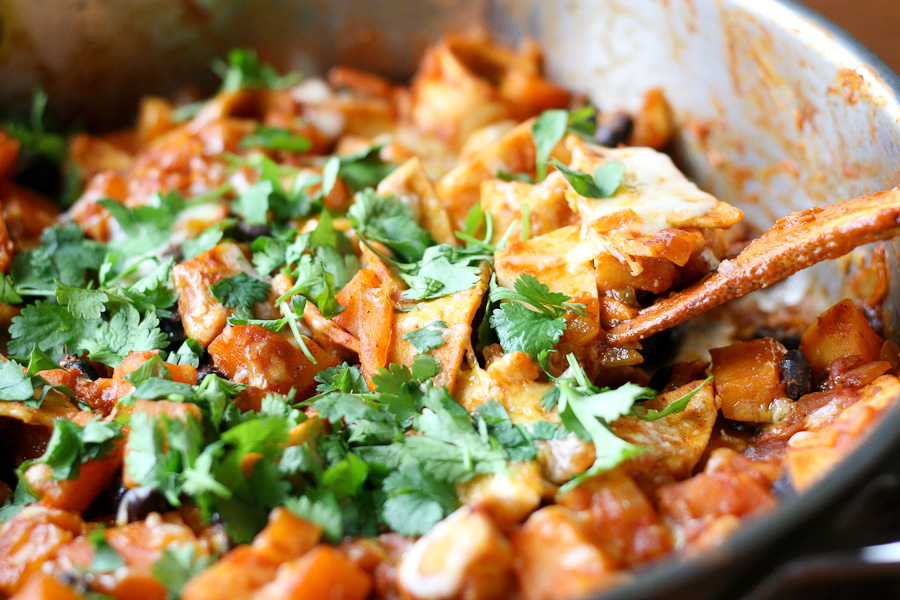 Sprinkle some freshly chopped cilantro on top, and dig in!
We loved this with homemade guacamole, sour cream, and some lime wedges. (Most things in my life can be improved with those three things…)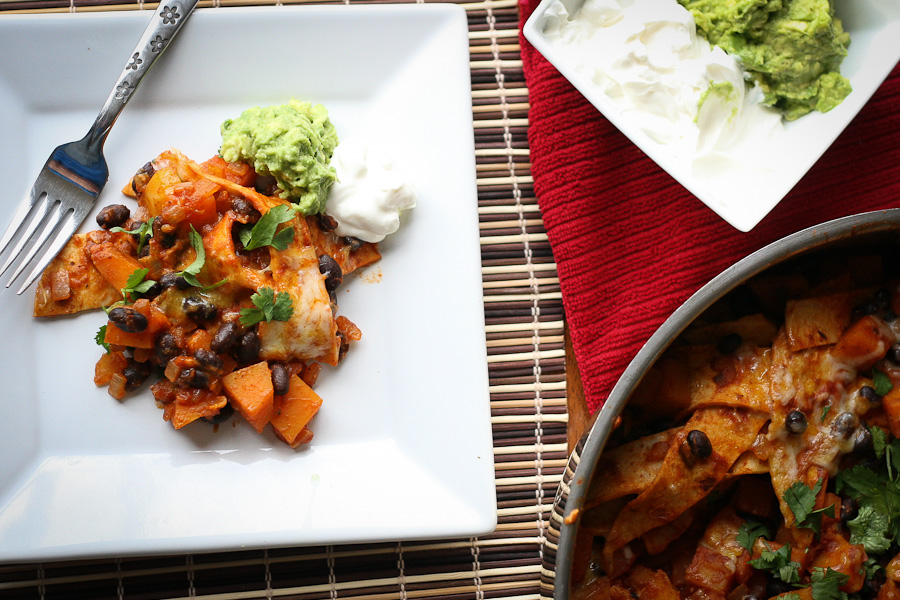 Thank you Monique! Please check out Monique's quickly growing TK Recipe Box as well as her beautiful blog, Ambitious Kitchen. You'll find the complete recipe and instructions below.
Printable Recipe
See post on Monique of Ambitious Kitchen's site!
Description
Put a spin on Mexican night with this healthy, vegetarian skillet dish. Ready in 30 minutes!
Ingredients
2 teaspoons Olive Oil
1 Medium Yellow Onion, Diced
3 cloves Garlic, Minced
½ Jalapeno, Seeded And Diced
3 cups 1/2 Inch Diced, Peeled Butternut Squash
1 teaspoon Cumin
1 teaspoon Chili Powder
Salt And Pepper To Season
1 can (15 Oz. Size) Black Beans, Rinsed And Drained
8 Yellow Corn Tortillas (taco Size), Cut Into Thick Strips
1 can (15 Oz. Size) Red Enchilada Sauce
1 cup Reduced-fat Colby Jack Or Mexican Cheese, Divided
Cilantro And Low Fat Sour Cream, For Serving
Preparation Instructions
Heat olive oil over medium-high heat in a large oven-proof skillet. Add onions, garlic, and jalapeno and cook 2-3 minutes until onions become translucent and garlic is fragrant. Add cubed squash, cumin and chili powder and season with salt and pepper. Cook, stirring occasionally, until the squash is slightly tender, 8 to 10 minutes. You want the squash to be fork tender, but not so tender that it starts to fall apart and become mush.
Next add the black beans, corn tortilla pieces, and can of enchilada sauce and stir to combine. Reduce heat to medium-low and sprinkle in 1/2 cup of cheese. Stir again and simmer for a few minutes until everything is nice and melted.
Turn your oven broiler to high. Sprinkle an additional 1/2 cup of cheese over the top of the enchilada mixture and place in the oven under broiler for 3-5 minutes until cheese melts and tortilla edges become a bit golden brown. Remove from heat and serve immediately.
Serve with sour cream, cilantro, guacamole, or hot sauce!


_______________________________________
Be sure to check out Natalie's own beautiful food blog, Perrys' Plate, where you can see her growing collection of lovely recipes. There's always something new to see there. Go visit now!