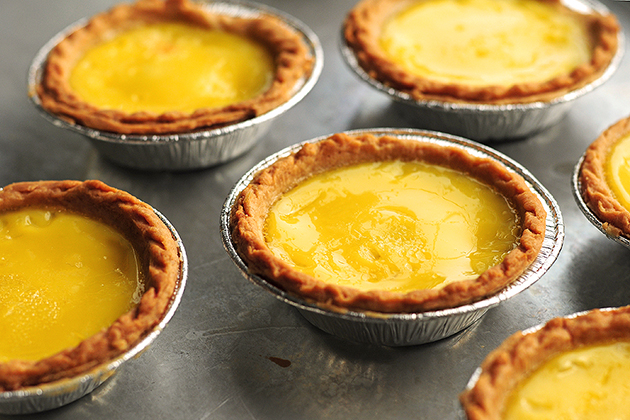 Do you pass by recipes that look like they're too much to mess with? I do it all the time, often finding out later how easy many of those recipes really are. Take these Hong Kong Egg Tarts submitted by Kristy of eatplaylove, for example. At first glance, I thought they'd be more involved, with water baths, tempering cream and eggs, or the like. Thankfully, a friend—who happens to have excellent tastes—mentioned that they were one of her favorite desserts when she frequents Chinese restaurants. Kristy also mentions in the recipe that they're listed on The World's 50 Most Delicious Foods as compiled by CNN Go.
I'd never heard of them before but I was intrigued to see what the fuss was all about. I was happy to find them quite easy to make. So easy that I made two batches in two days, and for the second batch I dropped the crust for a gluten-free version. Of course they're tasty, or I wouldn't have made the second batch. They kind of remind me of a custard pie my grandmother used to make.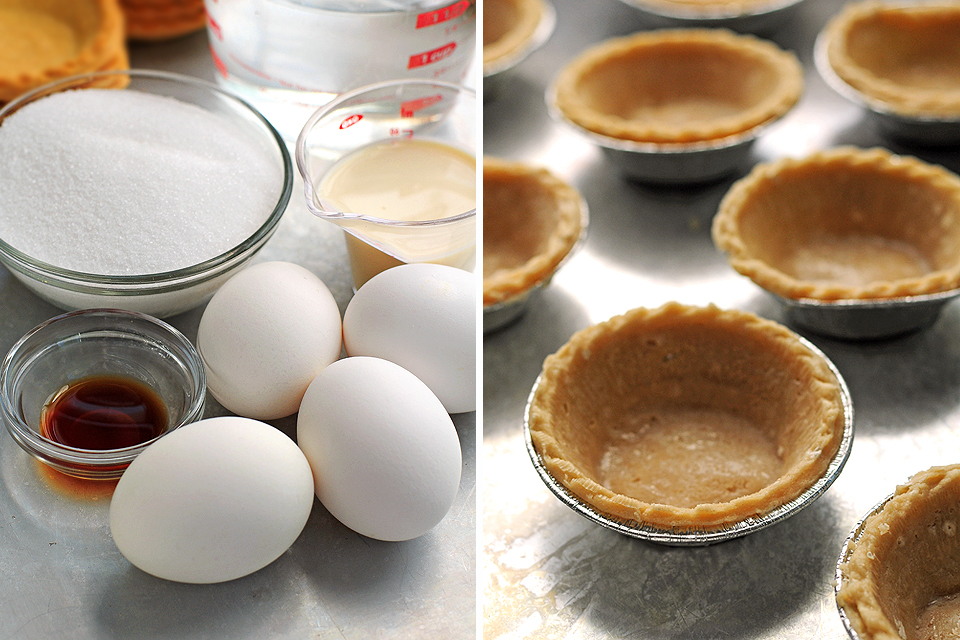 This ingredient list is short. Begin with water, sugar, eggs, evaporated milk, vanilla, and prepared tart shells. Use your favorite pie crust recipe, or take a shortcut and use pre-made like I did. I found frozen mini tart shells at our local grocer. For the gluten-free version, I used small ramekins (see the end of this post) sprayed with cooking spray.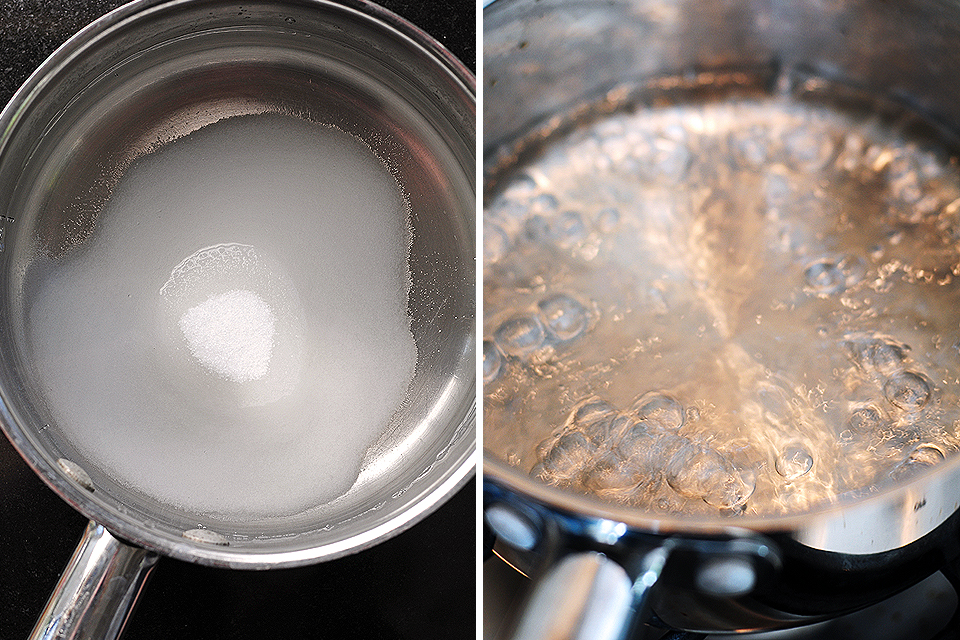 Start by combining the water and sugar in a sauce pan and heating it to a boil. Set aside to let cool.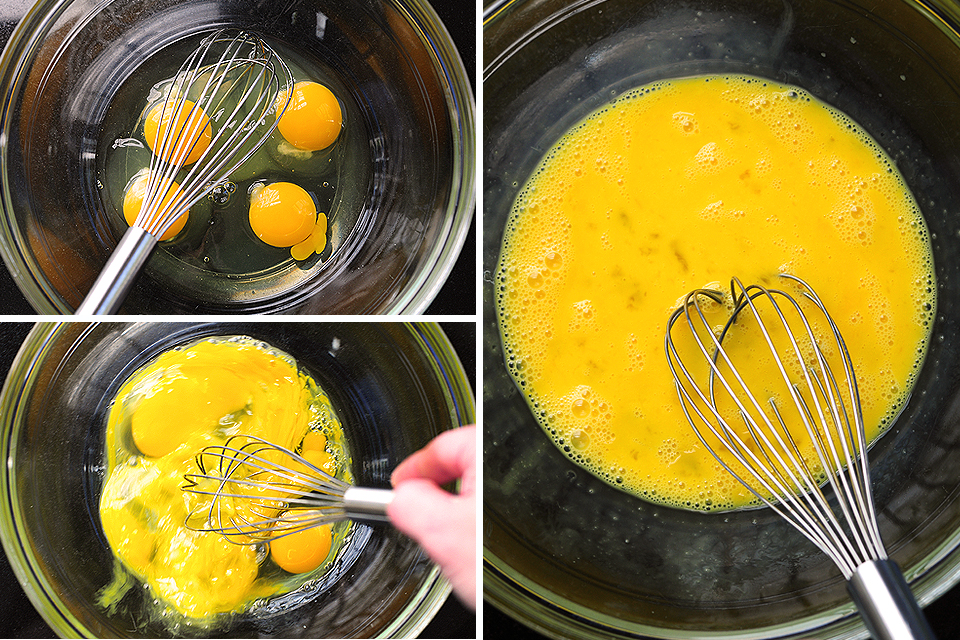 Next, in a large mixing bowl, beat the eggs together.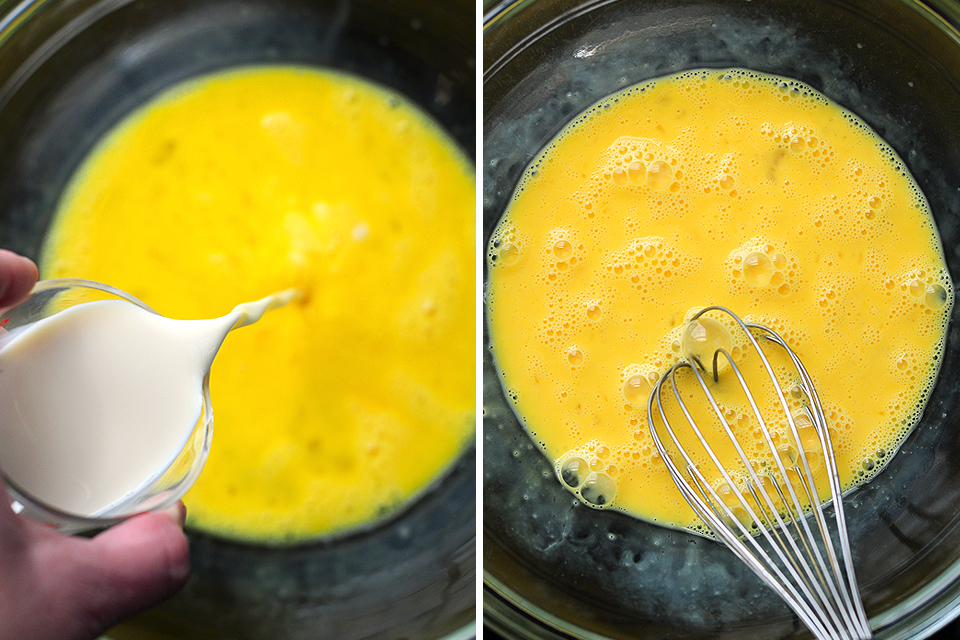 Add in the evaporated milk and combine well.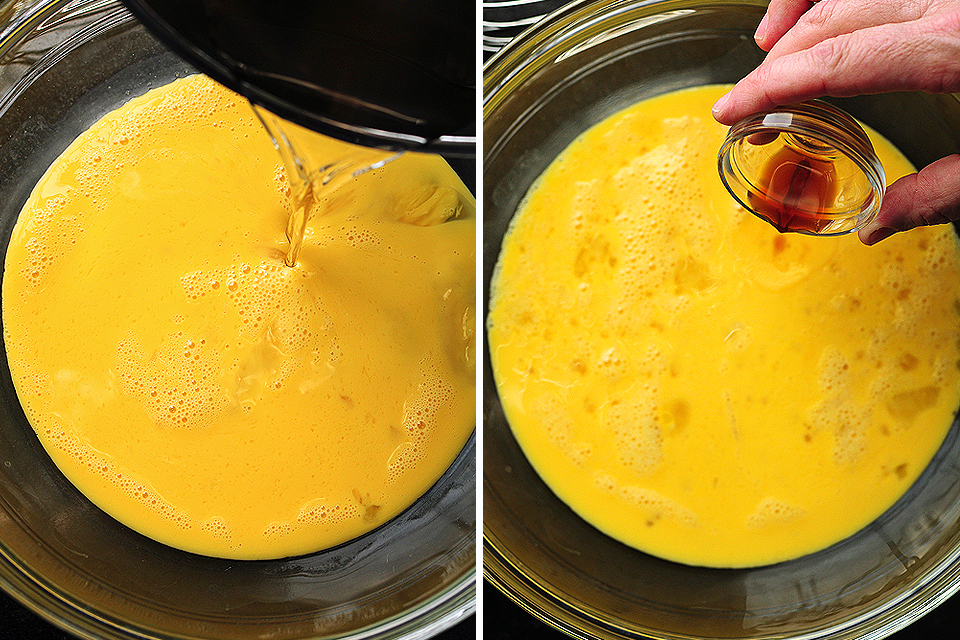 Once the sugar water mixture has cooled a bit, gradually add it into the egg/milk mixture, as well as the vanilla.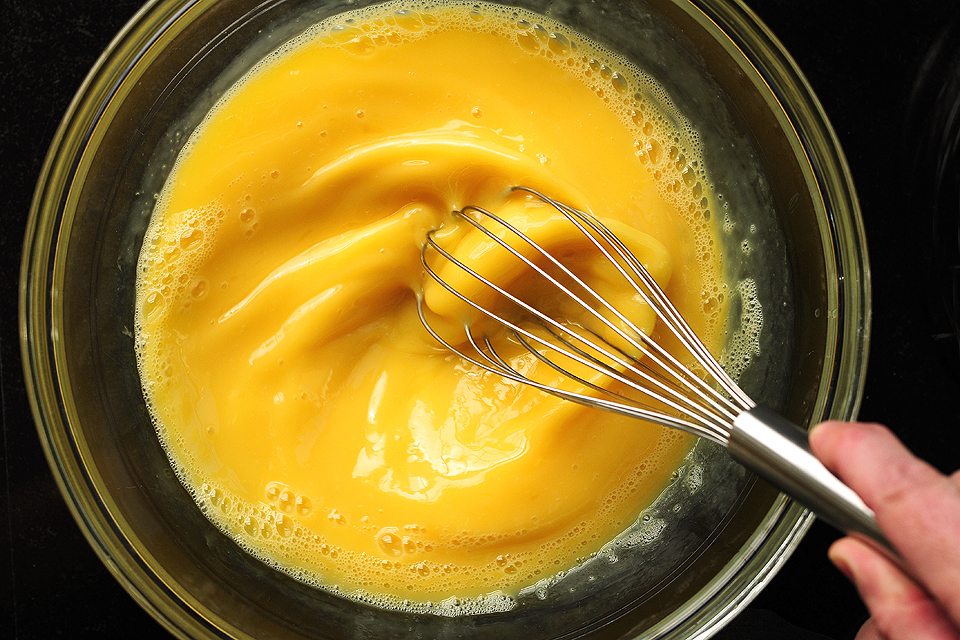 Mix it all up! See? How easy is that! Almost finished.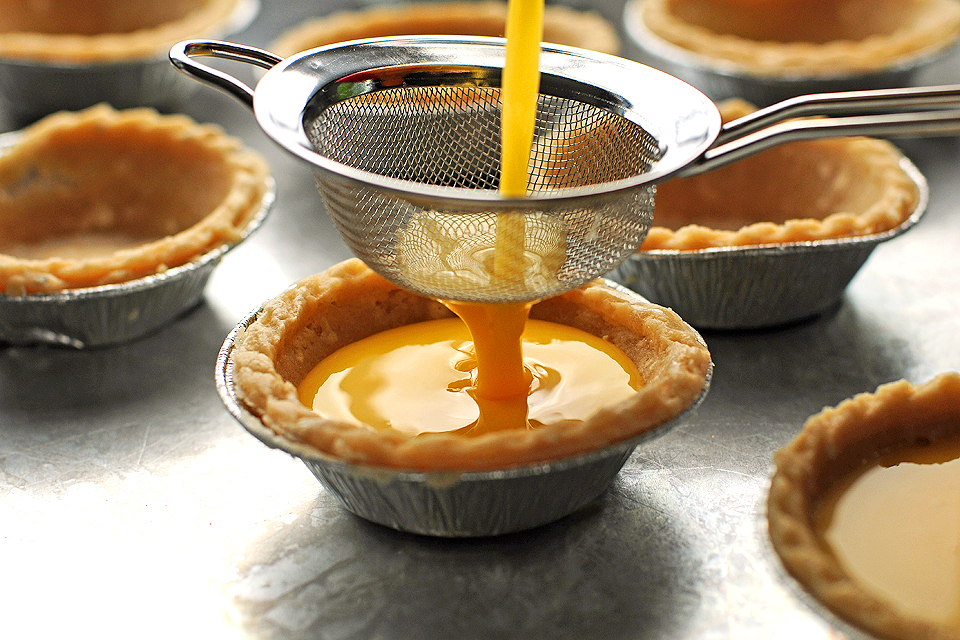 To avoid any clumps, pour the custard into the individual tart shells (or ramekins) through a sieve.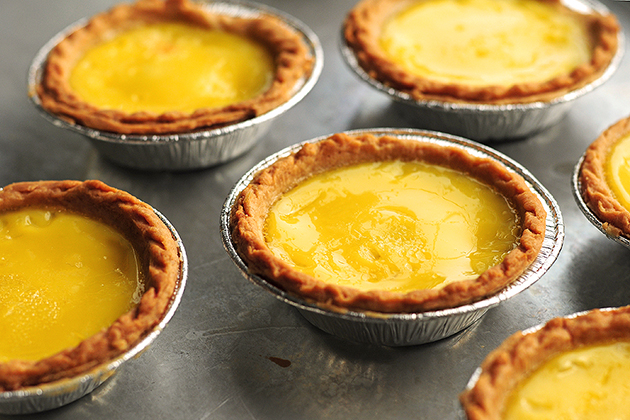 Bake according to recipe below. The egg mixture will slightly rise and set, and the crust should be golden brown.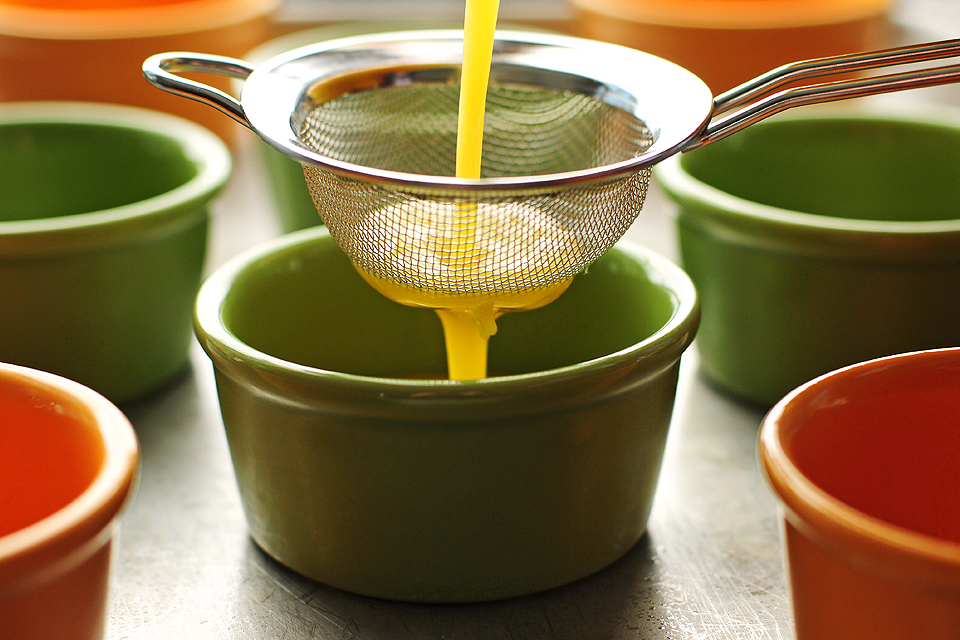 If going with a gluten-free version, again, pour the egg mixture through a sieve into coated ramekins. Bake for the same time as stated in recipe below.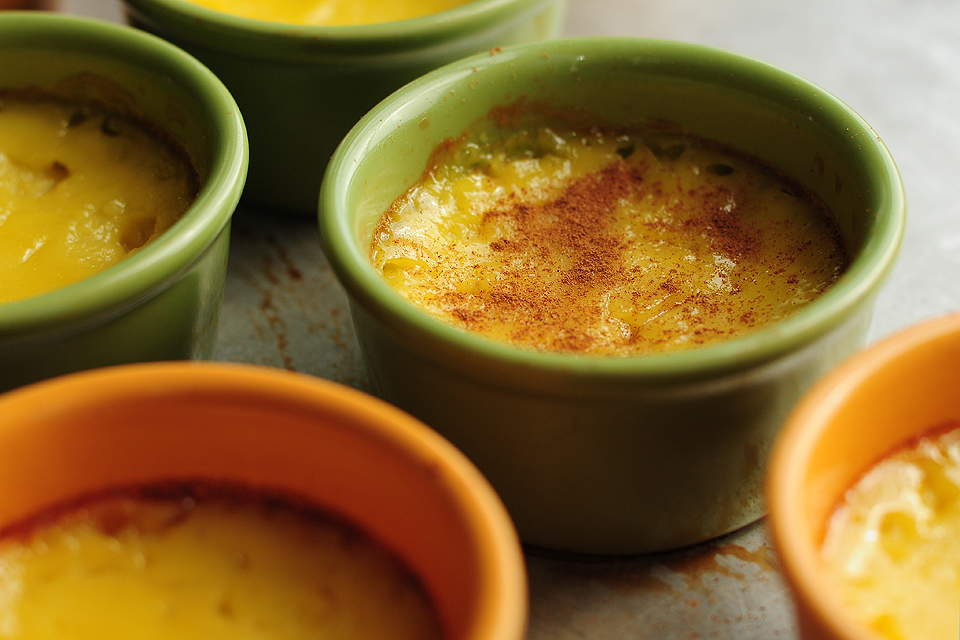 I sprinkled a little cinnamon on top for a nice addition.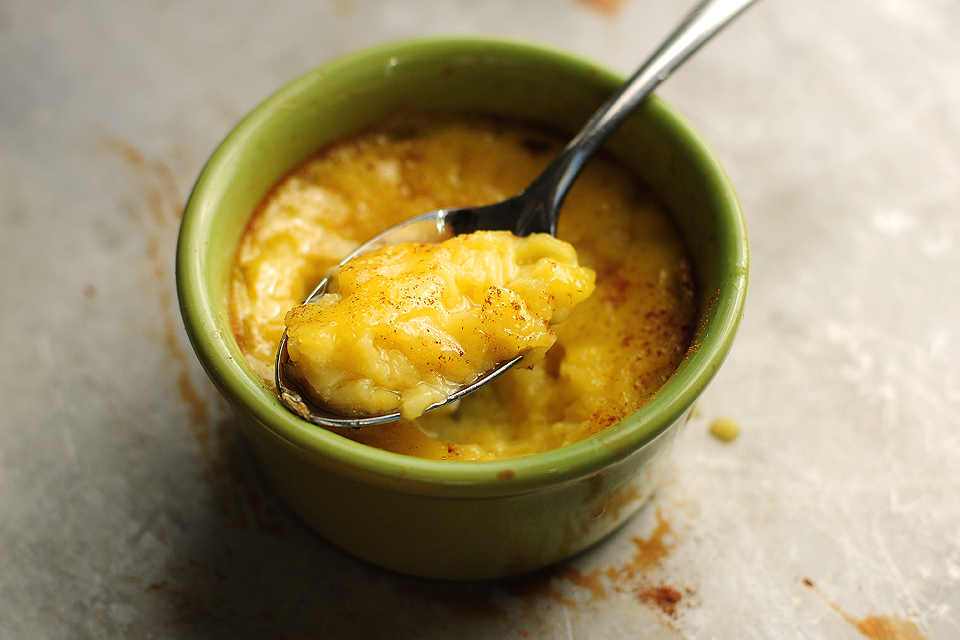 Such an easy recipe, but with simple additions, like berries, coconut, or chocolate, you could easily change this basic recipe for year-round goodness.
Thanks to Kristy for bringing this delightful (and easy!) recipe to our attention. It's a keeper. And be sure to check her site Eat, Play, Love for this recipe (what a cutie patootie she has assisting on this one) and other wonderful offerings.
Printable Recipe
See post on eatplaylove's site!
Description
A traditional egg tart served in Hong Kong. It's listed as #16 on The World's 50 Most Delicious Foods as compiled by CNN Go.
Ingredients
1-½ cup Water
¾ cups Sugar
4 whole Eggs
¼ cups Evaporated Milk
½ teaspoons Vanilla
24 whole 3-inch Prepared Tart Shells
Preparation Instructions
Preheat the oven to 425ºF. Bring the water and sugar to a boil in a medium saucepan. Remove from the heat and set it aside to cool.
Next beat the eggs in a large bowl and add the evaporated milk. Pour in the sugar water and mix thoroughly. Finally, mix in the vanilla.
Place the tart shells on a baking sheet. Pour the custard through a sieve into the shells.
Bake the tarts at 425ºF for 20 to 25 minutes, or until the egg mixture has risen and the crust is golden brown.


_______________________________________
Amy Johnson is a blogger who writes about food, travel, the home (both inside and out), and various observations and random musings about anything and everything. Visit her blog She Wears Many Hats for a dose of deliciousness, practicality, hilarity, or just plain fun. She lives in South Carolina with her husband and two children.