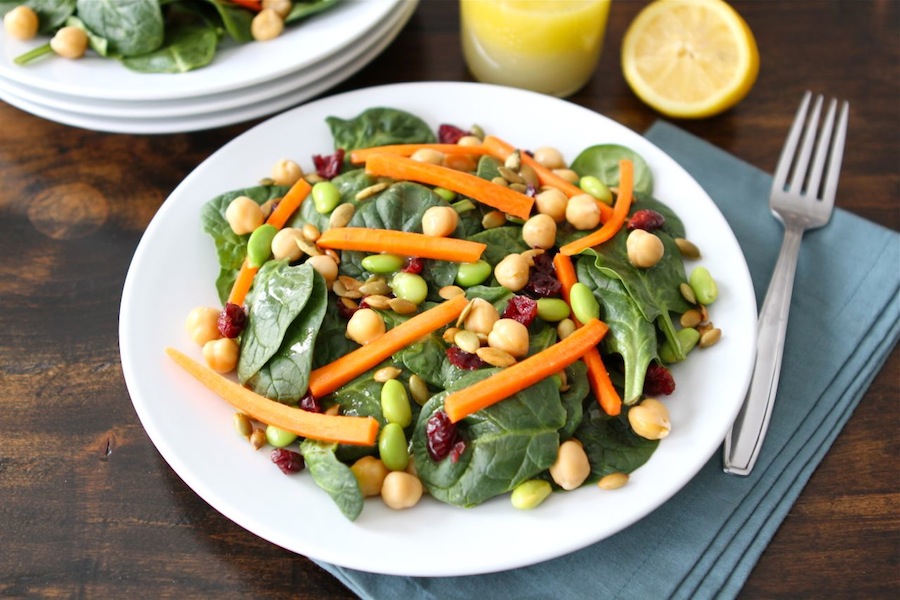 I love salads, but sometimes I get in a salad rut. I tend to make the same old salads, which can get boring. I was looking for some salad inspiration on Tasty Kitchen and came across Bev Weidner's Spinach and Edamame Salad. Spinach salads are my favorite and this one is loaded with nutritious and delicious ingredients. I couldn't wait to make it for lunch.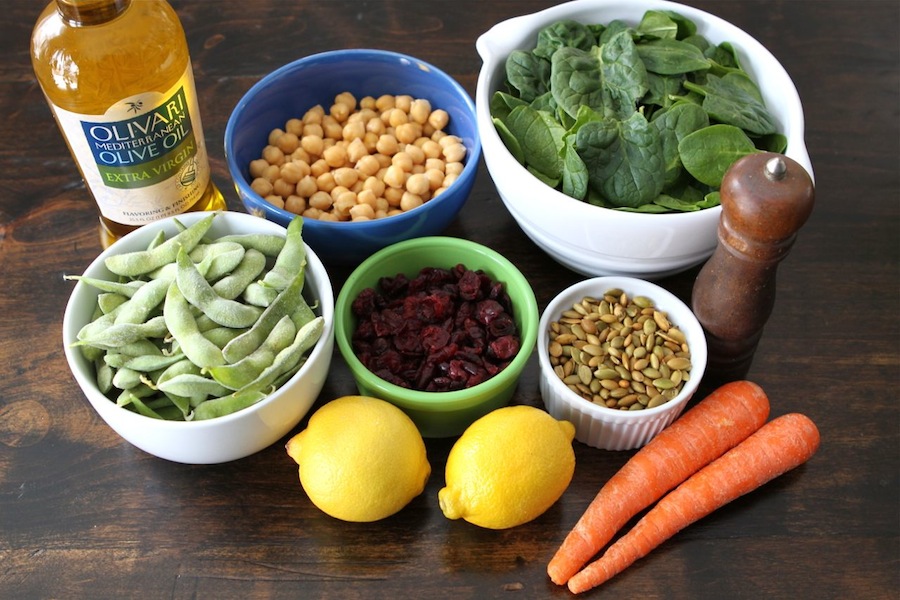 To make the salad you need: spinach, edamame, chickpeas, dried cranberries, pepitas, carrots, lemons, olive oil, salt, and pepper.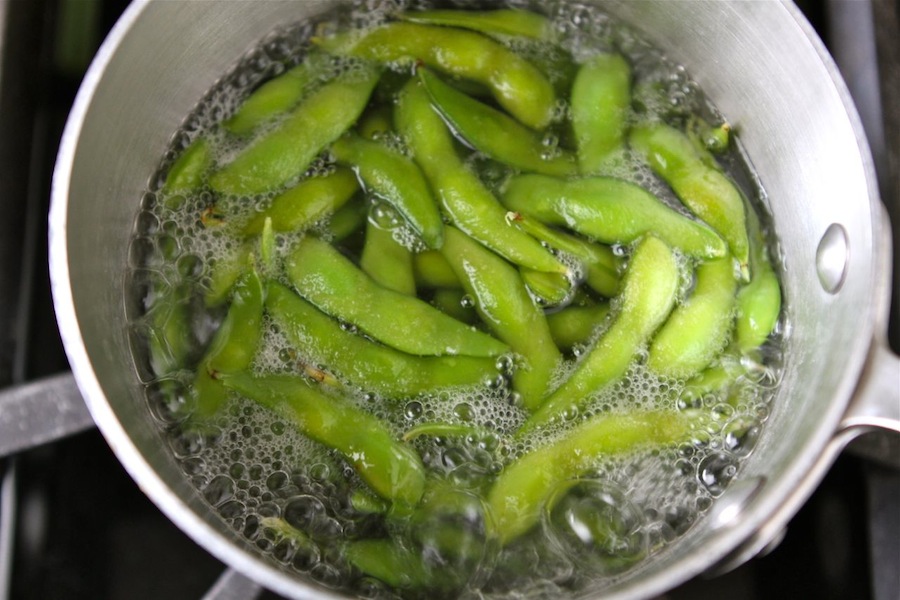 Cook the edamame according to package ingredients. I used edamame in the pod, but if you can find shelled edamame—it will save you some time. Both will work.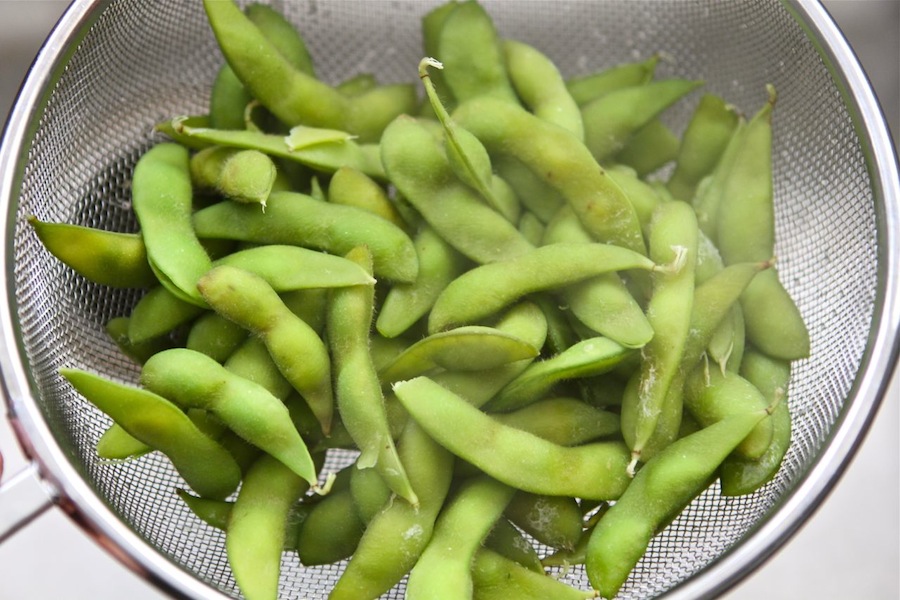 Drain the edamame and let cool for about 5 minutes. I had to remove the edamame from the pods, but if you are using shelled, you're good to go.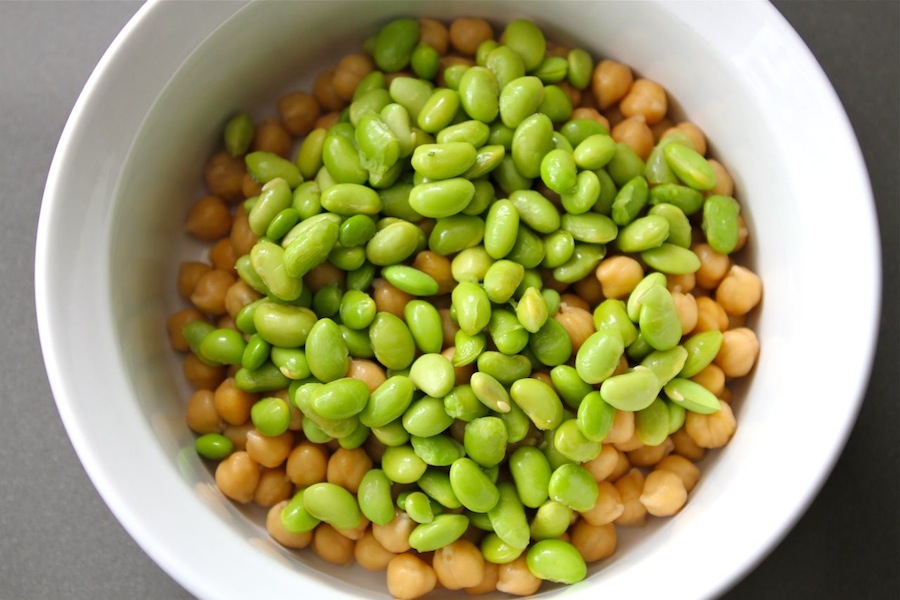 In a large bowl, combine edamame and chickpeas.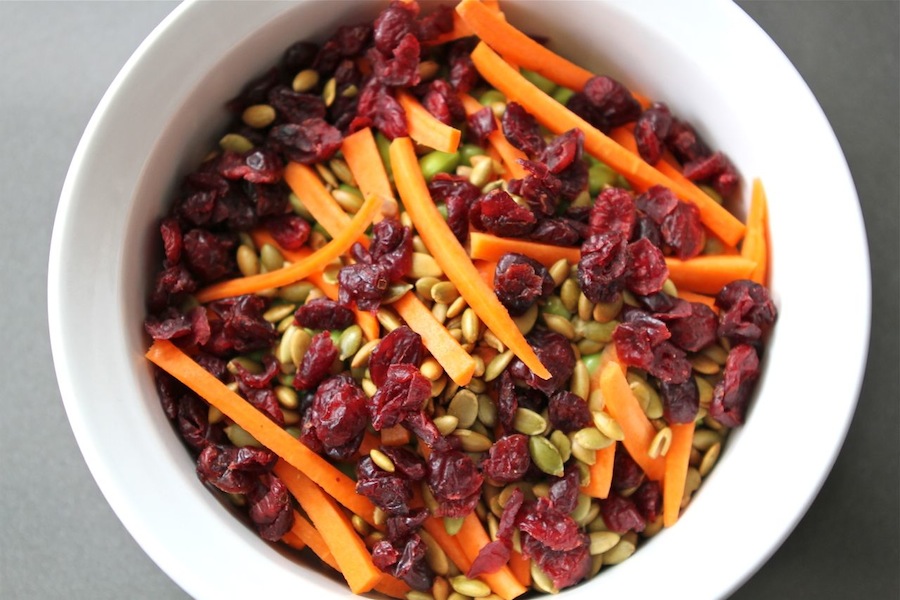 Add the pepitas, carrots, and dried cranberries.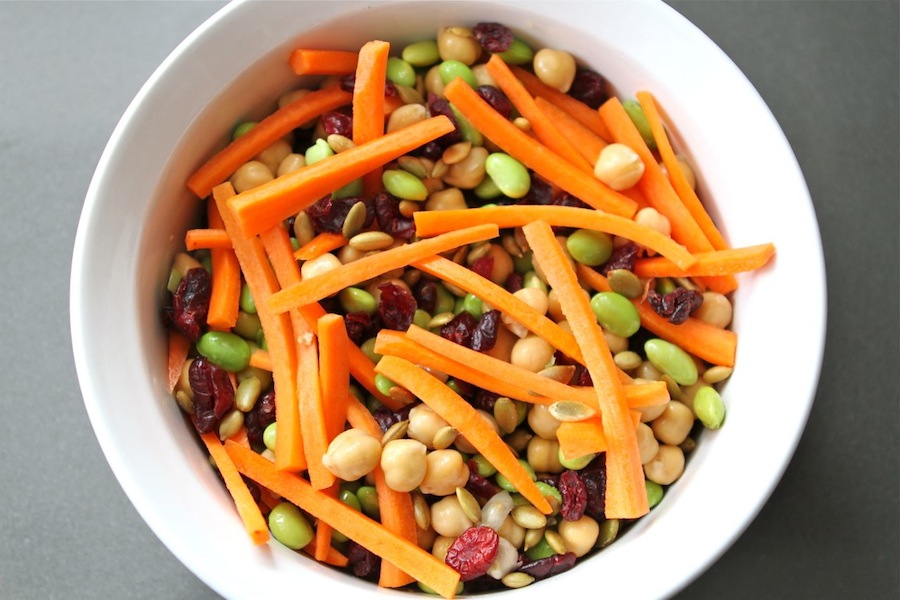 Toss all of the ingredients together.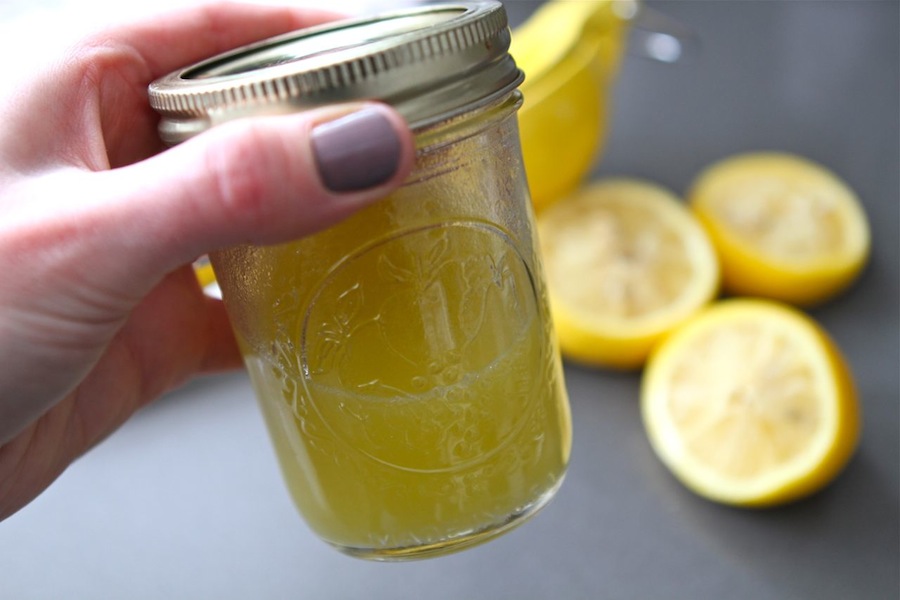 In a small jar, combine lemon, olive oil, salt, and pepper. Shake until well combined.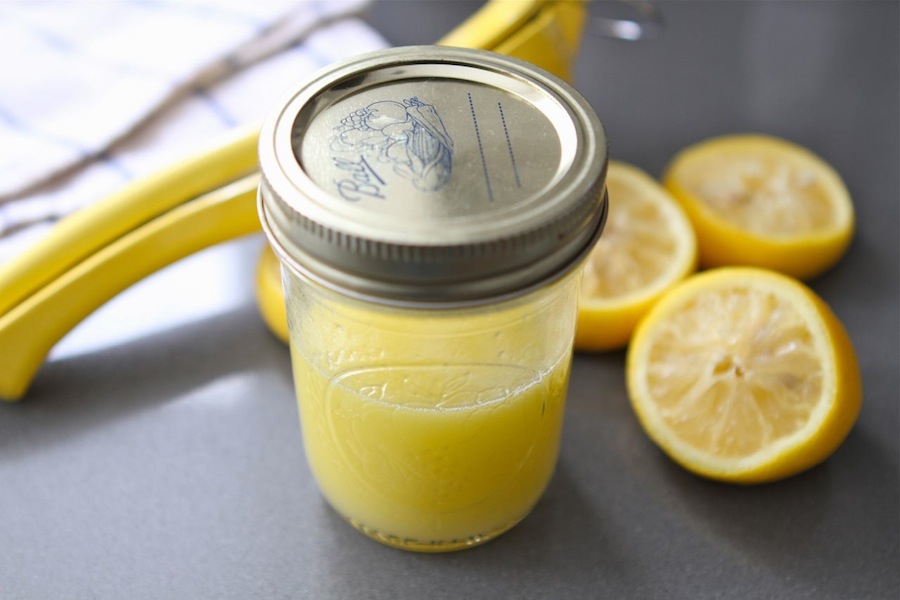 Voila, you have a light lemon dressing. It's that easy!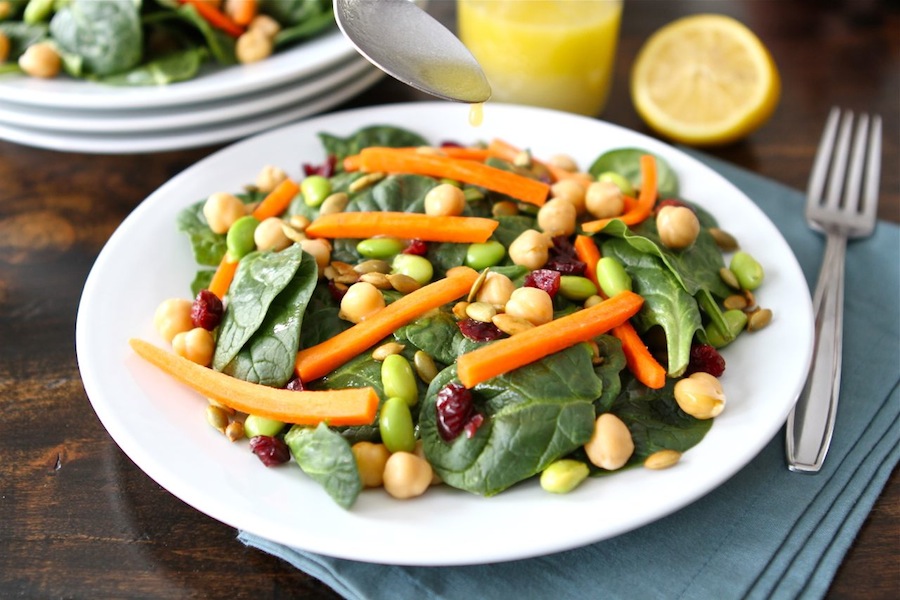 Arrange spinach on a plate and top with the edamame mixture. Drizzle the salad with lemon salad dressing.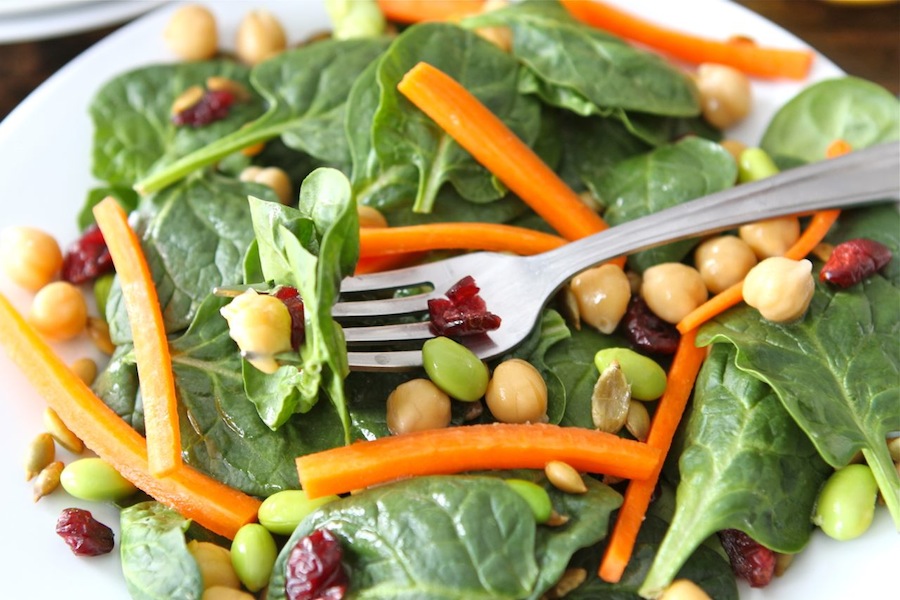 Grab a fork and dive in. 
This salad is pretty much perfection. It is fresh, easy to make, and good for you. I love the bright colors that top the bed of spinach. The carrots and pepitas add a nice crunch, while the chickpeas and edamame add a bit of creaminess in every bite. The dried cranberries add the perfect amount of sweetness. You can use whatever salad dressing you like but I highly recommend the lemon olive oil dressing. It is light and refreshing and doesn't overpower the simple flavors in the salad. This salad keeps well, so make a big salad and put it in the refrigerator for later in the week. It is good every time! 
Thanks Bev for introducing me to this fantastic salad. It is a new favorite at our house. Make sure you visit Bev's blog, Bev Cooks, for other tasty recipes. She is always cooking up something delicious and can always put a smile on your face. 
Printable Recipe
See post on Bev Weidner's site!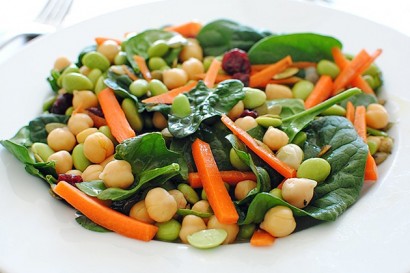 Description
You're probably going to grow a cape when you eat this.
Ingredients
1 bag (10 Oz. Size) Frozen Edamame
1 can (14.5 Oz. Size) Chickpeas, Drained And Rinsed
1 cup Dried Cranberries
½ cups Pepitas
2 whole Carrots, Finely Sliced
2 whole Lemons, Juiced
½ cups Extra Virgin Olive Oil
1 pinch Coarse Salt And Freshly Ground Pepper
10 cups Baby Spinach, Divided
Preparation Instructions
Cook the edamame in boiling water according to package directions. Drain. Once cooked, let cool about 5 minutes.
In a large bowl, toss the edamame with the chickpeas, dried cranberries, pepitas and carrots.
In a small bowl or jar, whisk or shake the lemon juice with the oil, along with a good pinch of salt and pepper. Voila, dressing.
Arrange about 2 cups of spinach on a plate, and top with the edamame mixture. Dress the salad with the lemon dressing and … lunch!
Note: You can use whatever dressing you prefer. I just happen to be obsessed with straight-up lemon.


_______________________________________
Maria and her husband Josh (who she affectionately refers to as her "dough boy") blog at Two Peas and Their Pod. They've been featured on Saveur, Eatocracy, Gourmet Live, Glamour, and the Los Angeles Times, to name just a few. They'd also just recently added a little pea to their pod. We're so glad to have them here!