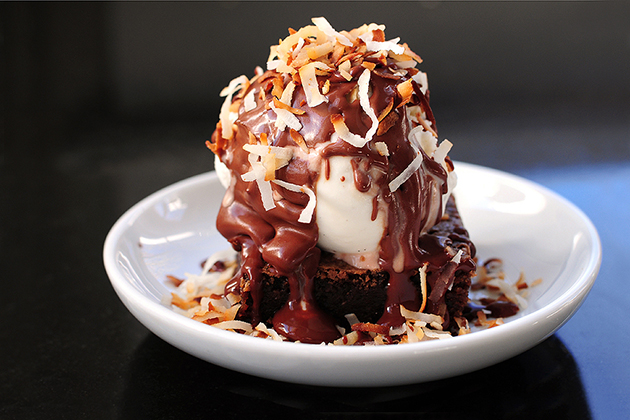 I don't think I've ever met a brownie that I didn't like, but I have to say that I was wondering how this flourless chocolate brownie was going to turn out. Since I found the original recipe in Nigella's Nigella Express, I was a little more confident to try it out. That girl knows her chocolate.
I made a few changes, but followed her basic outline, and was more than pleased. And as if a brownie alone wasn't enough, accompanying the chocolatey goodness is a scoop of vanilla ice cream, with a warm dark chocolate sauce drizzled over top, all sprinkled with toasted coconut. Ultimate brownie perfection. Yes, this Flourless Chocolate Brownie with Warm Dark Chocolate Sauce is one of those cases where "less" definitely means more.
Ready to see how to make your own ultimate brownie at home?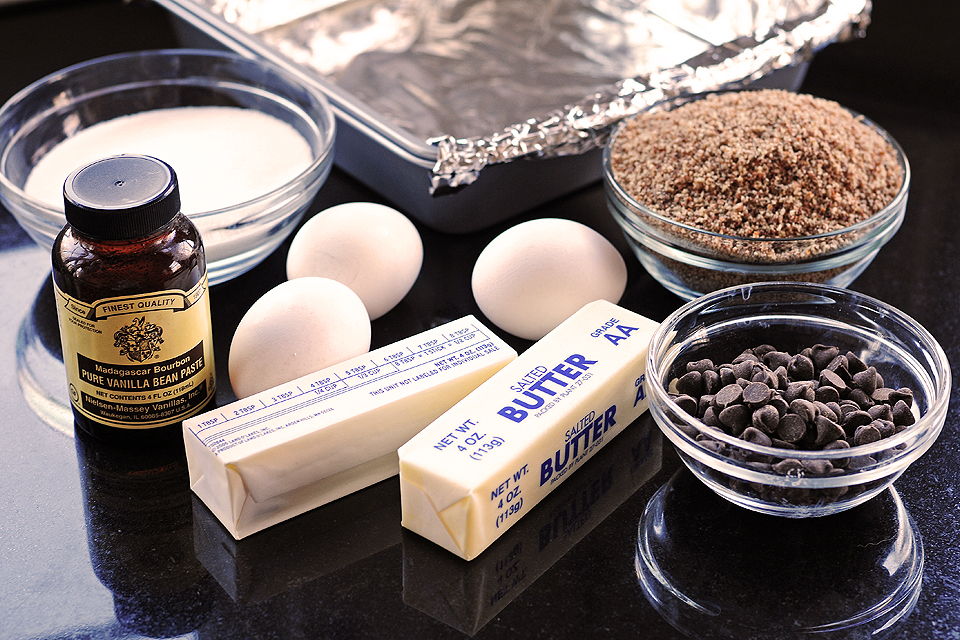 For the brownies, you'll need: semi-sweet chocolate chips, butter, sugar, vanilla, pecan meal (or almond meal) and eggs. Of course these optional toppings are nice too: vanilla ice cream, toasted coconut, your favorite nut or sprinkles.
To make your life a little easier, go ahead and line a 9×9″ baking pan with aluminum foil. It makes removing and cutting the brownies so much easier later on.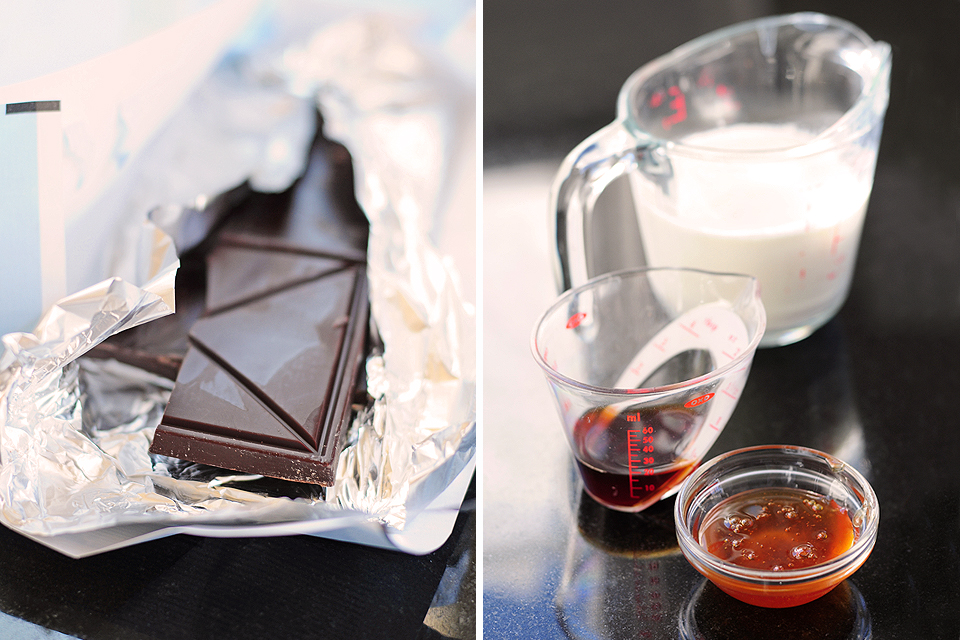 The dark chocolate sauce is simple. It calls for good dark chocolate, heavy cream, strong coffee or espresso, and honey. This sauce is truly a dark chocolate sauce, so if you're not a dark chocolate fan, just substitute semi-sweet chocolate.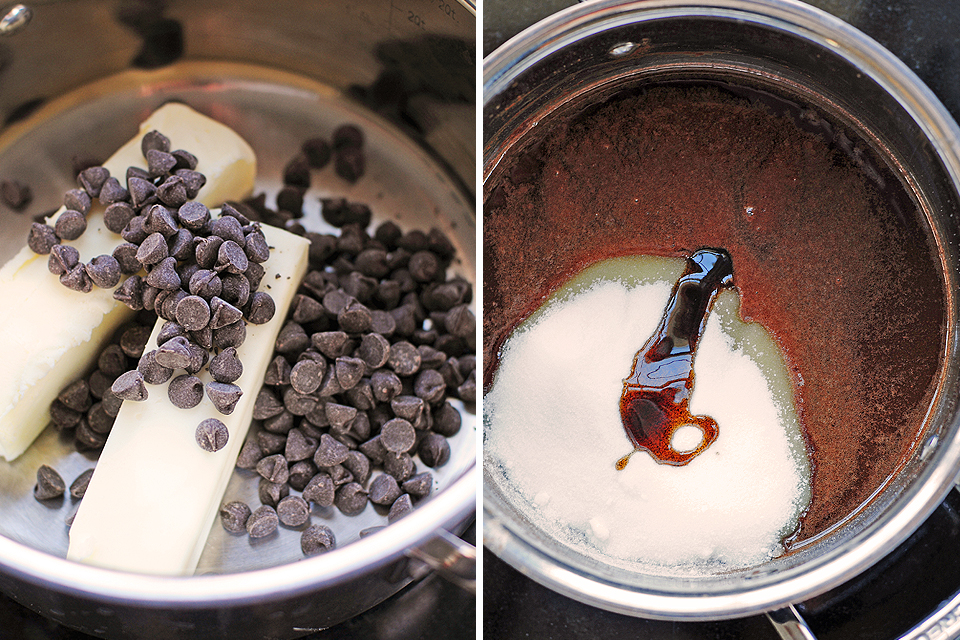 Let's start making the brownies. Over medium-low heat, gradually melt the chocolate and butter, and stir until smooth. Remove from the heat and add the sugar and vanilla, and combine well.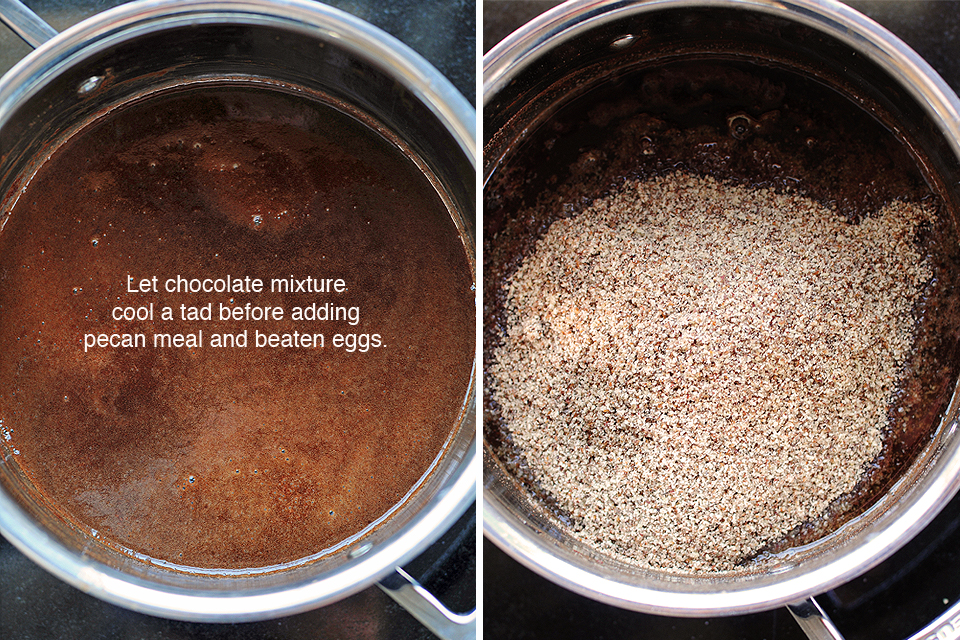 To avoid scrambling the eggs, let the chocolate mixture cool a tad, then add the pecan meal.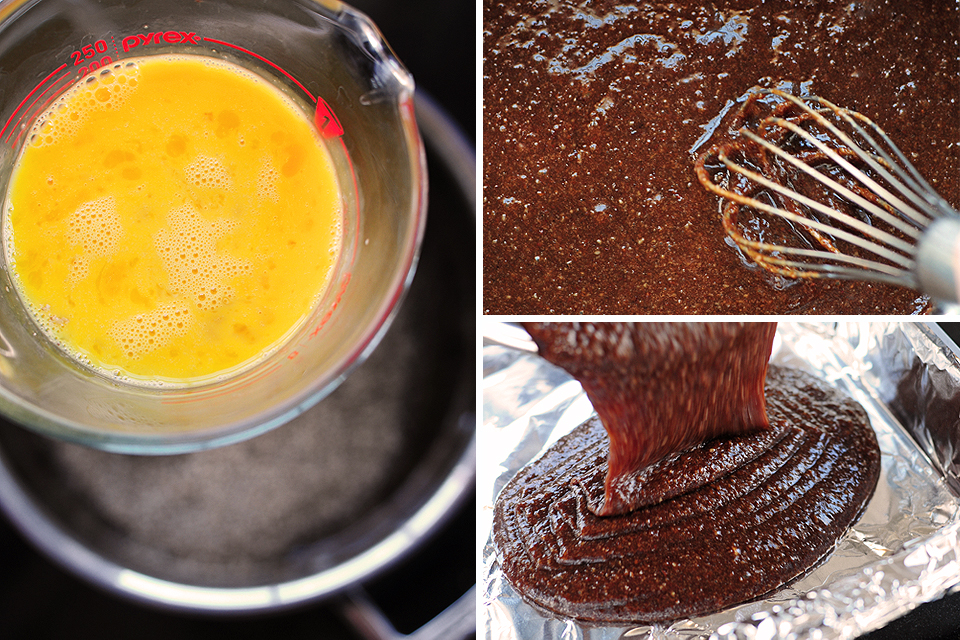 The beaten eggs go in next. Mix well and pour into a lined (or well-greased) 9×9″ baking pan. See the full recipe for baking temperature and times.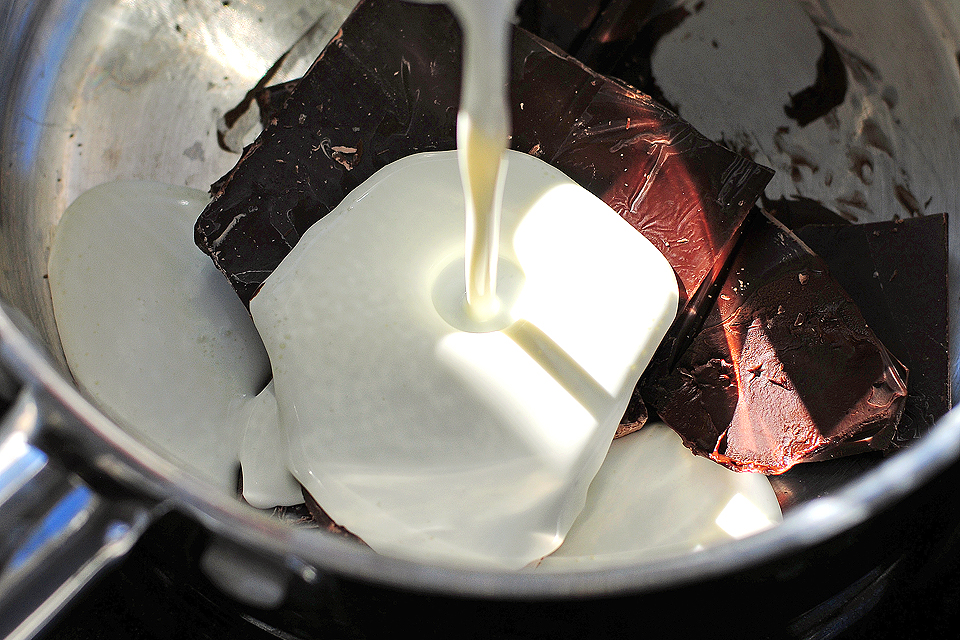 While brownies are baking, prepare the chocolate sauce. Add the dark chocolate and cream to a heavy-bottomed sauce pan.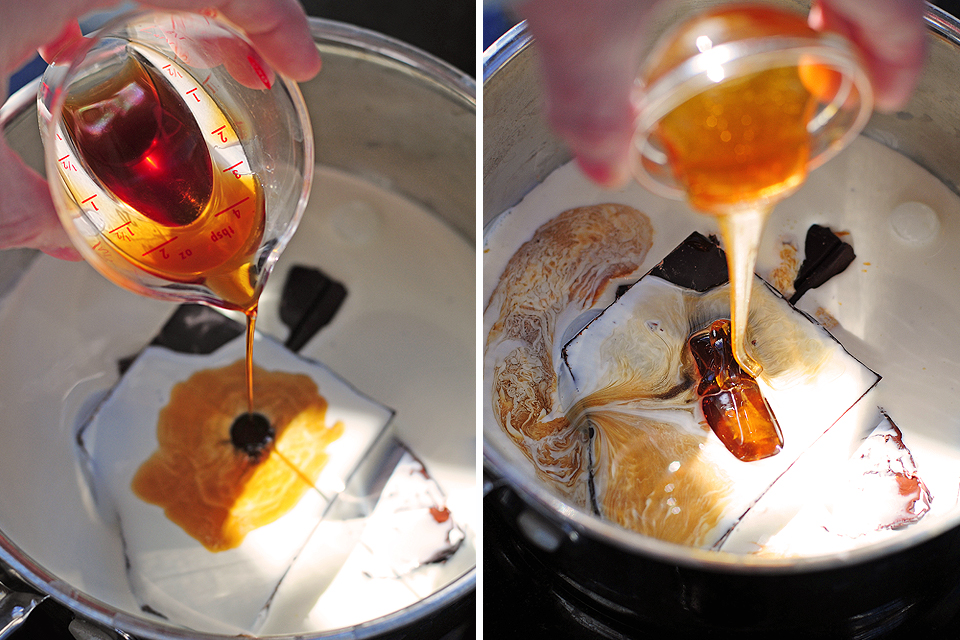 Pour in the coffee and honey, and melt over low heat.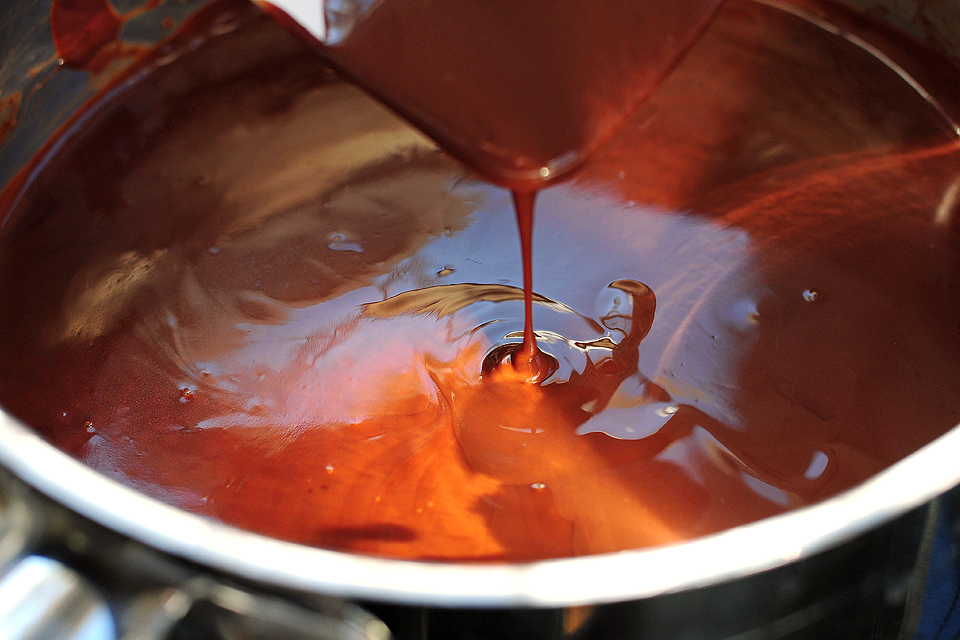 Whisk until smooth and keep warm until ready to serve.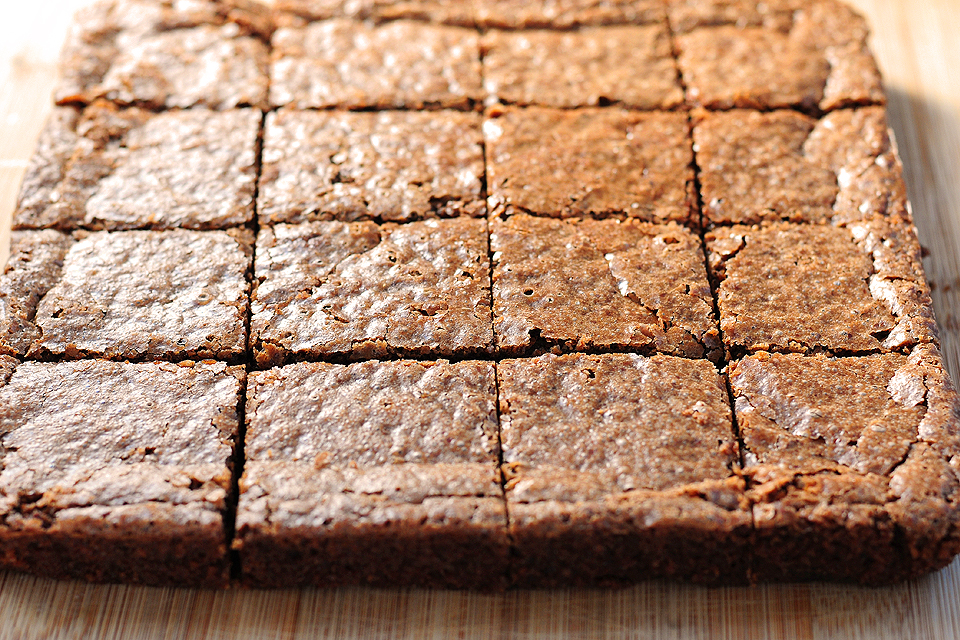 Once brownies are done cooking, let cool for a few minutes in pan, then remove to cut into even pieces.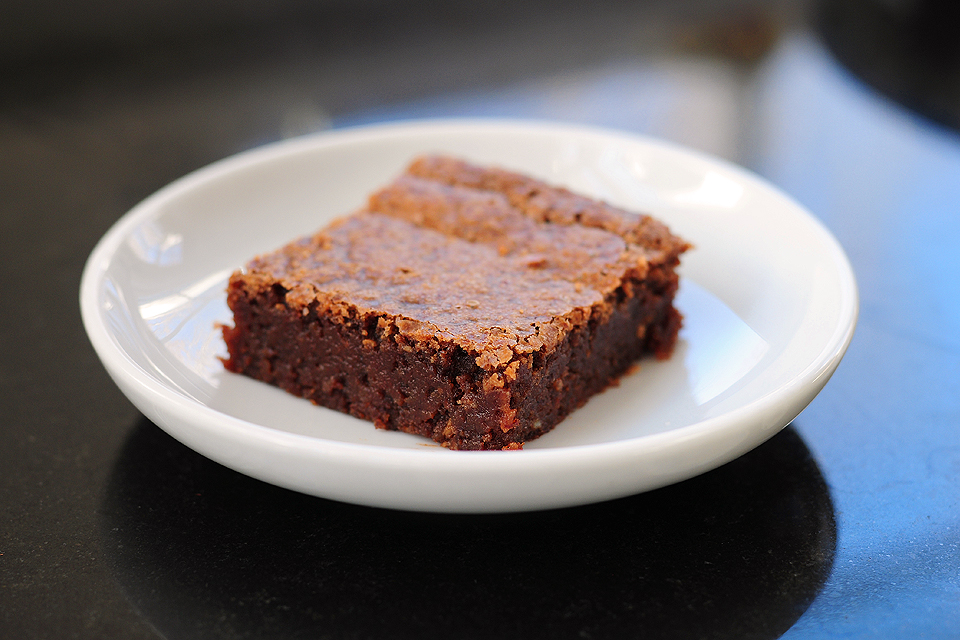 Yum, but doesn't it look so lonely?
I think so.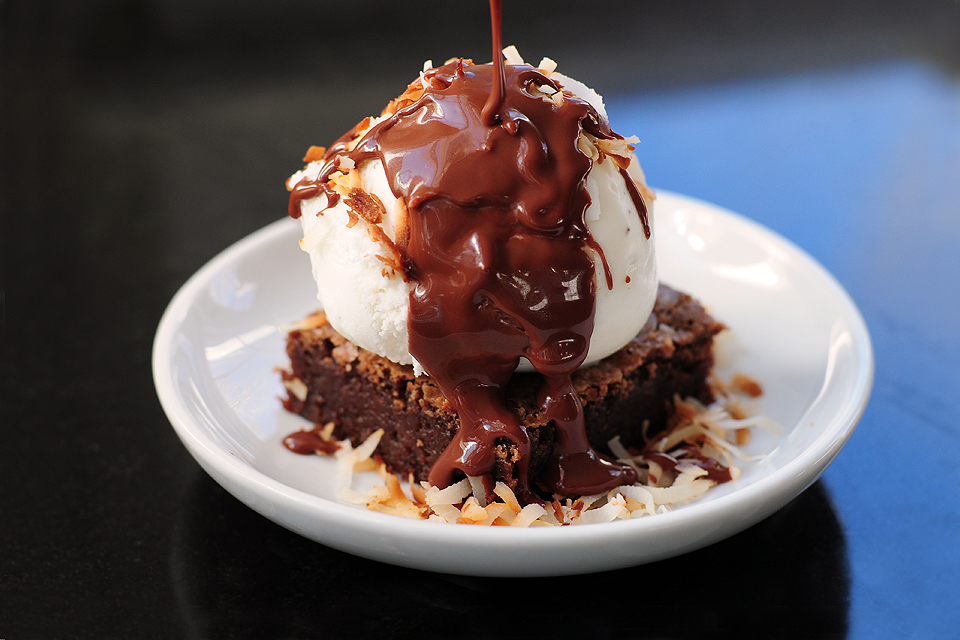 Top with a scoop of ice cream, maybe a sprinkling of toasted coconut, and a drizzling of the Warm Dark Chocolate Sauce.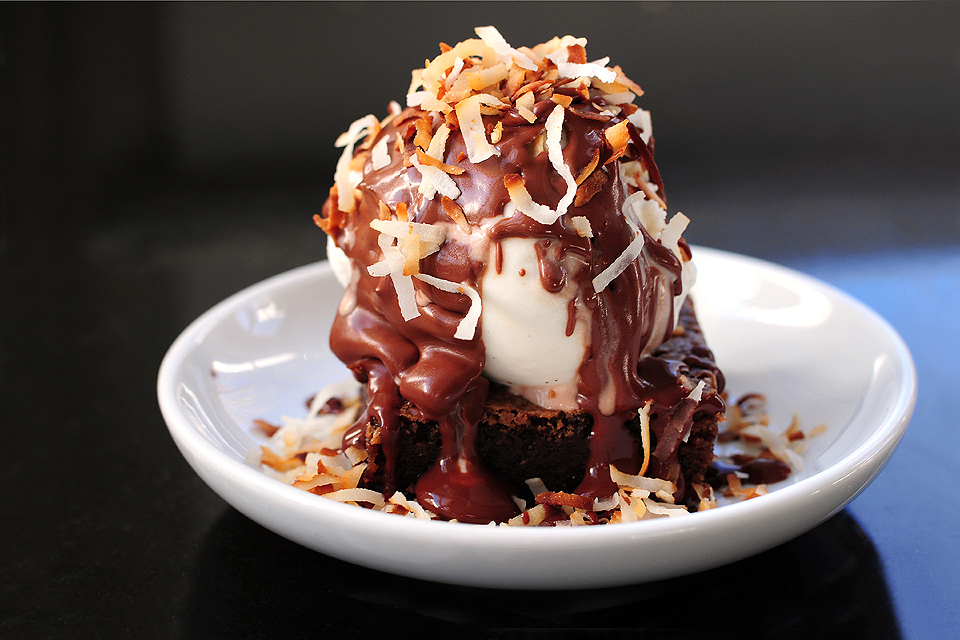 Sprinkle with more toasted coconut or your favorite topping and enjoy!
I'll be using this recipe over and over again. Oh, I almost forgot, it's gluten-free too. If you're not gluten-free yourself, be sure to share this with your gluten-free friends. Eating gluten-free or not, it won't disappoint.
Printable Recipe
See post on missamy's site!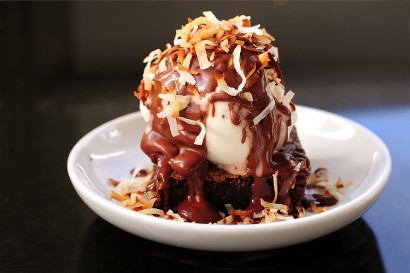 Description
A decadent flourless chocolate brownie made with pecan meal, topped with goodness.
Ingredients
FOR THE BROWNIE:
10 ounces, weight Semi-Sweet Chocolate Chips
1 cup Butter (salted)
1 cup Sugar
2 teaspoons Vanilla
1-¾ cup Pecan Meal (almond Meal May Be Substituted)
3 whole Large Eggs, Beaten
FOR THE WARM DARK CHOCOLATE SAUCE:
3 ounces, weight Dark Chocolate (I Used 70% Cocoa, But A Semi-sweet Would Be Nice Too, If You're Not A Dark Chocolate Fan.)
½ cups Heavy Cream
1 Tablespoon Strong Coffee
1 Tablespoon Honey
FOR THE OPTIONAL TOPPINGS:
Toasted Coconut
Vanilla Ice Cream
Preparation Instructions
For the brownie:
Preheat oven to 325°F and line a 9×9″ baking pan with aluminum foil, or coat with butter or cooking spray.
In a saucepan over medium-low heat, gradually melt the chocolate with the butter, stirring until smooth. Remove from heat, stir in the sugar and vanilla, and allow mixture to cool a little.
Whisk in the pecan meal and beaten eggs until combined well.
Pour mixture into a baking pan and bake for 25-30 minutes.
Let cool for a few minutes before cutting.
For the warm dark chocolate sauce:
Add all ingredients to a heavy-bottomed saucepan, and heat over low to melt chocolate and warm mixture. Whisk until smooth.
Serve warm. Refrigerate any leftovers; re-warm stovetop or in microwave.
Optional: top with vanilla ice cream, toasted coconut or other favorite toppings.
(Recipe adapted from Nigella Lawson's Nigella Express.)


_______________________________________
Amy Johnson is a blogger who writes about food, travel, the home (both inside and out), and various observations and random musings about anything and everything. Visit her blog She Wears Many Hats for a dose of deliciousness, practicality, hilarity, or just plain fun. She lives in South Carolina with her husband and two children.