Have you ever had a hushpuppy? A true hushpuppy is a cornmeal-based dough that's fried into little balls. Sometimes onions and peppers are added, but that's basically it. Hushpuppies have very strong ties to the American South, like fried dill pickles and fried okra (two more of my favorite fried goodies) and are commonly served as a side dish at seafood restaurants.
Oh, and they're deliciously addictive. I head straight for these when the competitive BBQ tents go up here in Reno, Nevada. Sorry ribs, I'll catch you later.
Tasty Kitchen member beachbumwannabe (aren't we all??) submitted this grease-free version, and I was dying to try it. Baked Hushpuppies are pretty good. They're not identical to the fried version, but they're a great, lighter alternative. Plus, they're a great little dipper for soups and chilis. Or a finger food at a party buffet.
If you happen to be a hushpuppy purist and red flags are going off all over the place, just think of these as mini corn muffins. Ah, better?
First, gather your ingredients. You'll need cornmeal, flour, an egg, baking powder, salt, cooking oil, milk, an egg, green onions, peppers, and honey.
Grab a medium-sized mixing bowl and toss in the cornmeal and flour. For mine, I used whole wheat pastry flour to add some whole grains. It's a great replacement for all-purpose flour in things like this because you can't tell the difference.
Add the baking powder.
And the salt.
Give it a good whisk.
Grab another smaller bowl. Crack the egg into it and shake it up a bit with a fork.
To this, add the oil. I used grapeseed.
And add the milk.
Next, chop the green onion and peppers. The recipe suggested a combination of red bell pepper and jalapeno. I used them, too. I also de-flamed my jalapenos because I have small children, but if you want more heat in these, leave a few seeds in the mix.
Add the green onion to the egg mixture.
You'll only need about 1/3 cup of chopped peppers, so combine them how you like into a measuring cup. Save the rest for an omelet. Or a frittata.
Add those to the wet mixture, and stir it well.
Add the entire egg mixture to the cornmeal mixture. Give it a whisk, but just until it's moistened.
Know what? A whisk wasn't such a great idea. Use a rubber spatula instead.
If you've got a mini muffin pan, good for you! Add a tablespoon of dough to each cup. If you're using a regular muffin pan, add 2-3 tablespoons per cup.
My pan has 24 cups, but I only had enough dough for 21. If you have extra cups, fill them halfway with water. It helps to distribute the heat more evenly on that end of the pan. You wouldn't want any scorched hushpuppies now.
Bake them for about 8-10 minutes (longer for a regular muffin tin) or until they're firm and a little golden brown on the sides. Pretty, aren't they? They're about to get better, though …
Oh yes. Drizzle honey over the warm hushpuppies. Then pop one in your mouth. (Or five. Don't judge, I'm pregnant.)
Thank you so much, beachbumwannabe!
Notes:
1. I omitted the sugar in the recipe because I like my cornbread on the savory side, but for these, I think I would add a tablespoon next time.
2. I live in Nevada, and I think because of the dry air, my dough turned out drier than it should have. Add a little more milk if you think your dough may be too dry as well.
Printable Recipe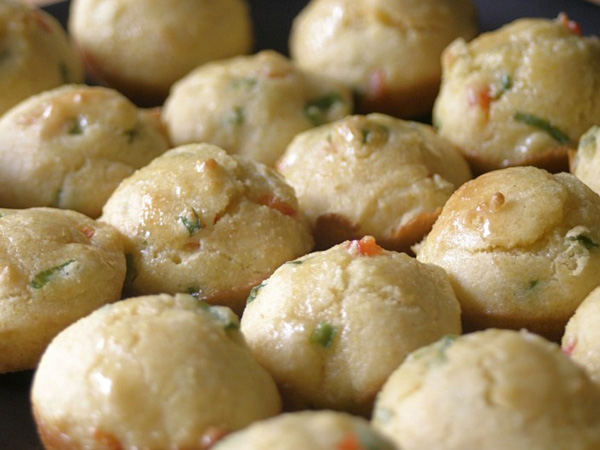 Description
Another great recipe from Grandma Blacknall's recipe box: baked hushpuppies!
Making a pot of chili for game day? These baked hushpuppies are a great addition to your menu! You can also just add these to a finger food buffet. Everyone will love them!
Ingredients
½ cups Cornmeal
½ cups Flour
1-½ teaspoon Baking Powder
½ teaspoons Salt
3 Tablespoons Sugar
1 whole Egg, Beaten
6 Tablespoons Finely Chopped Red Pepper & Jalapeno
¼ cups Chopped Green Onion
⅓ cups Skim Milk
2 Tablespoons Vegetable Oil
24 teaspoons Honey
Preparation Instructions
Preheat oven to 425F.
Combine cornmeal, flour, baking powder, salt, and sugar in a bowl.
Beat egg in a separate bowl.
Finely chop red pepper, jalapeno, and green onions.
Combine all ingredients and stir until moistened.
Spoon about 1 tablespoonful into greased muffin pans. I used a mini muffin pan to make them more finger friendly. Plus, I just love mini anything!
Bake at 425F for 15 to 20 minutes for regular muffin pans and about 8 to 12 minutes for mini muffin pans.
Although I added more sugar than Grandma Blacknall's recipe called for, I still thought they needed something sweet. So I after I pulled them out of the oven, I spooned a little bit of honey over the top of each hushpuppy while they were cooling in the muffin pans. This was the perfect touch in my opinion, but experiment and find what's perfect for your family! I also added in the jalapenos to give it a touch of spiciness. I didn't really notice it too much, but you could leave it out if needed!


_______________________________________
Be sure to check out Natalie's own beautiful food blog, Perrys' Plate, where you can see her growing collection of lovely recipes. There's always something new to see there. Go visit now!