As far as gluten-free baked goods go, these are seriously the bomb. We're not an entirely gluten-free household, but occasionally I like to play with almond meal in baked goods. I love the rich, nutty (but not too nutty) flavor it imparts. And you can't beat the nutritional benefits of almonds. These Gluten-Free Apple, Ginger and Spice Scones, submitted by Jenni Hulet have become a favorite of my family.
Eating one (or four) of these scones is like eating a hearty, moist apple cookie for breakfast. *Swoon*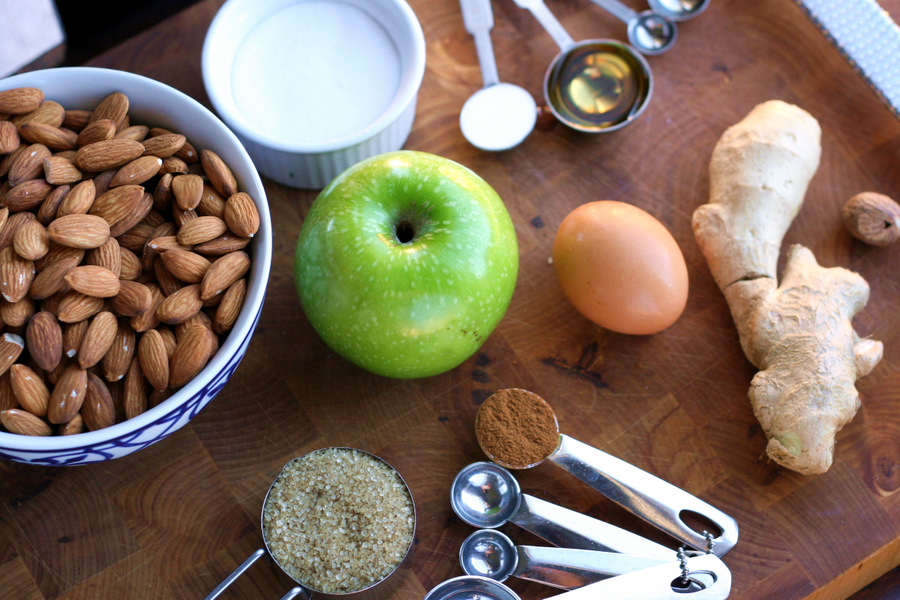 No mysterious ingredients here. You'll need 3 cups of almond meal/ground almonds (I'll show you how to make some in a second. Ridiculously easy.), a nice tart apple, an egg, fresh ginger, apple cider vinegar, baking soda, salt, cinnamon, and nutmeg.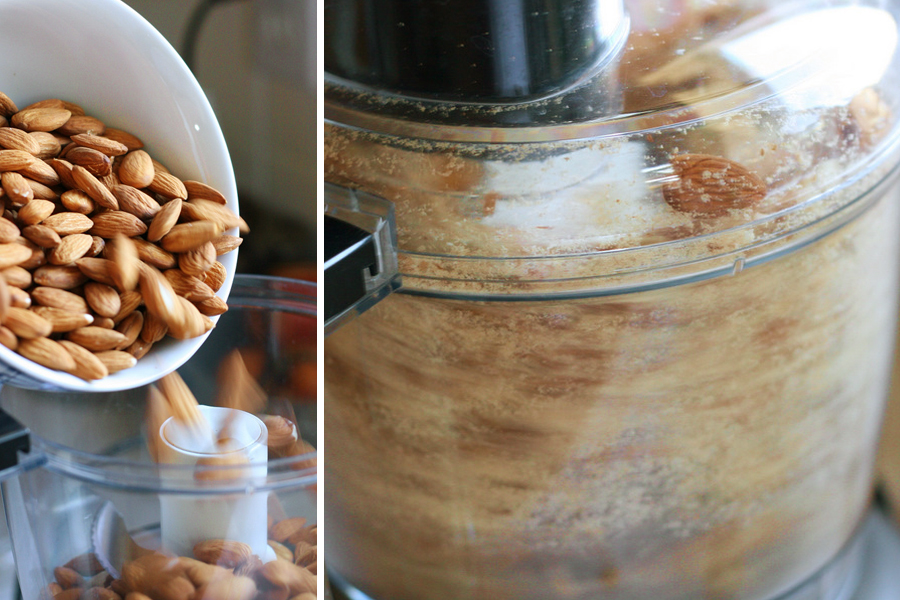 You can find almond meal in health food stores, some well-stocked grocery stores, and always at Trader Joe's, but if it's too much trouble to track down you can make your own if you've got a food processor. To make three cups of almond meal you'll need a little over two cups of almonds. For best flavor results in baking, make sure you use raw, unsalted almonds. Buzz them up in your food processor for a minute or two or until no large chunks remain. The mixture may start to stick to the sides. Scrape the sides with a rubber spatula and continue to pulse until you reach the correct consistency.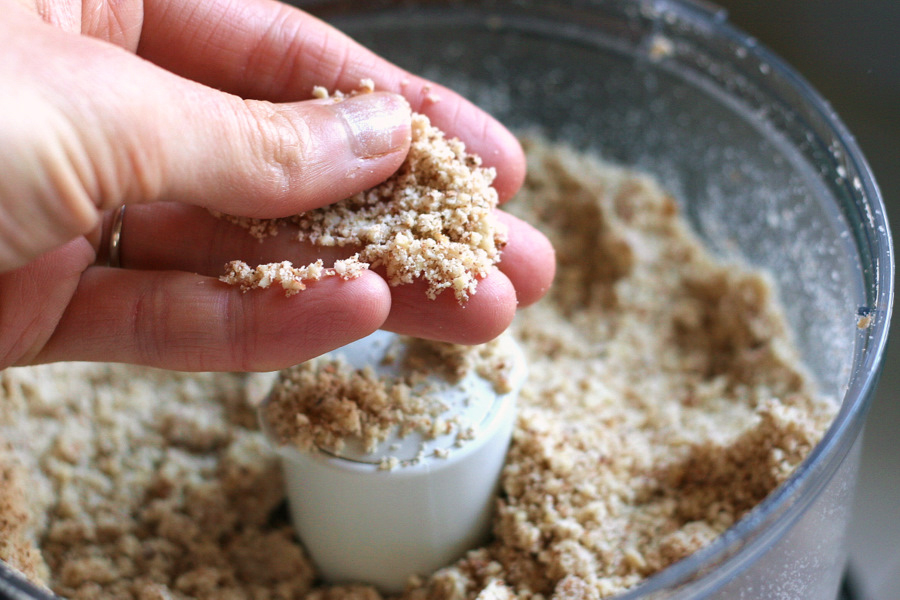 The almond meal should look like this. If you let it run too long, you'll end up with almond butter. Tasty, but not what we're looking for here.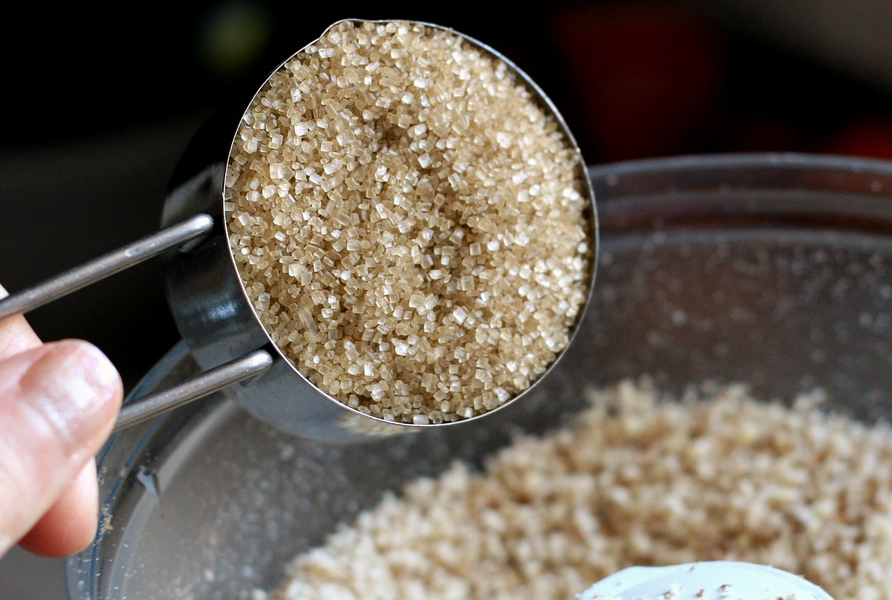 If I were you, I'd dump the almond meal out into a bowl and measure out three cups back into the food processor, just to be sure I had the right amount. Then add the sugar. I used raw turbinado sugar, but you can use any type you want. Run the processor for a few seconds until everything is blended well.
Transfer the mixture into a medium-sized bowl and add the baking soda, cinnamon, and salt.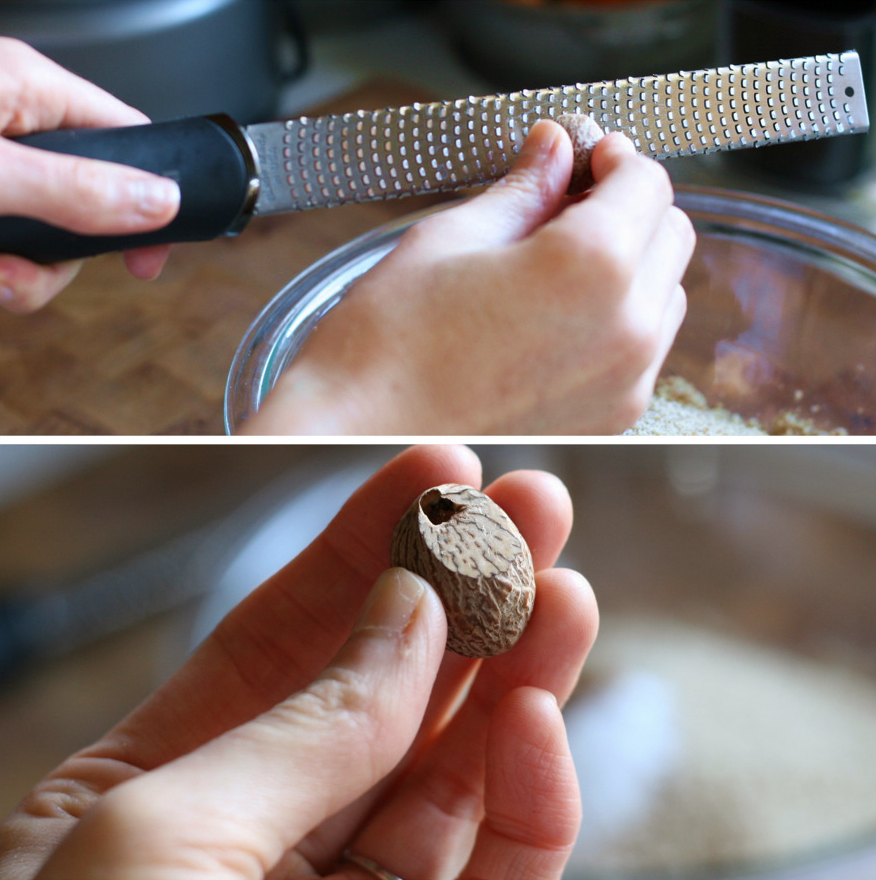 Also add the nutmeg. I'm a big fan of using freshly grated nutmeg (easiest with a Microplane-type grater). I always look at the part I grated. It kind of reminds me of brains.
Give it a stir. Chop the apple and add one cup of the cubes. You might not want to add much more than that or the scones will have trouble staying together.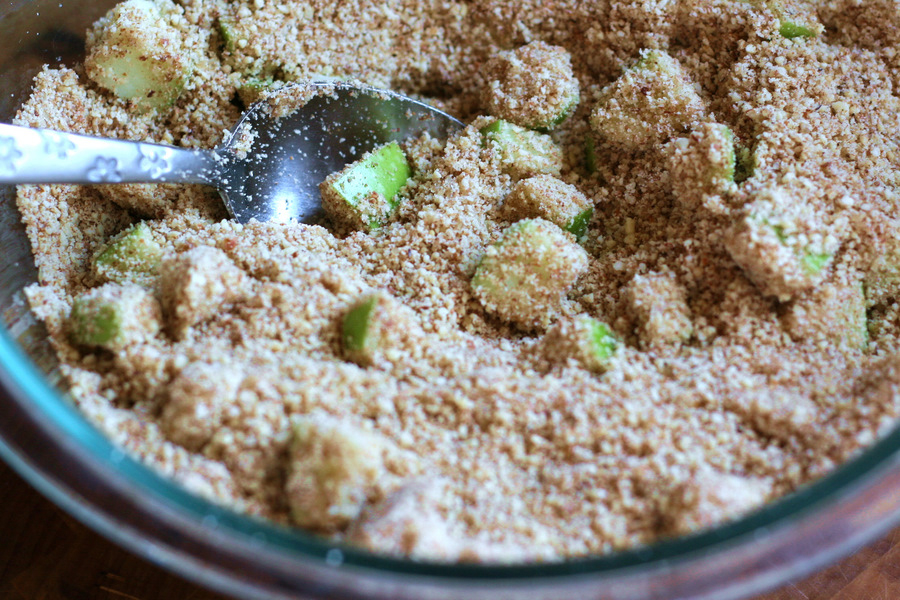 Mix them well so all the apples are coated.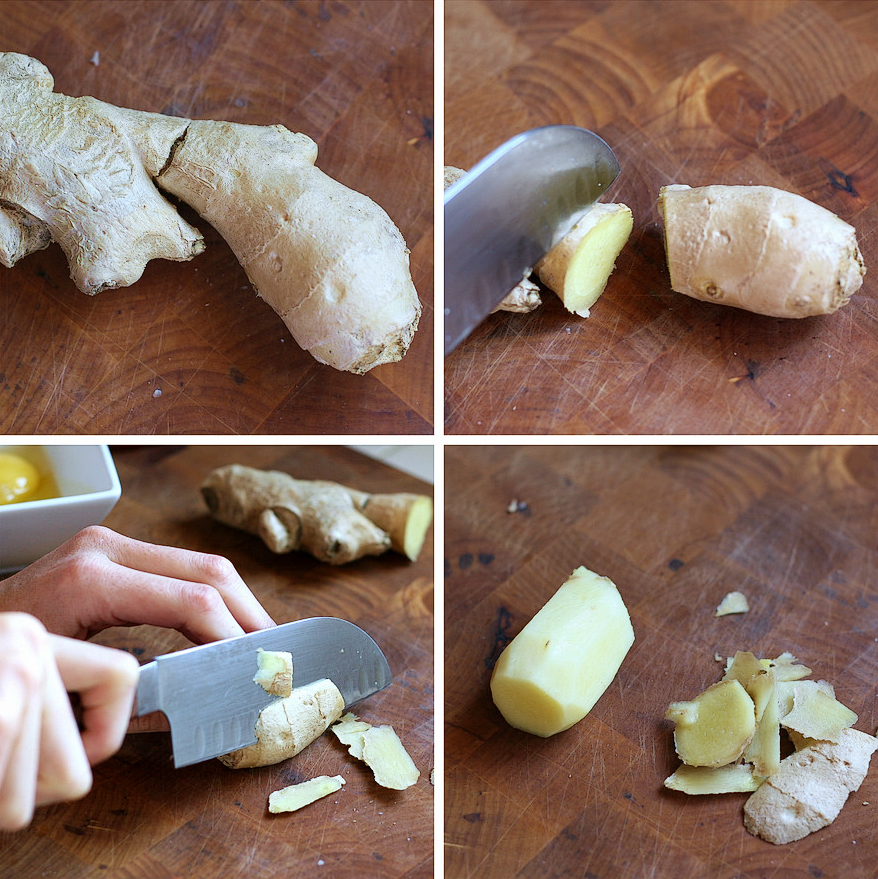 Now for the wet stuff. Prep the ginger by peeling it and grating some into a small bowl.
There are lots of ways to grate ginger, using the back of a spoon and such, but the easiest and fastest way I've found is to simply cut it off. Slice as close to the skin as you can, then rotate the knob, slice again, rotate, slice … get my drift?
Add the egg and the vinegar to the bowl and beat with a fork. Add the wet mixture to the almond-apple mixture and mix well.
It may seem, at first, that there's not enough moisture for the dough to hold together, but keep mixing. It'll come together. I promise.
Divide the dough into two balls. Then flatten each ball into a 1/2-inch thick circle and cut into eight segments.
I really, really love my dough cutter. It's great for cutting dough (of course).
It's also great for scooping up pieces of dough, and even scraping your countertops clean after you've been working with dough and flour. I love you, dough cutter.
Transfer the scones to parchment-lined stack of baking sheets. Jenni recommended doubling your baking sheets to prevent the bottoms from burning. Nuts tend to burn easily, so this was a great tip.
Bake them for 10-12 minutes or until they just barely start to brown. I wouldn't bake them longer than that or they'll be dry.
Jenni suggested a drizzle of white chocolate, but we opted for some homemade pear butter. The scones are plenty sweet on their own, more than I thought they'd be with so little sugar. Heck, they're great with just a smear of regular butter!
You'll love these apple-pie-like scones, even if you aren't on a gluten-free diet. My husband and I and our two small children at the entire batch in one sitting. (Yes, er … all sixteen of them. In our defense, they're small scones!)
They really are fantastic!
Be sure to visit Jenni's TK recipe box and her blog The Urban Poser for more natural food recipes!
Printable Recipe
See post on Jenni Hulet's site!
Description
Slightly sweet, reminiscent of apple pie, this gluten free scone will make you want to get up in the morning! Have it with tea or dip it in your coffee. Either way, you won't care that it's gluten and grain free! Enjoy.
Ingredients
3 cups Almond Meal
4 Tablespoons Rapunzel Unrefined Cane Sugar
¼ teaspoons Salt
1 teaspoon Baking Soda
1 teaspoon Cinnamon
½ teaspoons Allspice Or Nutmeg
1 cup Chopped Tart Apples
1 whole Egg
1 Tablespoon Apple Cider Vinger
1 Tablespoon Grated Ginger Or Pre-grated Tubed Ginger
Preparation Instructions
First put the almond flour and cane sugar in a blender and blend till fine (a few minuets). You will have to stop and mix a few times as the mixture will get thicker.
Sift the mixture into a large bowl.
Combine the almond flour/sugar mixture with the salt, baking soda, cinnamon, allspice and apples.
In a smaller bowl, combine the egg, vinegar and ginger.
Mix wet ingredients into dry. Lightly knead dough with your hands to ensure proper distribution of ingredients. Don't worry if it is a bit wet, however you can add a little more almond flour if needed to help bring the dough together.
Form dough into 2 balls and press each one so that each is about ½-inch in thickness. Cut each circle into 8 triangles. Using a metal baking spatula, transfer to parchment paper.
Bake at 375ºF on double or stacked baking sheets (so the bottoms won't burn). Bake for 10 minutes or till lightly browned.
Mildly destroy the healthy goodness with a drizzle of white chocolate goodness. They even make it dairy free these days.
Notes:
You can get almond meal or flour at your local health food store or make your own by grinding almonds in a blender. You can even use other nut flours in the mix. Even better, use sprouted almonds or sprouted almond flour!
Most often you can find pre-grated tubed ginger in the produce section of your local supermarket. I LOVE this stuff. We put it in everything from morning oatmeal, cookies, stir fry to tea.


_______________________________________
Be sure to check out Natalie's own beautiful food blog, Perrys' Plate, where you can see her growing collection of lovely recipes. There's always something new to see there. Go visit now!