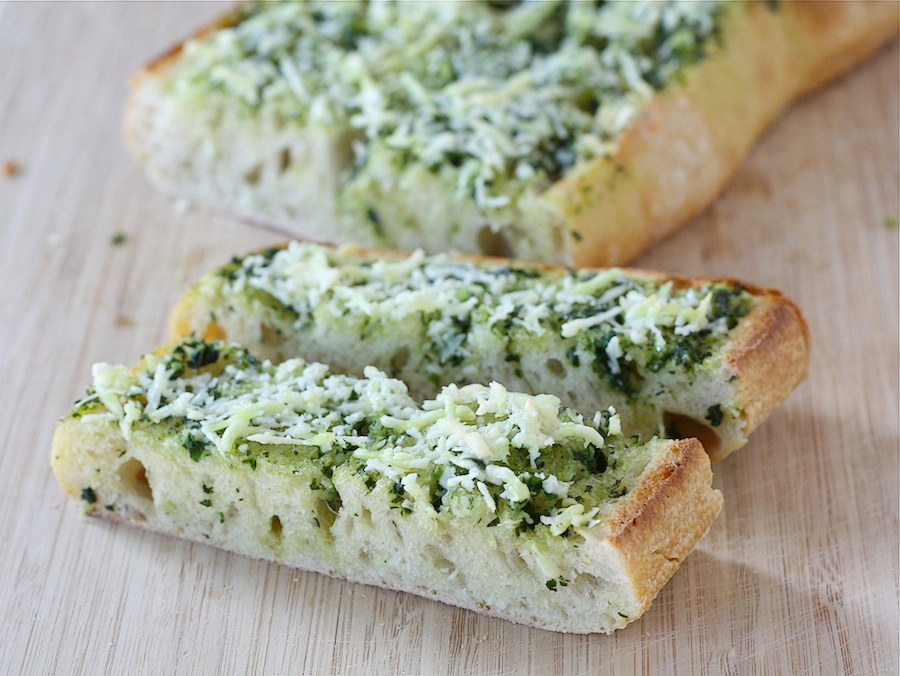 Our herb garden is going crazy this year. I am not complaining because I love fresh herbs, but I am having a hard time keeping up. Our basil plants are especially out of control. I've made several batches of pesto, but every time I walk outside it looks like I haven't touched the plants. They are growing like weeds. 
I am always looking for new ways to use up our basil, so when I saw Jenna's recipe (TK member kitchenlovenest) for Basil Butter Garlic Bread, I knew I had to try it. I love regular garlic bread and this version looked even better. The garlic bread gets jazzed up with basil butter and Parmesan cheese.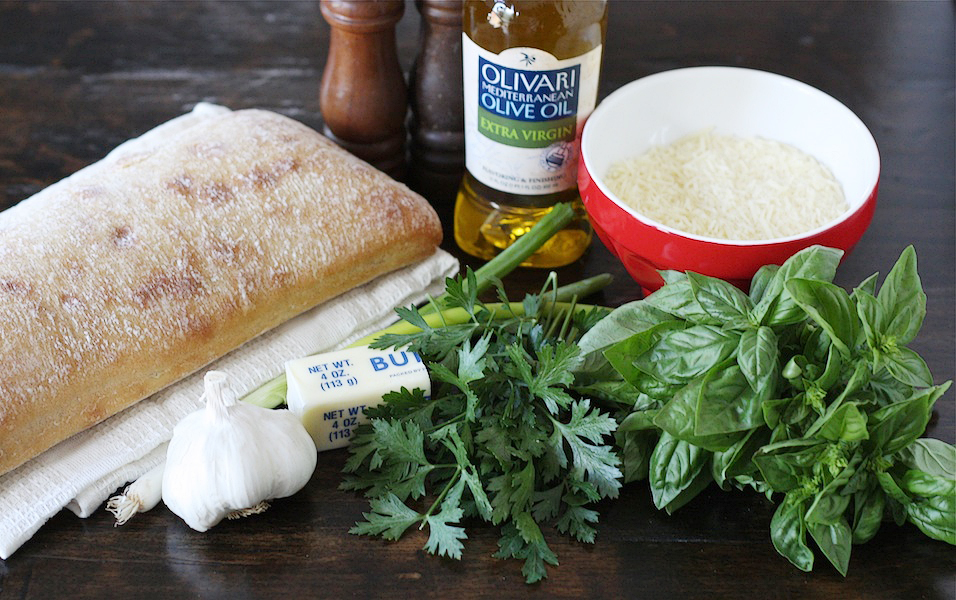 To make the bread you will need: ciabatta or French bread, butter, olive oil, basil, parsley, garlic, green onion, salt, pepper, and Parmesan cheese.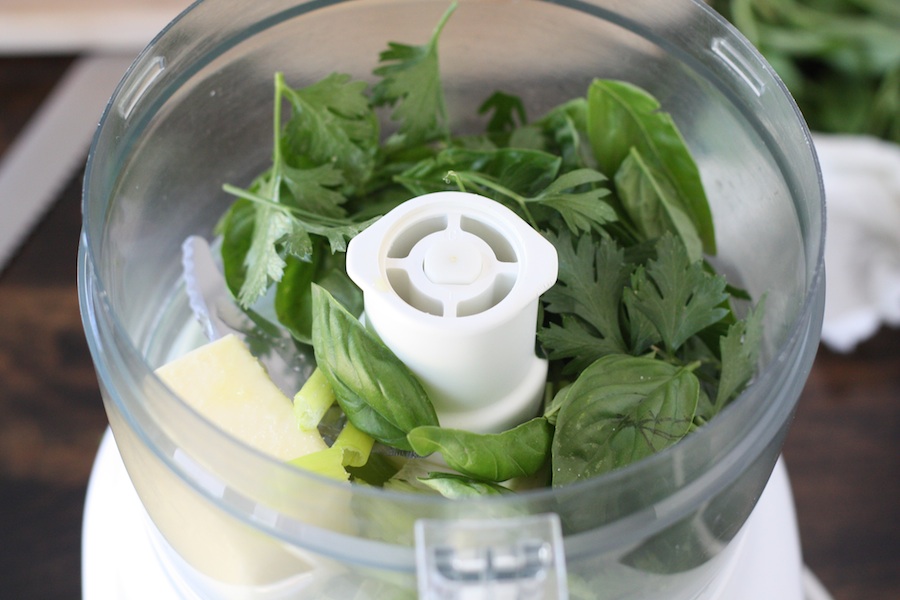 First, combine all of the ingredients, except for the bread and cheese, in a food processor.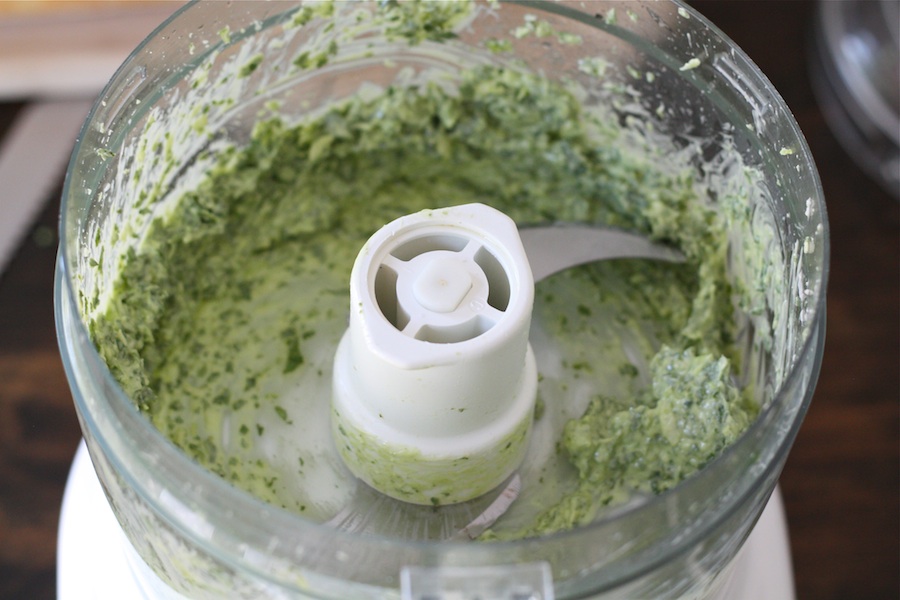 Process until smooth.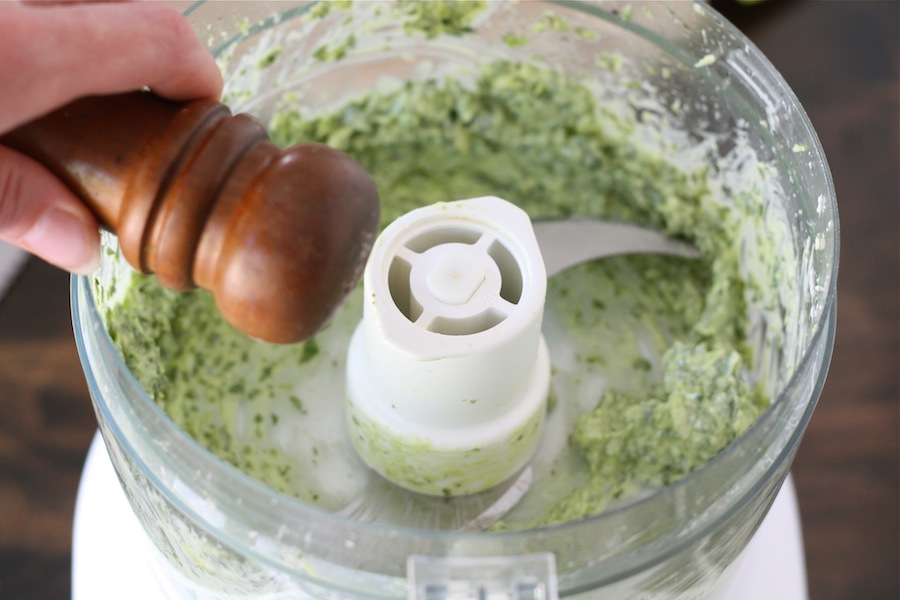 Season basil butter with salt and pepper, to taste.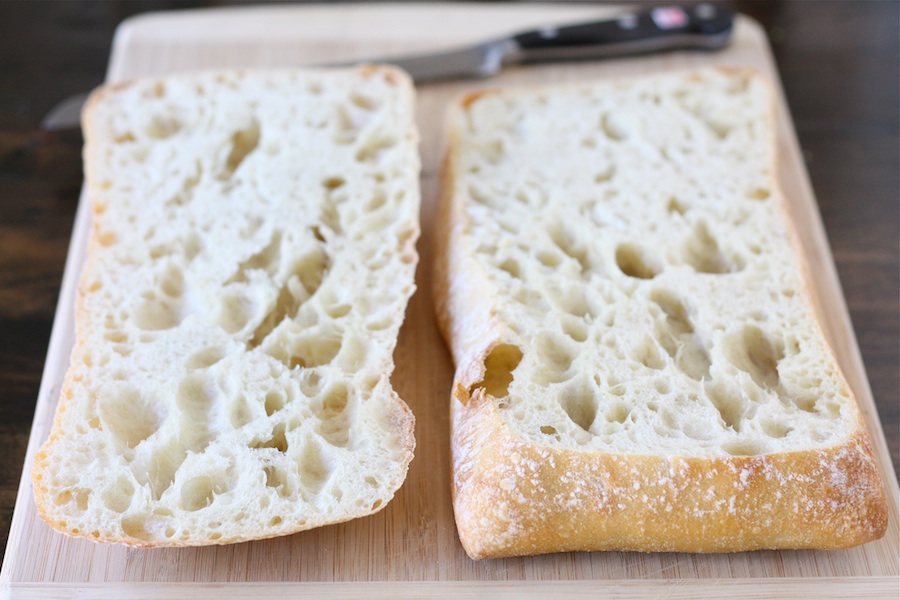 Cut the bread in half using a bread knife.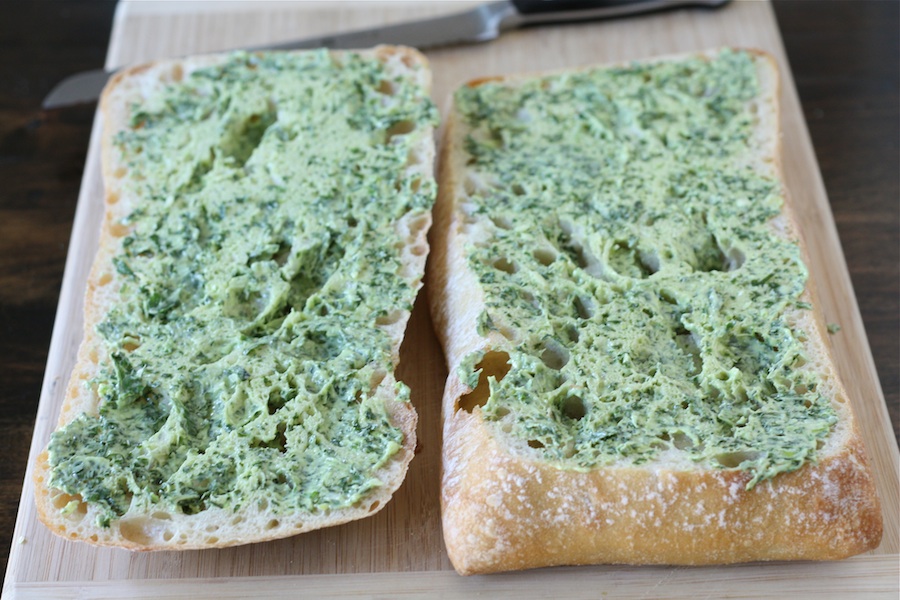 Spread the basil butter generously over each half of bread.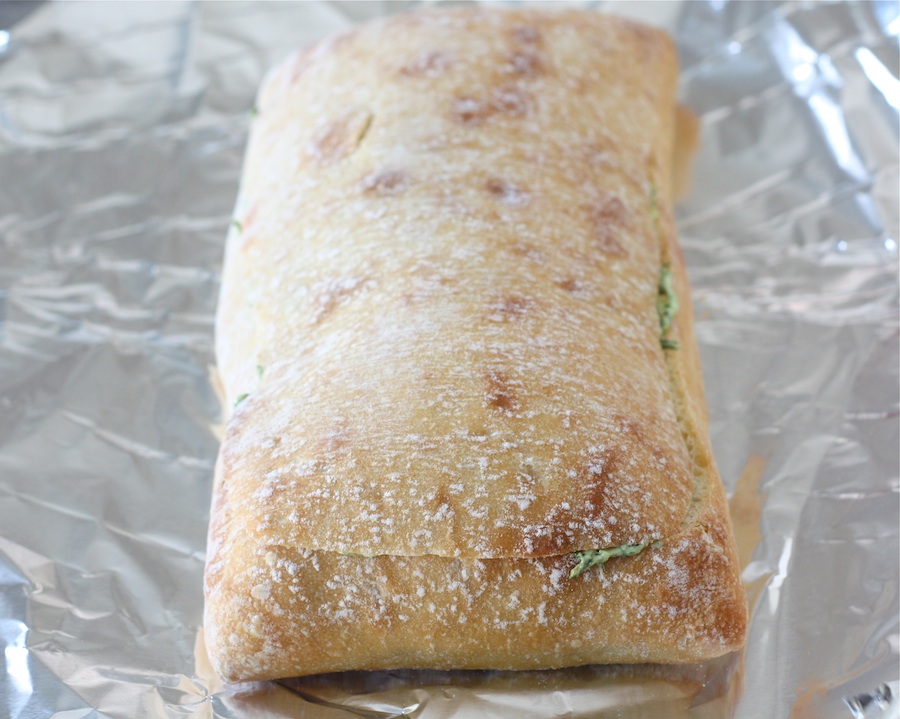 Put the bread halves together and wrap in aluminum foil. Bake for 10 minutes at 400 degrees F.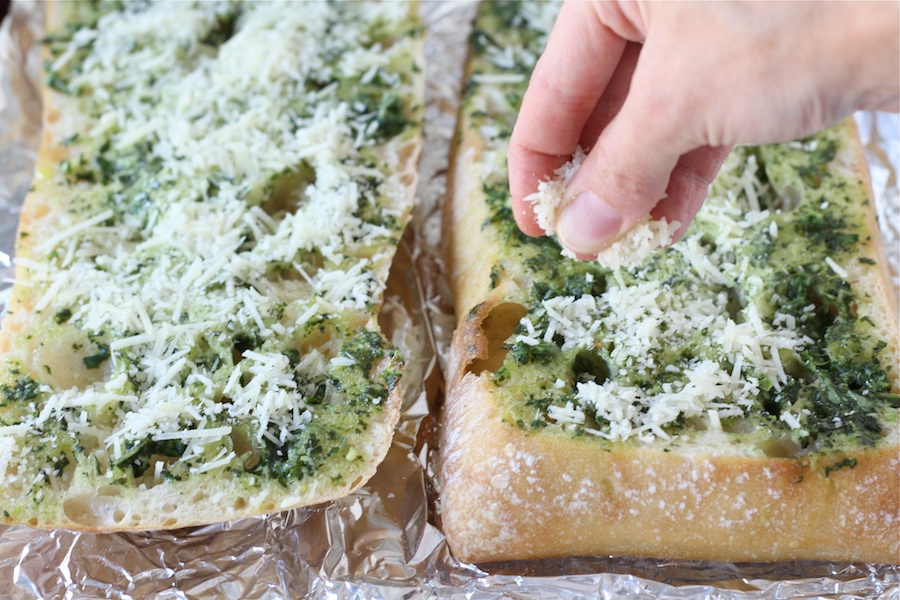 Remove the bread from the oven and carefully separate the bread halves. Sprinkle each half with Parmesan cheese.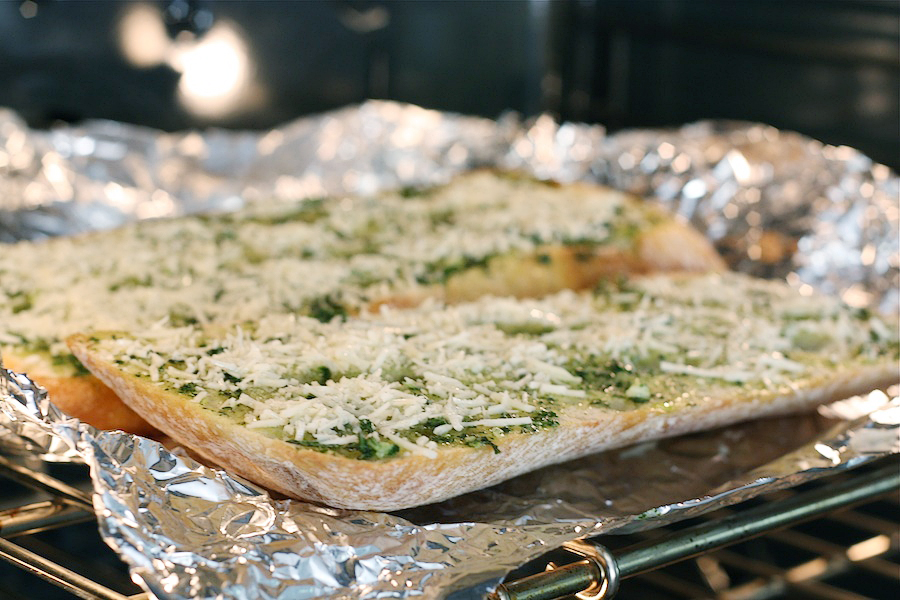 Return the bread halves to the oven and turn up the heat to 500 degrees F or put them under the broiler. Cook until the cheese is melted and bubbly.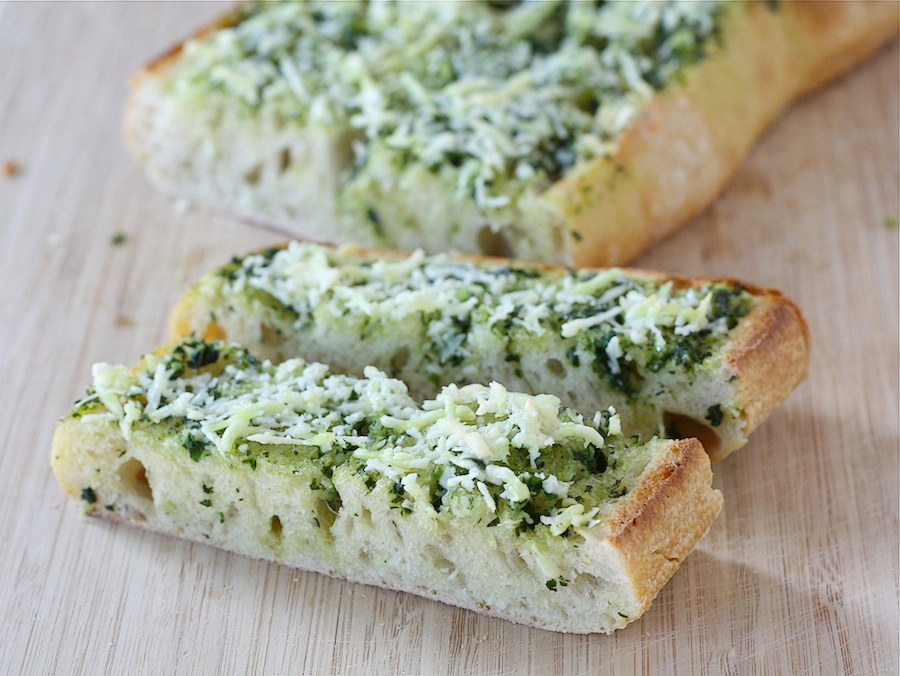 Cut the bread into slices and serve warm.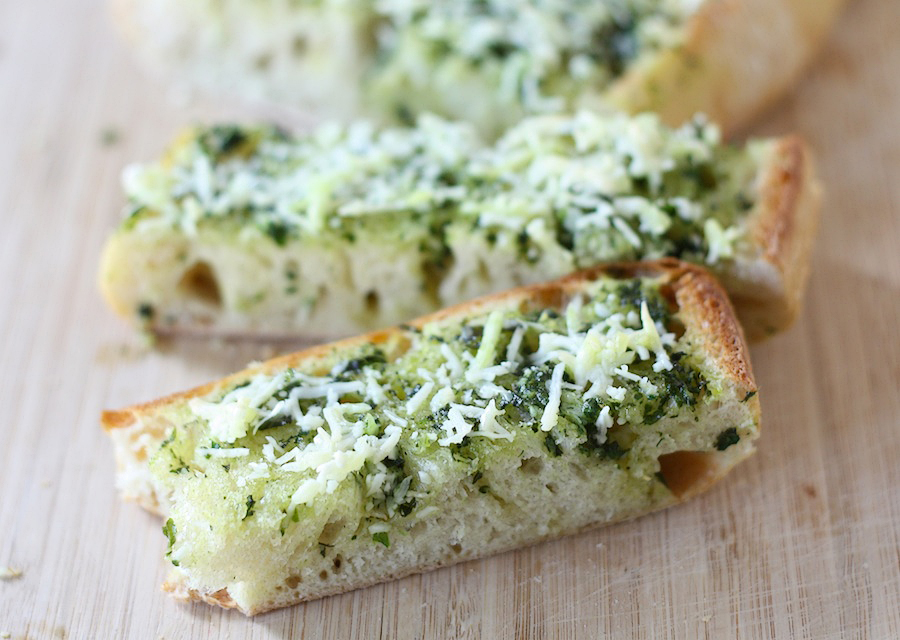 We made the bread for a pizza party and everyone loved it. It was the perfect appetizer. The basil butter is full of flavor and the perfect addition to garlic bread. The melted cheese on top also makes this bread extra special. If you are looking for a way to spice up traditional garlic bread, try this Basil Butter Garlic Bread. It is easy to make and out of this world delicious. Thanks Jenna for helping us use up our garden basil. We love this bread! Visit her blog, Jenna's Everything Blog, for other tasty recipes. 
Printable Recipe
See post on kitchenlovenest's site!
Description
Garden overflowing with basil? Look no further for a recipe that will use a generous handful!
Ingredients
2 ounces, weight Butter
2 Tablespoons Olive Oil
1 bunch Basil Leaves (generous Handful)
1 bunch Parsley (use 1/3 Of The Amount Of Basil)
2 cloves Garlic
1 whole Green Onion
2 pinches Salt To Taste
1 pinch Pepper To Taste
1 loaf Ciabatta Or French Bread
1-½ cup Grated Parmesan Cheese (up To 2 Cups)
Preparation Instructions
1. Combine all the ingredients except the bread and cheese in a food processor, and process until smooth. Season with salt and pepper.
2. Cut open the loaf of bread and spread both halves with the basil butter. Put the halves together and wrap in aluminum foil. Bake for in a 400ºF oven for 10 minutes.
3. Remove the bread, separate the halves and load them up with Parmesan cheese. Return them to the oven and either crank up the heat to 500ºF or put them under the broiler.
4. Cook until the cheese is melted, bubbly, and starting to get brown. Serve!


_______________________________________
Maria and her husband Josh (who she affectionately refers to as her "dough boy") blog at Two Peas and Their Pod. They've been featured on Saveur, Eatocracy, Gourmet Live, Glamour, and the Los Angeles Times, to name just a few. We're so glad to have them here!