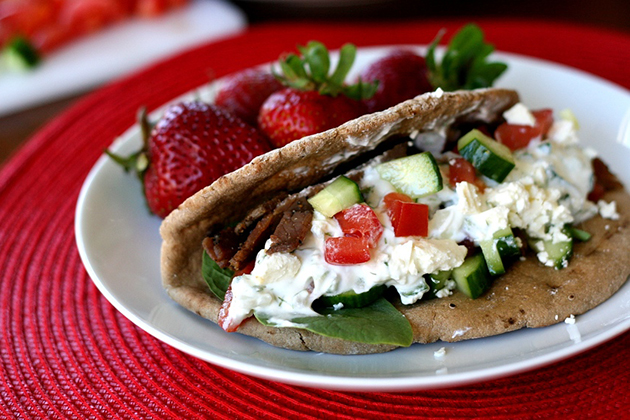 If there is such a thing as an easy gyro, it must mean that some shortcuts have been made. I'm willing to bet very few of you own a vertical gyro grill. I do not. And if you glanced at the recipe, you might notice that instead of lamb, these gyros are made with sliced deli roast beef.
If you're a gyro purist, you may want to divert your eyes. I had a similar experience after living in Austria for over a year. I walked into a Wienerschnitzel restaurant for the first time after returning to the States and almost had a heart attack. Hot dogs are neither "Wiener" (Viennese) nor a "schnitzel" (a thin, breaded cutlet). Despite how badly I wanted to jump up and down and tell everyone how ridiculous it was, I told myself, "Just walk away, Nat. Shake it off."
So, I get it. I really do.
These gyros don't stray too far from the traditional, and they turned out to be fast, easy, and delicious! Even my kiddos thought so. They're especially perfect if you don't like lamb, can't find lamb, or can't afford lamb. Or don't feel like roasting a giant slab of meat for hours and hours. Thank you, misswhit85 for your Easy and Fast Greek Gyros!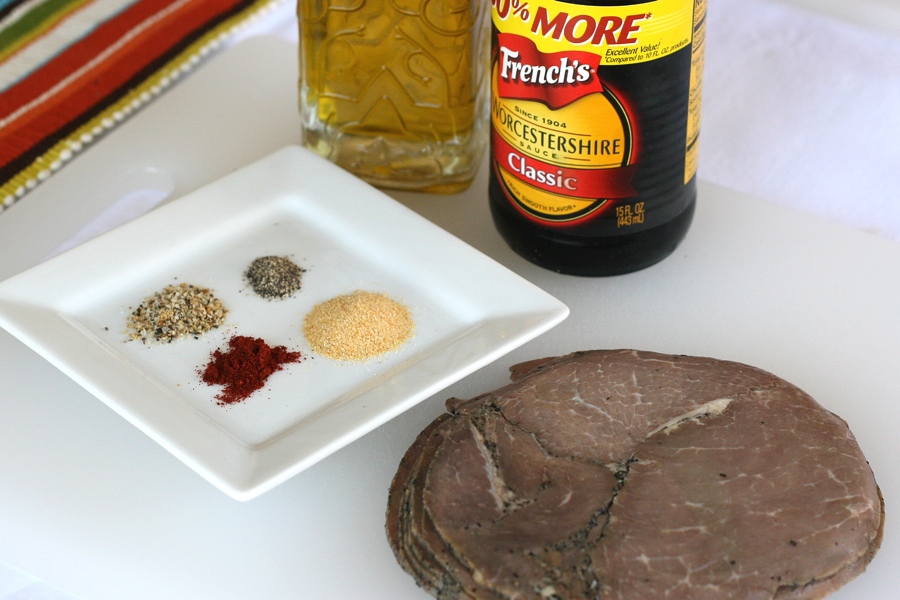 To make the meat filling, you'll need some deli roast beef, olive oil, Worcestershire sauce, and spices (garlic powder, paprika, black pepper, and lemon-pepper).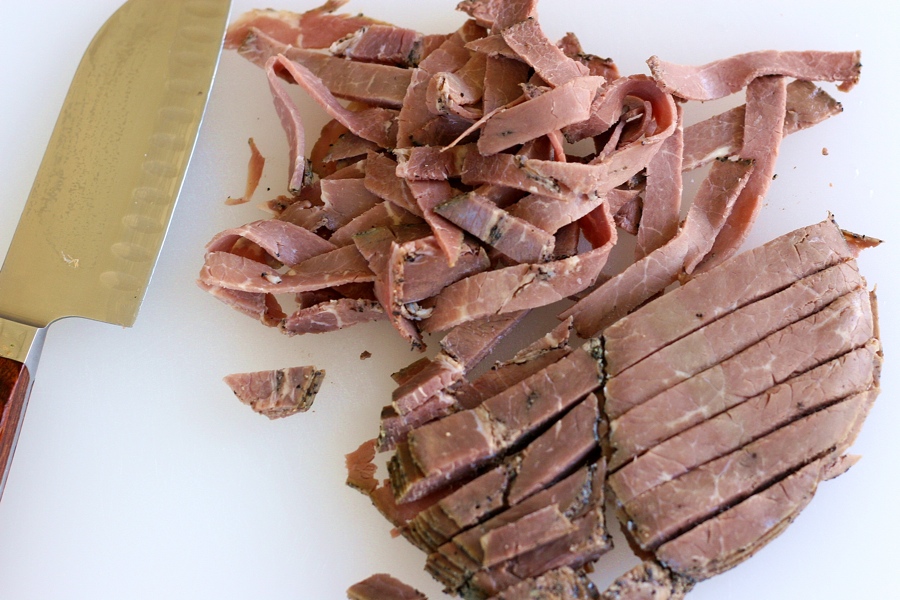 Slice the roast beef into 1/2-inch strips.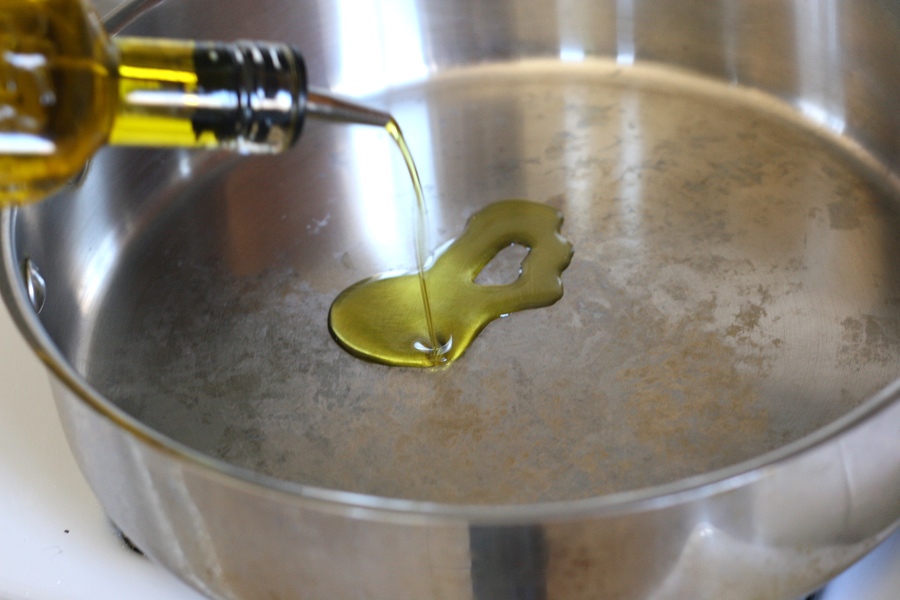 Heat the oil in a skillet over medium heat.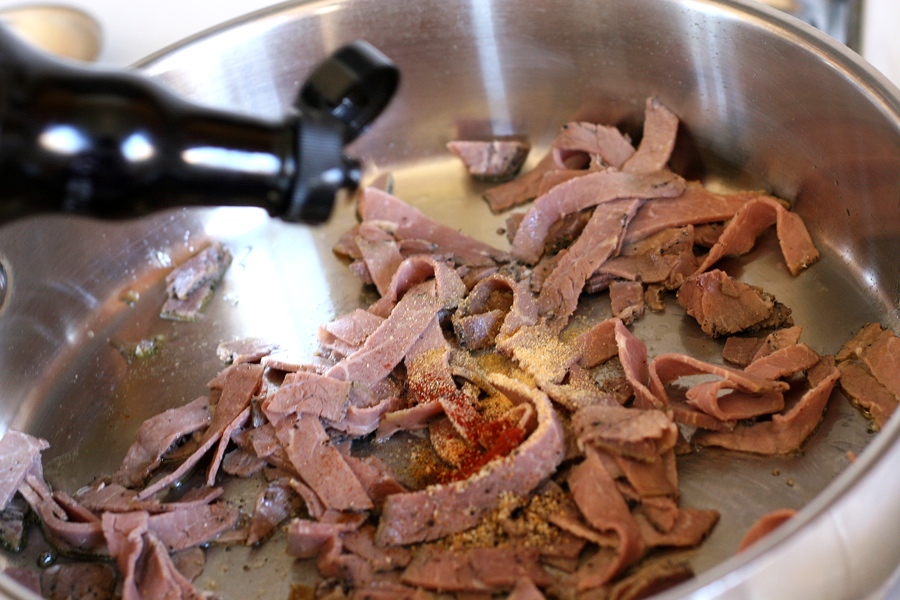 Add the beef strips, Worcestershire sauce and spices.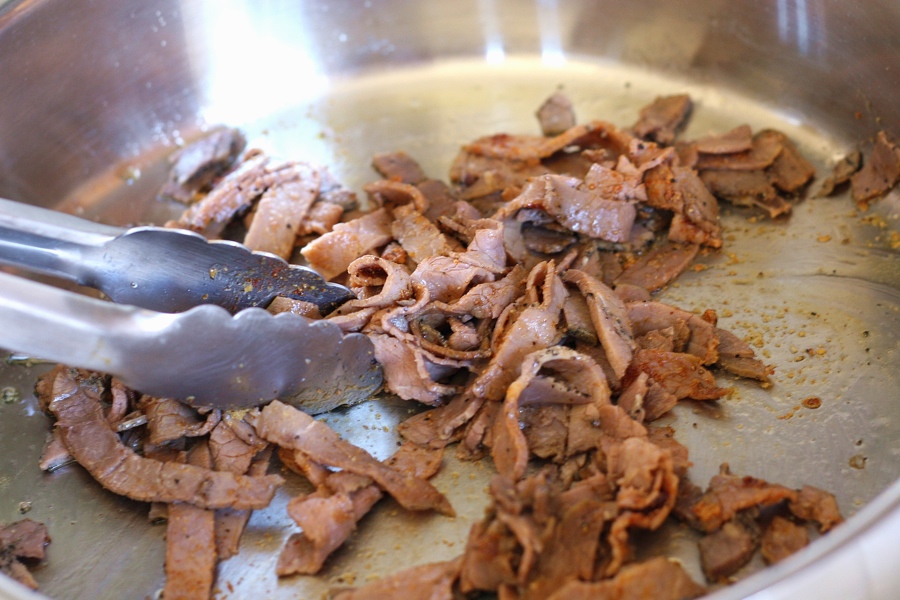 Toss it around with some tongs and let it hang out on low while you prepare the rest of the ingredients.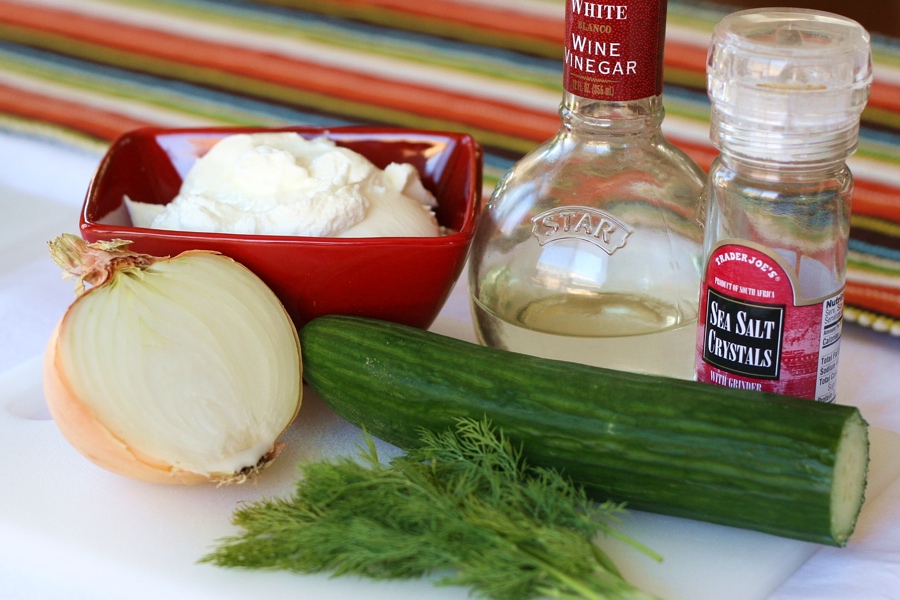 It's tzatziki time! I love tzatziki. And by love, I mean I'd love to get it on tap somehow. When I figure it out, I'll let you know.
For this delectable cucumber-yogurt sauce, you'll need yogurt, cucumbers, some onion, salt, fresh dill, and white wine vinegar. You could even use fresh lemon juice in place of the vinegar.
Dice about 1/4 of an onion, saving the remainder as a garnish for the gyros.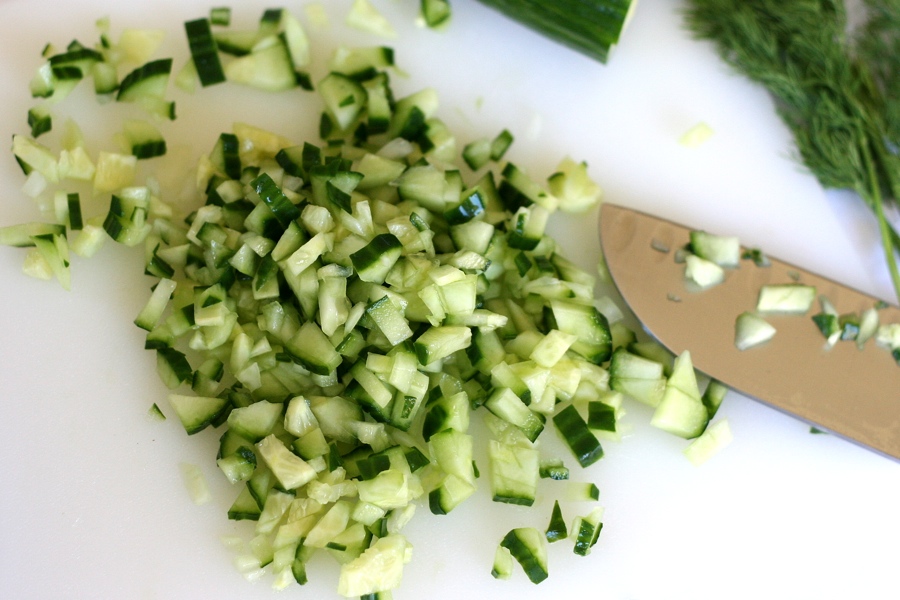 Then dice half of the cucumber, saving the remainder … yep. For the gyros. I started out with half of an English cucumber, so I used 1/4 for the sauce.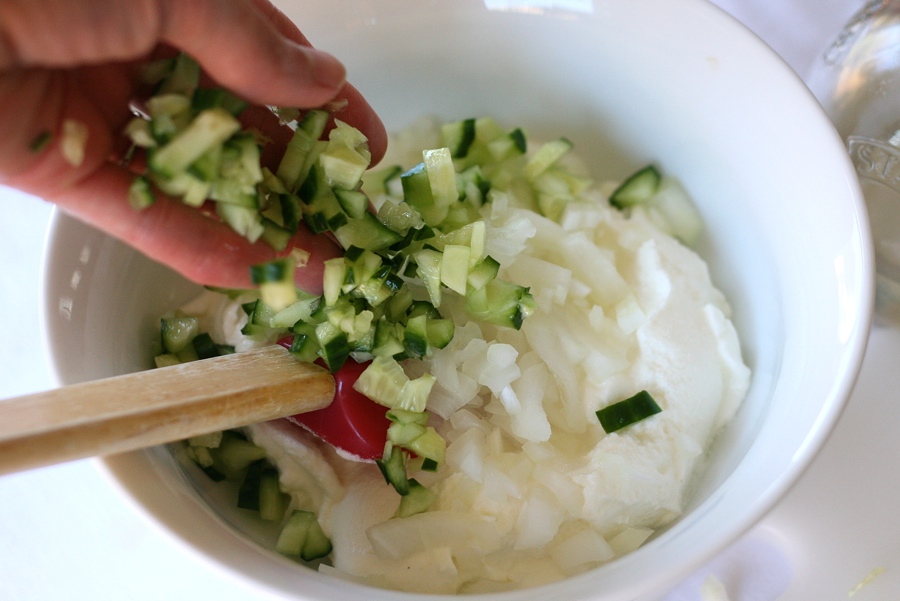 Add the diced vegetables to the yogurt in a medium bowl.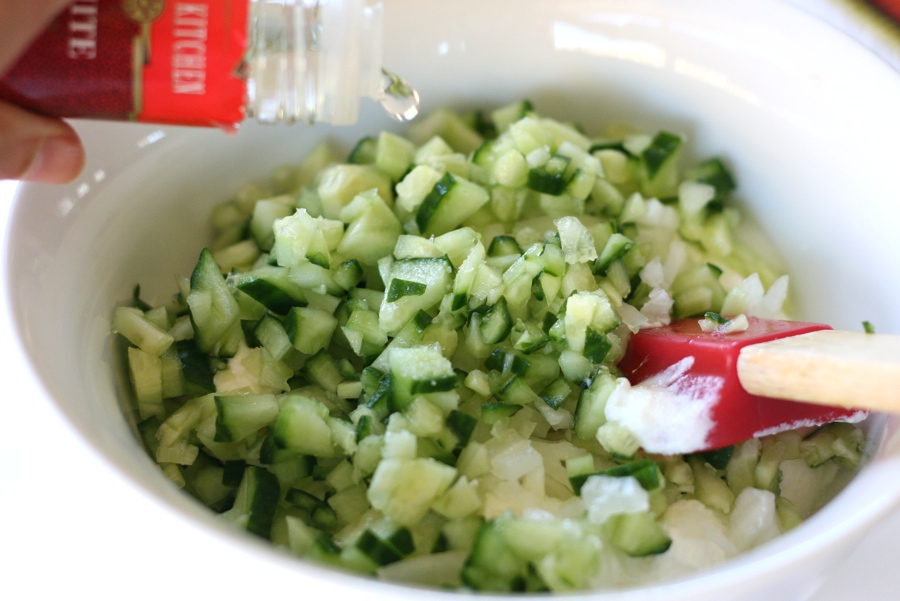 A splash of vinegar.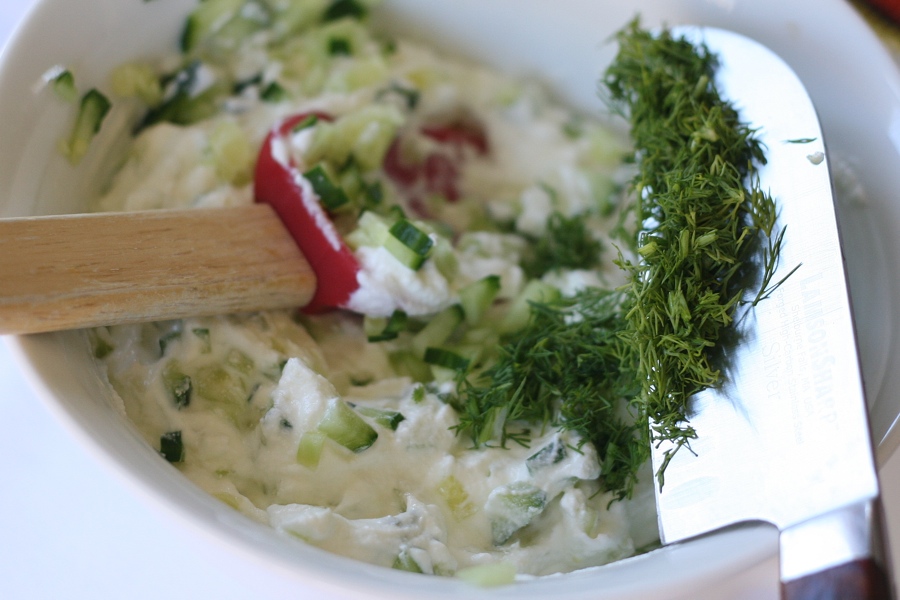 Don't forget some minced fresh dill. And a generous pinch of salt.
Give it a good mix and resist the urge to dive in head first. Luckily the recipe makes quite a bit of tzatziki. The more leftover the better!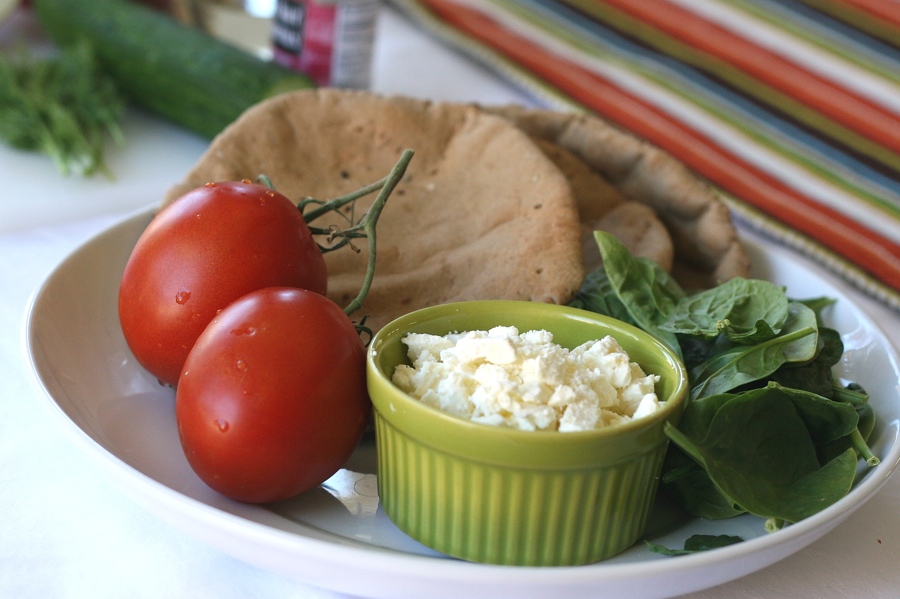 Gather the garnishes and slice/dice as necessary. The recipe suggested chopped tomatoes, feta, cucumbers, onions, and olives. We aren't too fond of olives around here, so we left those out and added some fresh baby spinach. It's almost impossible for me to make anything of this nature without throwing in a handful of greens.
Add some of the warm, seasoned beef (which tastes amazing, by the way) to the center of some flat bread, naan, or a pita.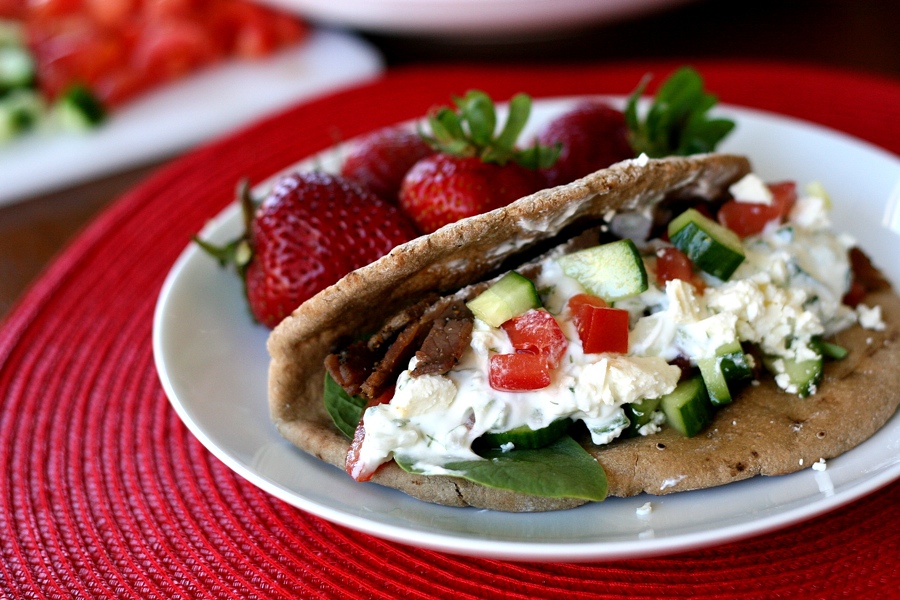 Pile on the garnishes and dig in!
Thanks again, Whitney, for another fast and easy recipe that my whole family loved!
Printable Recipe
See post on misswhit85's site!
Description
These gyros and incredibly easy, delicious, and very summery when smothered in cool, creamy, cucumber tzatziki sauce! While they may not be the most traditional gyro recipe they're mighty tasty!
Ingredients
FOR THE GYRO FILLING:
½ Tablespoons Olive Oil
4 ounces, weight Sliced Deli Roast Beef
3 drops Worcestershire Sauce
2 dashes Lemon Pepper
1 dash Paprika
1 teaspoon Garlic Powder, Divided
3 dashes Black Pepper
_____
FOR THE TZATZIKI SAUCE:
1 whole Cucumber, Divided Use
1 container 8oz Greek Yogurt
½ whole Red Onion, Divided Use
2 dashes White Wine Vinegar
½ teaspoons Dill
½ teaspoons Salt
_____
FOR ASSEMBLY:
2 slices Naan Bread Or Any Flatbread
1 whole Tomato, Sliced
2 ounces, weight Feta Cheese, Diced
6 ounces, weight Canned Black Olives Sliced
Preparation Instructions
For gyro filling:
Heat olive oil in a skillet and add beef, worcestershire sauce, a dash of lemon pepper, paprika, 1/2 teaspoon of garlic powder, black pepper, and heat the beef. Let it sit on low heat while tzatziki sauce is prepared.
For Tzatziki sauce:
Finely dice half of the cucumber and combine with yogurt, 1/4 of the red onion finely diced, vinegar, and all remaining seasonings.
Spray your flatbread with cooking spray and put it under the broiler until it is soft and warmed through. Fill it with a generous amount of roast beef, followed by lots of tzatziki sauce, feta cheese, tomato, cucumber, and black olives.


_______________________________________
Be sure to check out Natalie's own beautiful food blog, Perrys' Plate, where you can see her growing collection of lovely recipes. There's always something new to see there. Go visit now!