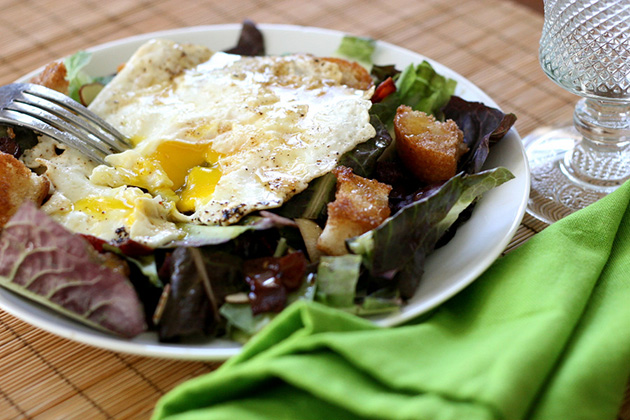 Salad. For breakfast. Sounds a little weird, but we've been making breakfast salads in the Perry house for over a year now. If anyone had told me five years ago that I'd be eating salads for breakfast and keeping things like flaxseed and giant containers of coconut oil in my pantry, I would have laughed. And maybe shed a tear or two.
TK member Sommer from A Spicy Perspective is obviously a salad-for-breakfast convert, judging from this amazing creation of hers: Breakfast Salad with Cinnamon Toast Croutons and Maple Vinaigrette. The sound of those croutons and vinaigrette practically clubbed me over the head and forced me to add it to my recipe box. They'll make anyone a salad-for-breakfast convert. I guarantee it.
I made this salad for my husband's birthday breakfast. Yes, my husband loves salads. He's actually the one who got ME to eat salads for breakfast. (How did I luck out?)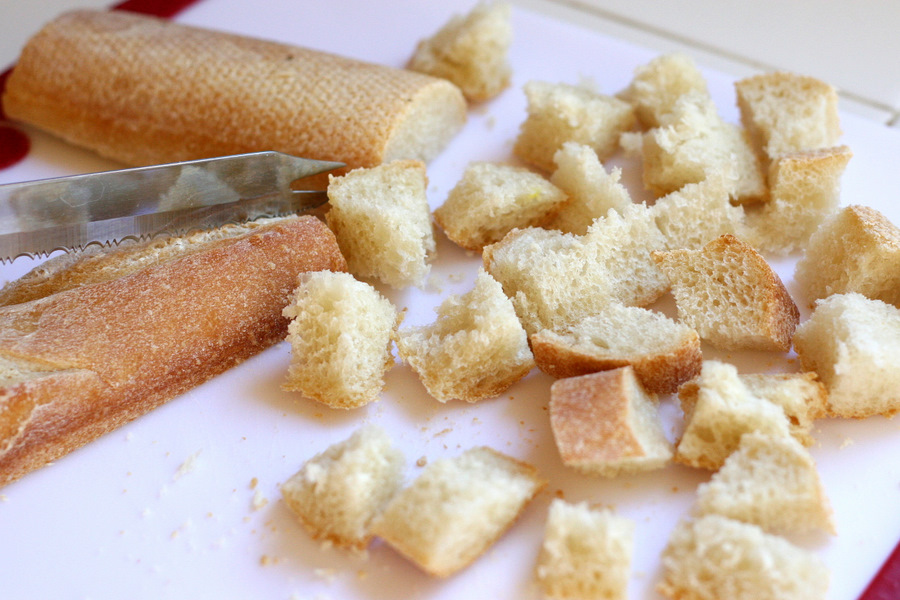 Let's start on those tasty cinnamon-sugar morsels by preheating the oven and slicing a baguette into 1-inch cubes.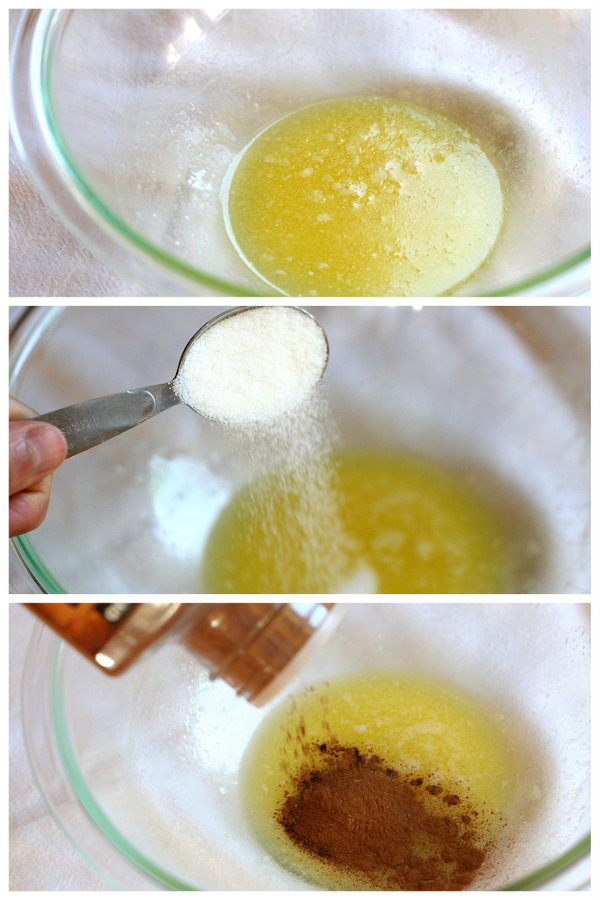 Melt some butter in a bowl and add the sugar and cinnamon. Mix to combine.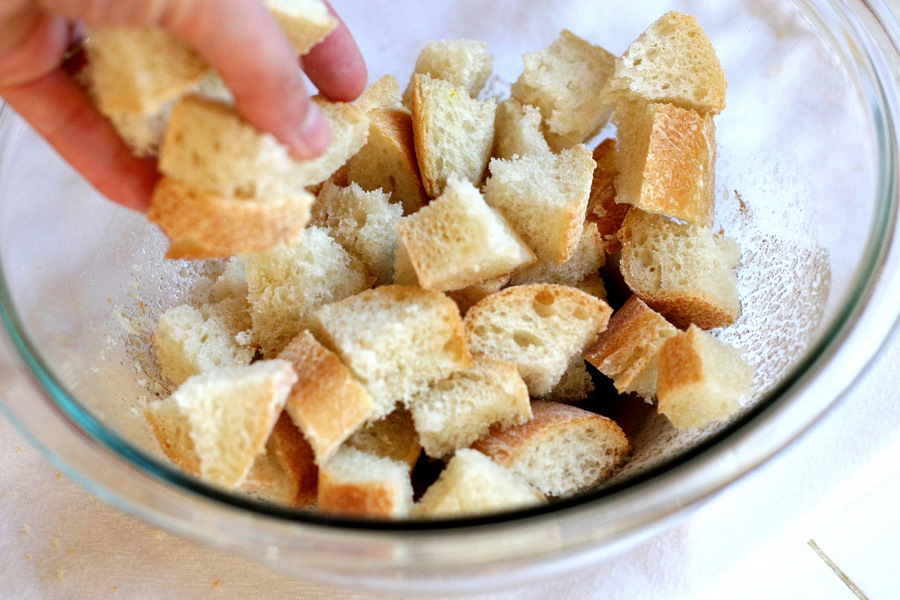 Throw the bread cubes on top.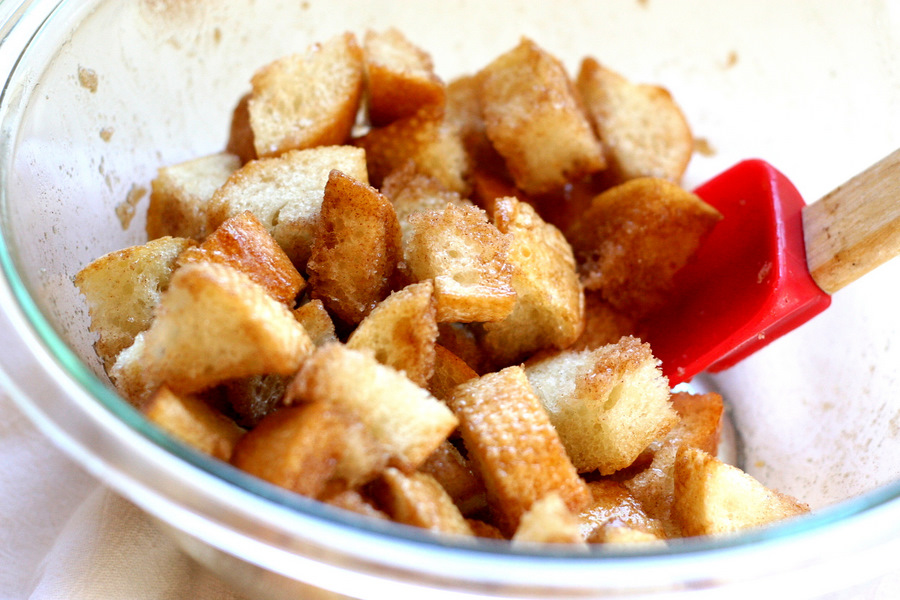 Toss them around to make sure the cubes are coated. Go ahead and eat a few. I ate six.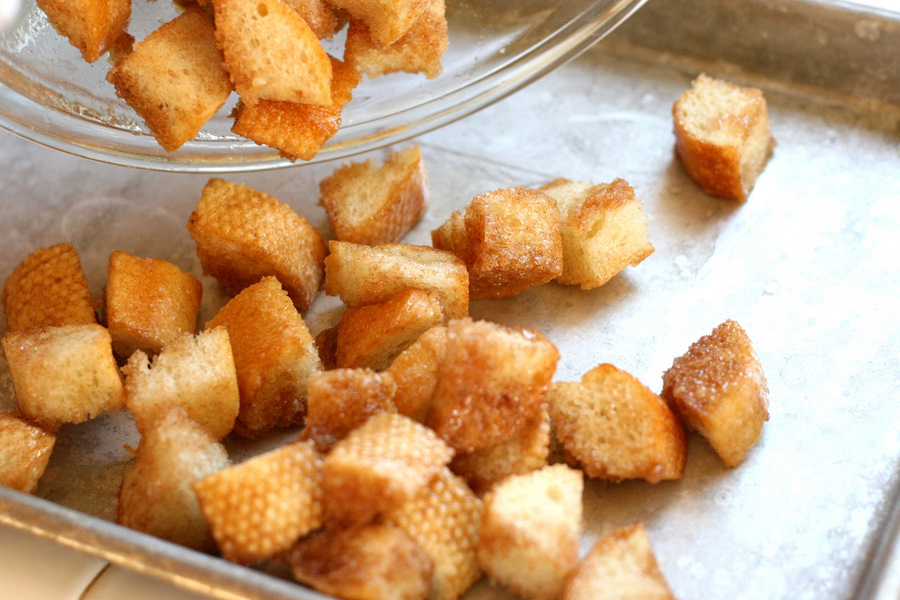 Spread the cubes out on a sheet pan and pop them in the oven for 5-10 minutes until they're toasty.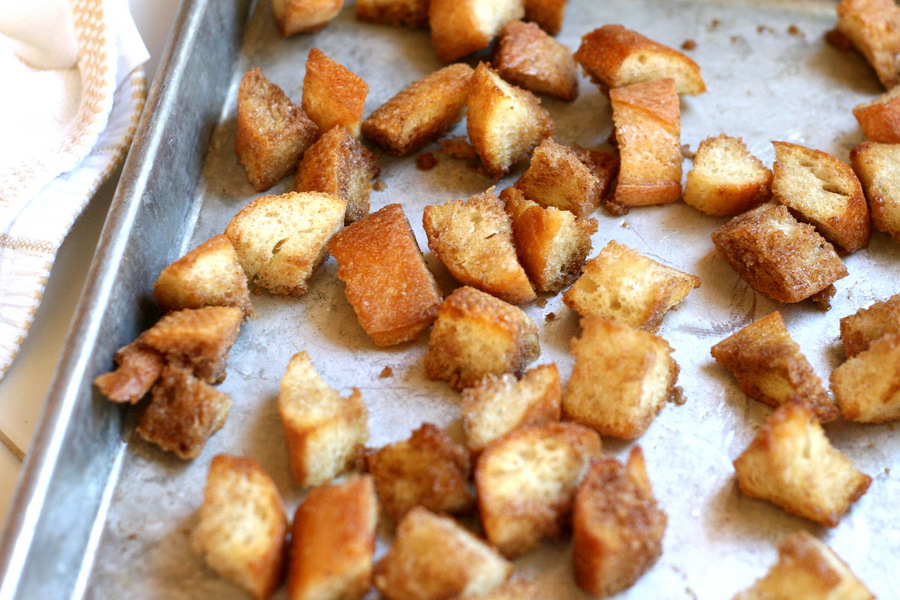 Like this. Okay, so they don't really look that different when they're toasted. They sure taste great though. (Six more down the hatch.)
Now on to the bacon. Add the chopped, uncooked bacon to a skillet and cook over medium heat.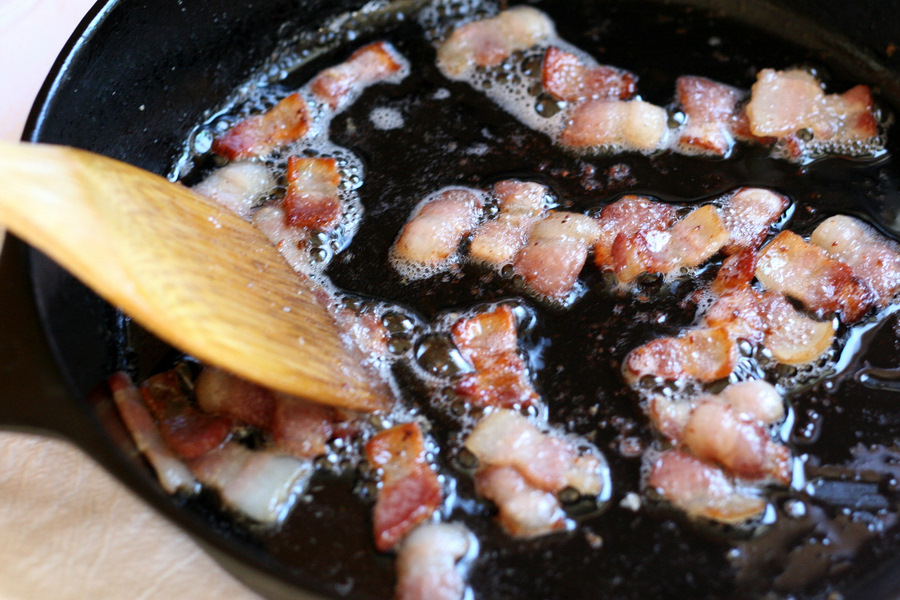 Keep an eye on it and stir it around frequently. It amazes me that I never knew how to cook bacon for half of my adult life. I'm not sure if that was a good thing or a bad thing.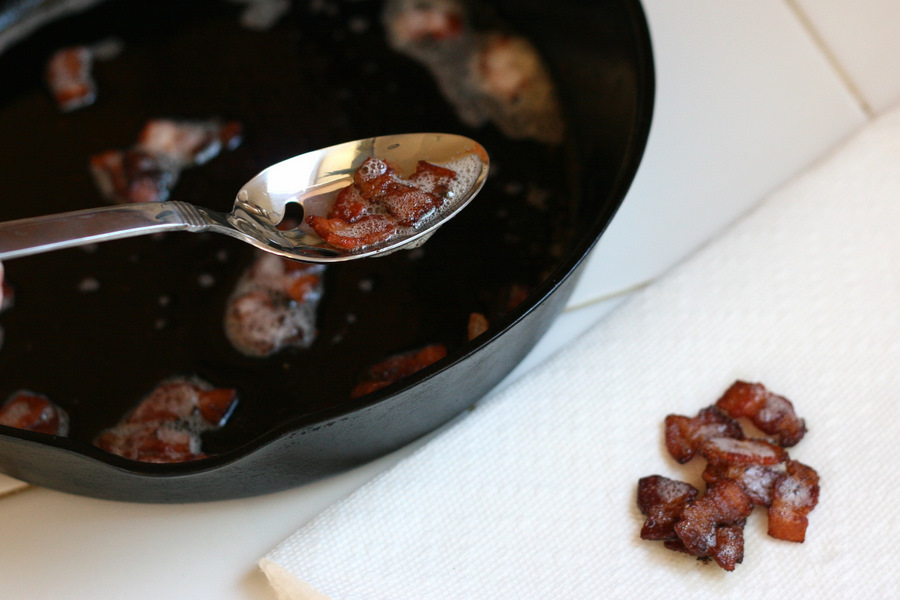 When it's as crispy as you like it (I like it about 30 seconds away from burned), transfer the bits to a paper towel to drain.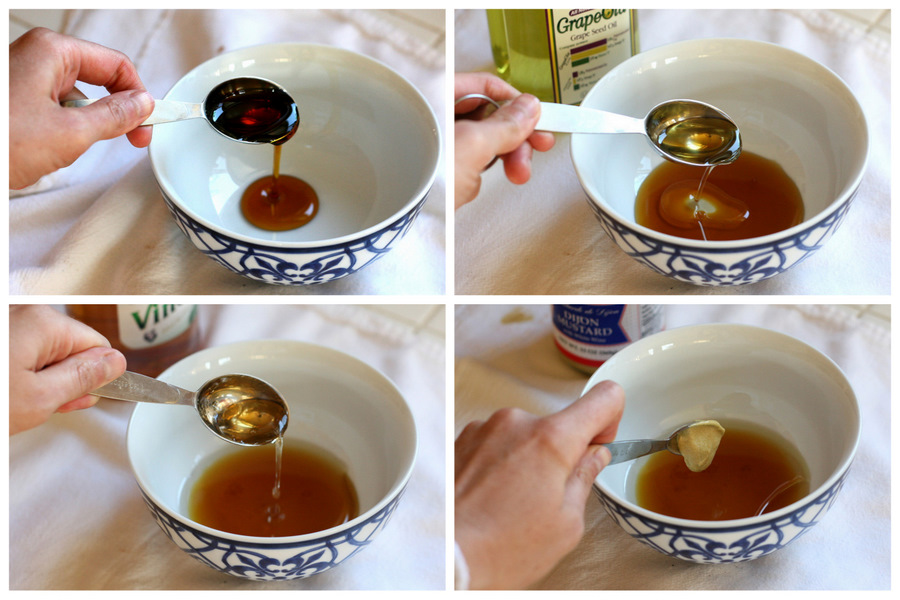 Now for the vinaigrette. This all seems time-consuming, but it really isn't. You can have the croutons in the oven and the bacon sizzling away while you quickly whisk up the dressing. It's worth it.
You'll need (real) maple syrup, a neutral-flavored oil (I used grapeseed), apple cider vinegar, a smidgen of dijon mustard, and a pinch or two of salt and pepper.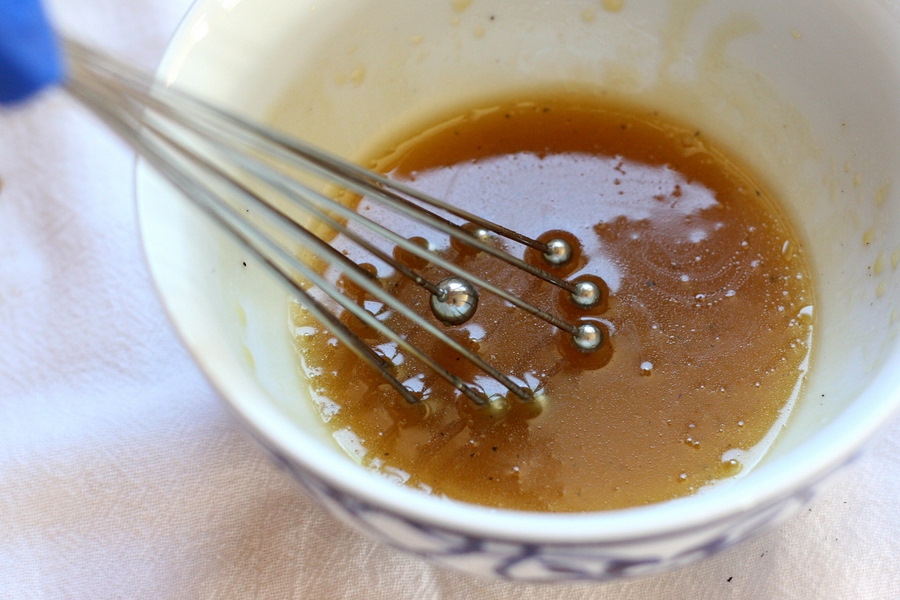 Whisk until the dressing starts to thicken.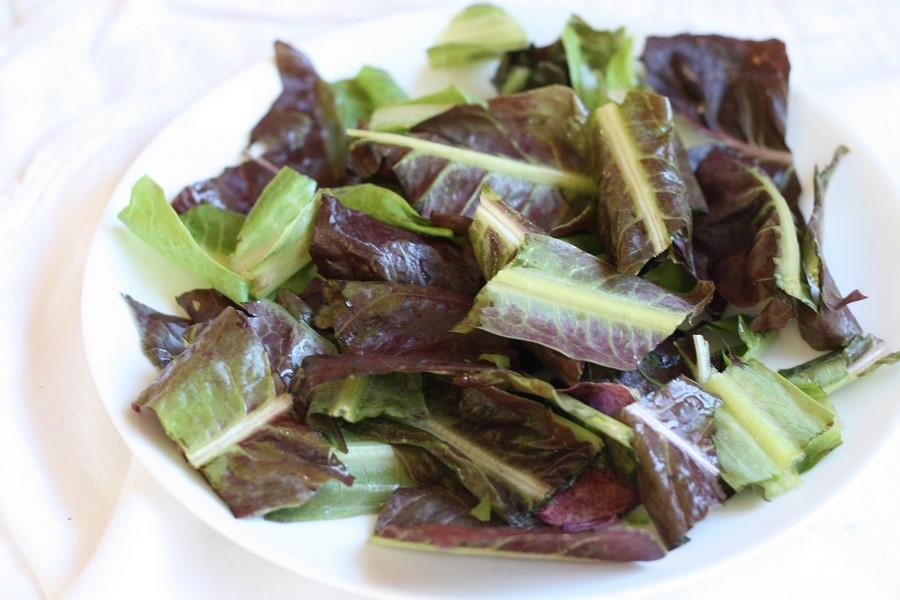 Now put some salad greens on a plate. Sommer used baby spinach. I was fresh out, so I used some lettuce from my CSA box.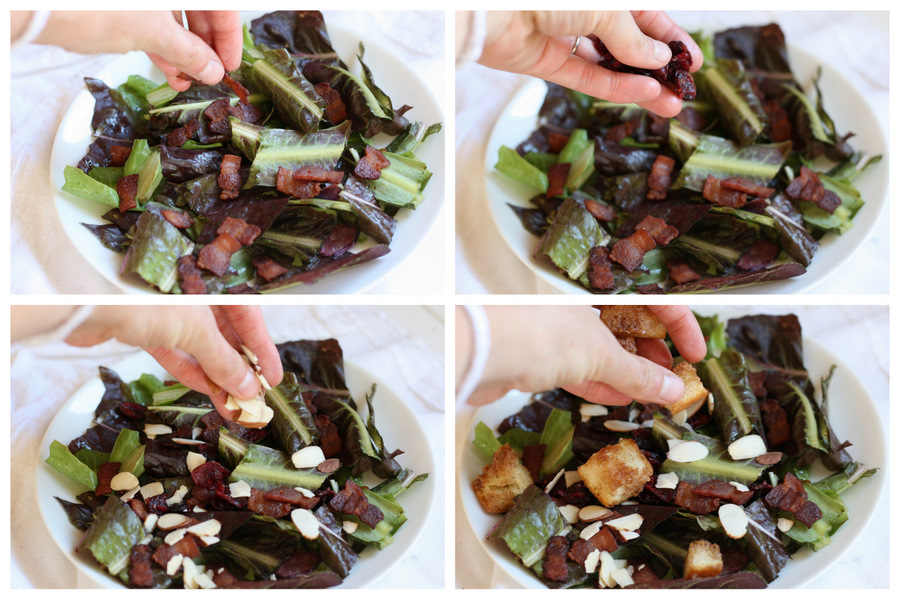 Sprinkle on your toppings: bacon bits, dried cranberries or raisins, nuts (I opted for sliced almonds), and those beautiful croutons.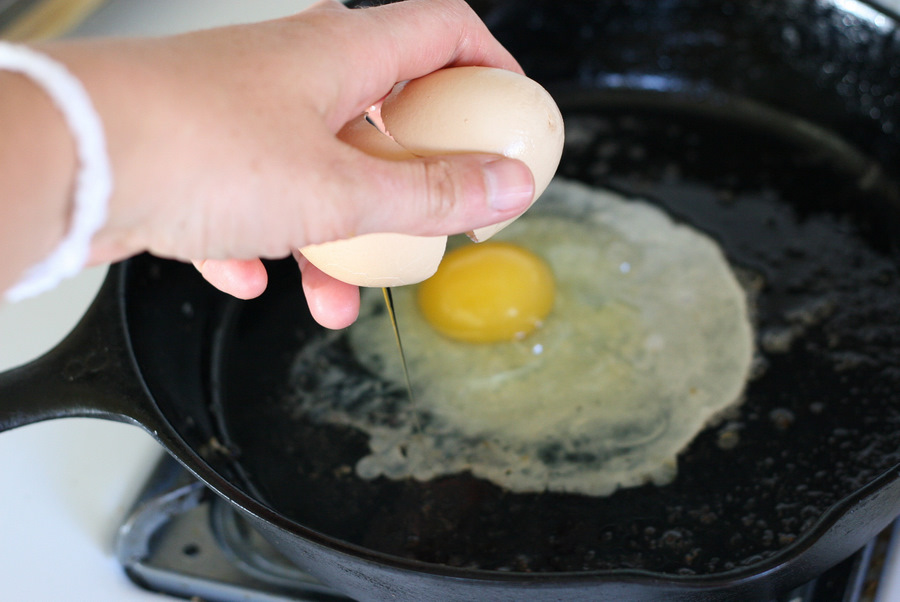 One more time at the stove, then you're through. Crack an egg into a heated skillet.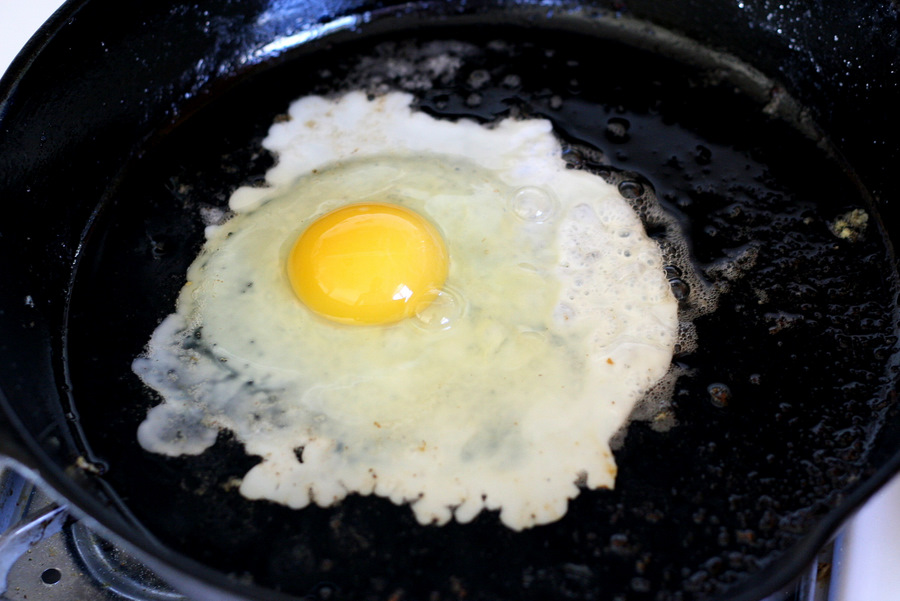 Cook it how you like it—scrambled or sunny side up. You could even poach it in a pan of simmering water. (Don't ask me how to do that. All of mine end up looking like ragged ghosts, albeit tasty ragged ghosts.)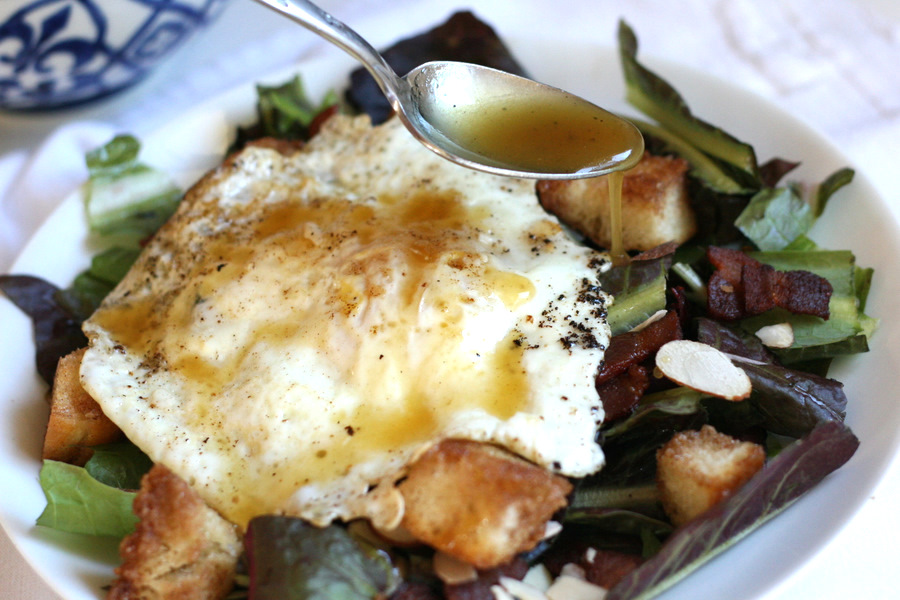 Carefully place the egg over the salad and drizzle some vinaigrette over the whole thing.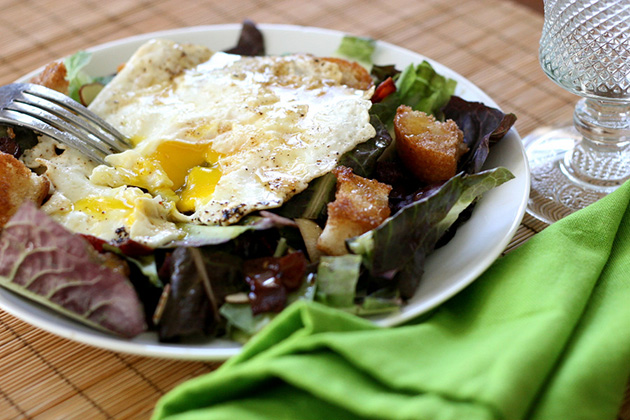 I used to be a scrambled-only girl, but I've grown to love a slightly runny yolk. Especially those found in farm-fresh eggs. I don't know if there's anything better than that rich yolk mingling with that sweet vinaigrette. On a crouton. With a piece of bacon stuck to it.
My heavens, Sommer. You're officially my hero.
Be sure to check out Sommer's recipe box as well as her beautiful blog A Spicy Perspective for more wonderful recipes!
Printable Recipe
See post on aspicyperspective's site!
Description
Get your greens for breakfast, without missing out on your bacon and eggs!
Ingredients
6 cups French Bread Cubes
3 Tablespoons Melted Butter
¼ cups Sugar
1 teaspoon Cinnamon
¼ cups Maple Syrup
¼ cups Vegetable Oil
1 Tablespoon Apple Cider Vinegar
2 teaspoons Dijon Mustard
½ teaspoons Salt
Black Pepper To Taste
12 ounces, weight Bacon, Cooked And Crumbled
12 whole Eggs
6 cups Packed Baby Spinach
1 cup Candied Nuts
¾ cups Dried Cherries
Preparation Instructions
For the cinnamon toast croutons: Preheat the oven to 350 degrees F. Lay the bread cubes out on a rimmed baking sheet. Mix the melted butter, sugar, and cinnamon together and drizzle over the bread cubes. Toss and bake for 5-10 minutes until toasted.
For the maple vinaigrette: Whisk the maple syrup, oil, vinegar, mustard, and salt together until smooth. Add pepper to taste. Set aside.
Cook and drain the bacon.
Prepare the eggs to your liking—scrambled, poached, sunny-side-up.
Prepare each salad plate with a heaping cup of baby spinach, topped with cinnamon toast croutons, candied nuts, dried cherries, and crumbled bacon. Then top each with 1-2 eggs and drizzle with maple vinaigrette!


_______________________________________
Be sure to check out Natalie's own beautiful food blog, Perrys' Plate, where you can see her growing collection of lovely recipes. There's always something new to see there. Go visit now!