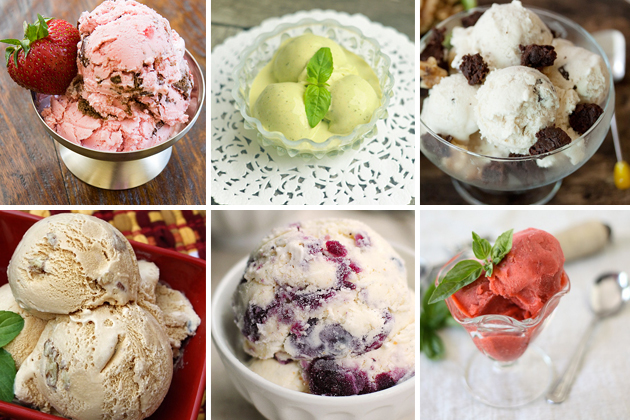 It's been a while since our first ice cream theme post, so we figured it was time for part deux. After all, July is National Ice Cream month, so I can justify a second ice cream post. Believe me, even if it weren't July, I'd find a reason. I'm the person who intentionally allows fruit to ever-so-slightly over-ripen just so I can say, "Oh, will you look at that. This poor mango might be too soft to cut up and enjoy. Let me just make some mango ice cream so it won't go to waste."
I'm sneaky like that.
Ice cream is the perfect summer treat, and with the current heatwave hitting many areas of the country, I almost can't decide whether to binge on it or bathe in it. Seriously, man. It's hot outside. Let's just all stay in and make ice cream.
(See how I snuck that in again? I'm telling you. Ping me if you need me to craft custom excuses to make copious amounts of ice cream in your home.)
Today, we'll do a rundown of two main types of ice cream. First we'll show you some egg-free ice cream recipes. Some purists will insist this is technically what ice cream should be, hence the name ice cream. Ice cream made without eggs is usually easier and quicker, and is sometimes referred to as Philadelphia, New York, or American-style ice cream. Though this style of ice cream doesn't require any cooking, Alton Brown says that bringing the milk or cream up to about 170ºF then letting it cool before churning greatly improves the texture of the finished product.
(Note: I goofed and mistakenly included the Orange Julius ice cream here. It belongs to the custard-based lineup. Oops!)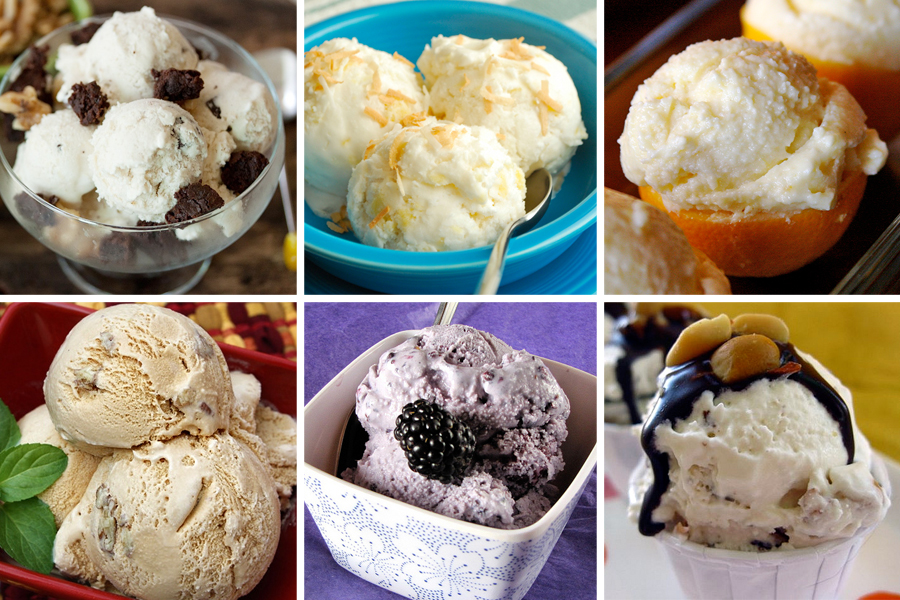 You can get incredibly creative with these, too. And by golly, you have. You kill me with all your incredible concoctions, creating all these frozen versions of our favorite desserts. Banana bread ice cream? Strawberry cheesecake ice cream? Pecan pie ice cream? My goodness. Will one of you adopt me please?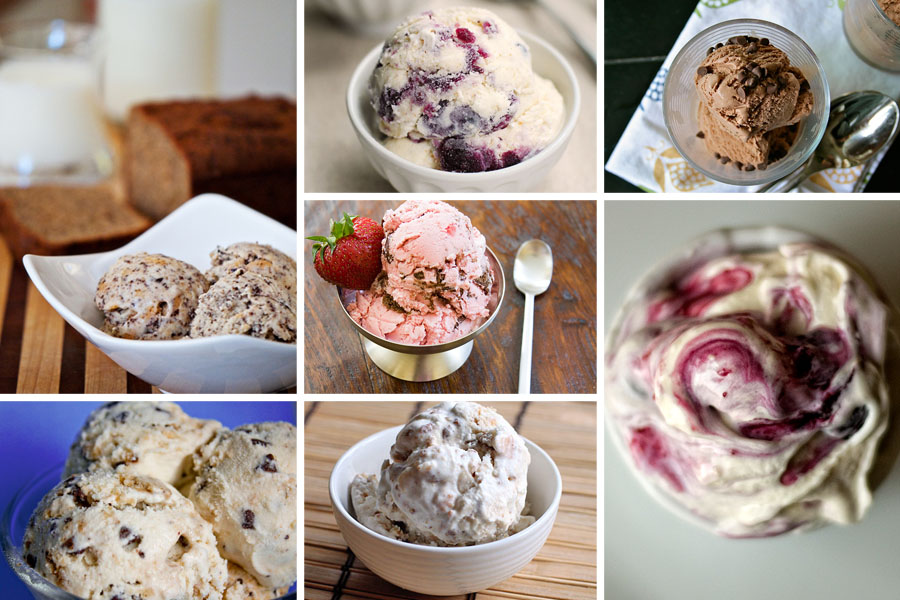 Now we'll lay some custard-based ice creams on you. Custard-based ice cream is basically the same, but with a higher concentration of egg yolks. It is sometimes referred to as frozen custard or French ice cream. Since eggs are a natural emulsifier, these tend to be richer and smoother than egg-free versions. The egg yolks also give them a pale yellow tinge, which is apparent when you compare a scoop of the ubiquitous bright white vanilla ice cream and a scoop of French vanilla ice cream.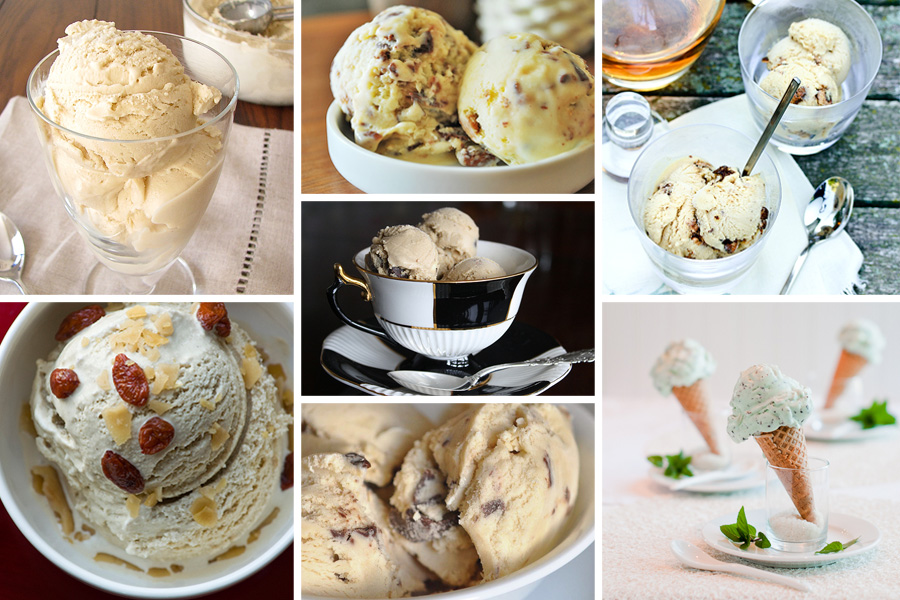 Here are some custard-based ice creams paired nicely with fruit. Maybe it's just that fruit really goes well with ice cream, or maybe, particularly with the richer custard-based versions, the fruit provides a nice balance of flavor. Whatever the reason, what I'm sure of is that I just want more of it.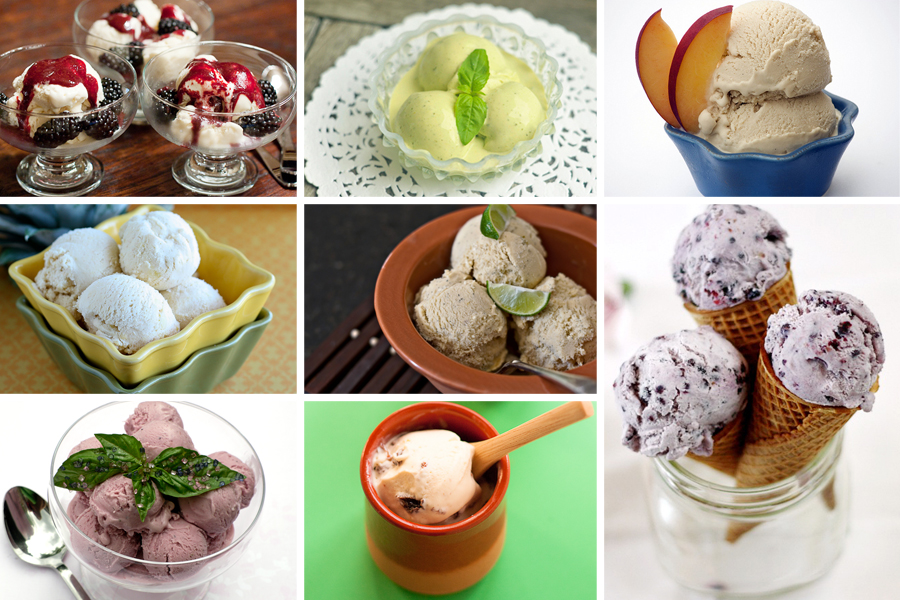 If you're lactose-intolerant, have dairy allergies or simply want to avoid dairy, fret not. Though not technically ice cream, here are a few of ice cream's cousins you can enjoy without feeling like you're missing out. Some use coconut milk instead, and some are just straight-up sorbets. Sorbets, according to the FDA, are water ices and contain no milk or eggs. But if you need to stay away from eggs completely, be sure to read the label or recipe carefully. Some sorbets can contain egg whites.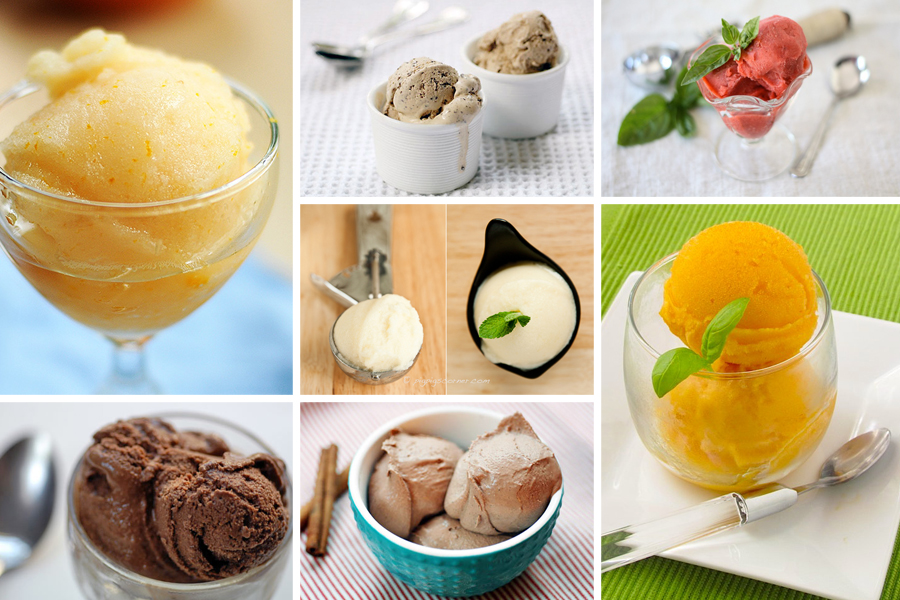 And there you go! That was a tour of my freezer rundown of just a few of the ice cream recipes here in Tasty Kitchen, and we hope you find a few new favorites. I didn't even show you any gelatos and sherbets yet. Oh well. Guess we'll have to do that in a separate post.
So make some ice cream this week, and unleash your inner Ben & Jerry! Then come back here and share your creations. I'll be anxiously waiting here. In the shade. Fanning the heat away with one hand while the other hand holds an ice cream cone.