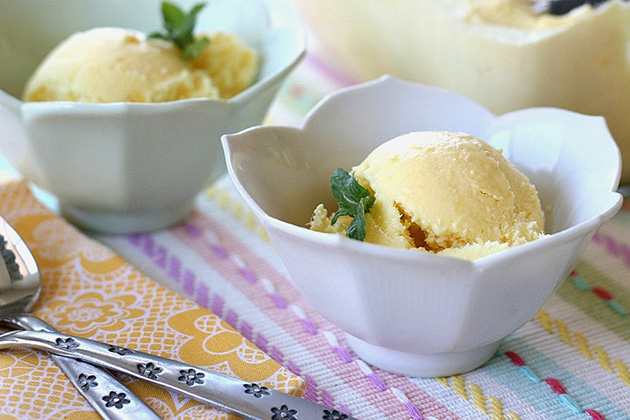 My summertime needs are pretty simple:
1. Flip flops
2. Air-conditioning
3. Lots of fresh fruit
4. An ice cream maker
There's also grilling about 75% of our meals, attempting to tan without burning, and gardening (me=brown, shriveled thumb), but the ones above are absolutely essential.
Luckily I was able to combine #3 and #4 to make a fantastic Mango Frozen Yogurt submitted by Lauren who blogs at Healthy Food for Living. I've been blurking Lauren's blog for a while and love all of the healthy, delicious food she posts!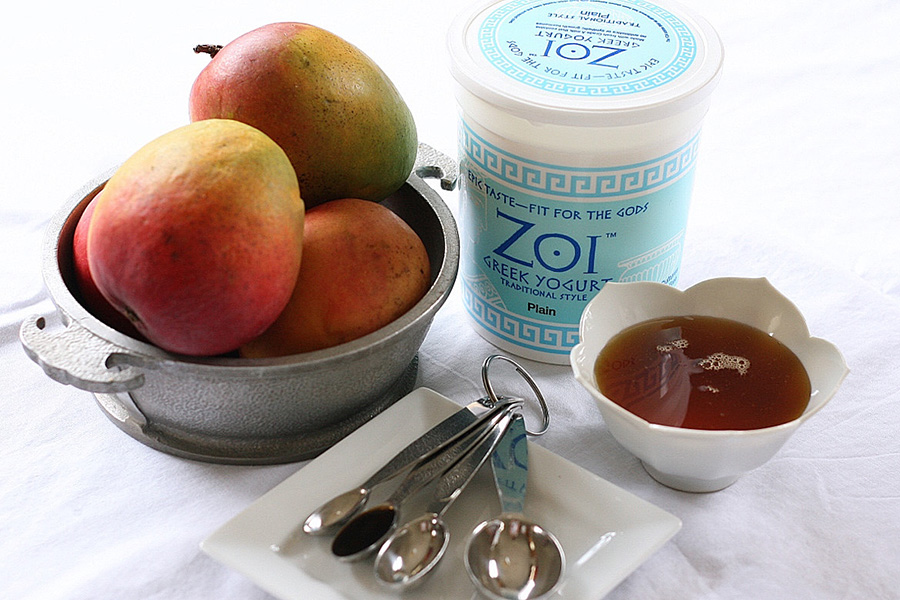 You only need a few ingredients to make this: very ripe mangoes, Greek yogurt (I used whole instead of low-fat), vanilla, and agave. After I got everything mixed together, I also added the juice from a lemon to make the flavors pop a bit more.
(See notes at the bottom of post for all recipe adjustments.)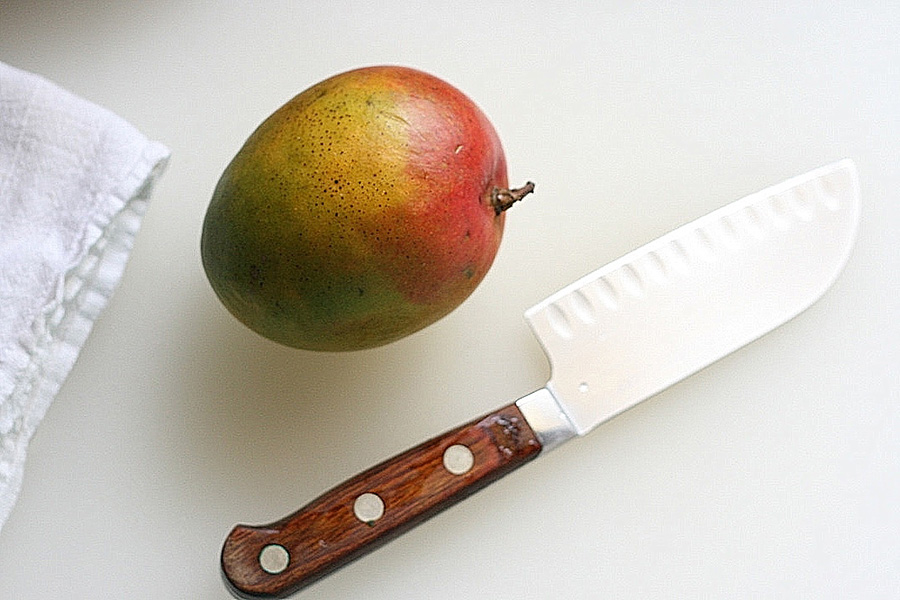 You'll want all of the mangoes to be very ripe so they'll be a great natural sweetener and the mango meat will be easier to cut off of the pit.
Getting several mangoes to ripen all at once is like trying to get four 2-year-olds to sit and be quiet all at the same time. Seriously. A couple of mine had started to shrivel a bit by the time the others caught up. It turned out alright in the end, though.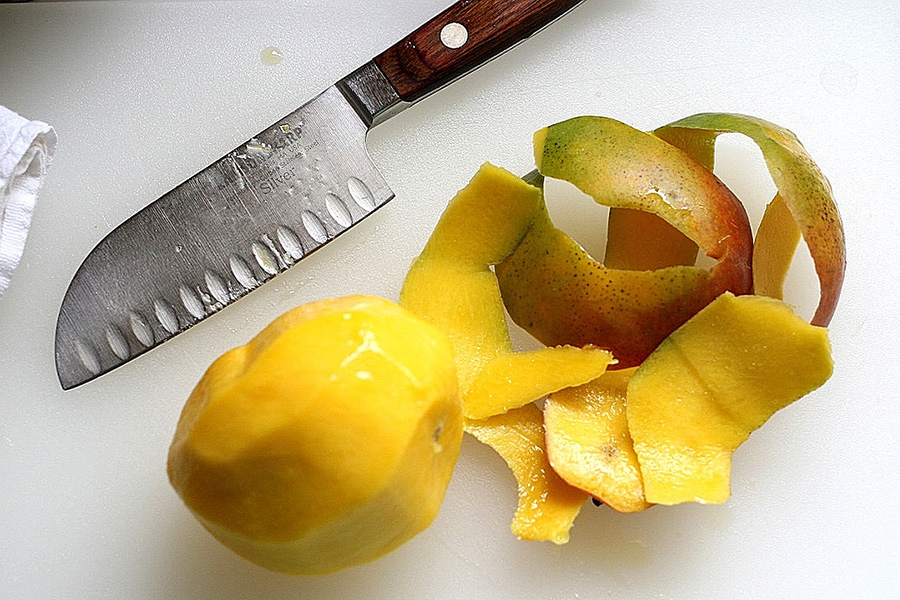 There are a lot of ways to cut mangoes. Because it ends up as a puree, I wasn't concerned about getting cute little cubes. This is the way I usually cut them and it's also the way America's Test Kitchen recommends. (Did I ever tell you I'm a PBS nerd?)
First, peel the mango. I used a sharp knife, but you can also use a vegetable peeler.
Hold the mango so you're looking at the stem end. You'll notice that it's an oblong shape. The pit is also that shape, so imagine the shape of the pit as you slice around it. Begin by cutting off the large "cheeks" on either side.
And please don't cut yourself. (Voice of experience and a lot of stitches.)
Once you get those off, cut off the smaller pieces on the other sides.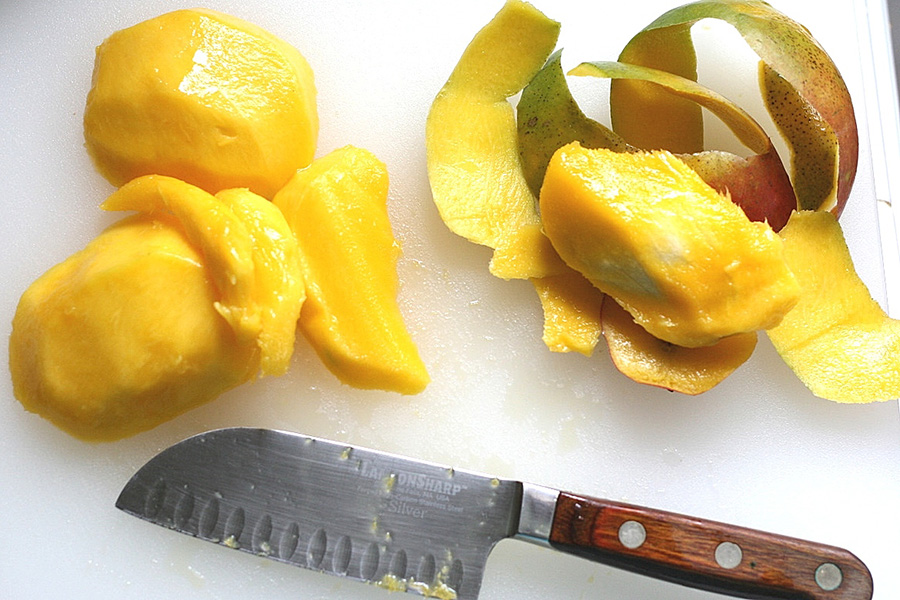 See? Not so hard.
Now, cut the mango chunks into smaller pieces…
And put them in a food processor.
Pulse several times and let it run until the mango is smooth, without chunks.
Because my food processor is small, I transferred the mango puree to a large bowl to add the remaining ingredients. If you have a large processor, please box it up and send it to me.
Um. I mean, if you have a large processor that will hold the rest of the ingredients, you'll save the trouble of washing an extra bowl.
If you really want to send me yours, I'm completely on board. Just sayin'.
Add the yogurt, vanilla, and agave. I added only half of the agave at first, mixed it up, and then tasted it. Because my mangoes were super sweet I didn't feel like it needed any more. Taste as you go and adjust the sweetness to your liking.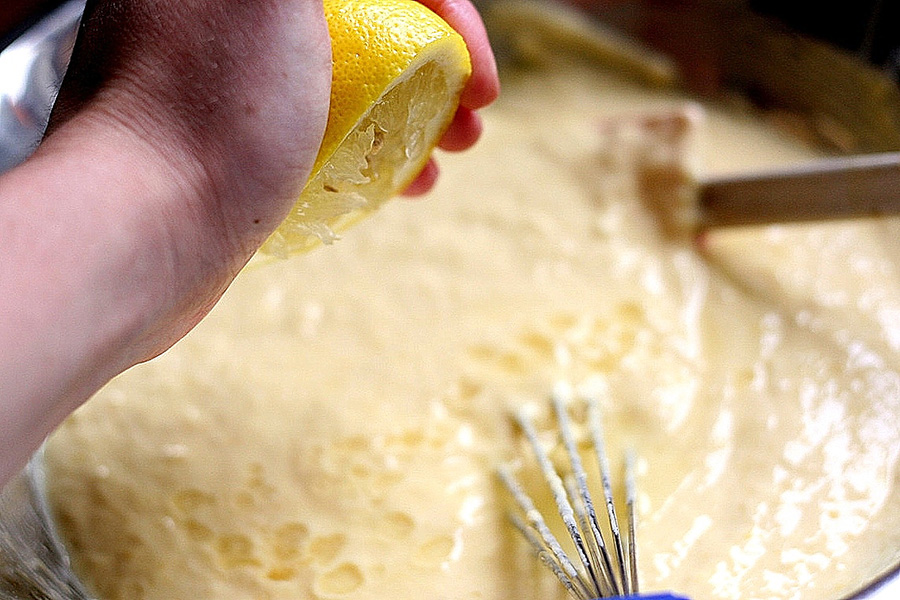 I thought the mixture needed a little more pop, so I added the juice from 1 lemon to brighten the flavors.
I also have utensil indecision. Whisk or rubber spatula? I usually have both in the bowl. Just in case.
I transferred the mixture (once again) to a large measuring cup. This step is optional, but it makes it easier to pour the mixture into the ice cream machine later.
The mixture will need to chill for a few hours before it goes in the ice cream machine. Why? The colder the mixture is when it goes in, the creamier the consistency will be. True story.
When it's nice and chilled, pour it into your machine according to the manufacturer's instructions. I doubled the recipe and it fit nicely in my little Cuisinart 1.5-quart ice cream maker.
This is my favorite moment of ice cream/frozen yogurt/sorbet making. Pulling out that paddle thingy and finally tasting the results of the long wait. I think I could have let it run longer, but I was getting antsy.
At this point you can spoon it into bowls and eat it like soft-serve or immediately (like, really fast—don't let it melt) transfer it into a freezer-safe container to finish freezing for several hours or overnight. It's almost too much to bear, I know.
The wait is well worth it. This beautifully frozen concoction is nothing like the sugary, artificially-flavored stuff in yogurt shops. It actually tastes like yogurt. And mangoes. What a concept!
Thank you Lauren for a new addition to my frozen treat repertoire! Be sure to check out her TK recipe box and her blog Healthy Food for Living for more delicious, good-for-you eats!
Recipe adjustments: I doubled this recipe, using whole Greek yogurt, only 1/4 cup agave nectar (because my mangoes were really sweet), omitting the vodka, and adding the juice from 1 lemon. If you don't have agave, you can substitute a smaller amount of honey or plain white sugar. Limes would also work equally well.
Printable Recipe
See post on Lauren's site!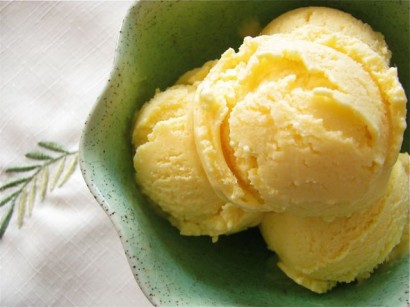 Description
Tangy Greek yogurt is combined with sweet ripe mangoes in this light & refreshing springtime dessert.
Ingredients
2 cups Peeled, Pitted And Chopped Very Ripe Mango
1-½ cup 2% Greek Yogurt
¼ cups Agave Nectar
¼ teaspoons Pure Vanilla Extract
½ Tablespoons Vodka, Optional (to Keep The Frozen Yogurt A Bit Softer In The Freezer)
Preparation Instructions
Yields four 1/2 cup servings.
Place the chopped mango into a food processor and puree until smooth. Add in the remaining ingredients and puree until well-mixed. Chill mixture in the refrigerator until cold.
Then freeze according to your ice cream maker manufacturer's instructions.
Serve immediately as soft serve, or spoon into a freezer-safe container and place in freezer until "ripened" (hardened).


_______________________________________
Be sure to check out Natalie's own beautiful food blog, Perrys' Plate, where you can see her growing collection of lovely recipes. There's always something new to see there. Go visit now!