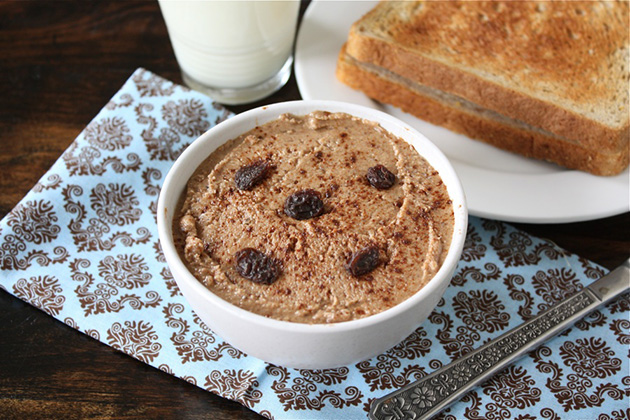 I am a huge fan of peanut butter, but unfortunately my husband is allergic to nuts. I try not to eat nuts around him because even the smell bothers him. I found this out when we were dating and I made peanut butter cookies. He said it would be fine but he was just being nice. He walked around the house with his shirt over his face and opened all of the windows. Oops! 
Luckily, almonds don't seem to bug him. He can't eat them, but he can be around them. So I have become an almond butter addict. I love the stuff. So when I saw Brittany's (TK member Eating Bird Food) recipe for Cinnamon Raisin Almond Butter I knew I had to try it.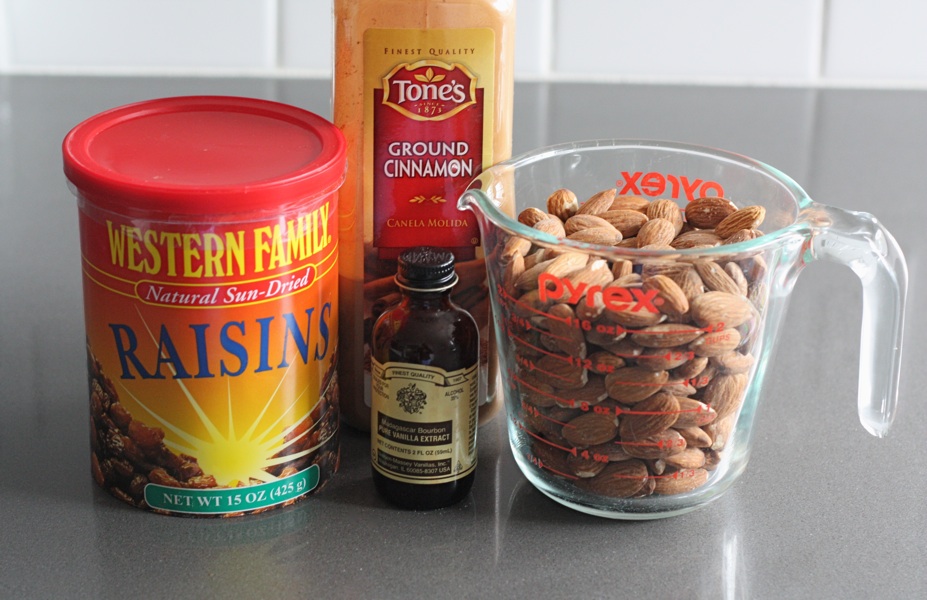 There are only four ingredients needed to make this delicious almond butter: almonds, cinnamon, raisins, and vanilla. Anyone can make this recipe, it is almost too easy!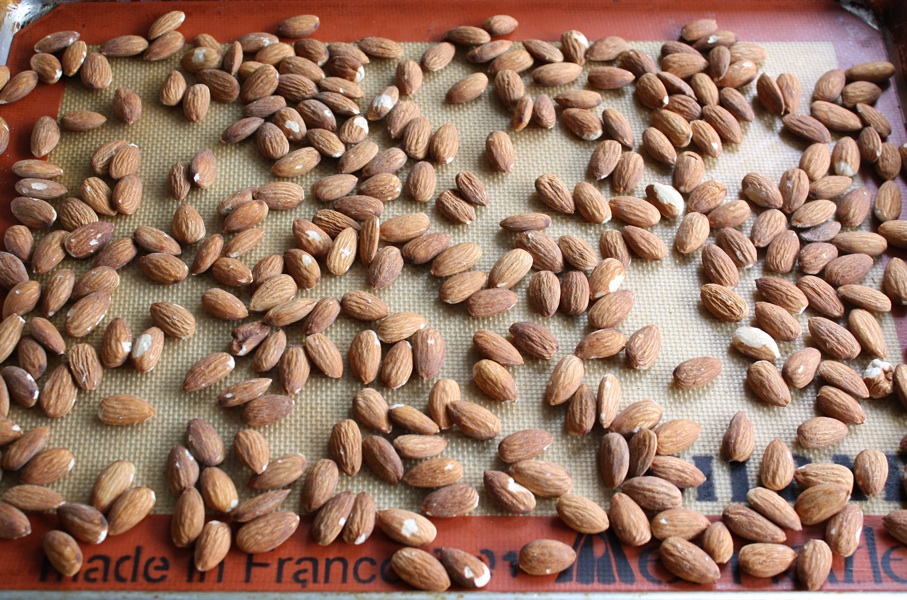 Preheat the oven to 350 degrees F and spread the almonds out on a large baking sheet.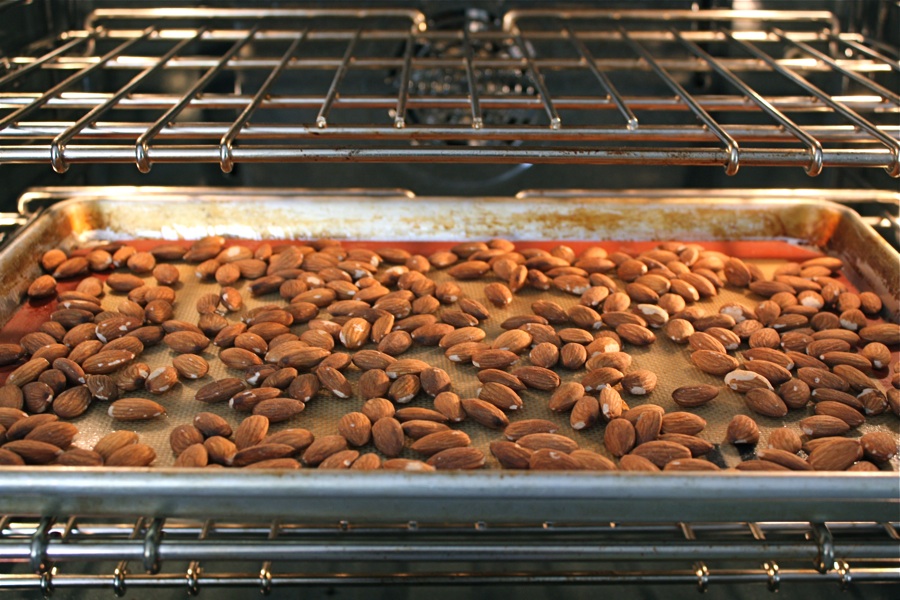 Bake for 10-12 minutes. Remove the almonds from the oven and let cool for about 20 minutes.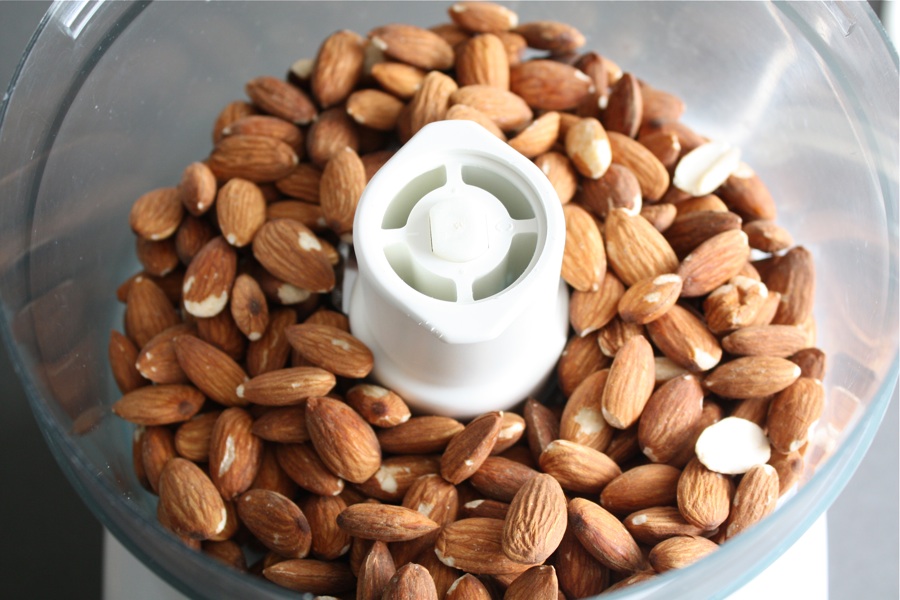 Place the roasted almonds in a large food processor.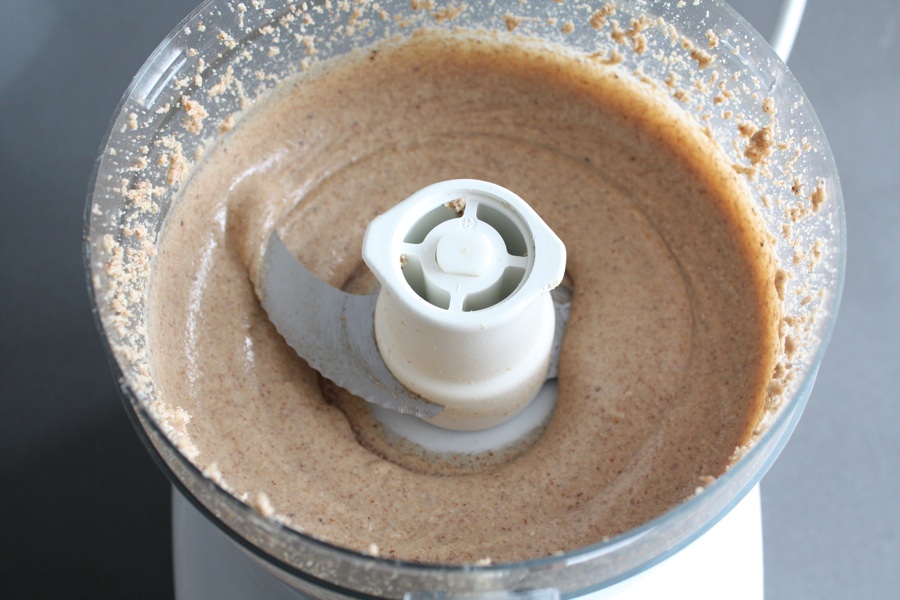 Process for 10 minutes, scraping down the sides occasionally.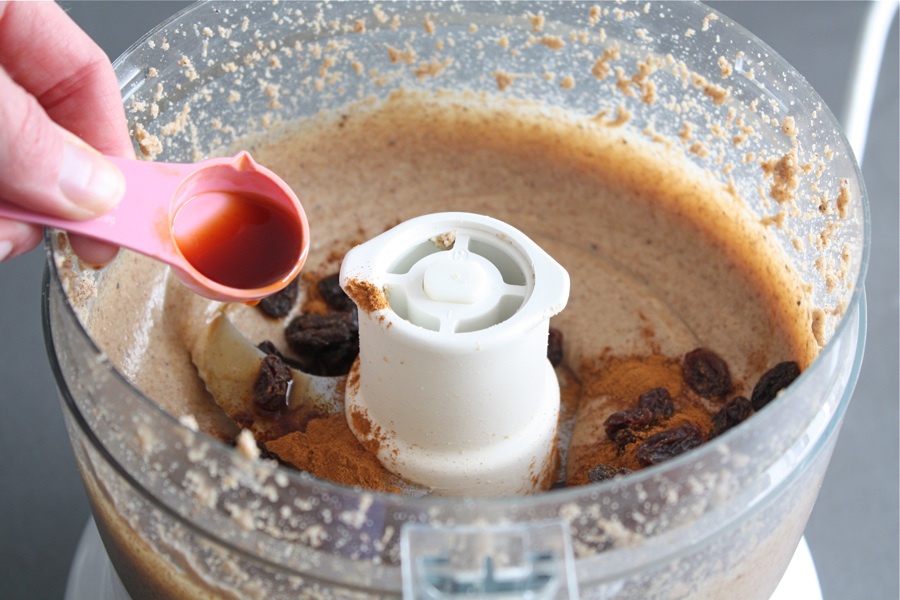 Add the cinnamon, raisins, and vanilla. Process until smooth, about 3-5 more minutes.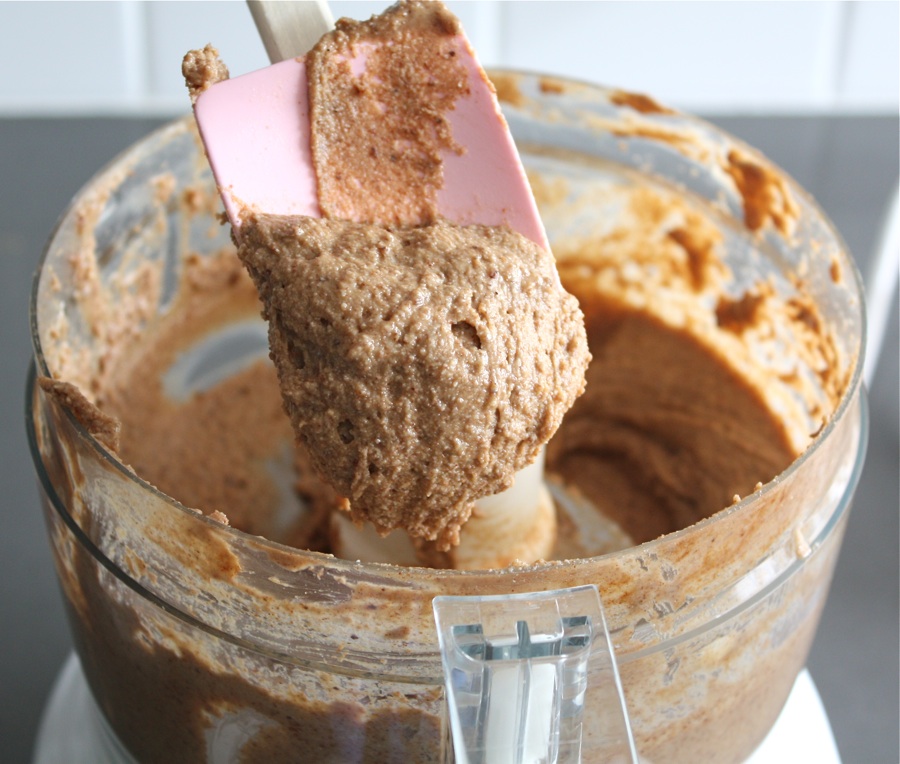 Remove from the food processor and enjoy!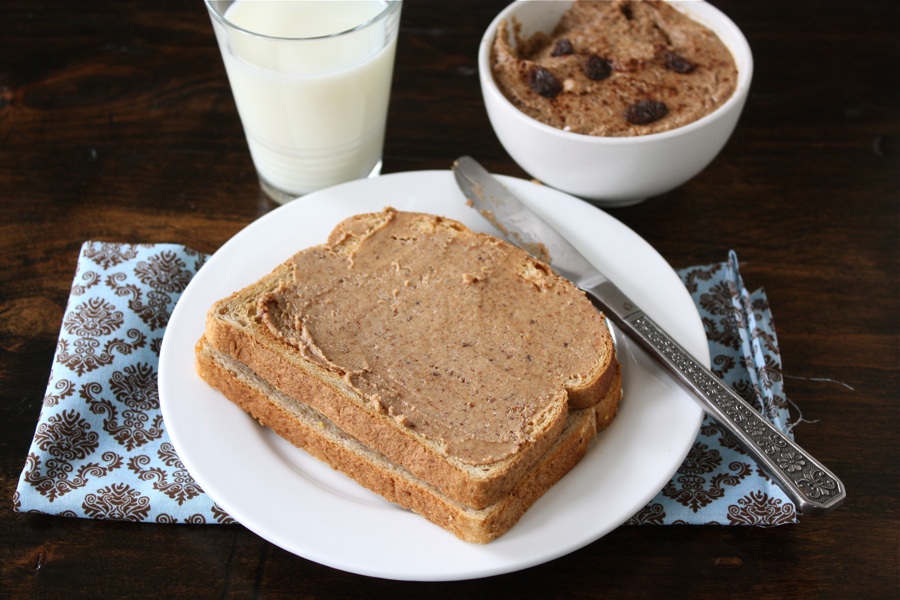 I spread the cinnamon raisin almond butter on a piece of whole wheat toast. I think this is my new favorite breakfast. The almond butter is not overly sweet and spreads easily. It would also make a great almond butter sandwich, be good on apple slices, or stirred into oatmeal. It is also good eaten by the spoon—trust me, I know. I'm going to make several batches during the holidays to give away as gifts. Fill a jar with cinnamon raisin almond butter and tie a festive ribbon around the top and you are set! Who wouldn't love a jar of homemade almond butter?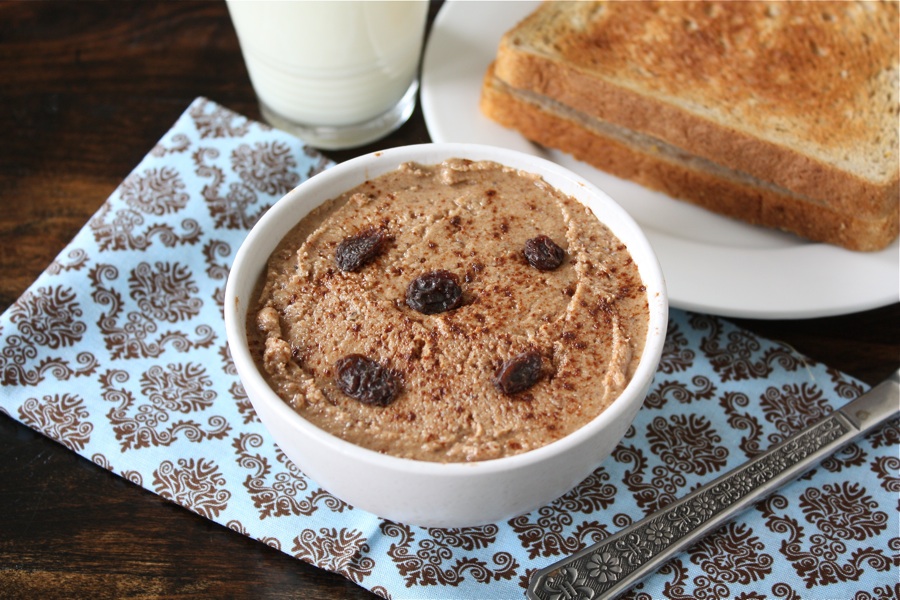 Thanks Brittany for sharing this fabulous recipe for Cinnamon Raisin Almond Butter. I am in love. Check out Brittany's blog Eating Bird Food for other healthy recipes and tips.
Printable Recipe
See post on Eating Bird Food's site!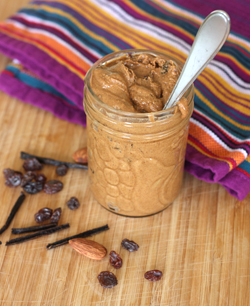 Description
This nut butter is simple and delicious using only almonds, raisins, cinnamon and vanilla.
Ingredients
2 cups Almonds
¼ cups Raisins
1 teaspoon Cinnamon
1 teaspoon Vanilla Bean Paste Or Vanilla Extract
Preparation Instructions
1. Pre-heat oven to 350°F. Spread almonds on a 9X13 baking sheet and bake for 10-12 minutes. Cool for 20 minutes or so.
2. Place roasted almonds in a food processor and process for 10 minutes, occasionally scraping down the sides.
3. Add remaining ingredients and begin processing again.
4. Process until smooth, occasionally scraping down the sides. About 3-5 more minutes.


_______________________________________
Maria and her husband Josh (who she affectionately refers to as her "dough boy") blog at Two Peas and Their Pod. They've been featured on Saveur, Eatocracy, Gourmet Live, Glamour, and the Los Angeles Times, to name just a few. We're so glad to have them here!