If you asked me what my all-time favorite dessert is, the answer would most likely be cheesecake. Cheesecake is not only creamy and delightful but it can also take on almost any flavor, making the options limitless. I love every bite of the delectable treat, from chocolate ganache-topped fluffy sour cream, to the dense, cold cake in the middle, all the way down to the slightly sweet, slightly salty, always buttery crust. If we're being honest, it doesn't get much better than cheesecake.
When I spied these Cookies and Cream Cheesecake Bars from Lori of Recipe Girl , my heart skipped a beat. Actually, it nearly fluttered out of my chest. Cheesecake in bar form … portable slices I could eat with my hands … sweet, chocolate crust … sold. Before I knew it, I was dragging out my stand mixer, finding the bag or Oreos that I knew I saved for a reason, and cutting my cream cheese into cubes so it could quickly come to room temperature. If you haven't noticed, patience isn't one of my strong points. It took everything in my being to not devour the entire pan of these incredible cheesecake slices. Check them out below.
You only need a few ingredients to create these mouth watering bars: one package of Oreos, three packages of room temperature cream cheese, sour cream at room temperature, butter, room temperature eggs, sugar, salt and vanilla extract. Simple and tasty. Let's get started!
Preheat your oven to 325 degrees F. Line a 9 x 13 pan with aluminum foil and spray with non-stick spray.
Begin with the crust. Add exactly 28 Oreos to your food processor. This is two sleeves of Oreos.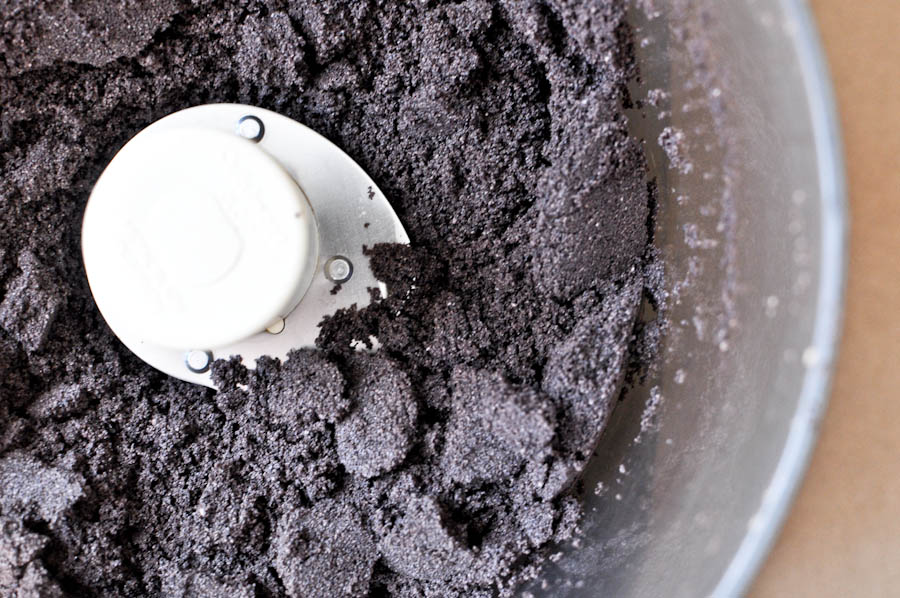 Process until the cookies become fine crumbs.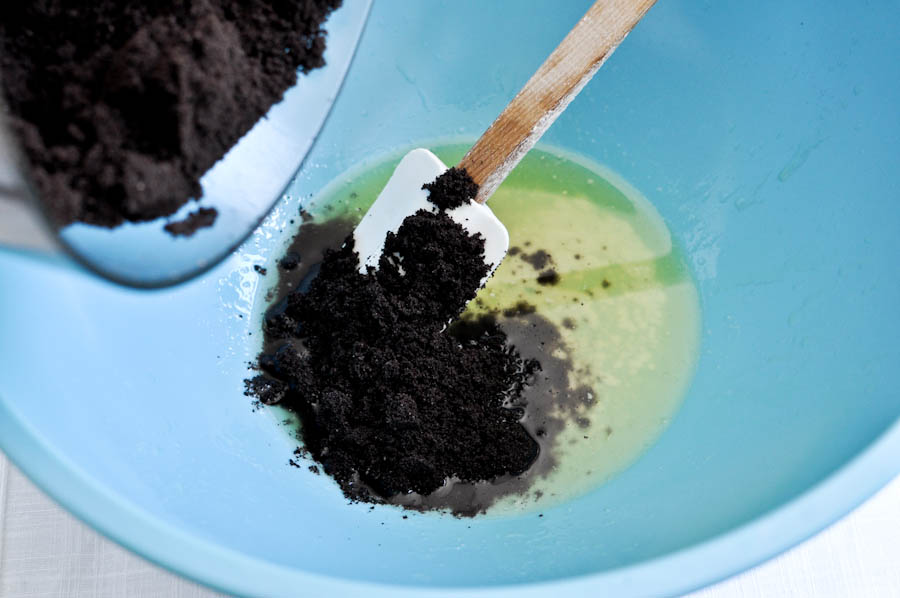 Melt four tablespoons of butter and add it to a large bowl. Pour in Oreo crumbs and using a flexible spatula, mix until moistened and combined.
Pour the crumbs into the foil-lined pan.
Distribute the crumbs evenly and press down with your fingers to flatten the crust. Place the pan in the oven and bake the crust for 10 minutes. After 10 minutes, remove the pan and let it cool. Leave the oven on because the cheesecake is going right back in.
While the crust is baking, start on your filling. First, break the remaining Oreos in half and add to the food processor. Pulse a few times just to break them apart; you still want some big cookie chunks. I pulsed my processor about five or six times.
In the bowl of your electric mixer, add your softened cream cheese and sugar. Beat until the mixture is smooth and fluffy, about two minutes. Make sure to scrape down the sides and beat until it is uniformly thick.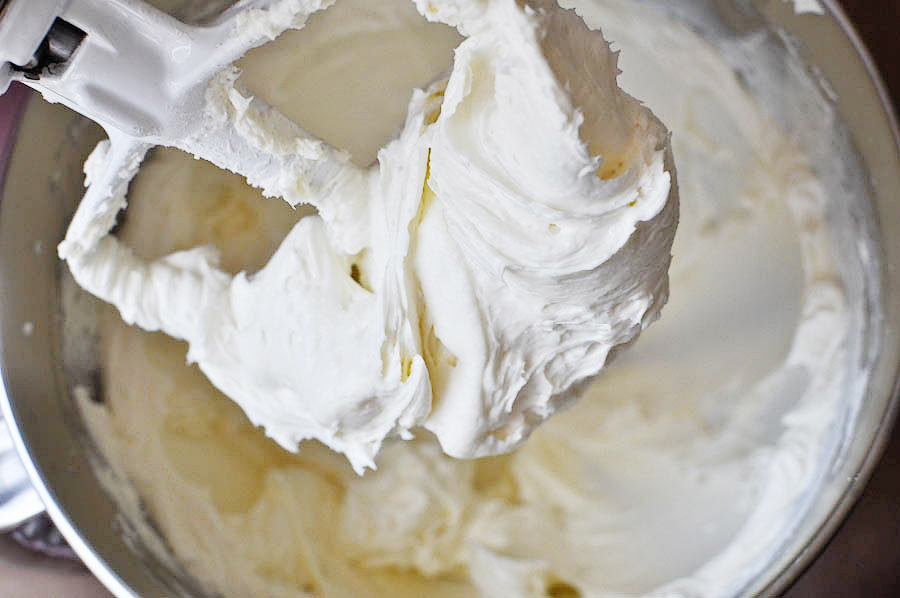 It should look like this. Great. Now I'm hungry!
Beat in your sour cream, salt and vanilla extract, again making sure to scrape down the sides of the bowl.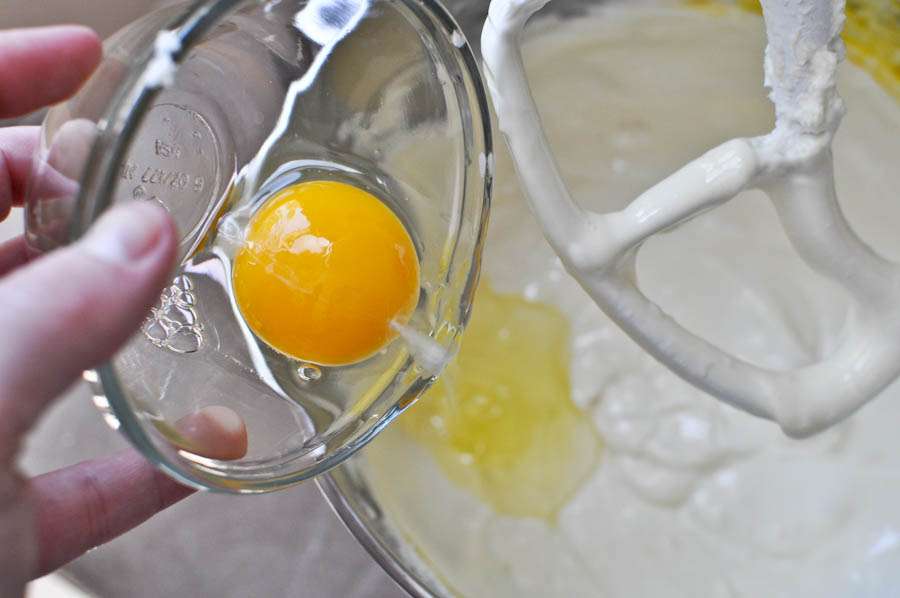 Add your eggs one at a time, beating after each addition. Make sure the eggs are completely mixed in and scrape down the sides of the bowl one last time to make sure everything is combined.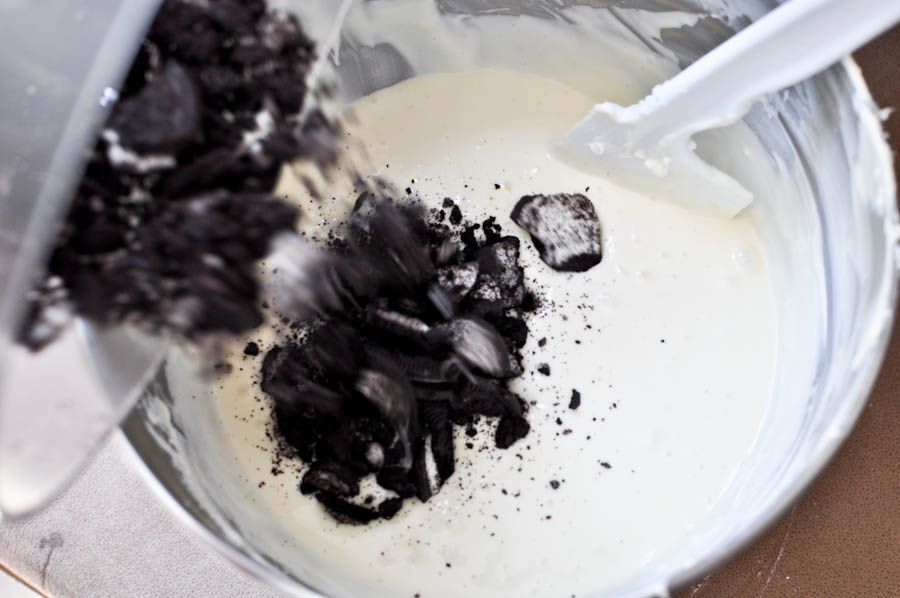 Add your chopped Oreos into the filling.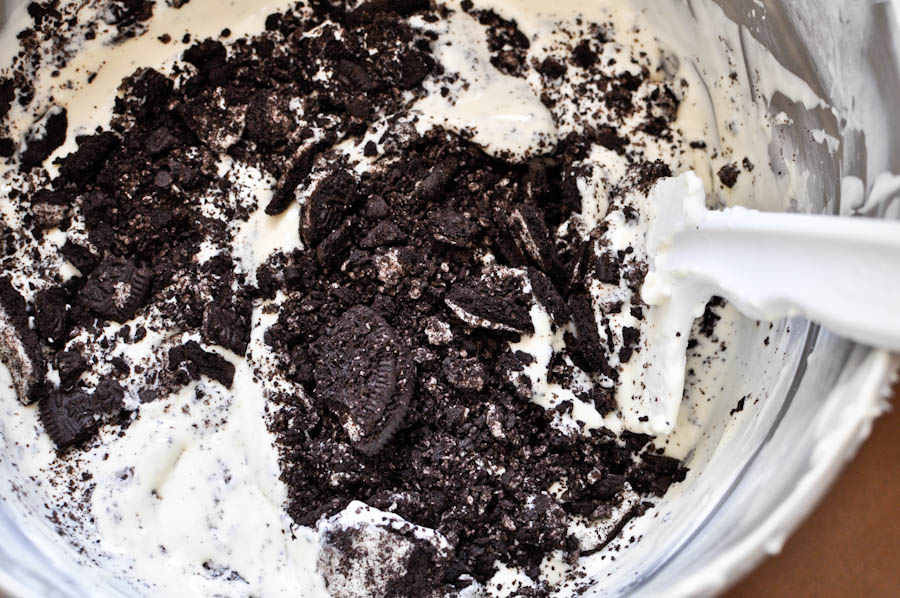 Fold the Oreos in with your spatula and try not to drool. I was unsuccessful.
Pour the mixture on top of the crust and spread evenly with a spatula to distribute the filling.
Bake for 40 minutes, or until the outside is set but the middle is still a bit jiggly. Remove the pan and set aside on a cooling rack to cool completely. Once cool, cover it with foil and place it in the fridge to chill for a few hours, or overnight.
Wait … and wait … and wait … and dream about cookies and cream cheesecake.
One the bars have chilled, lift the foil overhang out of the pan and place it on a cutting board. Using a large knife, cut the cheesecake into uniform squares, rinsing the knife with warm water between each slice.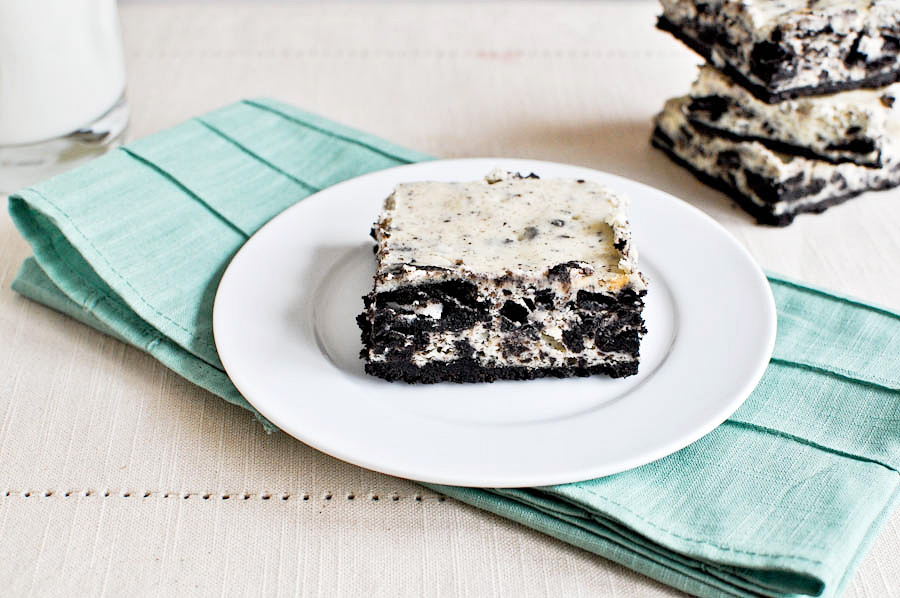 Serve yourself a big slice. Or two.
And enjoy!
These bars surpassed my expectations and tasted like heaven on a plate. I am already plotting my second go-round and can't wait to share them at a few summer barbecues. Thanks so much for the recipe, Lori! Be sure to check out Lori's website Recipe Girl. It's loaded with hundreds of delicious recipes. Her site is one of my go-to sites for easy dinner ideas!
Printable Recipe
See post on RecipeGirl's site!
Description
Oreo cookie fans everywhere will delight in these delicious cheesecake bars.

Ingredients
1 pound Oreo Cookies
4 Tablespoons Unsalted Butter, melted
24 ounces, weight Cream Cheese, At Room Temperature
¾ cups Granulated Sugar
¾ cups Sour Cream At Room Temperature
1 teaspoon Vanilla Extract
½ teaspoons Salt
3 whole Large Eggs, At Room Temperature
Preparation Instructions
1. Preheat oven to 325°F. Line a 9 x 13-inch pan with foil, leaving a 2-inch overhang on two sides (I spray mine with cooking spray).
2. Make the crust: place 28 Oreos in a food processor and process until finely ground. Pour into a large bowl, add the melted butter, and stir with a flexible spatula until all crumbs are moistened. Place the cookie-crumb mixture in the lined pan and, using your fingers, press the mixture firmly and evenly into the bottom. Bake for 10 minutes, then remove to a wire cooling rack (leave the oven on) while you make the filling. Snap the remaining Oreos in half, put them in the food processor, and turn on and off quickly a few times, just until the cookies are roughly chopped.
3. Make the filling: In a large bowl, using an electric mixer on medium speed, beat the cream cheese and sugar until well blended, about 2 minutes. Scrape down the sides and bottom of the bowl with a flexible spatula and beat again until uniform. Beat in sour cream, vanilla and salt. Scrape down the bowl and mix again. Add the eggs, one at a time, beating well after each. After beating in the last egg, scrape down the sides and bottom of the bowl and beat one more time, to make sure the mixture is fully combined. Stir in chopped Oreos with the same spatula.
4. Pour the cream cheese mixture over the baked cookie crust, smooth the top with the spatula, and bake for 40 minutes, until the filling is set around the edges but still slightly wobbly in the center when you gently shake the pan. Remove the pan to a wire rack to cool to room temperature, about 1 hour. When cool, cover it with foil and refrigerate until well chilled, at least 3 hours. (I chill mine overnight.)
5. To cut, use the foil overhang to lift the cheesecake out of the pan and place on a large cutting board. Use a sharp chef's knife to cut the cheesecake into bars, rinsing off the knife with hot water and wiping it dry between each cut. Keep refrigerated until ready to serve.
Yield: 24 bars
Cooking Tips:
These work best served on flattened out cupcake papers with a fork stuck on top.


_______________________________________
Jessica Merchant is a personal trainer turned food writer and blogger. Her blog, How Sweet Eats, is where she proclaims her love for all things sweet, all things bacon, and everything else in between. She works her magic in her Pittsburgh kitchen, which she shares with her husband of 2 years.