Hi, my names Jenna and I love beets. Like, I really love beets. When I was little, I remember going to visit my grandma and she would boil beets for me then sprinkle them with sugar for an afternoon treat. I must have been one of the only six-year-olds that actually asked for beets. Then, I grew up and discovered beet and goat cheese salads. Beets and soft, creamy goat cheese? A match made in heaven. That's why, when I saw Tasty Kitchen member Amanda's recipe for Beet Risotto with Goat Cheese (adapted from Bon Appetit), I knew I had to make it as soon as humanely possible.
The end result was absolutely fantastic! Imagine super creamy, jewel-colored risotto studded with beets and big chunks of melting goat cheese. I think the day I made it, I ate a bowl for lunch and dinner. I just couldn't get enough—and neither will you!
Amanda doesn't specify if you can use canned beets for this (I'm sure you can), but since beets are in season right now anyway, I grabbed two bushy ones from the produce section of my local grocery store.
So, first things first: dice your beets. I didn't peel these—I just scrubbed them under cold water.
Look ma! Red hands!
Next, melt four tablespoons of butter in a heavy-bottomed pot.
Then, add your diced beets and onion.
Sauté for about eight minutes, until both beets and onions are tender.
Add your arborio rice (risotto rice!). You can find arborio rice in the rice section of your local store. It's super yummy and creamy!
Pour in three cups of chicken stock. In most traditional risotto recipes, you'll gradually add the hot stock over a period of about 45 minutes, but in this recipe you just add it all at once … and it works! How awesome and easy is that?
Finally, drizzle in a little balsamic vinegar.
Bring risotto to a boil then cover, reduce heat and simmer for about 15 minutes. You'll want to stir this occasionally. The risotto is done when the rice has soaked up all the stock.
Season with salt and pepper and add the goat cheese—the best part!
Just look at those huge melting chunks of cheese. Are you drooling yet?
This would be the perfect side dish to a roast chicken (I especially love TK member Nicole's Best Roast Chicken. Period.). It's creamy, hearty and delicious! A big thank you to Amanda for providing such an easy recipe. Visit her blog Once Upon a Recipe for more of her creations!
Printable Recipe
See post on Amanda (onceuponarecipe)'s site!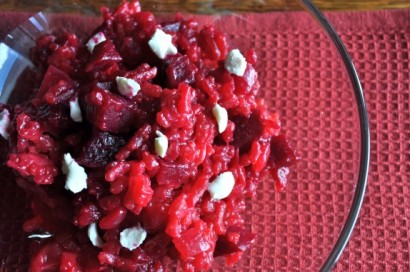 Description
Creamy beet risotto topped with goat cheese makes for a delicious and gourmet accompaniment to a meal!
Ingredients
¼ cups Butter
2 whole Beets, Chopped Small
1 whole Onion, Chopped Small
1 cup Arborio Rice
3 cups Stock (Chicken Or Vegetable)
1 Tablespoon Balsamic Vinegar
Salt And Pepper, to taste
½ cups Goat Cheese
Preparation Instructions
Melt the butter over medium heat in a heavy-bottomed saucepan. Add the beets and onion, and cook for 8 minutes (stir to allow the onion to caramelize). Mix in the rice, broth, and balsamic vinegar. Increase the heat. Bring to a boil, and then reduce the heat to medium-low. Cover and simmer until the rice is tender and the risotto is creamy, stirring occasionally (about 15 minutes). Season with salt and pepper. Sprinkle with the goat cheese. If you are not a goat cheese fan, you could substitute feta cheese, but trust me, the goat cheese really enhances the flavor of the beets. Enjoy!


_______________________________________
Jenna is a food writer who has worked as a pastry chef and bread baker. Her blog Eat, Live, Run has great recipes, travel stories, and the perfect slogan: "Celebrating life, one crumb at a time."