We're so happy to have our good friend Alice back on the Tasty Kitchen Blog. She couldn't have picked a more delicious recipe to prepare than Chrissy and Lauren's Rocky Road Rice Krispie Treats. Great to see you, Alice!

Just when I thought I had seen every variation of Rice Krispie treats, Tasty Kitchen members Chrissy/Lauren (Chrissy and Lauren of From the Yellow Kitchen) delightfully prove me wrong with their fun and creative Rocky Road Rice Krispie Treats made with chocolate, Nutella, peanut butter, marshmallows, pecans, and rice cereal. These bars are a chocolate lover's best friend, especially since no baking is required and they only take minutes to prepare. For the record, I'm partial to these types of recipes because of the "easy factor" with a huge chocolate payoff. Who is with me?!
Let us begin.
First you'll need the following ingredients: chocolate chips, peanut butter, Nutella, mini marshmallows, pecans, and Rice Krispies. The recipe calls for semi-sweet chocolate, but you could easily substitute milk bittersweet, or dark chocolate depending on your personal preferences.
Mix the chocolate chips, peanut butter, and Nutella together in a microwave safe bowl. Heat the mixture in the microwave by cooking it in 30-second intervals, making sure to stir the mixture immediately after every interval until the chocolate chips have melted and the mixture is completely smooth.
Stir in the pecans, marshmallows, and rice cereal until all the ingredients are well coated with chocolate.
I added an additional cup of cereal to mine because I thought it could use a bit more. Use your own judgment in deciding to add more cereal, pecans, or marshmallows.
Transfer the mixture to an 8×8 pan or small baking dish coated in non-stick spray.
Spread the mixture until it is evenly distributed.
Add more pecans and marshmallows on the top and press down.
Place the pan in the refrigerator for one hour before cutting into squares. Tip: Forty minutes in the freezer works nicely, too!
The texture on these bars is not like a traditional rice cereal treat. It is more on par with a yummy chocolate bar somewhere between fudge and a haystack. I would also recommend allowing the chocolate mixture to cool to room temperature before adding marshmallows, otherwise they melt and you don't get those gorgeous (whole) marshmallow chunks in the middle of each bar.
My suggestions and tips are slightly different than the original recipe (based on my preferences). The original recipe is a good base which can easily handle more amounts of the listed ingredients based on your own personal preferences. Check out their original blog post too, for suggested variations.
Thanks ladies!
Printable Recipe
See post on LittleYellowKitchen's site!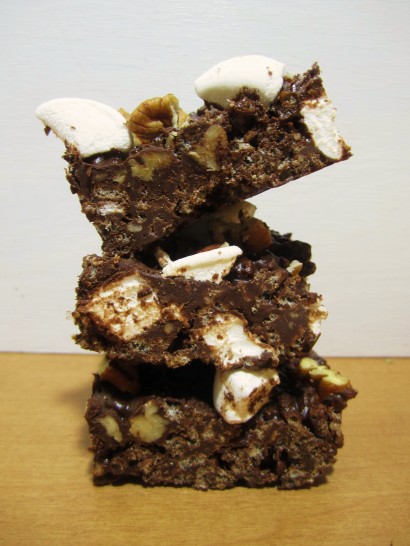 Description
All the ingredients for a sweet and crispy Rocky Road treat with a little peanut butter and Nutella to top it all off.
Ingredients
1 cup Semi-Sweet Chocolate Chips
½ cups Peanut Butter
½ cups Nutella
½ cups Mini Marshmallows
¼ cups Pecans
¾ cups Rice Krispies
Preparation Instructions
Melt the chocolate chips, peanut butter and nutella for 2 minutes in the microwave. Stir.
Mix in the marshmallows and pecans. Fold in the Rice Krispies.
Pour mixture into a well-greased 8×8 glass baking dish. Refrigerate for 1 hour.
Optional: top with extra pecan pieces and marshmallows.


_______________________________________
Alice Currah is the force behind Sweet Savory Life and Everyday Alice. She and her husband Rob are the proud parents of three children: Abbi, Mimi, and Elli. Alice is the winner of Saveur's Cover Contest and is on the Forbes.com list of Eight of The Very Best Food Bloggers. She's also a weekly writer for PBS Parents' Kitchen Explorers. She's the best-est.