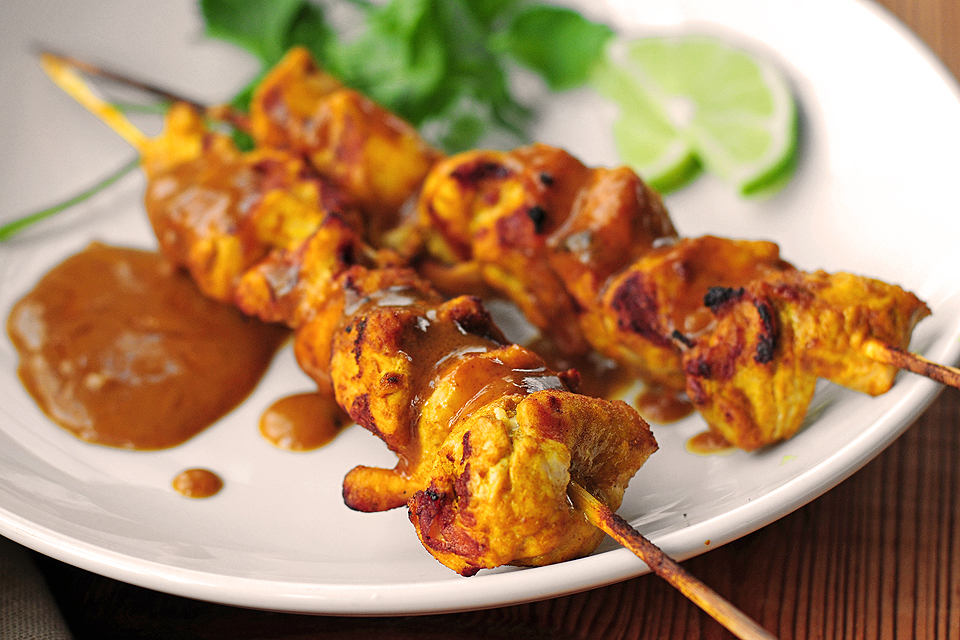 Bored with the same old chicken dishes? We are. Around here we eat chicken often, and it certainly can get a little mundane after a while.
Here's a story that may give you an indication of how much chicken we eat.
Years ago, during hunting season, my son showed a sudden interest in going hunting. My husband explained to him that if he wanted to go hunting, he should be willing to eat whatever he was hunting, and not just go kill something to kill something. My son thought for a second, and responded quite seriously, "Can we go chicken hunting?"
Yep, we eat a lot of chicken. So when I saw this recipe submitted by Tasty Kitchen member Angiespantry for Chicken Satay with Peanut Sauce, I had to try it right away. It looked simple enough and I could tell by the list of ingredients we were in for delicious change of pace.
Angie did not disappoint. This recipe is a keeper. And no hunting is involved. Unless you consider grocery shopping hunting.
The recipe combines a marinade and a peanut sauce to create a perfect savory, sweet balance of flavors. Lawsie mercy, the peanut sauce is over-the-top good. The peanut sauce alone is worth giving this recipe a try. It brought rave reviews from my family.
Another thing I liked about this recipe is that the marinade and sauce can be made up to a couple of days ahead. With everything made ahead, it was a simple meal to pull together at the end of a busy day.
Let's get going.
The ingredients, other than a couple of spices that you can easily find at your local grocer, are fairly basic. Remember, for the full list of ingredients and recipe, see the recipe link at the bottom of this post.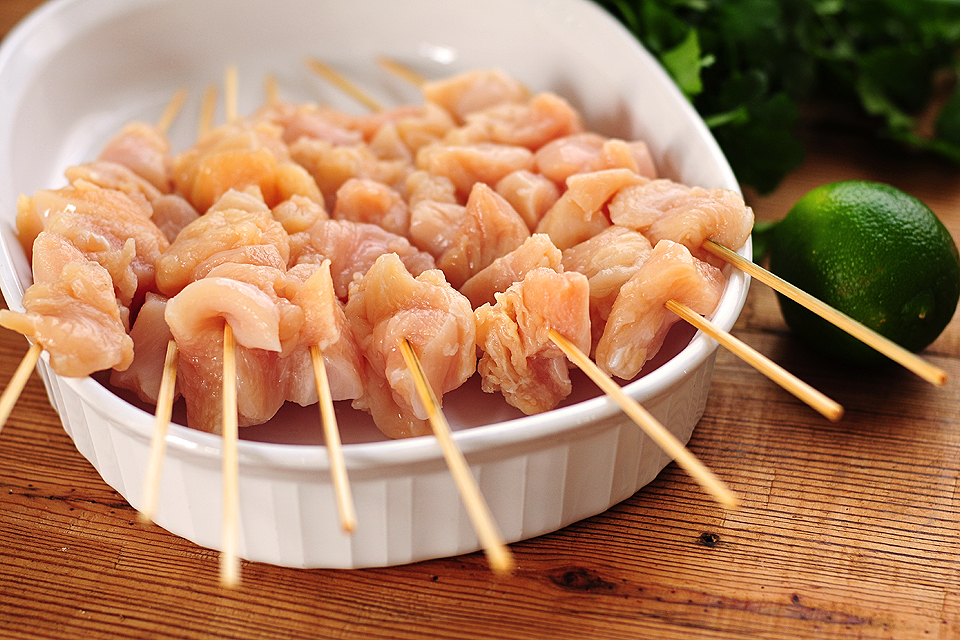 Begin with boneless skinless chicken breast or chicken tenders, cut into bite size pieces, and skewered on wooden or metal skewers. If you're using wooden skewers, be sure to pre-soak them so they don't burn while grilling. Cover and refrigerate chicken until you're ready to marinate.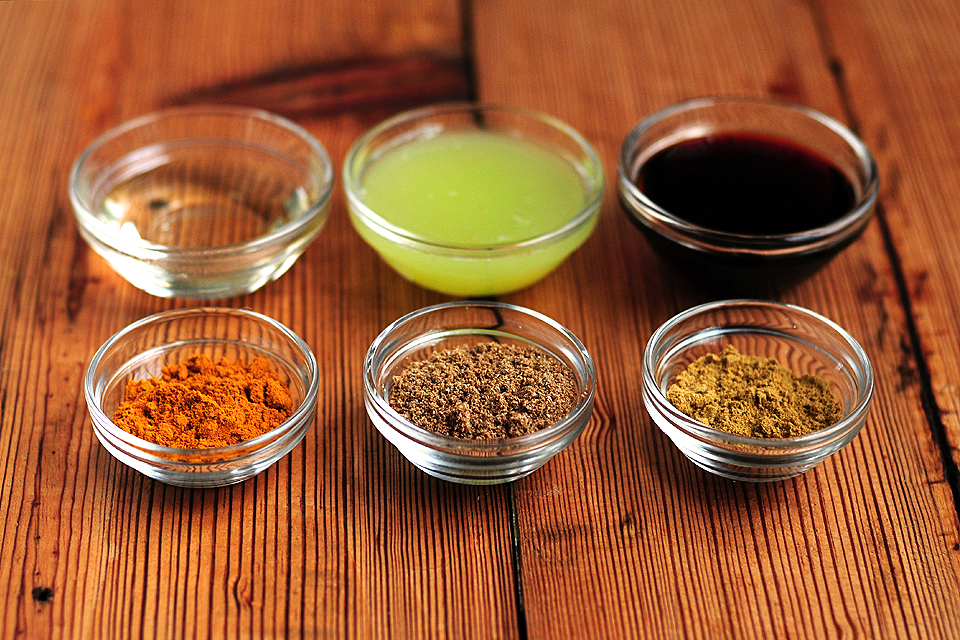 For the marinade you'll need ground turmeric, ground coriander, ground cumin, vegetable oil, lime juice and soy sauce.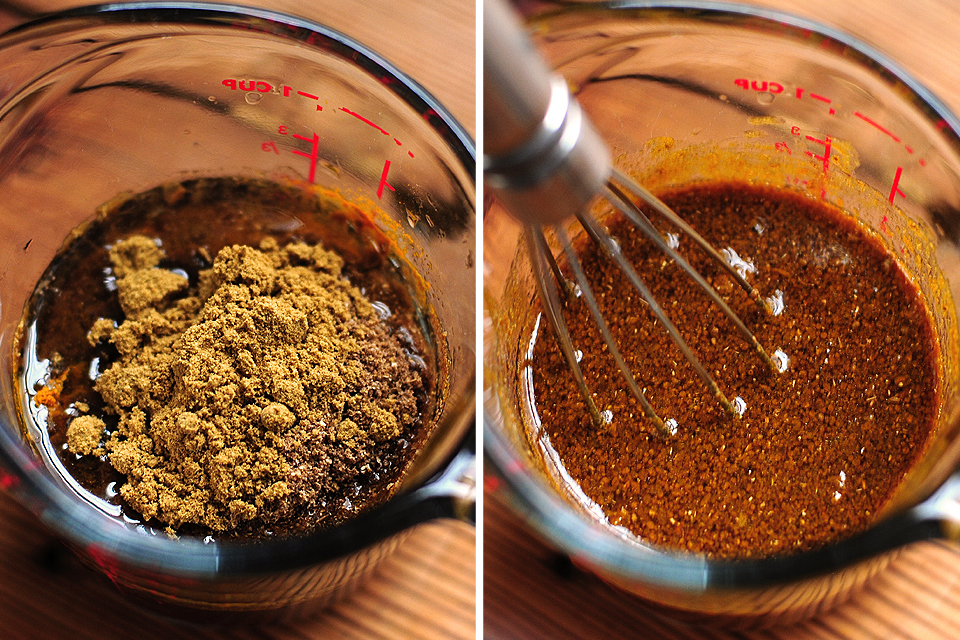 Combine well. (Reserve 5 tablespoons of marinade for use in the peanut sauce.)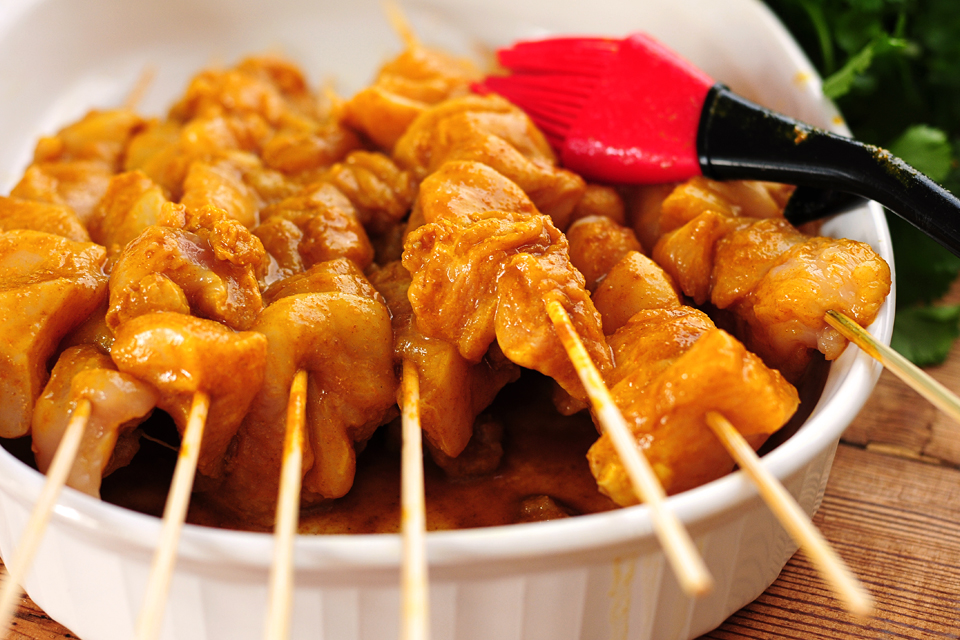 Pour marinade over skewered chicken and coat well. I used a pastry brush to make sure the chicken was totally coated. Angie suggests using your hands to coat the chicken, but be sure to wear kitchen gloves because the turmeric will stain your hands. Marinate chicken in the refrigerator for at least an hour.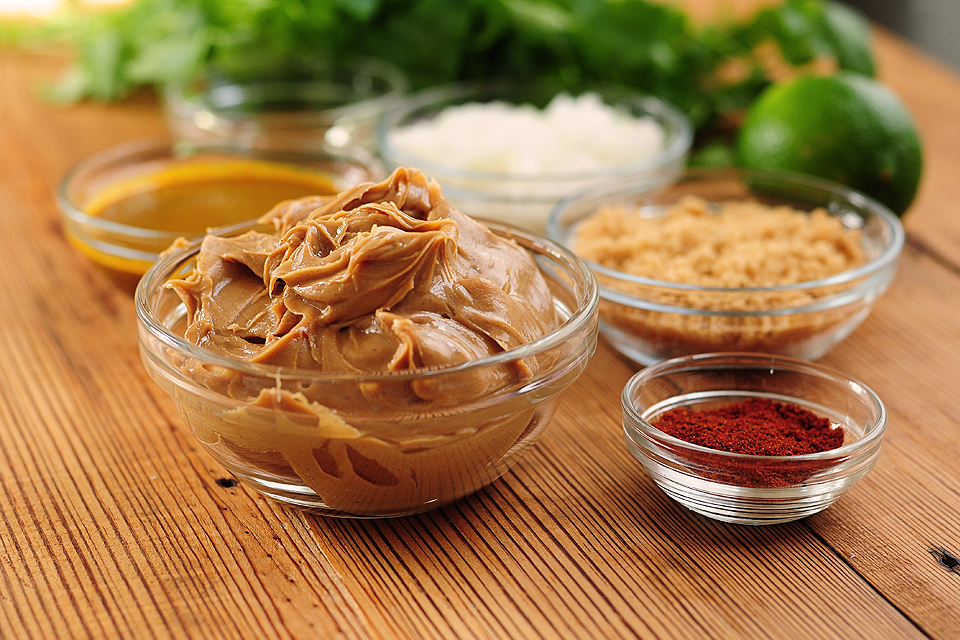 The peanut sauce is made with simple ingredients: vegetable oil, onion, chili powder, the reserved marinade, brown sugar, water and of course, peanut butter. In addition, a whole lime and fresh cilantro are recommended for garnish, but not required.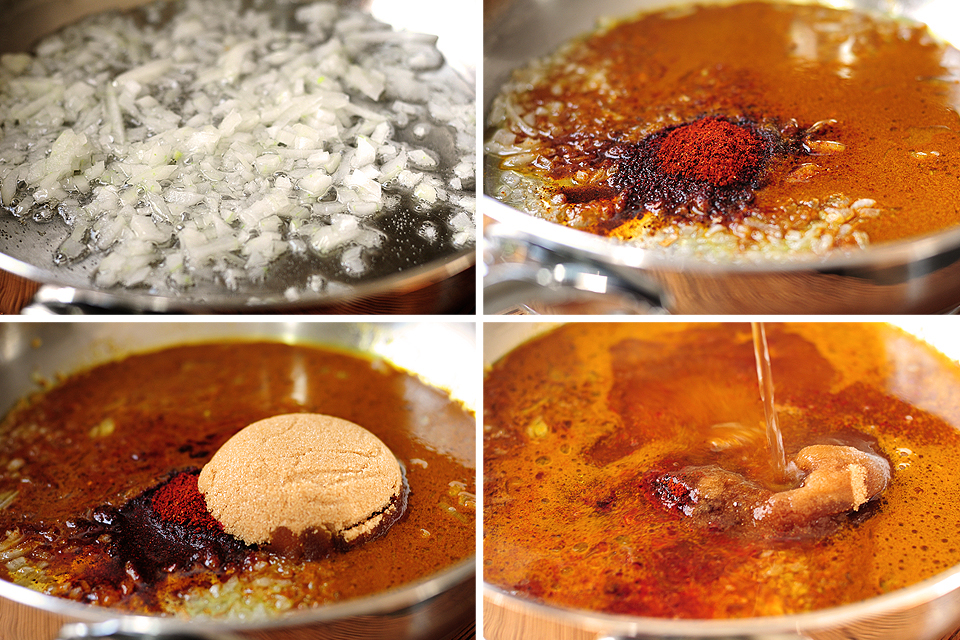 To make the peanut sauce, heat the vegetable oil in a medium saucepan over medium heat, and sauté the chopped onion. Add the chili powder, the reserved marinade, brown sugar and water and whisk together until well-combined.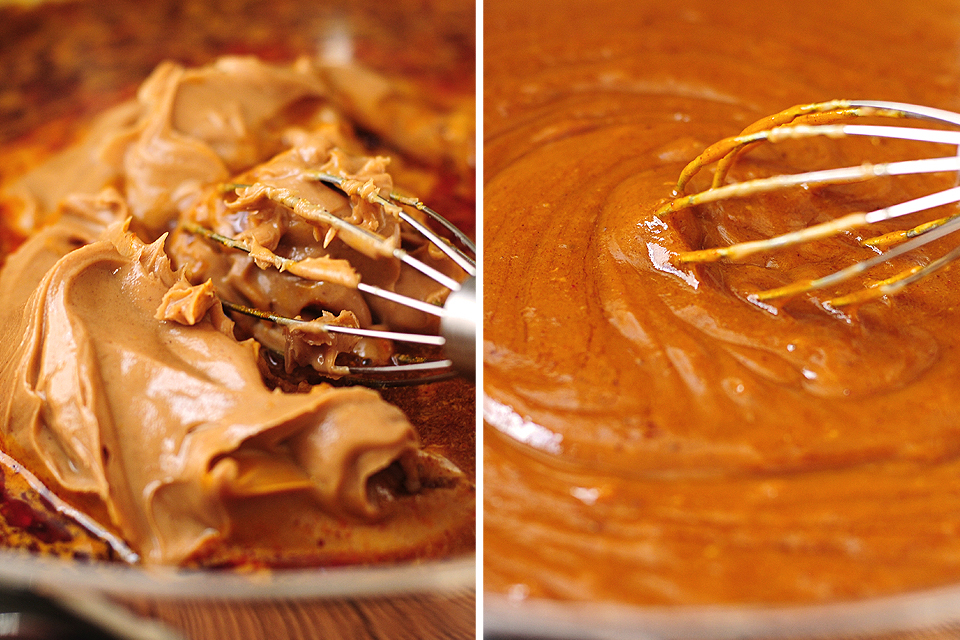 Remove from heat and add the peanut butter. Whisk in the peanut butter until incorporated and smooth. If the sauce is too thick, add a little water at a time. Cover pan and set aside until ready to serve with cooked chicken. When ready to serve the sauce, gradually heat over low heat, occasionally whisking so the sauce doesn't separate. You can also reheat the sauce on 50% power in the microwave a few seconds at a time, stirring in between.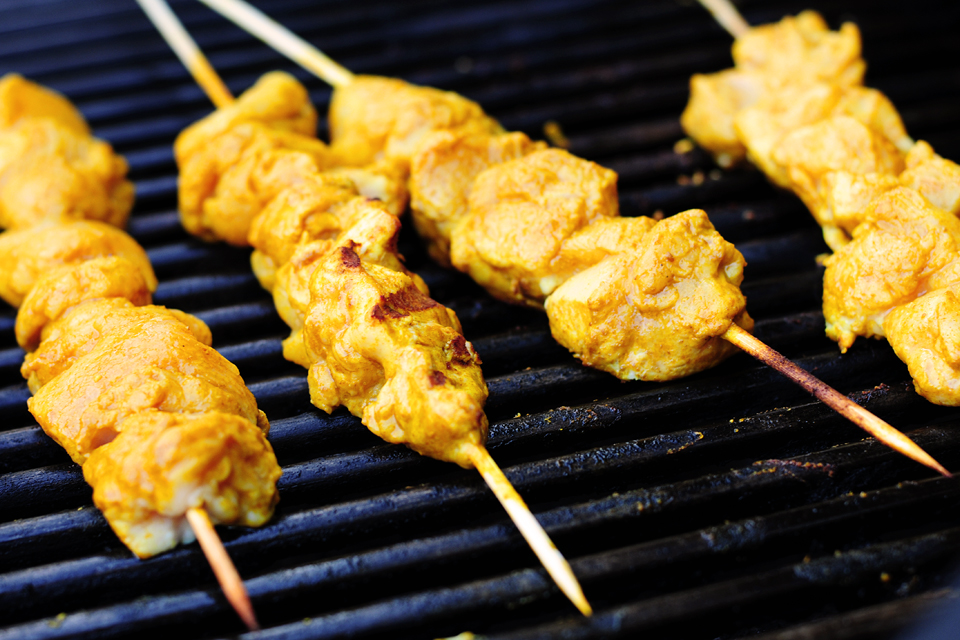 When ready to cook the chicken, preheat the grill or a grill pan over medium-high heat. Grill chicken for 10-15 minutes, until done.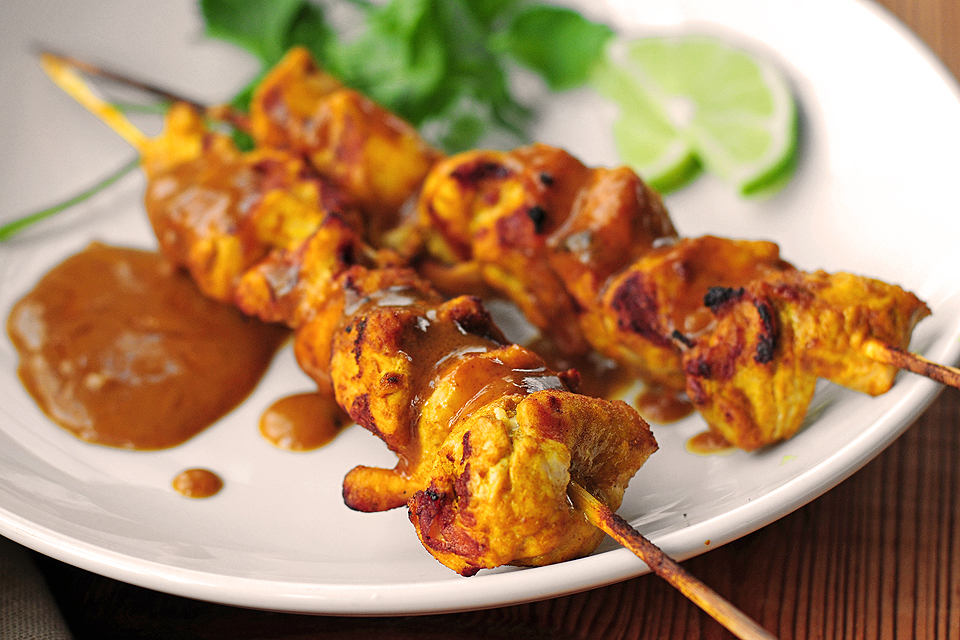 Serve cooked chicken with peanut sauce. Garnish with cilantro and/or fresh lime wedges.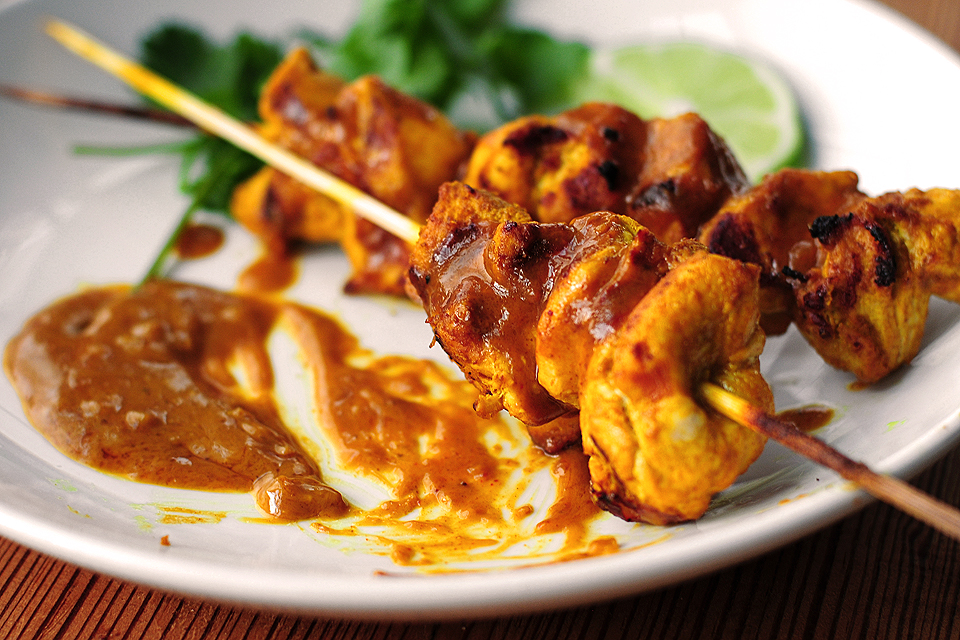 We had enough peanut sauce left over to combine with wide rice noodles for a side dish to accompany the chicken. Perfectly perfect to chase the chicken blahs away. A big thanks to Angie, who blogs at Angie's Pantry, for the tasty recipe. (Her blog is chock full of good stuff!)
Printable Recipe
See post on angiespantry's site!
Description
This is one of my favorite recipes for chicken. You can make it as an entree or an appetizer. Easy enough to make ahead and very elegant when entertaining. Enjoy!
Ingredients
2 pounds Boneless Skinless Chicken Breast, Cut Into Bite Size Pieces
_____
FOR THE MARINADE:
4 Tablespoons Low Sodium Soy Sauce
4 Tablespoons Lime Juice
2 Tablespoons Vegetable Oil
2 teaspoons Cumin
4 teaspoons Coriander
2 teaspoons Turmeric
_____
FOR THE PEANUT SAUCE:
2 Tablespoons Vegetable Oil
⅓ cups Onion, finely chopped
2 teaspoons Chili Powder
5 Tablespoons MARINADE:
¼ cups Brown Sugar, Packed
½ cups Water, Or More If Needed
1 cup Creamy Peanut Butter, Do Not Use Natural Or Low Fat
1 whole Lime, Cut Into Wedges, For Garnish
1 bunch Fresh Cilantro For Garnish, Chopped
Preparation Instructions
1) Combine all marinade ingredients and whisk well to combine. Reserve 5 tablespoons of marinade for the sauce and refrigerate until you're ready to make the sauce. Set the remaining marinade aside. Cut the chicken into bite size pieces and skewer*. Skewer your chicken pieces on presoaked (in water) wooden skewers or metal skewers. Pour remaining marinade over chicken skewers being sure to coat thoroughly. (I use gloves, because the turmeric can stain your hands). Marinate chicken in the refrigerator for an hour.
2) For the peanut sauce, heat oil in a medium saucepan over medium heat. Sauté onions for 5-7 minutes. Add chili powder and the reserved 5 tablespoons of marinade, brown sugar, and ½ cup of water. Keep the pan over heat until very hot. Remove from heat and add peanut butter, carefully whisk until completely incorporated. Add additional water if the sauce is too thick. Loosely cover the pan and set aside. To warm the sauce, do so in microwave on 50% power for 30 seconds at a time and stir between. Heat until just warm. If you over heat the sauce, the oil will separate.
3) Preheat grill and cook skewered marinated chicken over medium high heat for 10-15 minutes. Serve chicken with peanut sauce and garnish with cilantro and fresh lime wedges.
Makes approximately 32 – 6″skewers for appetizers or 8 dinner size portion skewers.
*I like to skewer the chicken first before the marinade is added. It's much less messy and when you're entertaining, you won't have to skewer the meat while you have guests. Again, I recommend using gloves.


_______________________________________
Amy Johnson is a blogger who writes about food, travel, the home (both inside and out), and various observations and random musings about anything and everything. Visit her blog She Wears Many Hats for a dose of deliciousness, practicality, hilarity, or just plain fun. She lives in South Carolina with her husband and two children.