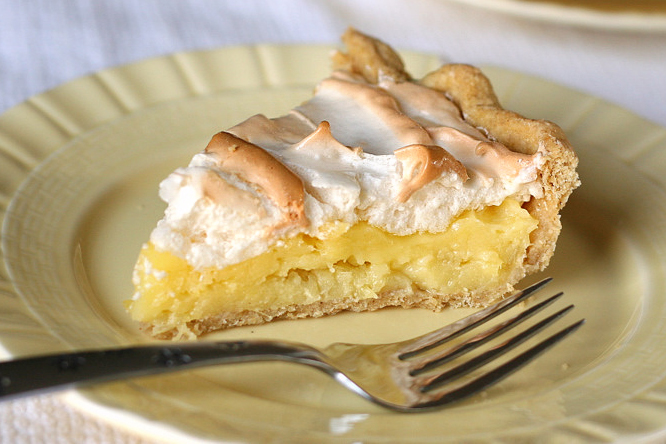 I'm excited to share a recipe from my own box today because it's one that's close to my heart. I have a southern grandmother who cooks the best desserts. (I'm guessing many of you are nodding your heads and smiling. You know what I'm talking about, right?) Grandma Inez's Pineapple Pie is my most favorite pie in the whole world and one of my favorites in her repertoire.
When I tell people my favorite pie is pineapple, I always wonder what kind of images their mind conjures up. A flaky pie crust filled with steaming pineapple rings? Ugh. No wonder they make faces at me. No steaming pineapple rings here. Think of this pie as a pineapple version of lemon meringue. Better now?
Let's get started!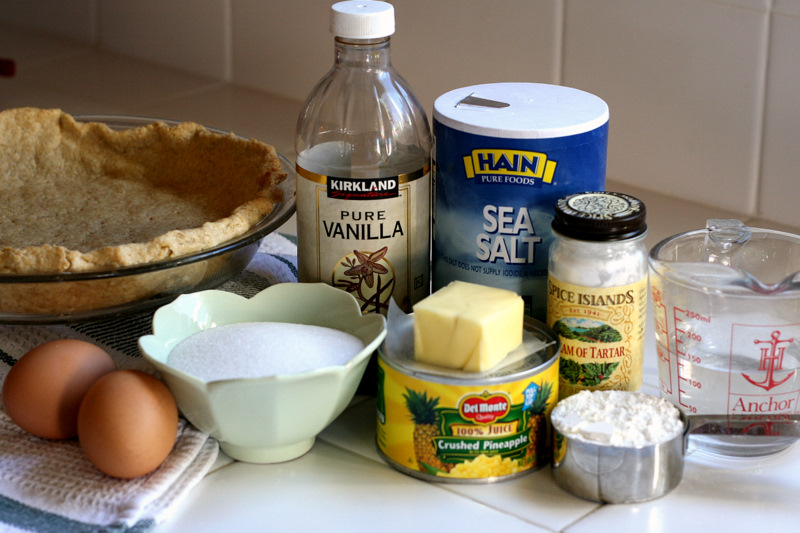 One of the things I love about this pie is that the ingredients are simple and the technique isn't fussy. You'll need eggs, sugar, butter, vanilla, salt, cream of tartar, corn starch, water, a can of crushed pineapple, and pre-baked pie crust. A pie crust from scratch is best, especially if it looks like it was made by a three-year-old. (Grandma, don't look at my crust, please.)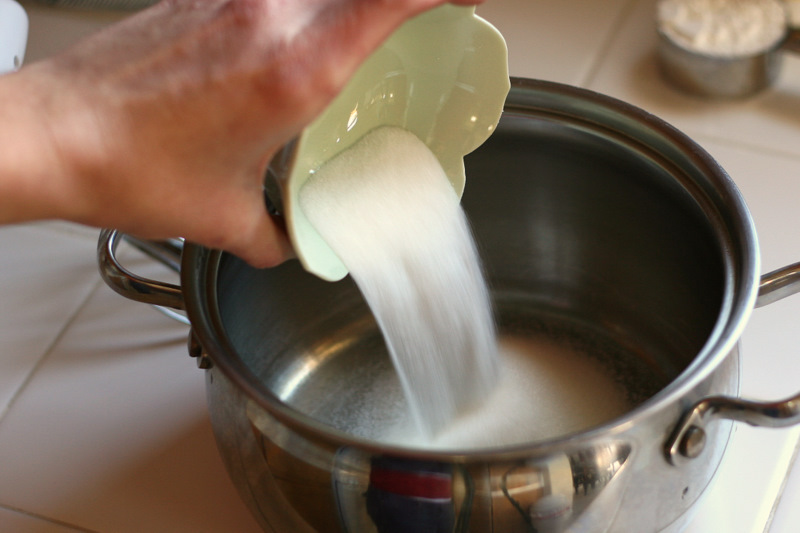 Get a medium saucepan and dump in 3/4 cup sugar …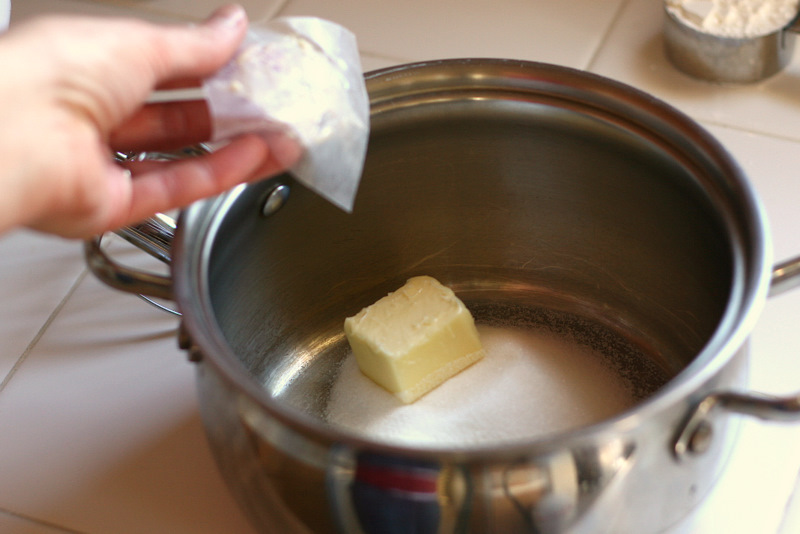 And the butter. Two tablespoons? I know. Pretty weak for a southern recipe, but I'm not going to argue with my grandma.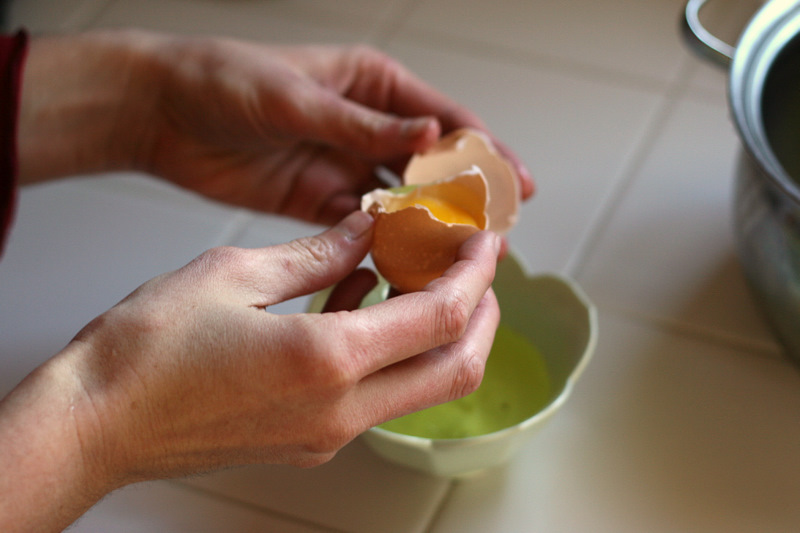 At this point you'll need to separate the eggs if you haven't already. Reserve the whites in a small bowl and set aside.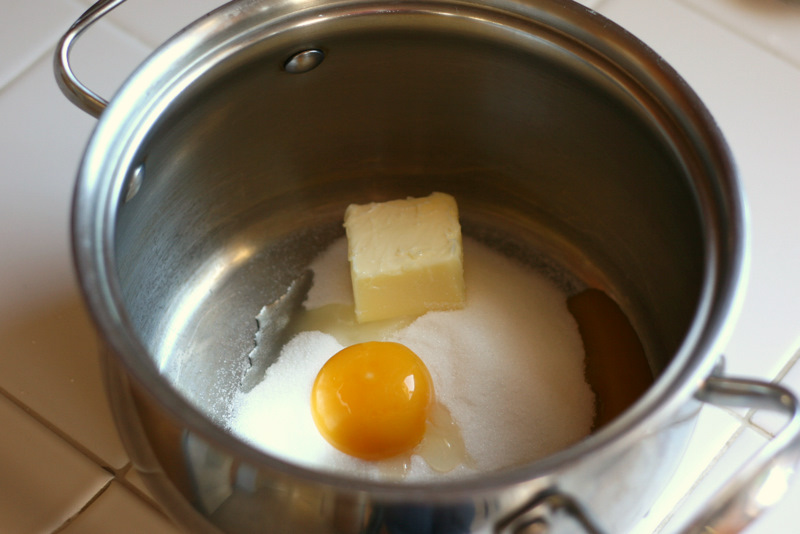 Place the yolks in the saucepan with the sugar and butter.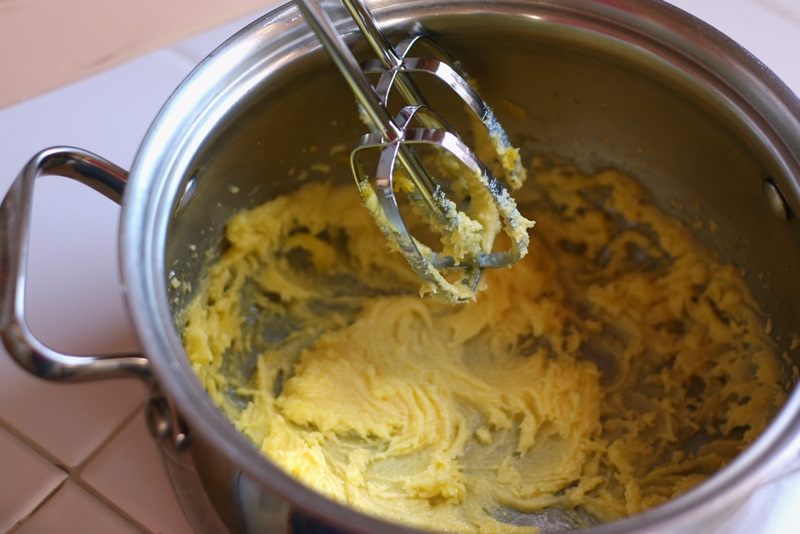 Get out your electric hand-held mixer and beat until everything's mixed up nicely.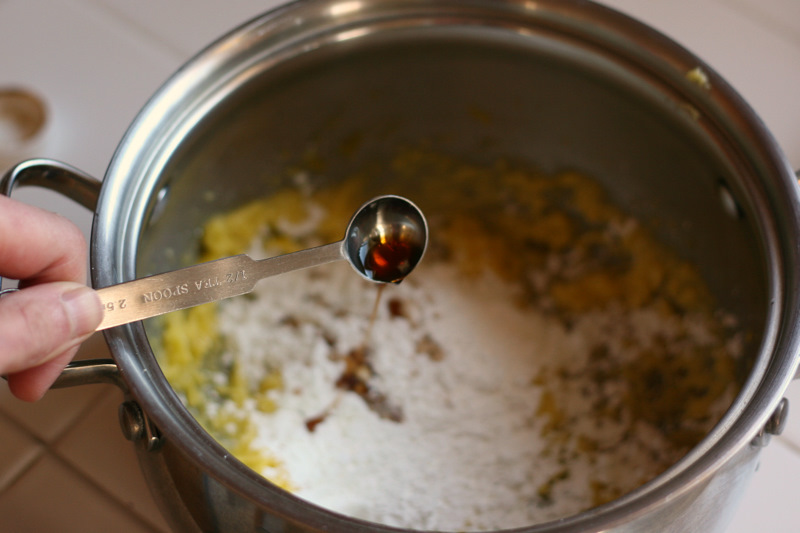 Add the cornstarch and vanilla.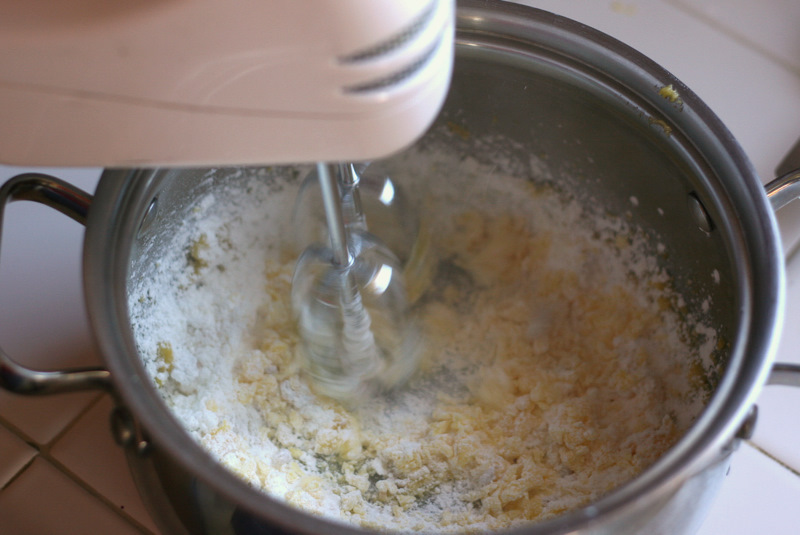 Give it another mix.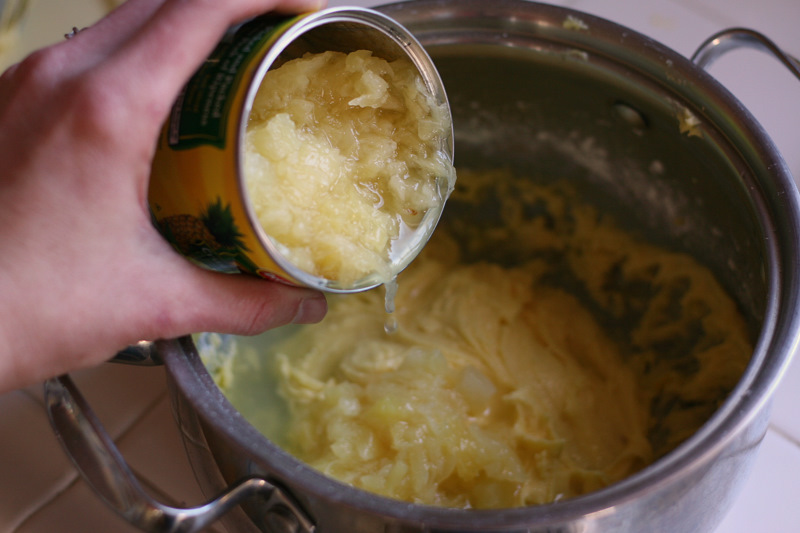 Then add the water and the crushed pineapple, juice and all.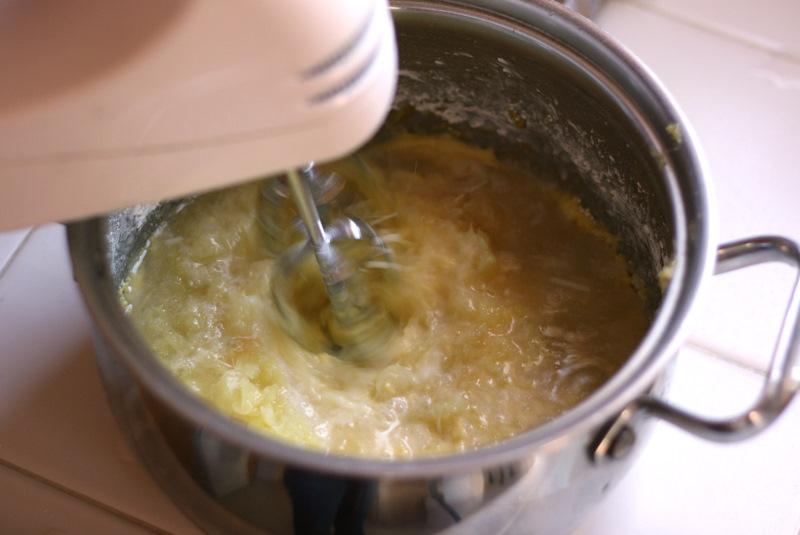 Mix it again. (You could even use a spoon if you want.)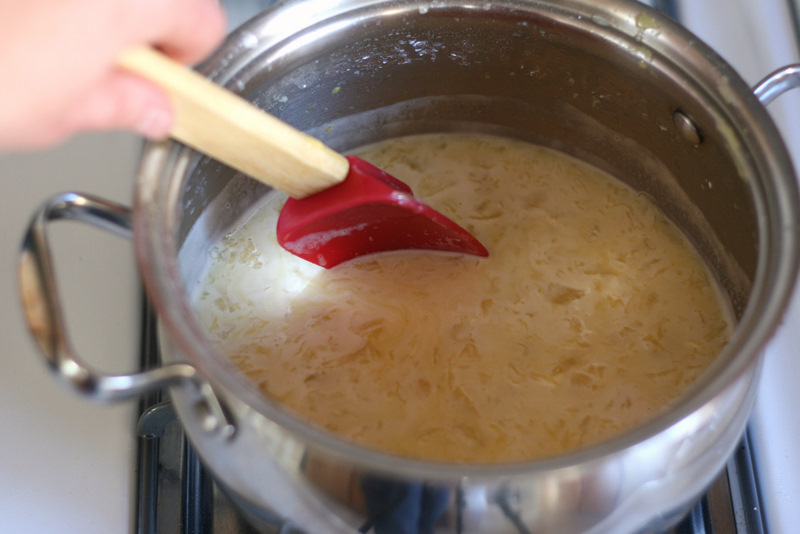 Move the saucepan over to the stove and place it over medium heat. You want it to heat up, but don't let it boil. If it starts to bubble a lot, turn the heat down. Stir constantly for a few minutes until it starts to thicken.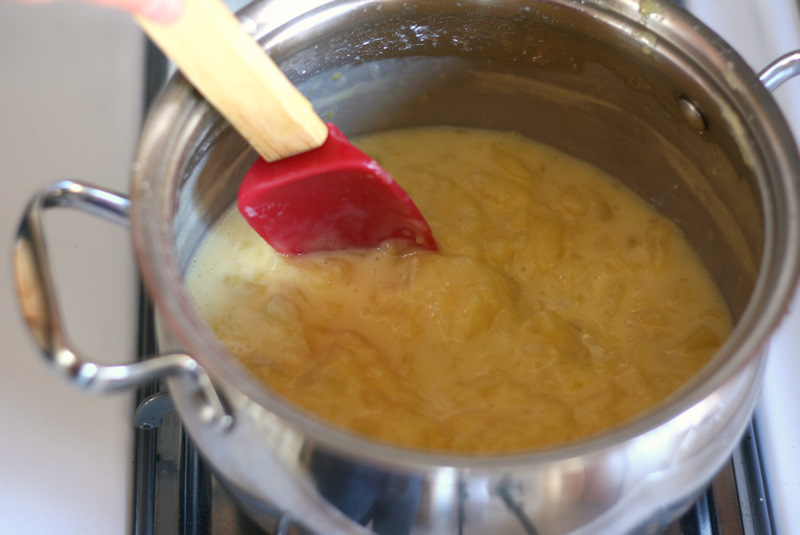 It'll seem like nothing is happening, and then BAM it'll thicken up really quickly. When it starts to get clumpy like this, remove it from the heat. Keep stirring.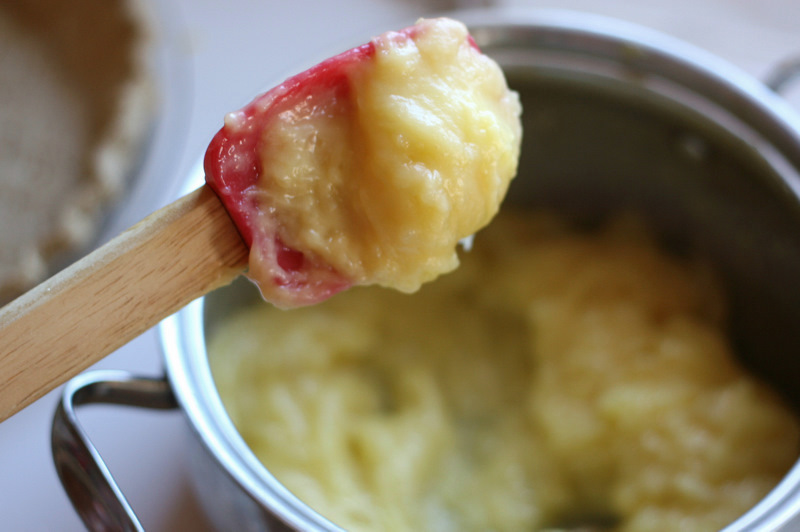 The filling should be really thick. Like this.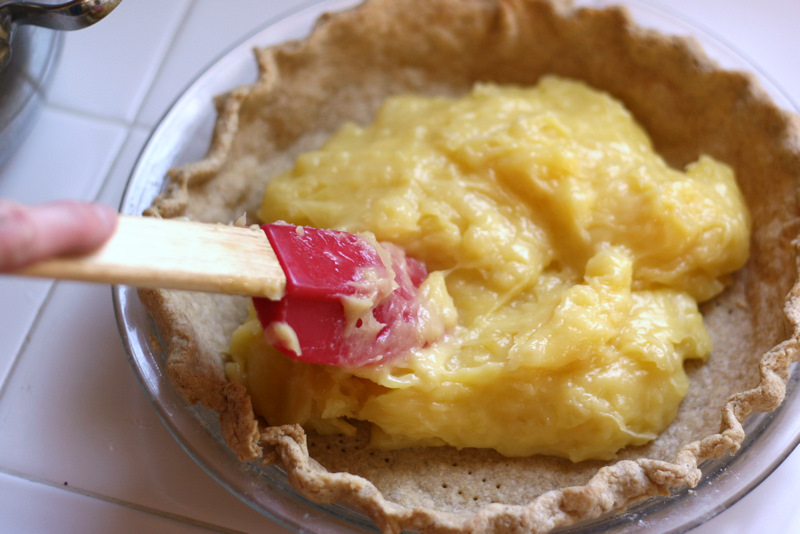 Bring out your perfectly fluted pie crust and dump all of the pineapple filling into it.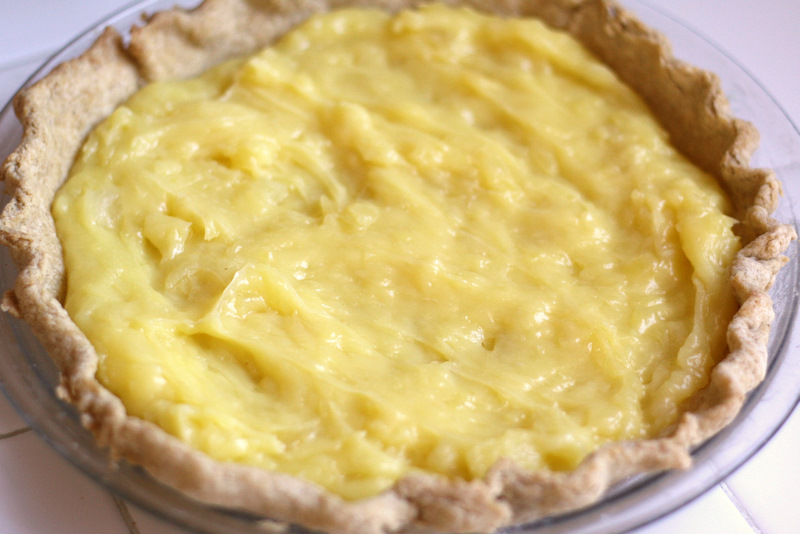 Spread it around evenly and set it aside. If you're not going to make the meringue right away, you'll need to cover this with some plastic wrap and put it in the refrigerator.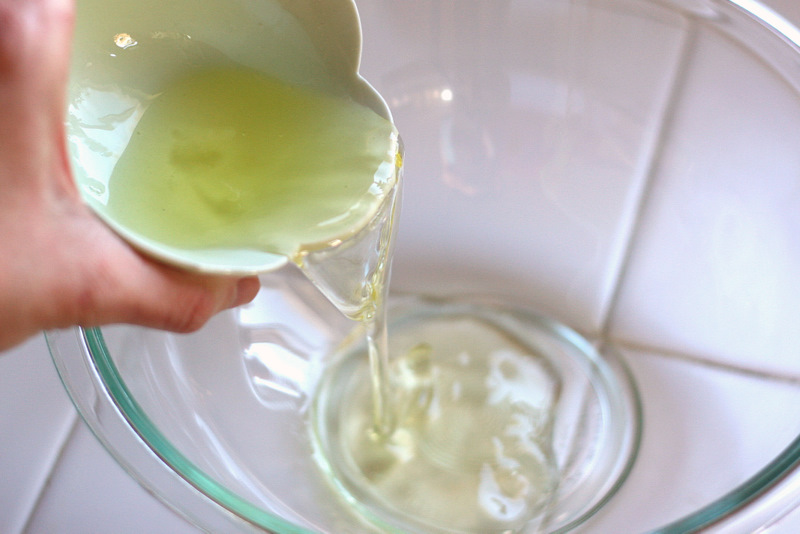 Preheat your oven to 400 degrees F.
Now for the meringue. Grab a clean, medium-sized mixing bowl and add the egg whites.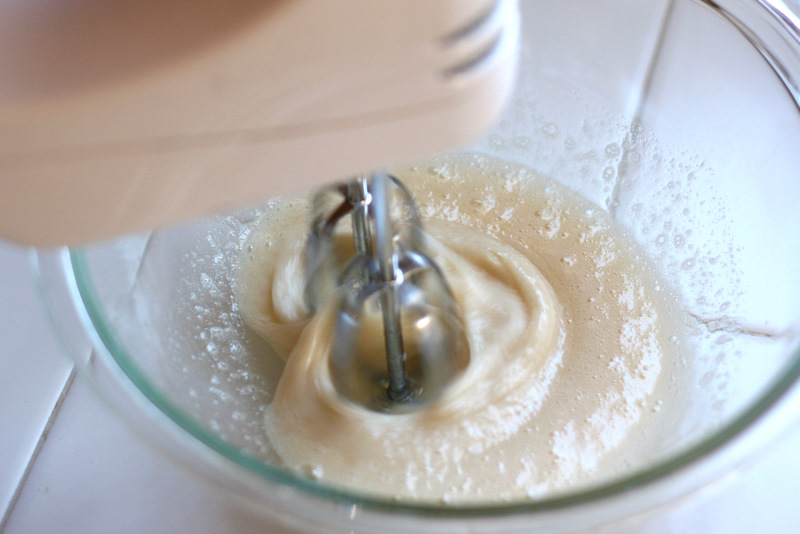 Okay, y'all, I have a confession to make. (I like saying "y'all". And I like people who say "y'all". But that's not my confession.)
When I made this meringue for this blog post, I was following my recipe card that I copied from my grandma. She says to put all the meringue ingredients into the bowl at once and beat them. Other meringue recipes will tell you to beat the egg whites for a minute or two before adding in anything else, which is how I wrote the directions when I submitted this recipe to Tasty Kitchen.
Is there a difference? I think so. I think it takes a lot longer for the whites to whip up if you add everything at the beginning. I swore I'd lost my meringue mojo while I was standing there whipping this. It took FOREVER (forever = about 7 minutes) and there were a few times I was tempted to toss the whole thing and start over.
But …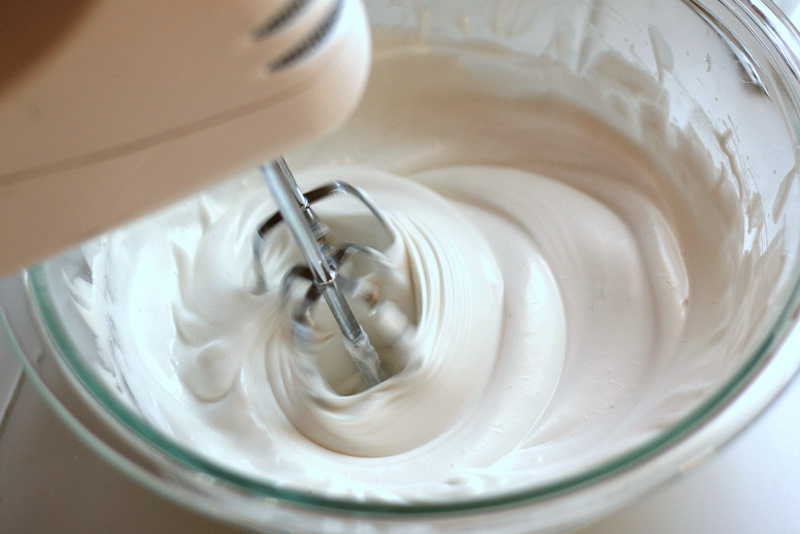 It worked anyway.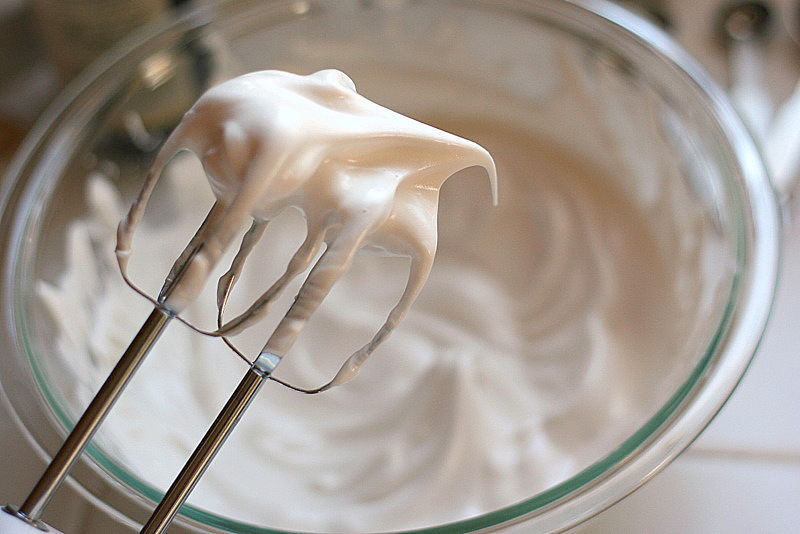 And I ended up with smooth, fluffy, glossy meringue. You can whip this until it reaches stiff peaks (peaks standing straight up), but I like it when they sort of flop over. I think it's cute.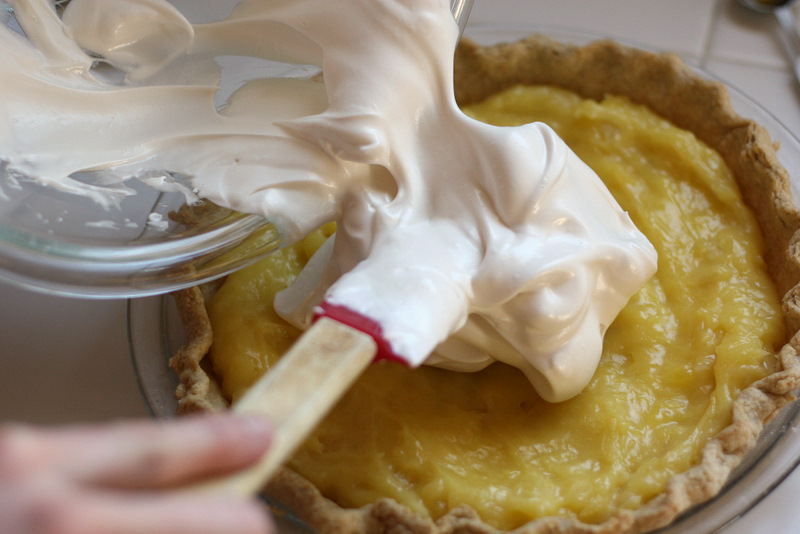 Spread all the meringue over the pineapple filling.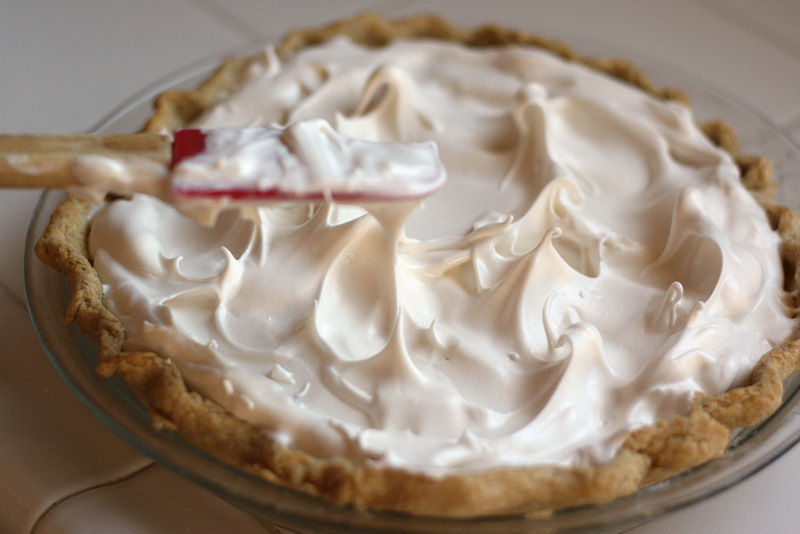 If you want to, make a few little peaks to give the pie some texture. Then put it in your preheated oven for 5-8 minutes or so until it's golden brown. Keep an eye on it so it doesn't burn!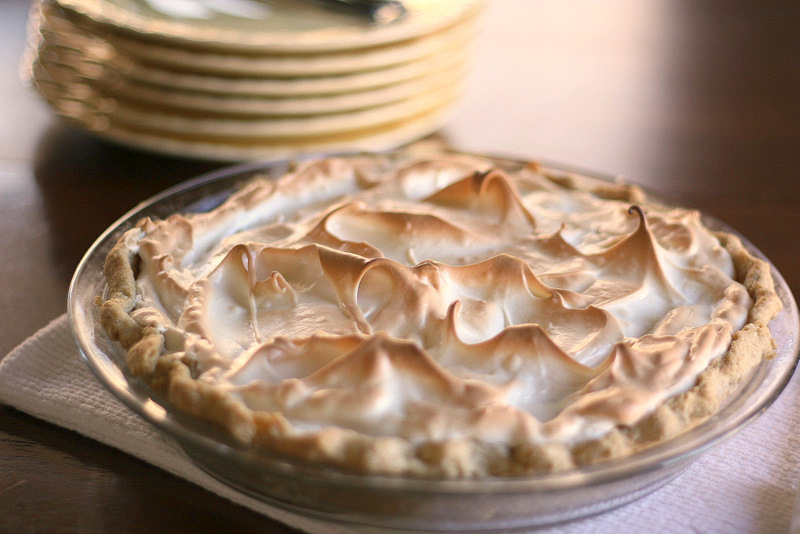 See why I like to make little swirlies on the top? How gorgeous is that?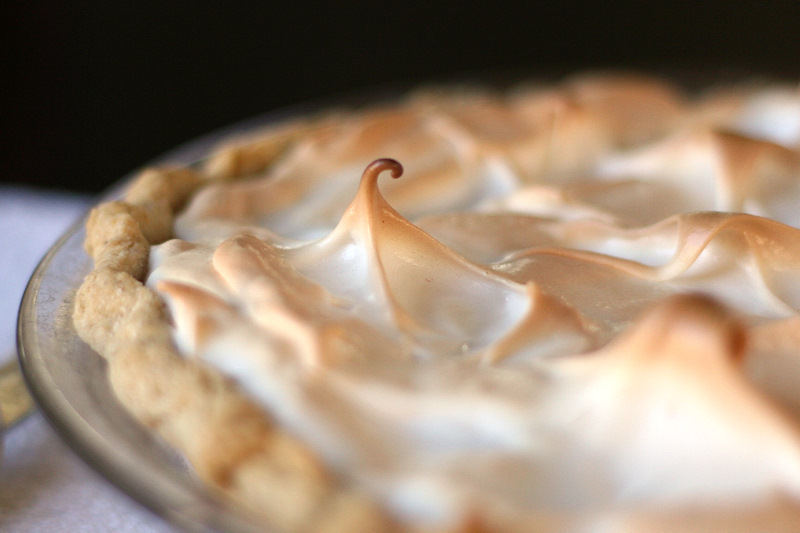 My favorite was this little guy right here. My three-year-old called dibs on him when I was slicing it up.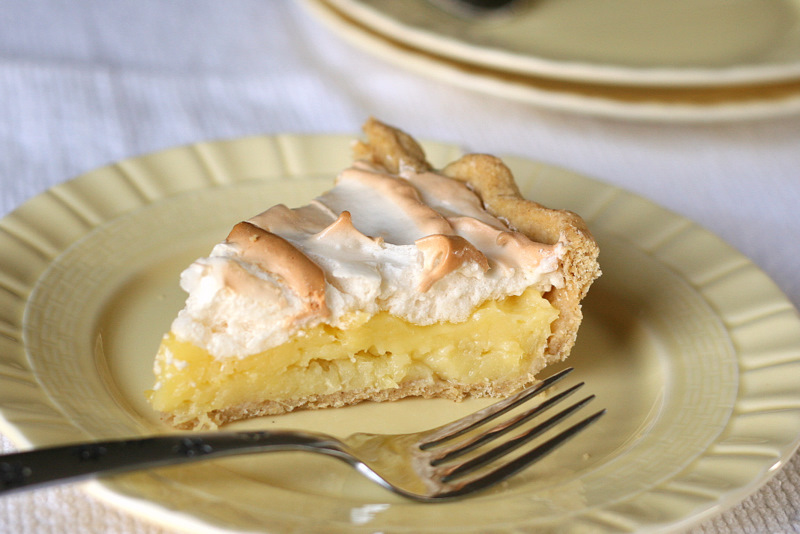 And that, my friends, is a pineapple pie. It's delicious when it's still a bit warm from the oven. Or when it's ice cold. Or when it's 4 AM. The recipe easily doubles, and making more than one is definitely a good idea. I hope you enjoy this as much as I do!
(And thanks, Grandma! This pie rules.)
Printable Recipe
See post on Natalie | Perry's Plate's site!
Description
Similar to lemon meringue, this unique pie features a creamy pineapple filling. It's also my favorite pie in the whole world. My grandma quit asking me what dessert I want her to make when we visit. She just makes one of these. Sometimes two. One for me and my grandpa and the other one for everyone else.
Ingredients
FOR THE PIE:
¾ cups Sugar
2 Tablespoons Butter
2 whole Eggs, Separated
⅓ cups Cornstarch
½ teaspoons Vanilla Extract
½ cups Plus 2 Tablespoons Of Water
8 ounces, weight Canned Crushed Pineapple
1 whole 9-inch Pre-baked Pie Crust
_____
FOR THE MERINGUE:
2 whole Egg Whites (From Separated Eggs Above)
⅛ teaspoons Salt
¼ teaspoons Cream Of Tartar
6 Tablespoons Sugar
1 teaspoon Vanilla
Preparation Instructions
For the pie, cream sugar, butter, and egg yolks in a saucepan. Add cornstarch and vanilla. Add water and crushed pineapple. Cook over medium heat, stirring constantly until thick. Pour into a 9″ baked pastry.
For the meringue, whip egg whites until they begin to get foamy. Add the remaining ingredients and continue to whip until the meringue has reached soft peak stage and is smooth and glossy. Place the meringue over the cooled pie. Brown at 400ºF for just a few minutes. Store in the fridge until ready to serve. Tastes great warm or cold.


_______________________________________
Be sure to check out Natalie's own beautiful food blog, Perrys' Plate, where you can see her growing collection of lovely recipes. There's always something new to see there. Go visit now!