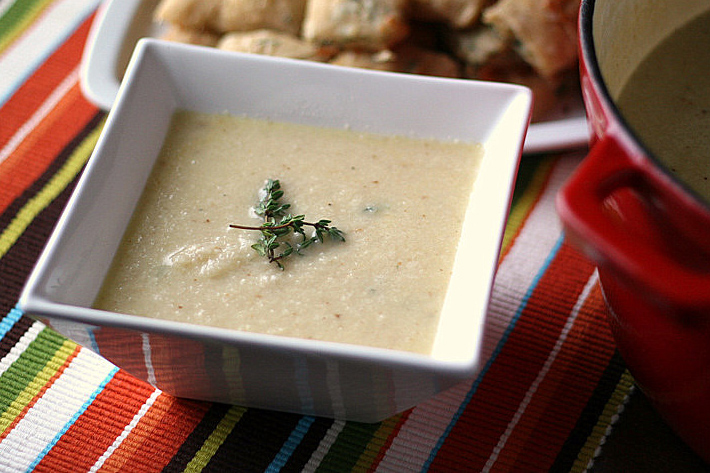 Cauliflower, to me, is a humble vegetable. It's rarely the star of the meal, it doesn't have a flashy color or a strong flavor, and let's face it—its complexion could use some work. Despite its frumpy characteristics, cauliflower has a few tricks up its sleeve. Case in point: this Roasted Cauliflower Soup with White Cheddar Cheese recipe submitted by TK member hailskitchen. Pureeing the cauliflower creates the illusion of a creamy soup without the added richness from cream. Not only did this soup taste great, it was simultaneously light yet rich tasting.
Okay, it does have cheese, too. But if you use a sharp white cheddar, you might not need as much. (If you're concerned with such things. I wasn't one of those who swore off cheese-laden foods this year.)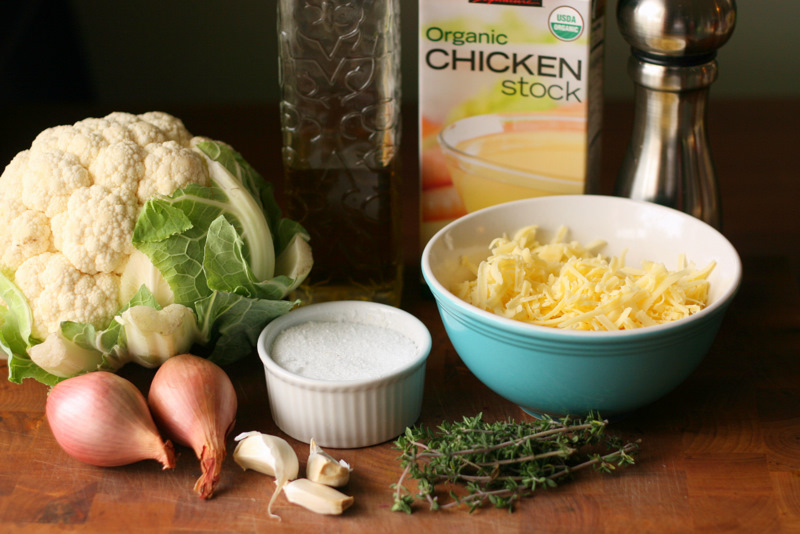 For the soup you'll need a nice, big head of cauliflower, shallots, fresh garlic, fresh thyme, shredded white cheddar cheese, salt, pepper, olive oil, and chicken (or vegetable) broth.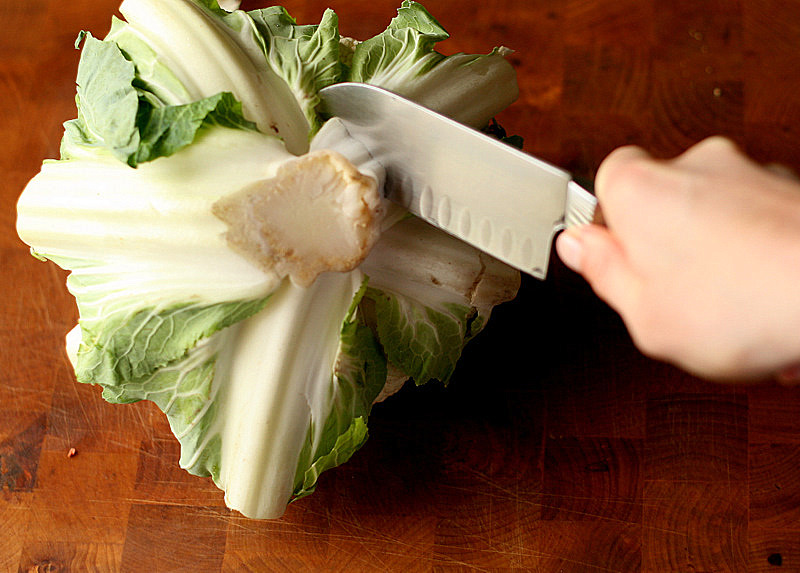 First, preheat your oven to 400 degrees F.
Then prep the cauliflower. I like to turn it upside down and make a few slashes in the bottom to get the tough stem out and remove the leaves.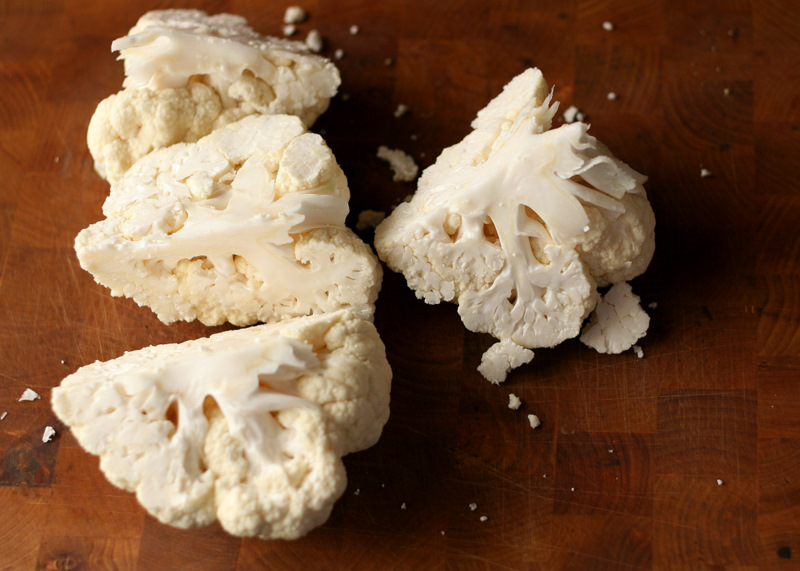 I also like to quarter the head before breaking it down into florets. It's easier to manage than a giant head.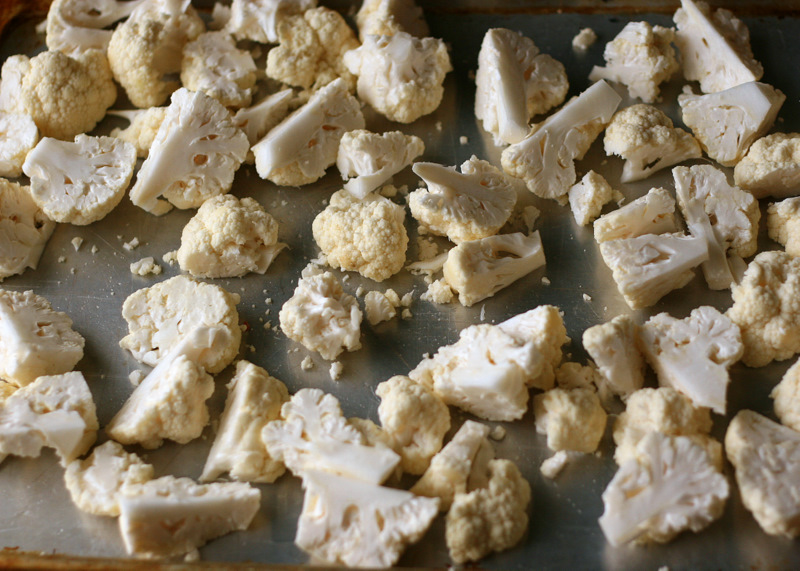 Once you have it broken down, toss it onto a large rimmed baking sheet.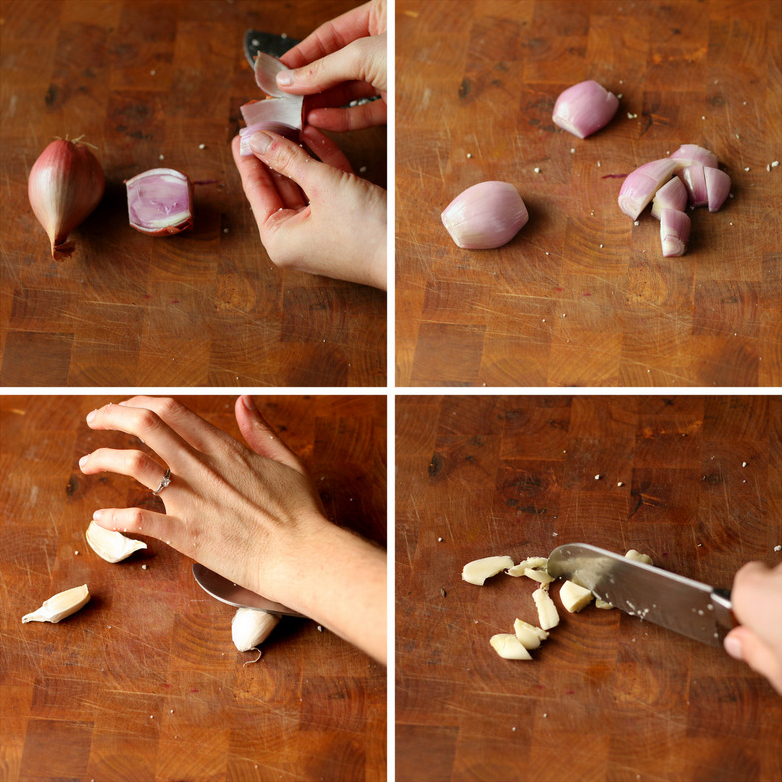 Next, peel the shallots and garlic. If you lay your knife on the garlic and give it a whack with the palm of your hand, the peel comes right off. Don't chop them too small. Quartering the shallots and cutting the garlic in half ought to do it.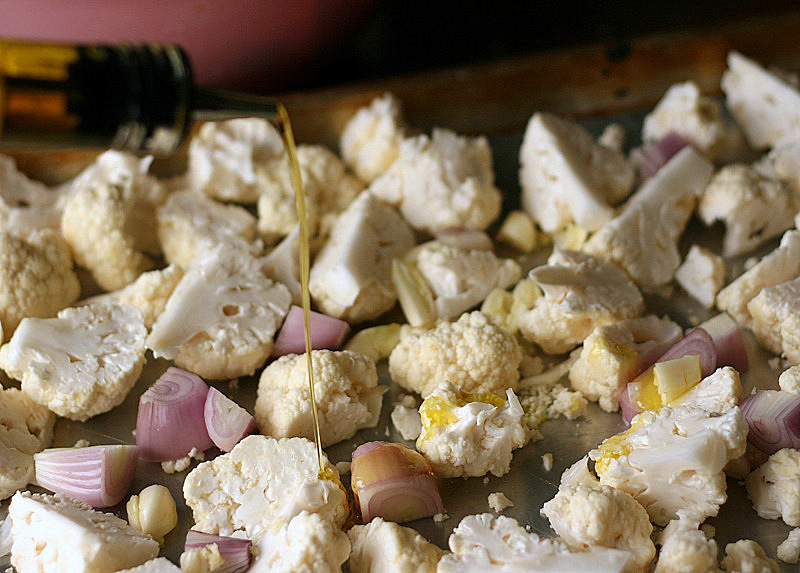 Add the prepped shallots and garlic to the cauliflower on the baking sheet. Drizzle liberally with olive oil, sprinkle with salt, and stick it in that screaming hot oven.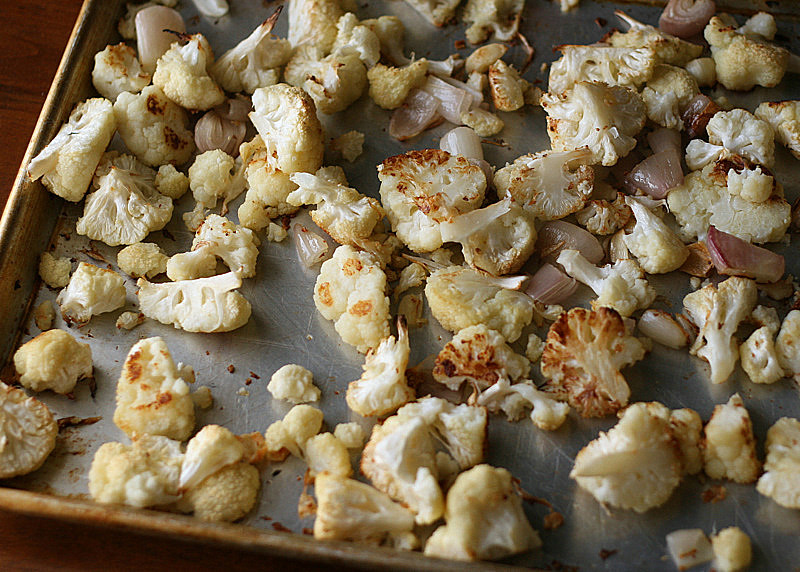 After 40-50 minutes it should look like this. See those dark, caramelized pieces? Roasting should be a part of all vegetable preparation, in my opinion. That's how I got myself to like Brussels sprouts. Try it.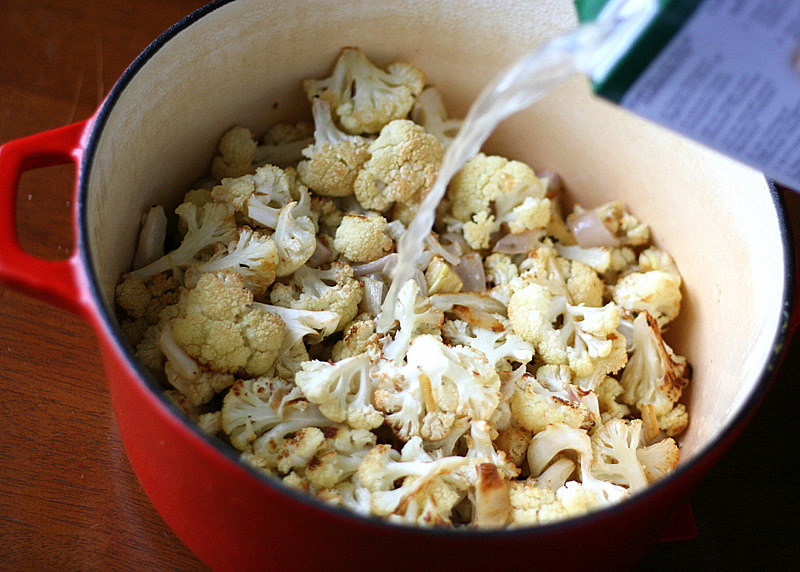 Transfer all of that roasted goodness to a big pot. (I doubled the batch, which is why it looks like my cauliflower suddenly reproduced.) Pour in half of the chicken broth—it makes pureeing much easier.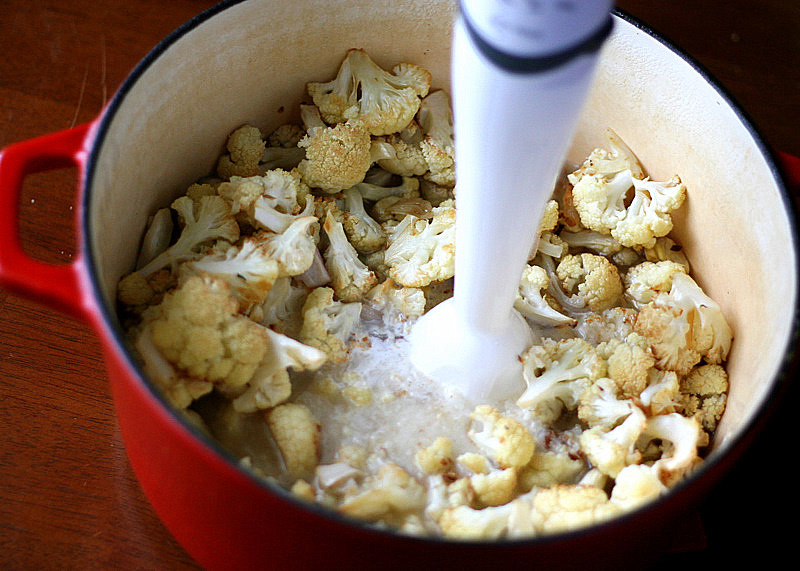 If you have an immersion or stick blender, this will be a snap. Just stick it in and start buzzing it around. If you don't have one, go buy one. If you can't go buy one, you can ladle the mixture into a blender and process in batches, returning it back into the pot when you're finished.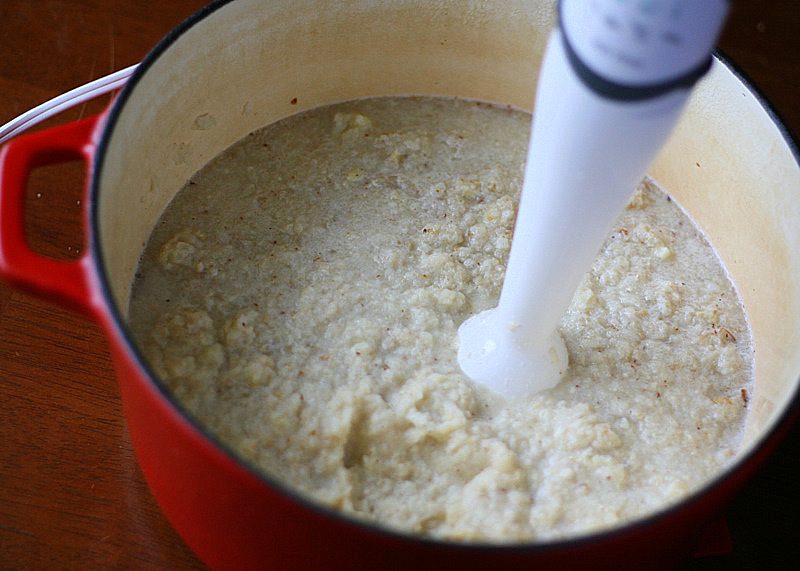 Back to blending. You can leave it a bit chunky if you like. I made it this way the first time and I liked a few chunks. But I found that the texture was really odd.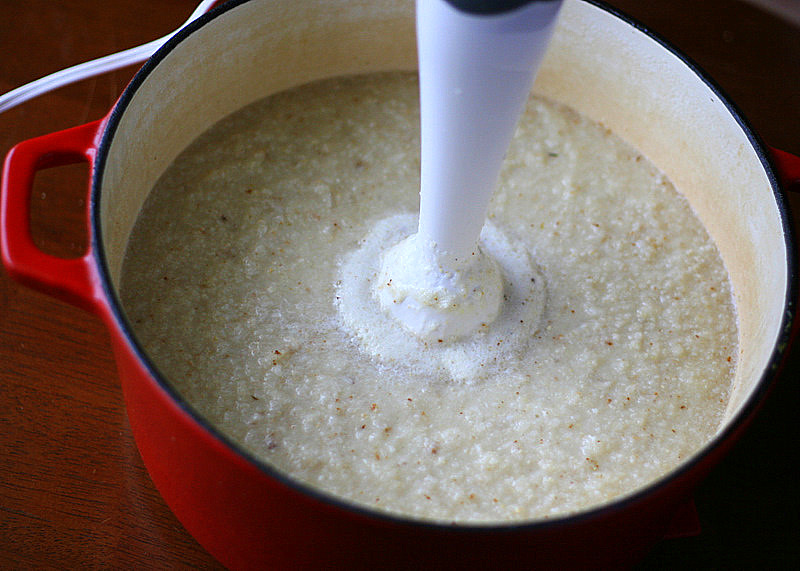 So this time I blended it even more until it was smoother. I liked it better that way.
Place the pot on the stove and bring it to a boil. Reduce the heat and let it simmer for 10 minutes.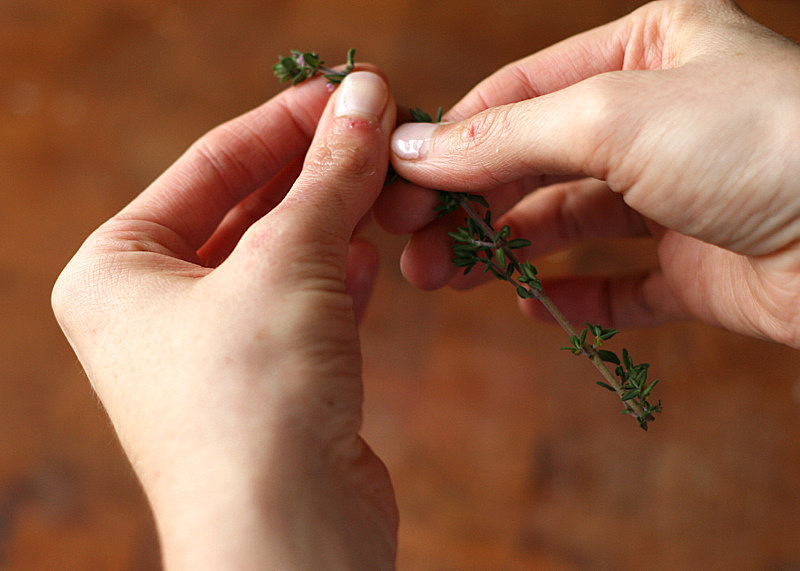 While the soup simmers away, get your thyme ready. Grab it at the top with one hand, and with the other hand, pinch toward the top and pull down the stem to remove leaves.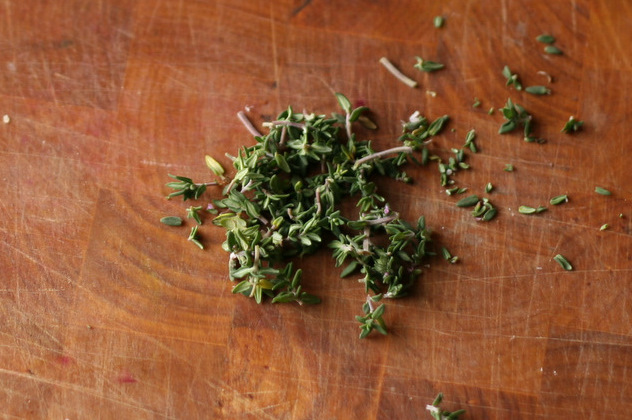 Give them a quick chop if you like. This is just my personal preference, but I found the soup to be really "thyme-y", so I reduced the measurement by half the second time I made it. The thyme really sings in this soup.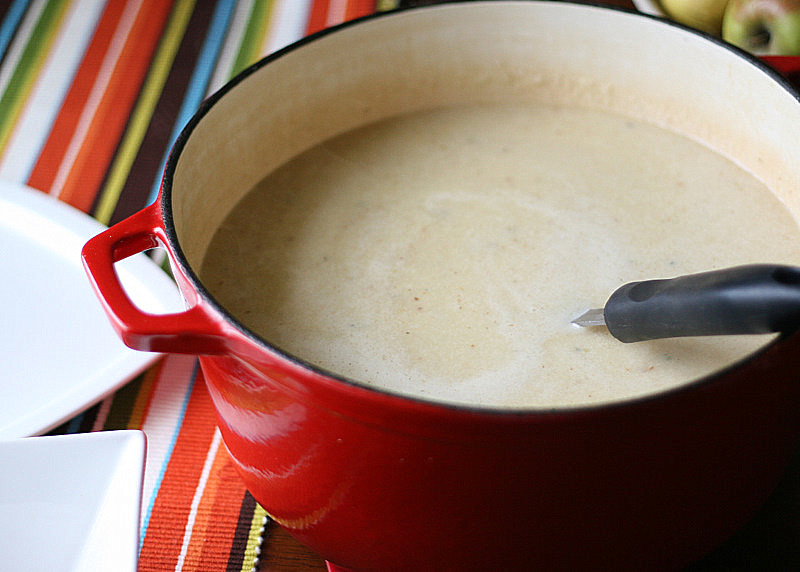 When the soup is done simmering, cut the heat and add the thyme and shredded cheese. Season to taste with a generous dose of salt and black pepper.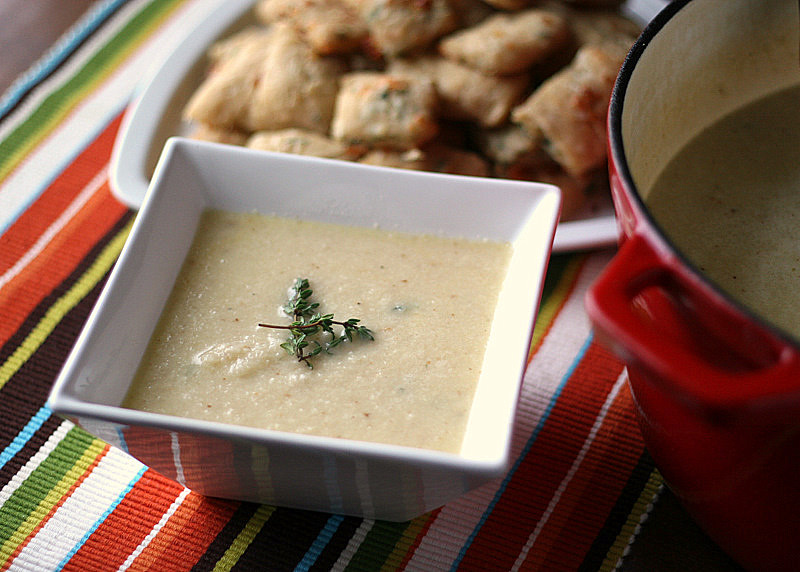 Time to serve it up with crusty bread or biscuits and a fresh salad! One of my favorite things about this recipe is that the steps can be broken up to accommodate your schedule. Roast the vegetables a day or two ahead and when you're ready to prepare the soup, it'll be ready in under 30 minutes.

Thanks Hailey for a unique and delicious soup! Visit her beautiful blog, Hail's Kitchen, for more of her great recipes.
Printable Recipe
See post on hailskitchen's site!
Description
This light soup is surprisingly rich and hearty. Perfect for the change in the weather!
Ingredients
1 head Cauliflower, Roughly Chopped
2 whole Shallots, Roughly Chopped
3 cloves Garlic, Roughly Chopped
1 Tablespoon Olive Oil
4 cups Chicken Broth
1-½ cup White Cheddar Cheese, Shredded
1 Tablespoon Fresh Thyme, Chopped
1 Tablespoon Coarse Salt
Preparation Instructions
Preheat your oven to 400 degrees. On a cookie sheet, drizzle the cauliflower, shallots and garlic with the olive oil and season with coarse salt. Roast for about 40 minutes or until the cauliflower is fork-tender.
Carefully place the vegetables in a food processor or blender and roughly puree. Texture is good, large chunks are not so good. Place the vegetables in a pot along with the chicken broth. Bring to a boil. Reduce heat and simmer for about ten minutes. Add the cheese, thyme and a good dose of black pepper. Season to taste with salt. Serve with warm, crusty bread and enjoy!


_______________________________________
Be sure to check out Natalie's own beautiful food blog, Perrys' Plate, where you can see her growing collection of lovely recipes. There's always something new to see there. Go visit now!