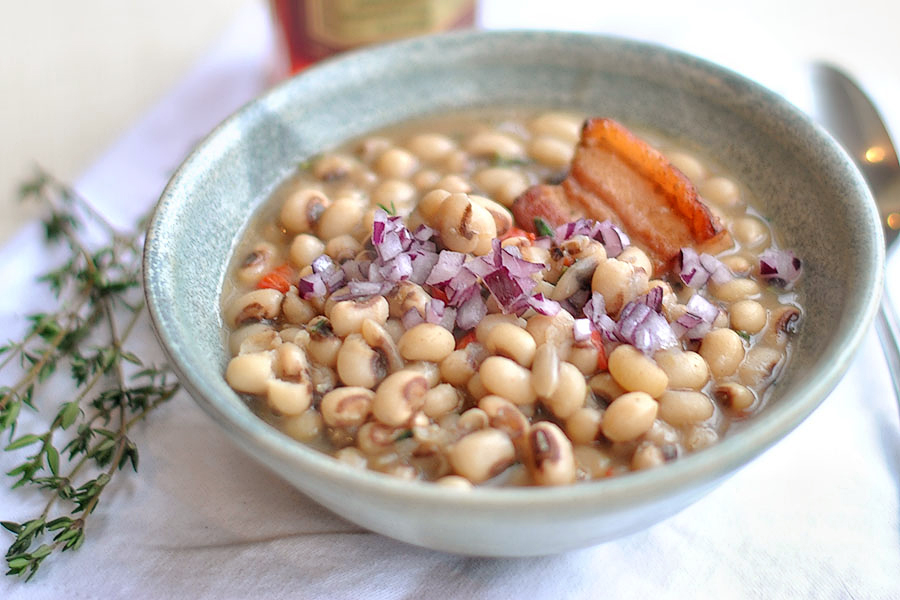 For Southerners, black-eyed peas on New Year's Day are as mandatory a tradition as turkey on Thanksgiving Day. We've had black-eyed peas, collard greens and cornbread on New Year's Day for as long as I can remember. Even the year my family spent the week after Christmas in Hawaii. While most families would have traded the sweet tea and peas for an umbrella drink and a luau, my mom's side of the family considered this the unforgivable sin. My Granny and her younger sister, Dot, conspiring like young girls, packed dried black-eyed peas in their luggage bound for Waikiki Beach. Without them a proper New Year's was not possible. So on January 1st, 2004 eight of us squeezed into a beach-side condo to enjoy black-eyed peas and not much more.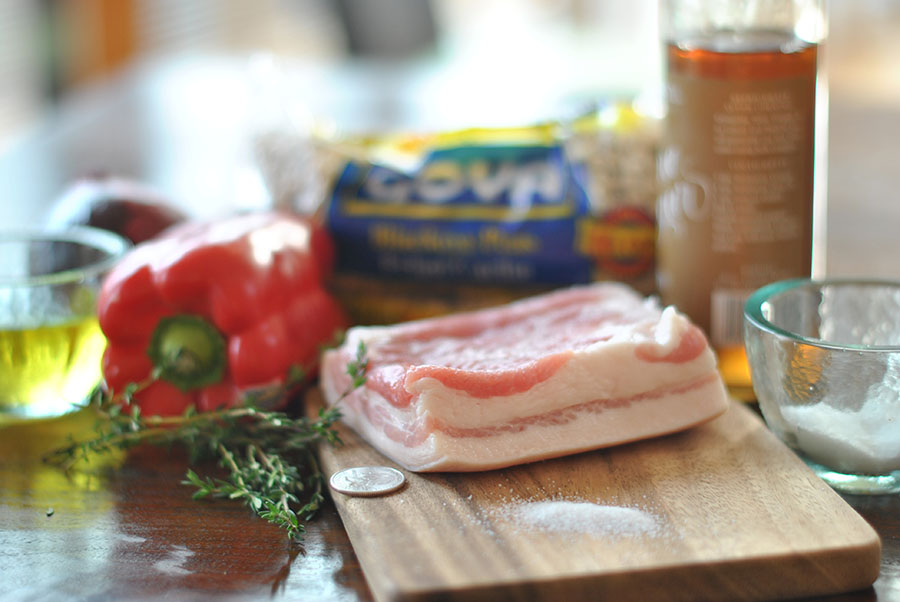 The specific recipe isn't important. The fundamentals remain unchanged: black-eyed peas and a dime. The one who finds the dime will also find luck in the coming year. I think I was a better Southerner as a little girl, because back then I believed in the dime magic. Now it's lovely to think it might be so.
This is a new version of the family classic my Mom and I came up with this year.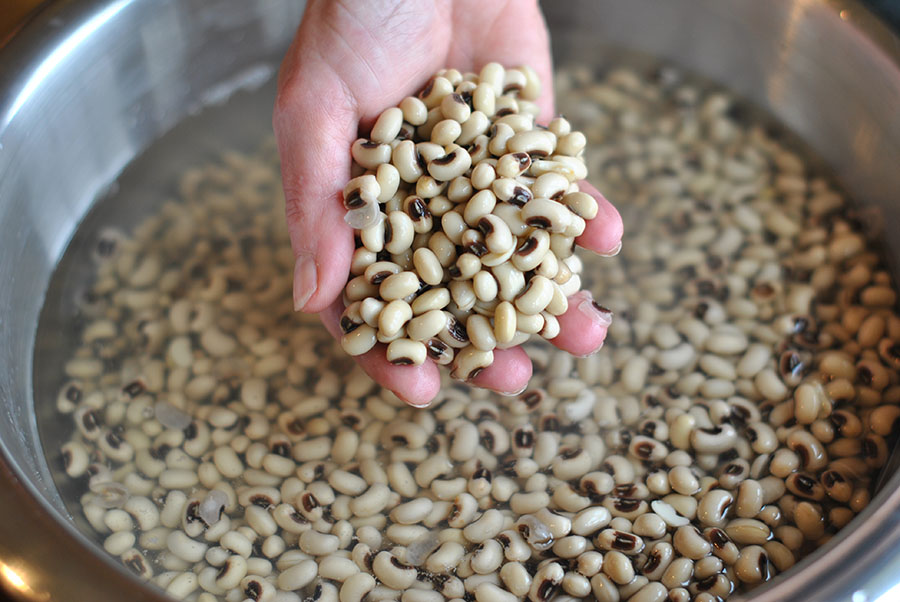 Begin by soaking the beans overnight. If you forget (as we did) you can quickly soak your beans by pouring boiling water over them. Then they're ready in an hour or two.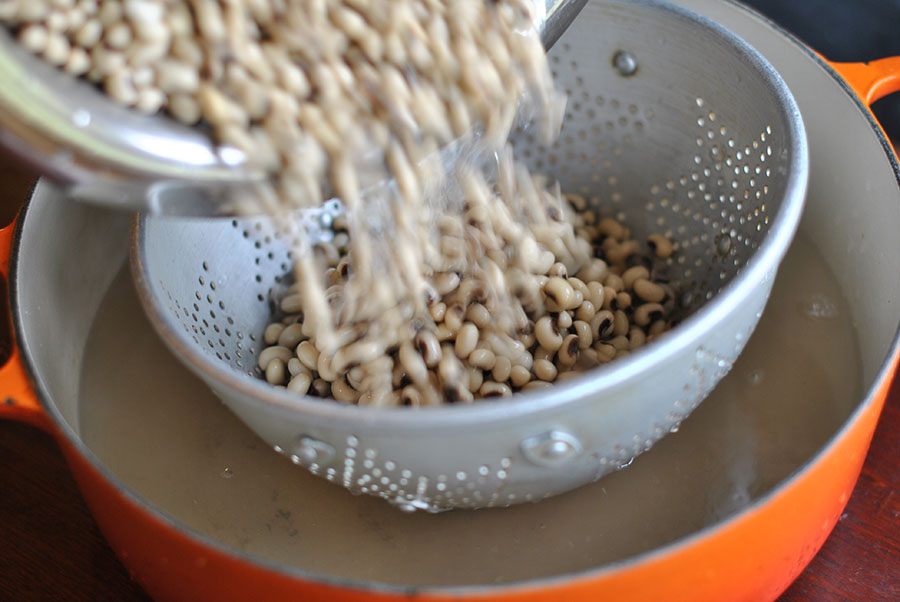 Once soaked, drain the beans.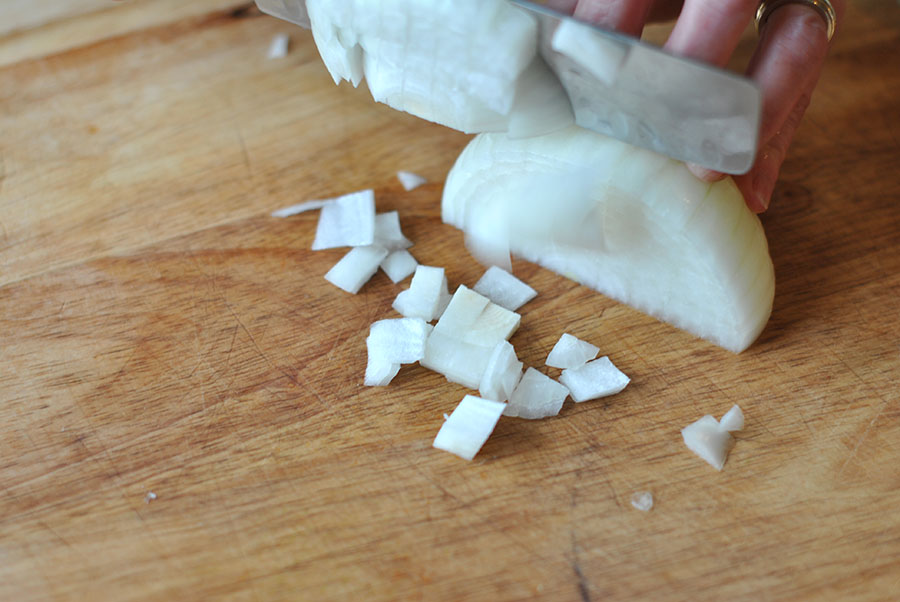 Start by dicing an onion. Everyone can do that with relative ease.
But chopping a bell pepper is a bit more difficult. My Mom says the secret to chopping round vegetables is getting them flat ASAP. I only learned this little trick a few months ago and it's been a culinary game-changer.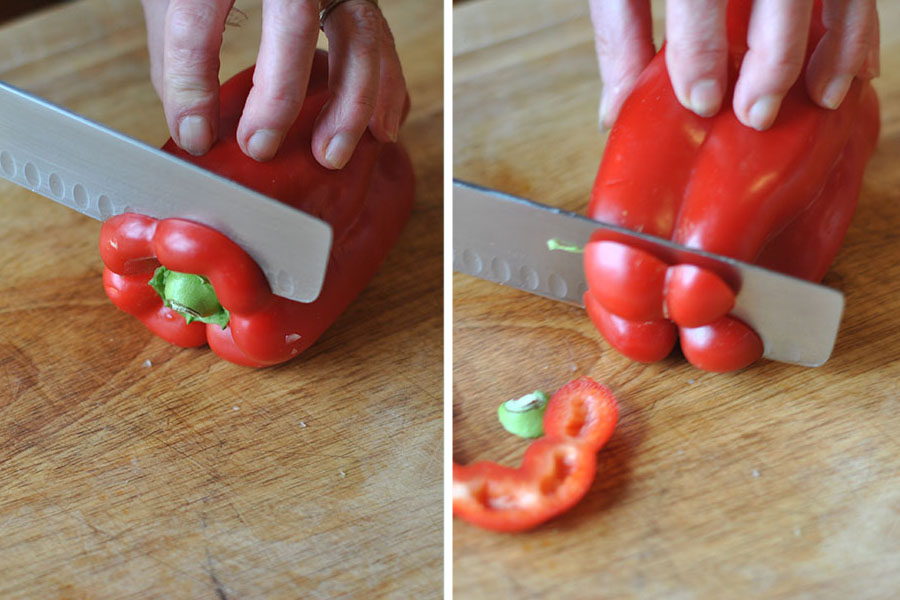 First, lop off the ends of the pepper.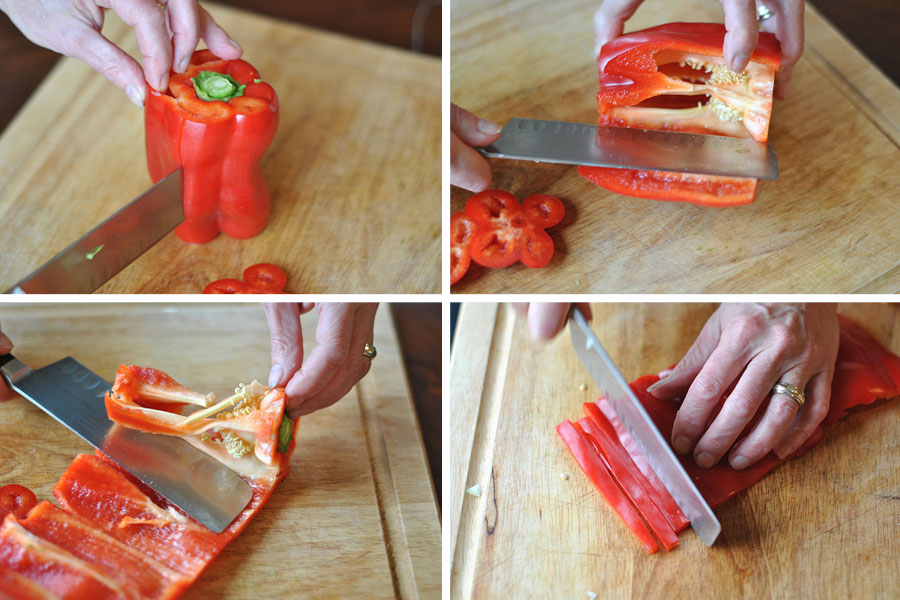 Slice down the length of the pepper, lay the pepper on its side, and use the knife to remove the membranes inside. Once the pepper is flat, it's easier to slice into strips.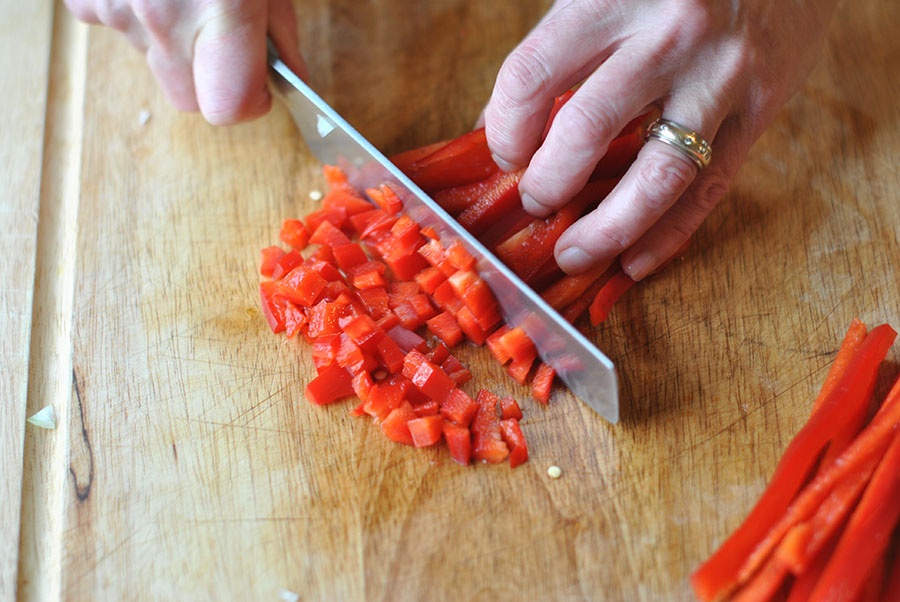 See? Easy peasy.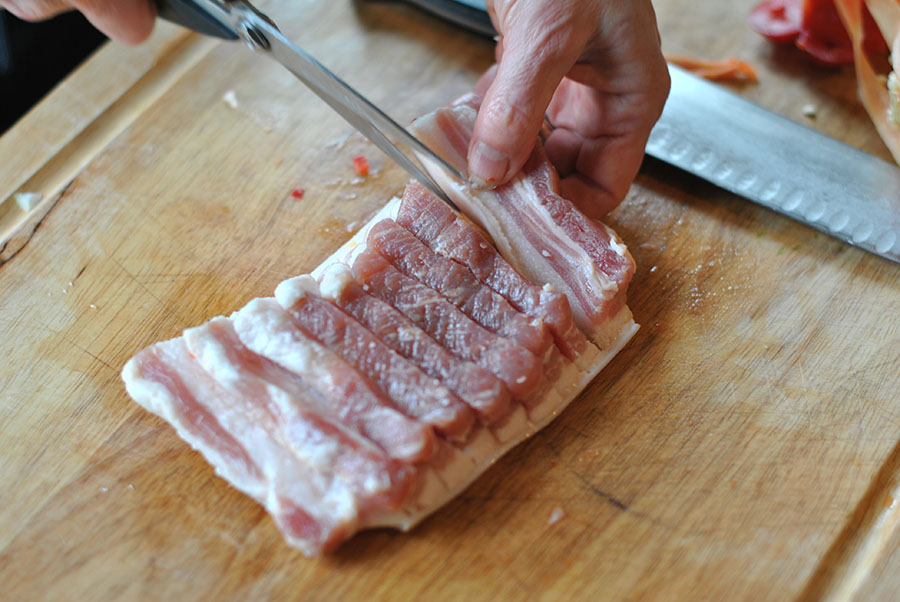 Next, cut up your salt pork.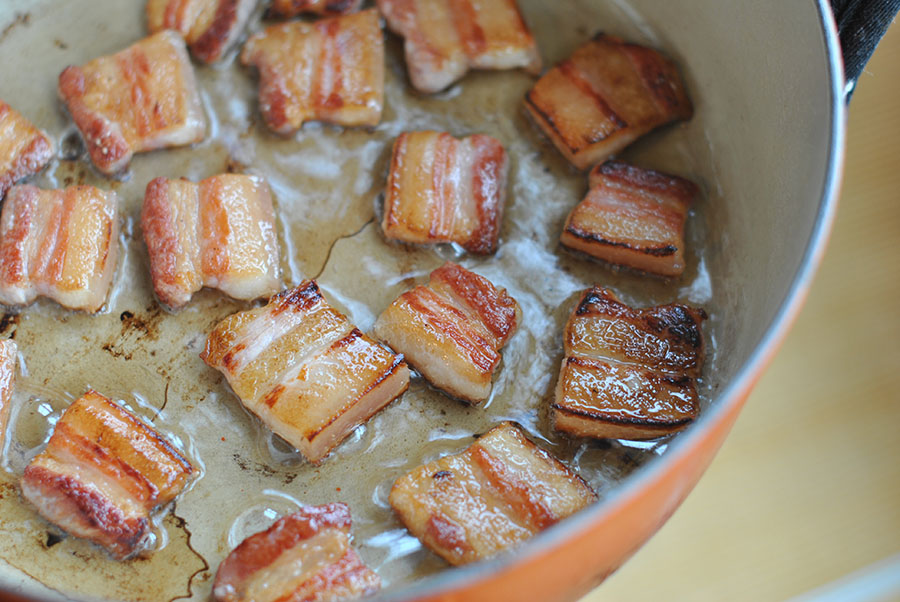 Sauté the salt pork for a few minutes on each side until lightly crisped and brown. In my opinion, we could stop the recipe here and simply eat these! But we must show some restraint and carry on with the recipe.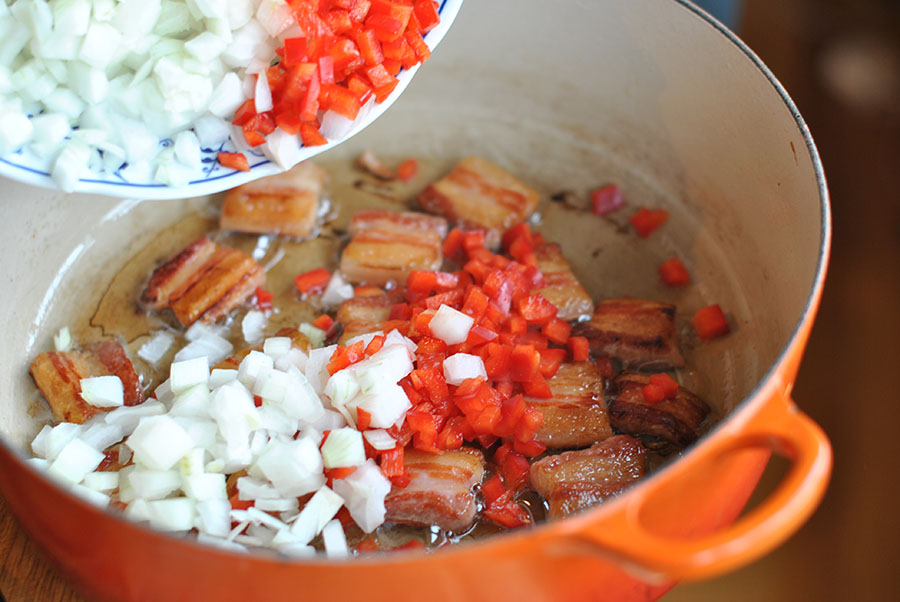 Add your chopped onions and peppers to the pot.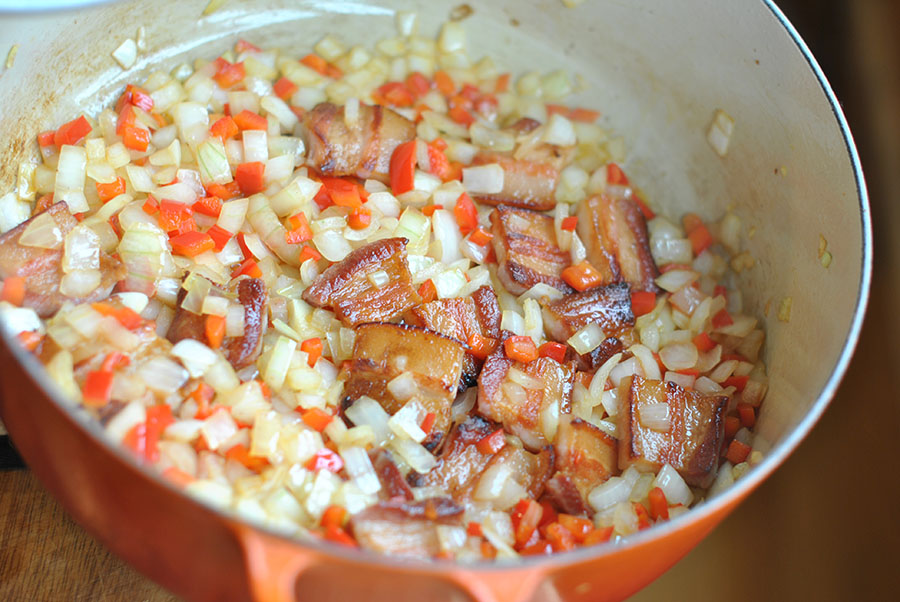 Cook until peppers are tender and onions are translucent.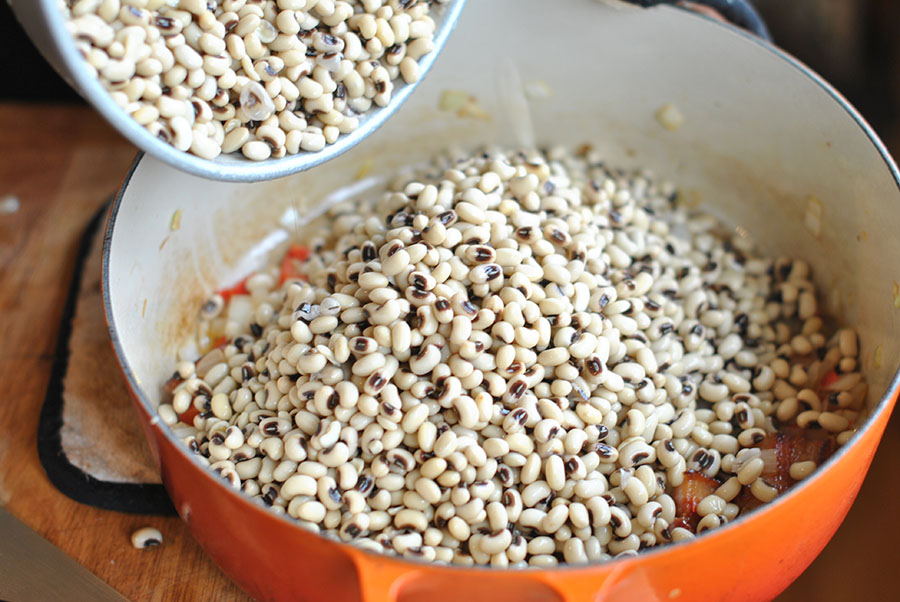 Add the soaked beans to the pot, followed by the chicken broth.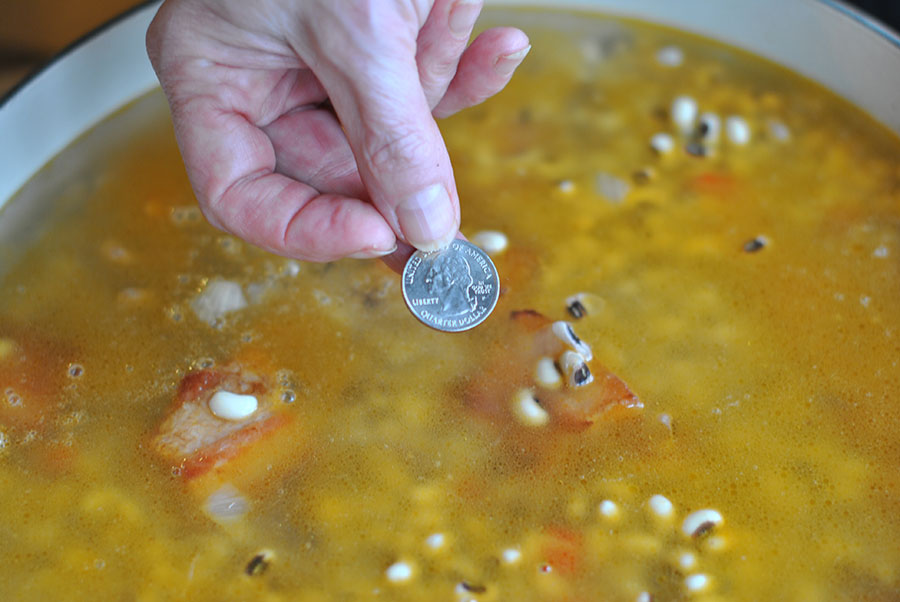 Then the most important part of the recipe: Add the dime! (When we photographed this dish we couldn't find a dime, so we used a quarter. Call it inflation).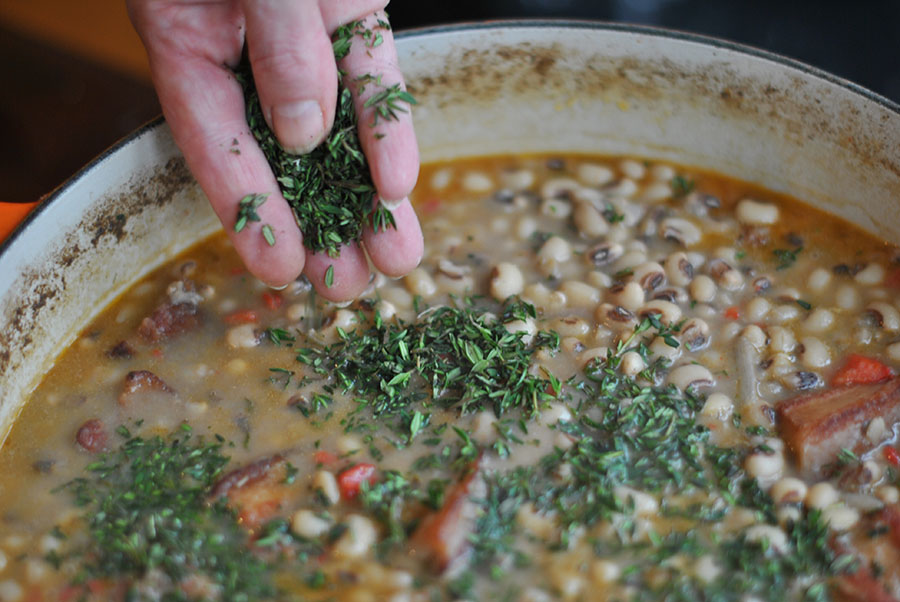 When the beans are cooked and soft and the broth becomes opaque, add the thyme.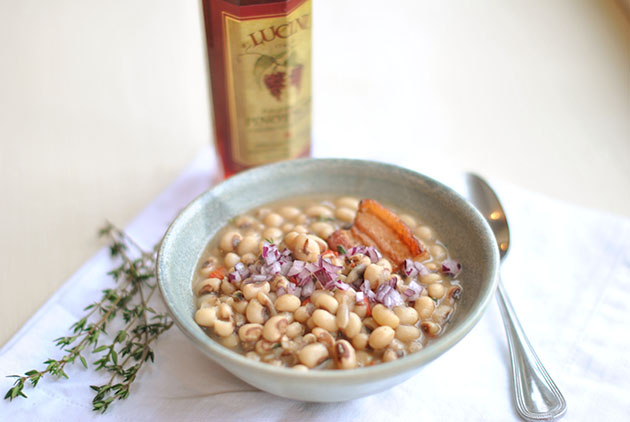 We garnished with minced red onion and vinegar.
We may live in the North, but Mom makes sure we respect our Southern roots. (You can take the girl out of the South, but you can't take the South out of the girl.) Come Saturday afternoon, we'll be eating these beans with collard greens and cornbread.
Happy New Year, one and all, from Three Many Cooks! Hope 2011 brings you, well—everything promised in that little dime.
Printable Recipe
Description
Ring in the New Year with Black-Eyed Peas, Slightly Updated.
Ingredients
¾ pounds Slab Salt Pork, Sliced Thick And Then Into 2-inch Pieces
1 whole Large Onion, Cut Into Medium Dice
1 whole Large Bell Pepper, Cut Into Medium Dice
2 pounds Black Eyed Beans, Soaked In 12 Cups Of Water Overnight And Drained (See Note For Quicker Method)
2 quarts Chicken Broth, Plus 1 To 2 Cups Water As Needed
1 whole Coin (i.e. A Dime)
1 pinch Salt And Ground Black Pepper To Taste
2 Tablespoons Tablespoons Chopped Fresh Thyme Leaves
1 whole Medium Red Onion, Minced
1 dash Red Wine Vinegar (or Pepper Sauce) As Desired
Preparation Instructions
Heat a large soup kettle over medium-high heat. Add salt pork; fry until golden brown and fat has rendered, 4 to 5 minutes. Add onions and pepper; sauté until tender, about 5 minutes. Add peas, chicken broth, and coin. Bring to a boil, reduce heat to medium-low and simmer, partially covered and stirring occasionally, until peas are fully tender and cooking liquid turns from translucent to opaque, adding water as necessary to keep peas moist but not soupy, about 1 hour. When peas have fully softened, season generously with salt and pepper and stir in thyme. Continue to simmer to blend flavors, a couple of minutes longer. Serve with a dish of red onion and vinegar or pepper sauce alongside.
Note: You can quickly soak your beans by pouring boiling water over them. Then they're ready in an hour or two.


_______________________________________
Three Many Cooks is the always-entertaining food blog of Pam Anderson and her two daughters, Maggy and Sharon. Pam is a well-known and much-respected food writer and author, Maggy is a "hippy adventurer meets 1950s housewife," and Sharon refers to herself as a recovering food snob learning to survive on a graduate student's budget. Theirs is a strong relationship both inside and outside the kitchen, and it shows in the food they create and the stories they tell.