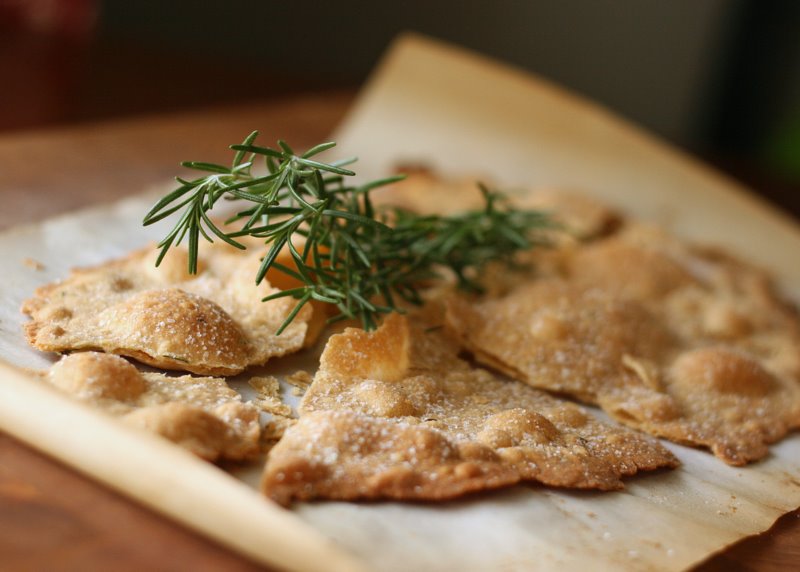 We're big hummus eaters at our house. Sometimes the only way I can get my little girls to eat raw vegetables is to place a bowl full of hummus in front of them. Lately I've grown weary of carrot sticks and cucumber slices and wanted to find something healthier to dip than a store-bought cracker. When I first stumbled upon this recipe for Bakery Style Rosemary Flatbread, I thought it was for a thin, soft bread, similar to naan.
Nope. Crunchier. Like a cracker trying its hardest to be a tortilla. But still a cracker. And the best part? There's no yeast involved.
Today's recipe comes from culinarycapers—a vegetarian TK member whose recipe box is filled with all kinds of delicious concoctions!
Let's get started, shall we?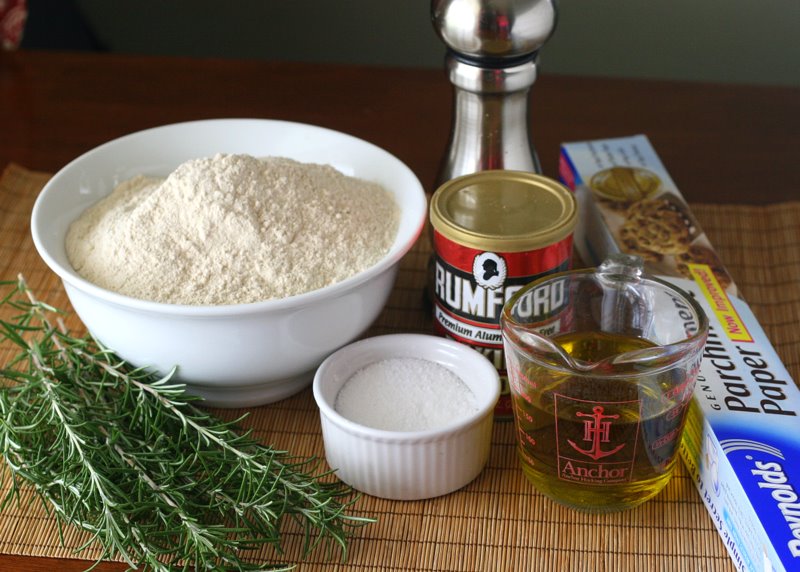 No mysterious ingredients here: flour (I used white whole wheat), fresh rosemary, salt, olive oil, baking powder, freshly ground black pepper, and some parchment paper.
First, get the leaves off of the rosemary stems. The easiest way to do this is by grabbing it with one hand where the tough stem begins. With your other hand, pinch the stem, slide your fingers down, and …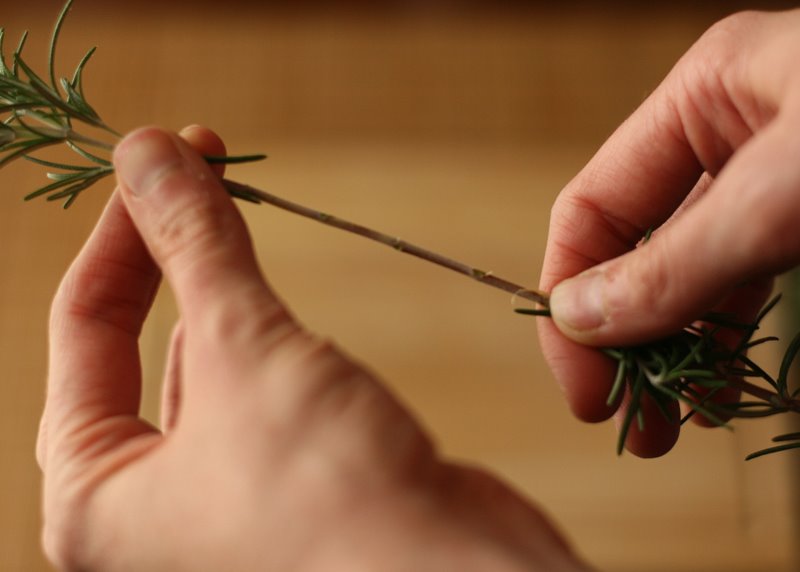 ZIP! Off they come. The first time I did this I'm pretty sure I giggled at how easy it was.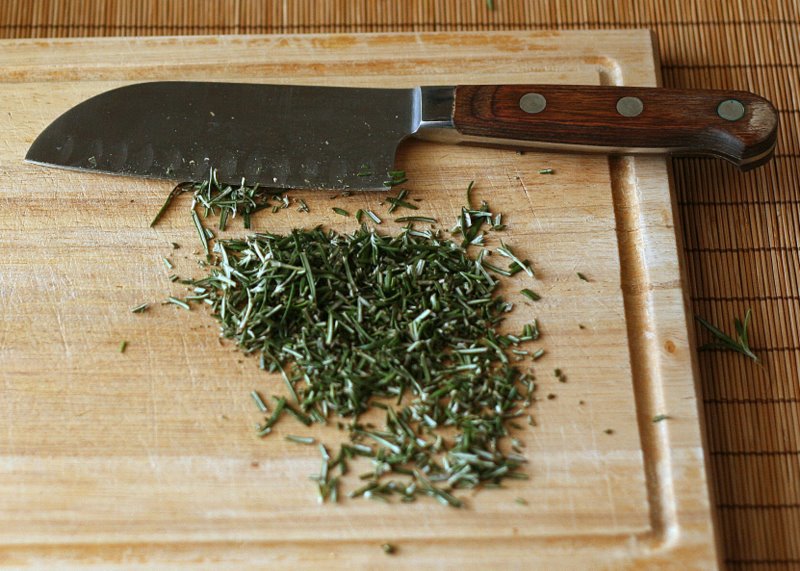 You'll need about three sprigs. Give those leaves a good chop.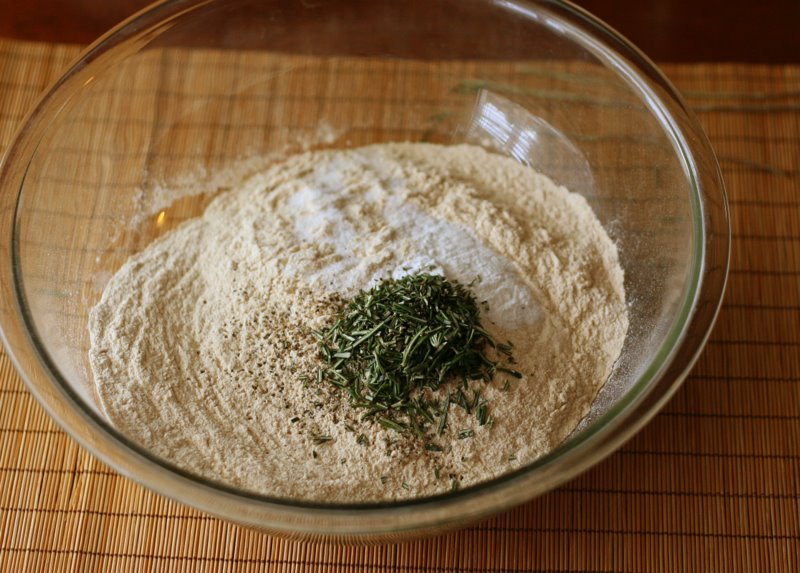 Then put them in a big bowl with the other dry ingredients.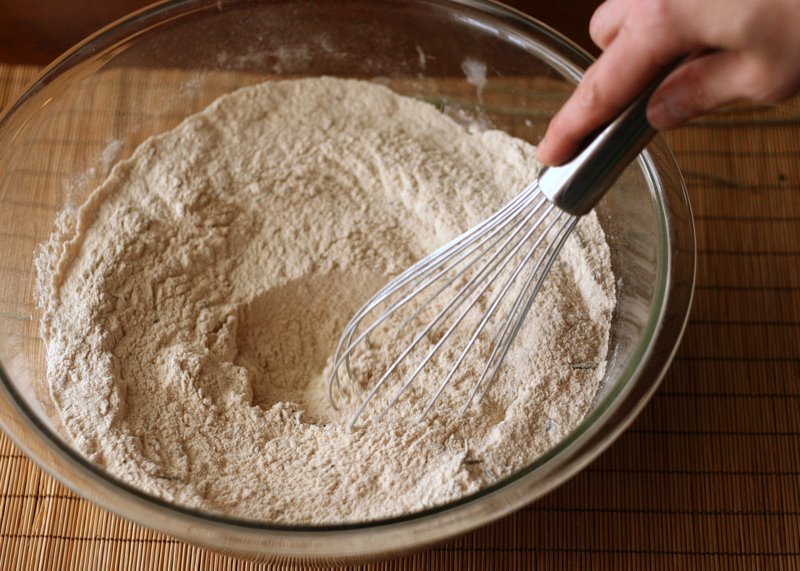 Whisk away.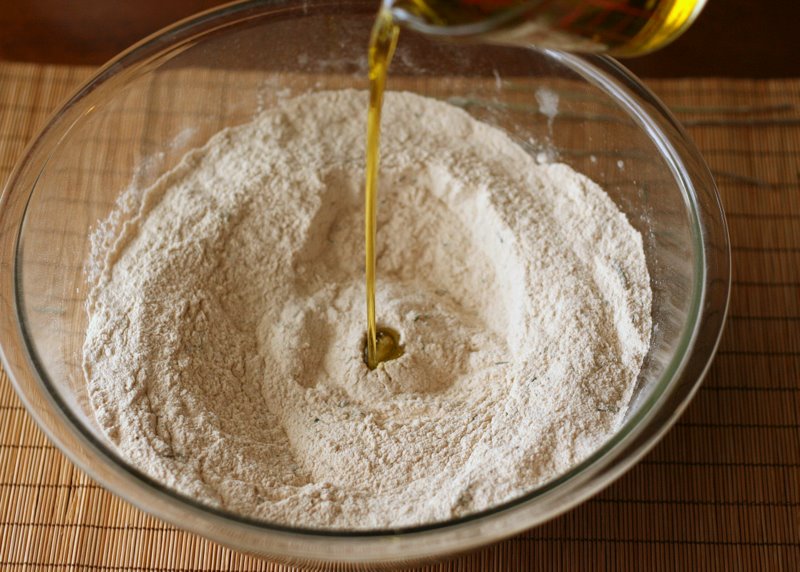 Then pour in the oil.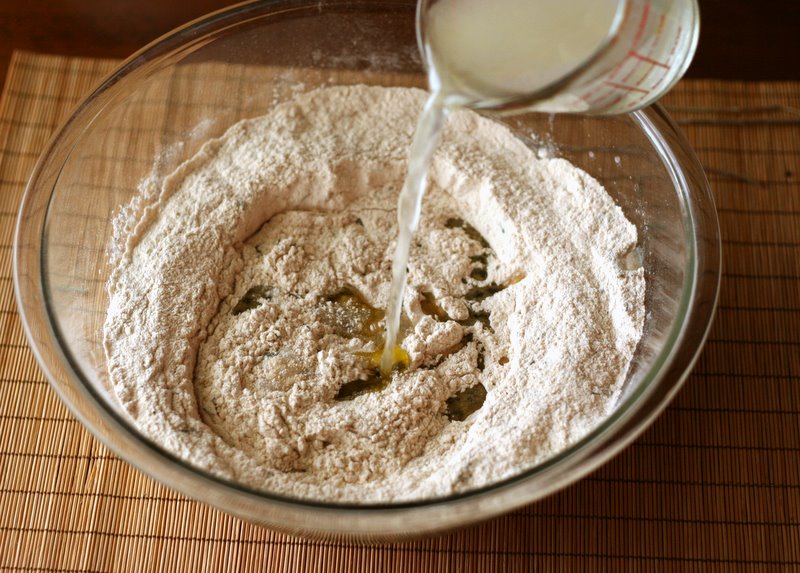 And some warm water. (No, I didn't rinse my measuring cup. You probably wouldn't either. Admit.)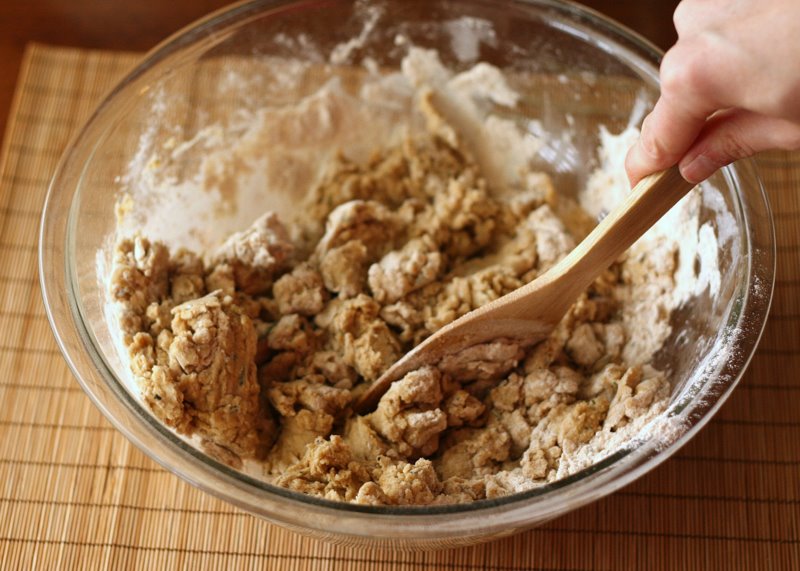 Stir until it comes together and gets clumpy.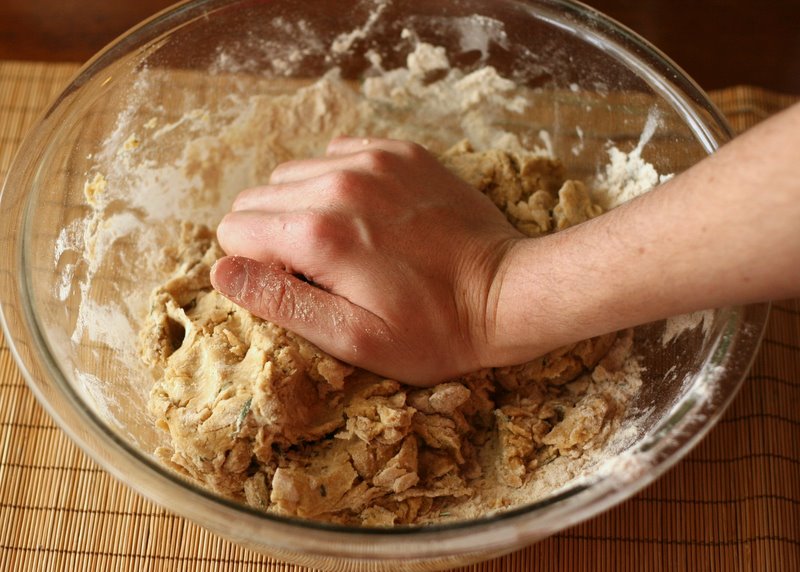 At this point you may want to knead it a bit. Not a lot. Just to get it into a big ball.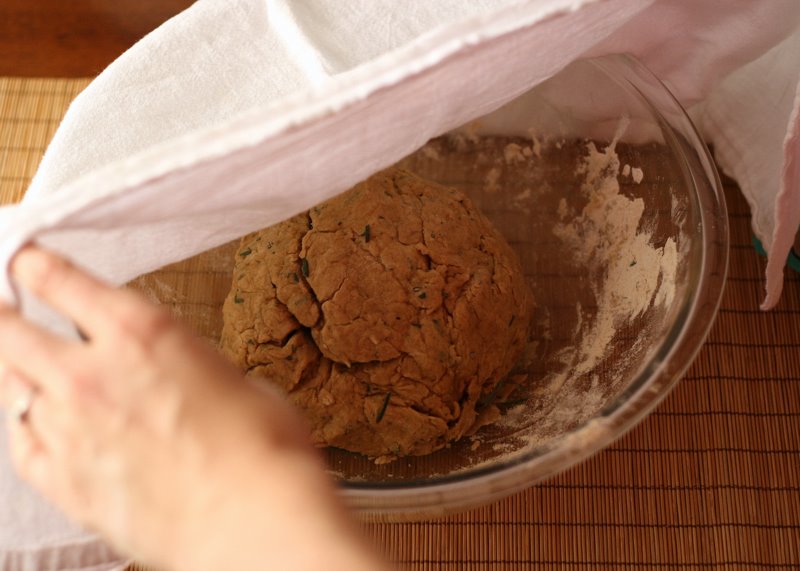 Then cover it with a clean towel and let it rest for 30 minutes while you check your email, take a shower, eat one or two clementine oranges. Or eight. I'm so glad they're back in season, aren't you?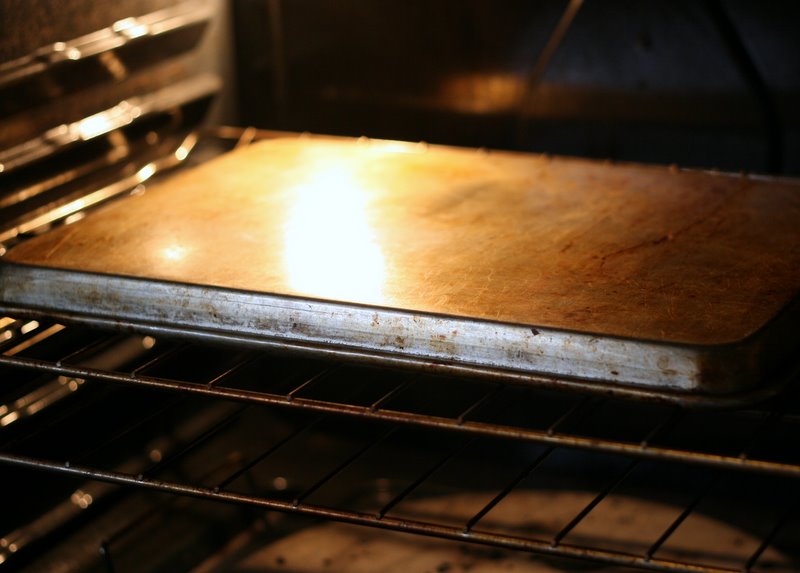 Meanwhile, stick a cookie sheet in the oven and preheat it to 450 degrees. If it's rimmed, place it upside down so you can get the flatbread in and out of the oven easier.
When the dough's ready, get a clean workspace ready by sprinkling it with flour. Have a rolling pin and a dough cutter (if you've got one) ready.
Divide the dough into 6 or 8 pieces, depending on how large you want your flatbreads to be. Dough cutters are great for this, but you could surely use a knife.
Place all but one section of the dough back into the bowl and keep them covered as you work. Sprinkle a bit of flour on the dough you're working with.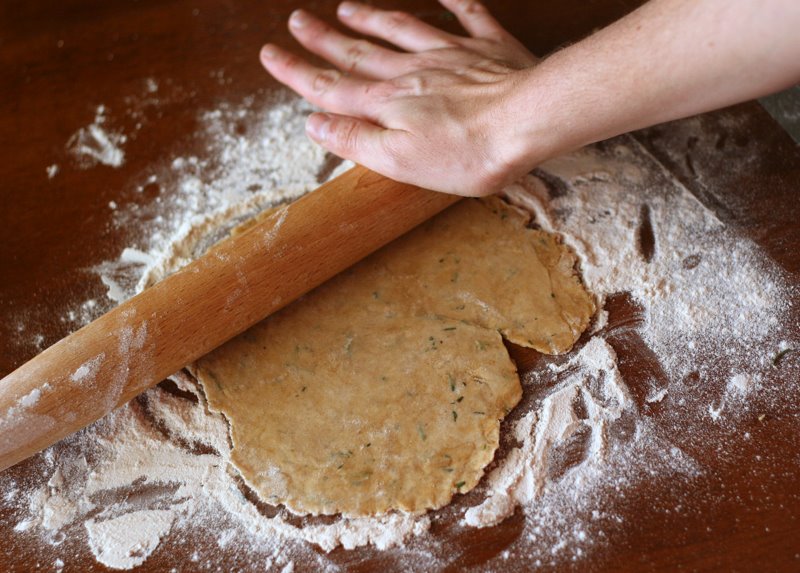 Roll it out fairly thin. You could go paper thin if you'd like. Experiment with it and see what makes you happy. It doesn't have to be perfectly round. Perfect edges and symmetry were soooo 5 years ago—lucky for those of us who are incapable of making perfect circles.
Using your dough cutter (or a spatula) loosen the dough from the workspace …
And transfer it to a smallish piece of parchment.
Brush liberally with olive oil.
Sprinkle with sea salt, then place it (carefully!!) on that screaming hot pan in the oven. I just picked up the paper and put it in there with my hands. You could also put it on another flat baking sheet or pizza peel and slide it into the oven.
Oh, and I'm pretty sure it says on my box of parchment paper that I shouldn't use it in an oven hotter than 420 degrees. I used the same two pieces of parchment for all of my flatbreads and they did not spontaneously combust. I'm not a parchment safety officer, but I think it helps not to have excess (like, a LOT of) parchment around the dough.
And I like to live on the edge.
But, seriously. Keep an eye on it.
When it comes out of the oven it should look something like this. Golden brown with a few bubbles (or some giant ones) baked onto the surface. Yum.
Let it cool for a bit, then break it in to pieces. This flatbread would be great alongside some crudites and hummus (or any kind of vegetable dip) at a holiday gathering. It's very light and has a subtle rosemary flavor that pairs well with all kinds of things.
Thanks for a great recipe culinarycapers!
Printable Recipe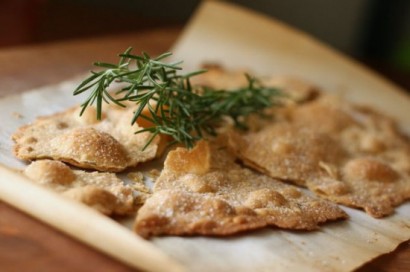 Description
I love these rosemary crackers by themselves or dipped in hummus or baba ghanoush. I use a spicy dark green extra virgin olive oil because I love the taste, but any olive oil will work fine.
Ingredients
3-½ cups Flour
1 teaspoon Salt
2 teaspoons Baking Powder
2 Tablespoons Chopped Fresh Rosemary
1 Tablespoon Coarsely Ground Black Pepper (optional)
1 cup Warm Water
¾ cups Olive Oil
8 pieces Parchment Paper
1 cup Olive Oil For Brushing
8 dashes Medium Coarse Sea Salt
Preparation Instructions
Place a large rimless baking sheet or an inverted rimmed baking sheet in the oven and heat to 450 degrees.
Whisk flour, salt, baking powder, rosemary and black pepper together in a large bowl. With a wooden spoon, stir in the water and olive oil until a medium stiff dough forms. Knead gently if necessary to combine. Let rest in the bowl covered with a plate or plastic wrap for 30 minutes.
Divide dough into 6 to 8 portions, depending on the size of your cookie sheet. One at a time, roll dough out with lots of flour into a paper-thin rustic round; the thinner you roll it, the thinner the cracker will be. Experiment to find just the thickness that suits you.
Place on the parchment paper and brush excess flour off the dough, then brush liberally with olive oil and sprinkle with a little sea salt. With another cookie sheet or pizza peel, transfer to the hot baking sheet and bake for 8 to 12 minutes until lightly browned on the edges with specks of brown throughout. Remove from the oven, cool and break into large pieces. Repeat with the remaining dough.


_______________________________________
Be sure to check out Natalie's own beautiful food blog, Perrys' Plate, where you can see her growing collection of lovely recipes. There's always something new to see there. Go visit now!