As far as candy making goes, I pretty much stink. So when I stumbled across this recipe from Tasty Kitchen member mdatwell for Almond Roca, even though I was tempted by the short list of tasty ingredients, I was a bit hesitant knowing my lack of skilz in that department. For realz. I've gotz no candy making skilz.
Or at least I didn't used to have any.
Now, I can attest that, with the help of mdatwell and her excellent directions, I rocked the roca. It was super easy and quick. In no time, and with only one pot and one pan dirty, there was Heath Bar-like goodness before me. Not that it lasted long. This Almond Roca is some mighty fine eats y'all.
So what are we waiting for? Let's get started! Let's rock the roca!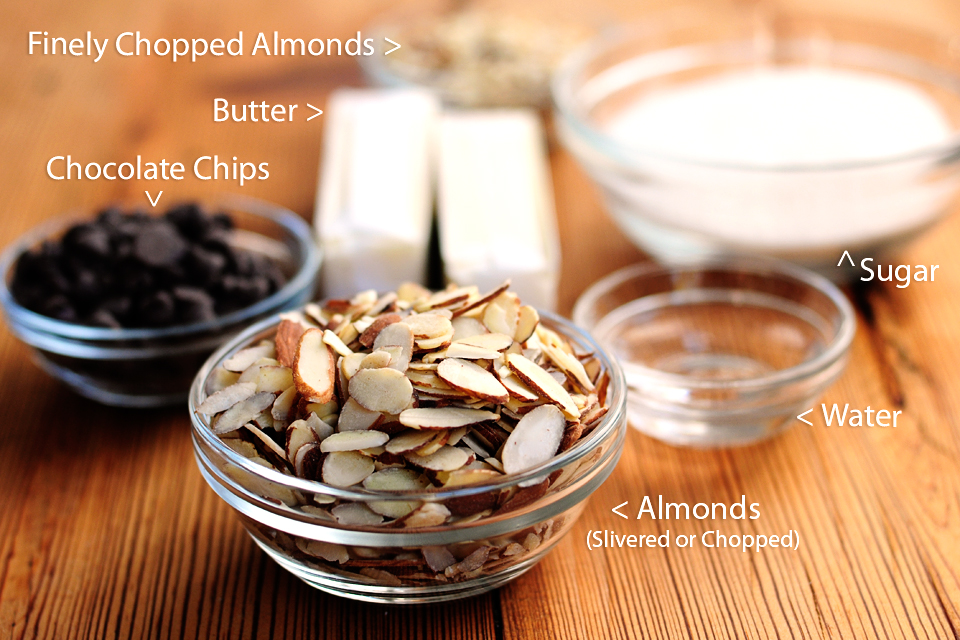 You'll need butter, sugar, water, chopped or slivered almonds, chocolate chips, and more almonds, finely chopped. Simple.
(For this demonstration, I halved the ingredients. Be sure to check out the full recipe with ingredient amounts listed.)
Before starting, have a sheet pan(s) greased and ready to the side. For half the recipe, I used a quarter-size sheet pan (13″ x 9″), so the full recipe should call for a half-size sheet pan (18″ x 13″).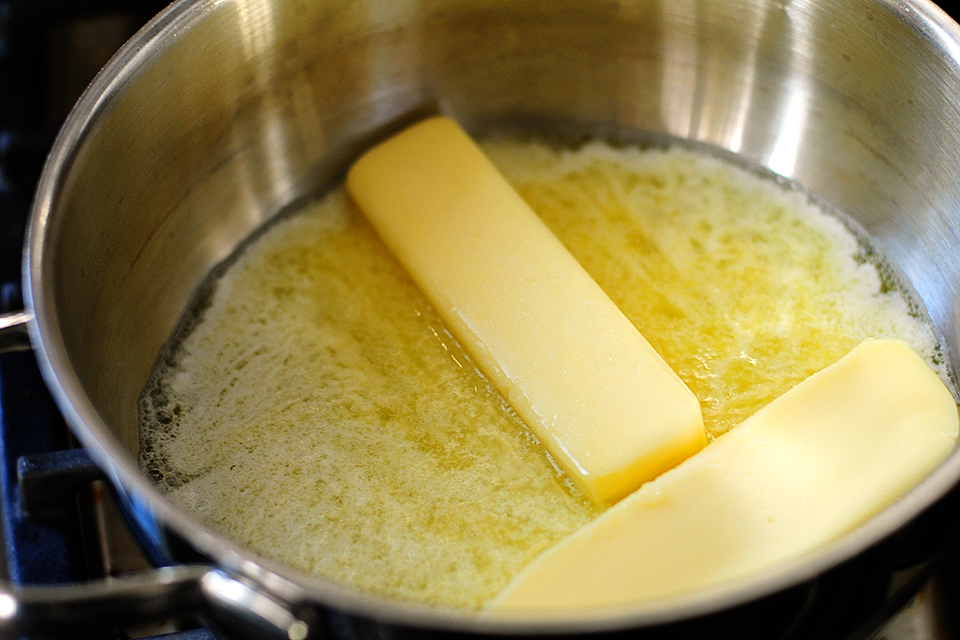 Begin by combining the first three ingredients—the butter, water and sugar—in a medium saucepan. I started by melting the butter first.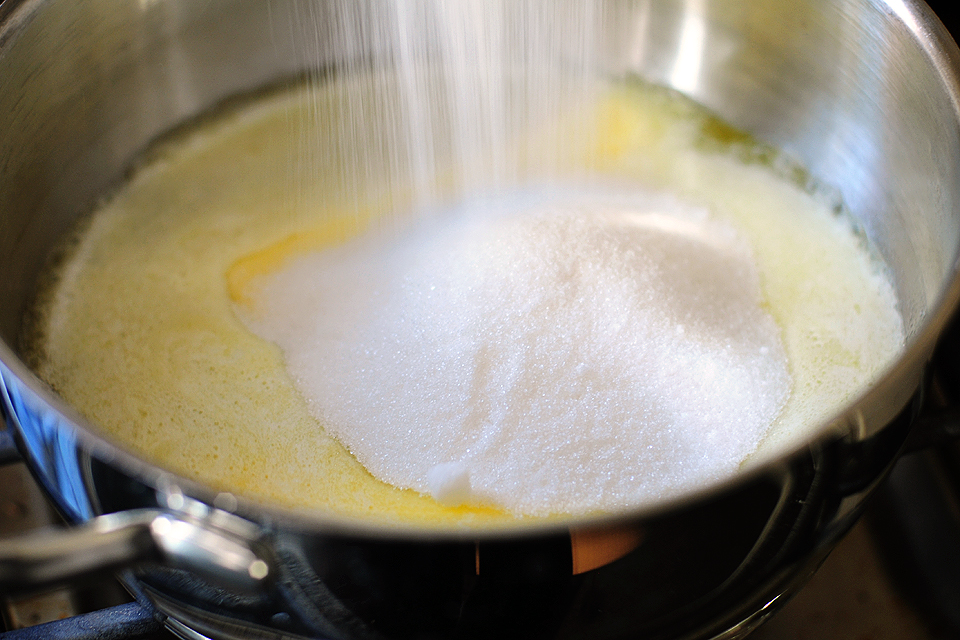 Add the sugar.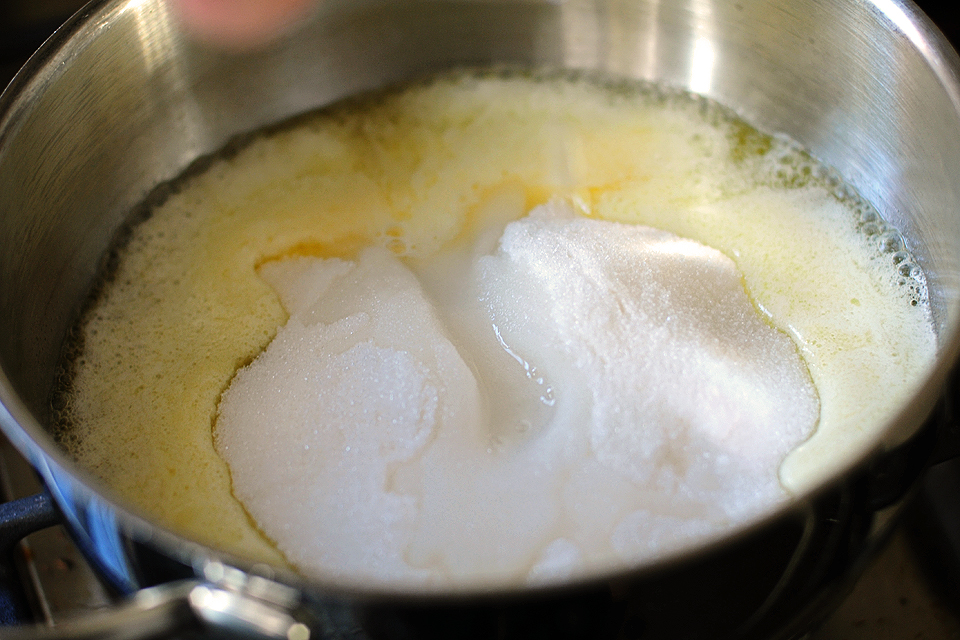 Then the water. What I liked about mdatwell's instructions was the visual indicators she gave. I'm a visual person, so the three stages she described to watch for—runny, "cheesy" and runny/smooth—worked perfectly for me.
Here, I'll show you.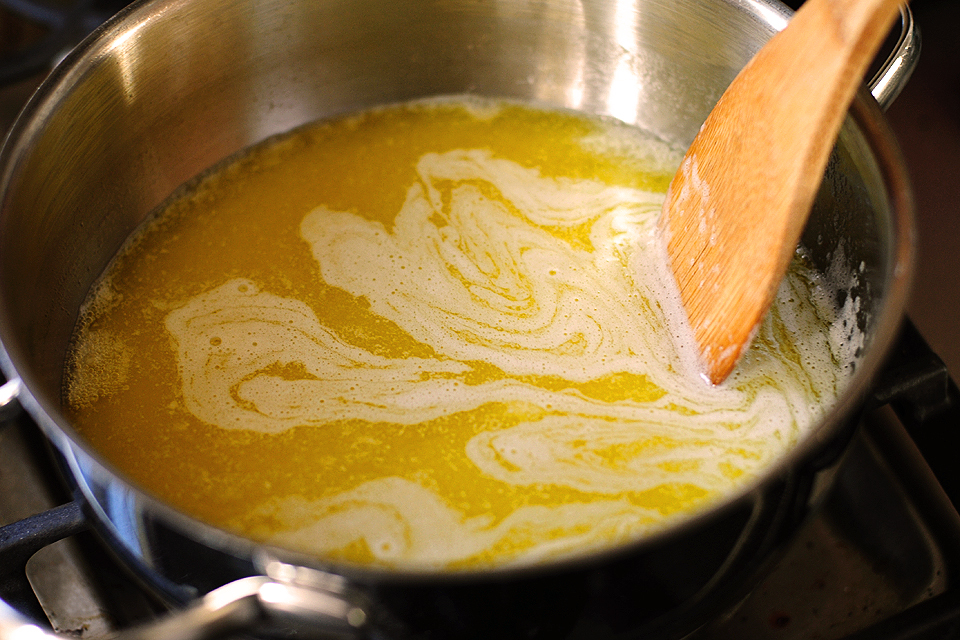 Once the first three ingredients are combined, cook on high, stirring constantly. This is what the first stage, the "runny" stage, looks like. Keep stirring. This takes a few minutes and will move right along into the second stage, the "cheesy" stage or what I like to call the "marshmallow" stage.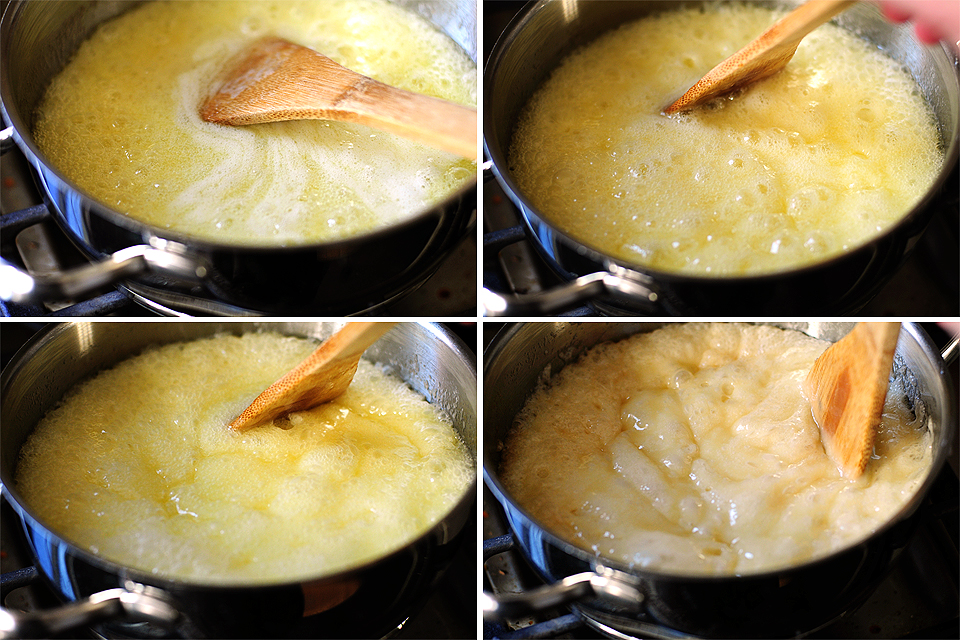 It kinda gets a little more gooey at first. Then it really does start looking like melted, bubbling cheese. Keep on stirring. Now is not the time to change your Facebook status, transfer the clothes from the washer to the dryer, or dust the ceiling fans. Change is a comin'. And it's comin' fast.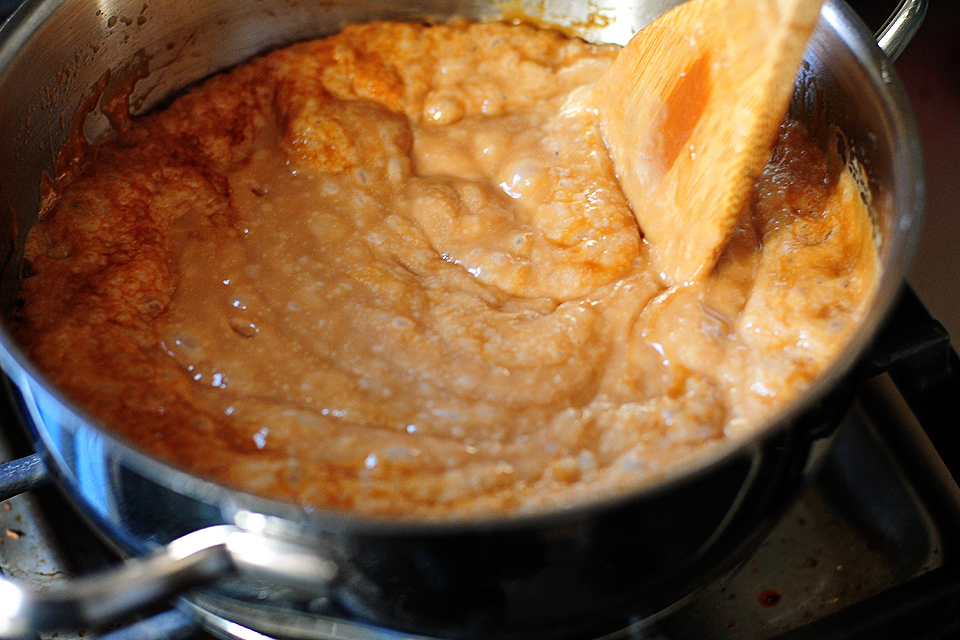 The next thing you're looking for is the "runny, smooth, caramel brown color" stage. Like this.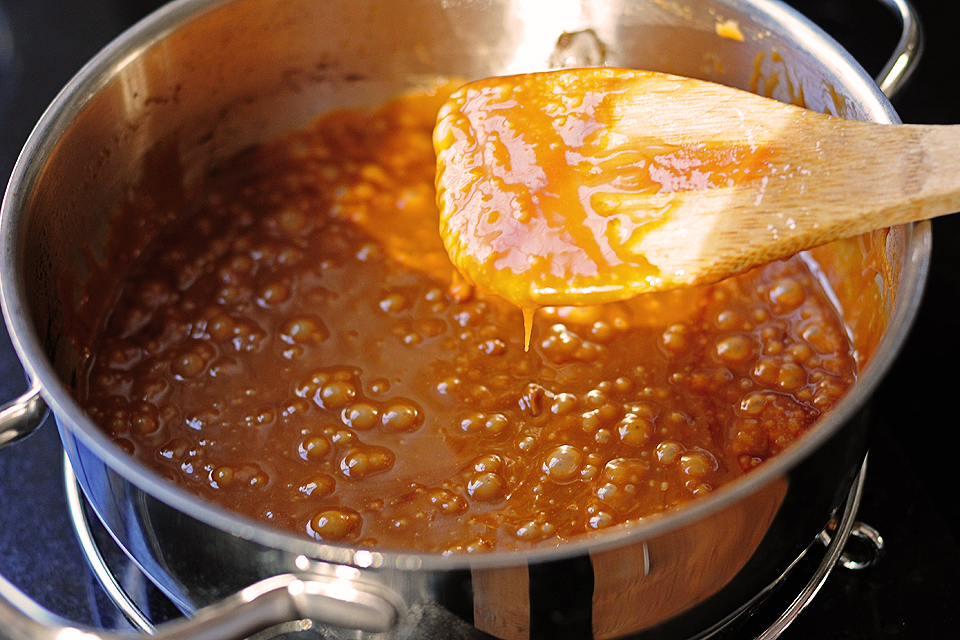 When it gets to this point, remove the pot from the heat. And be careful! The pot will be hot—way hot! Move quickly at this point as the caramel mixture will begin to cool.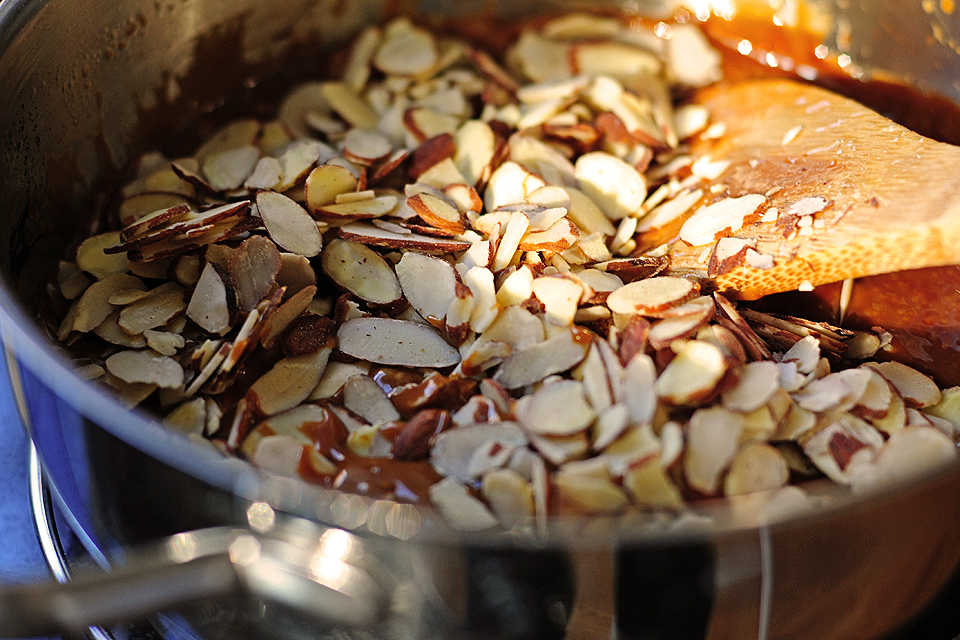 Now add the slivered/chopped almonds.
Combine the almonds and caramel mixture well.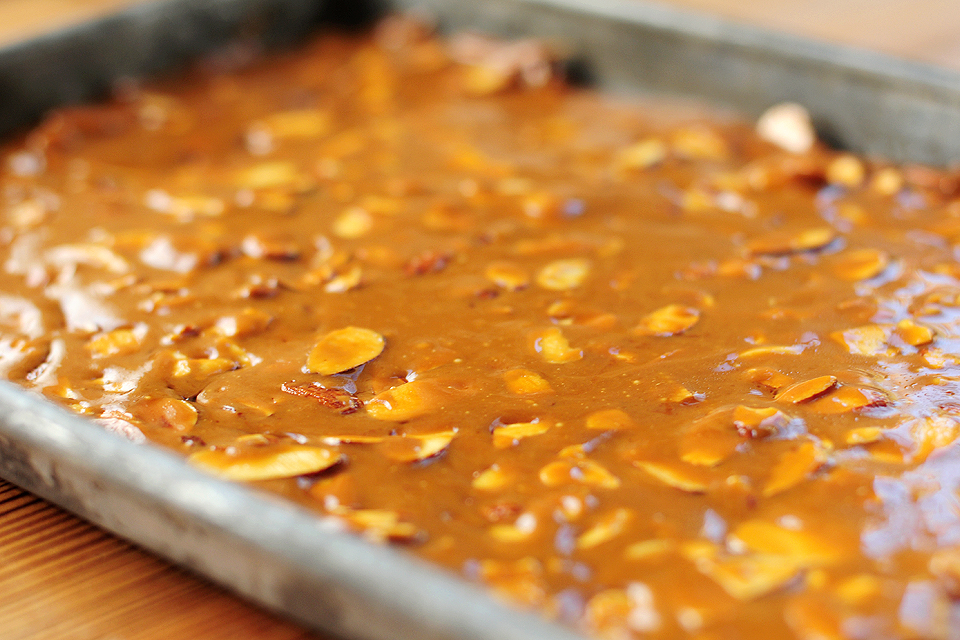 When the almonds are combined well with the caramel mixture, spread them out evenly on a rimmed, greased baking sheet pan (I mentioned pan sizes above). Look! You have toffee. You could stop right there, let it cool and enjoy, but we're moving on to the chocolate.
Next, sprinkle the chocolate chips across the top of the toffee. At this point I thought there was not enough chocolate chips and that I must've measured incorrectly. But wait just a few seconds. The chocolate chips will begin to melt and they spread a long way. I was surprised how much chocolate is packed in a chocolate chip.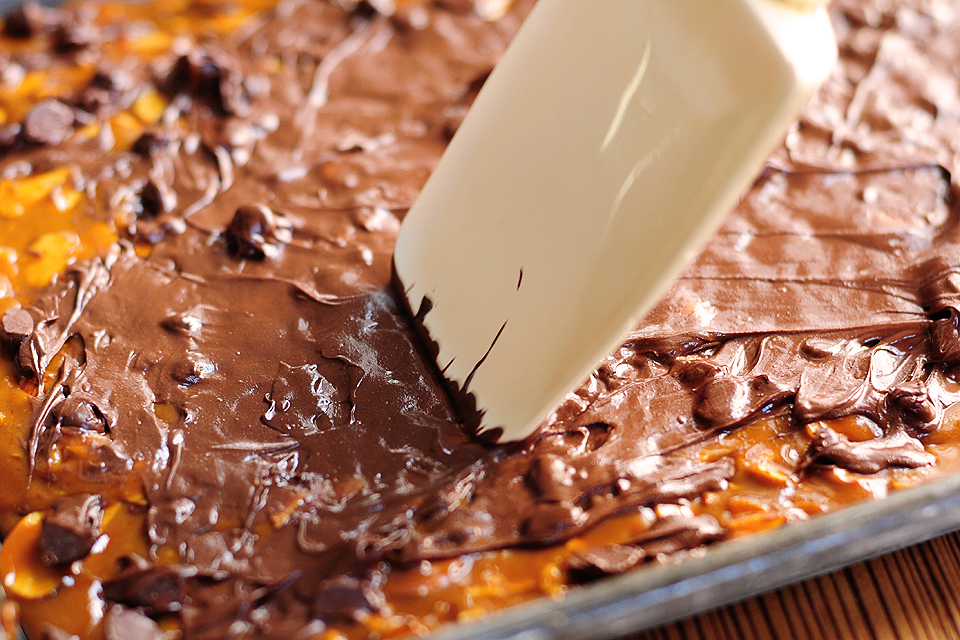 Using a rubber spatula, smooth out the chocolate across the top of the caramel/almond.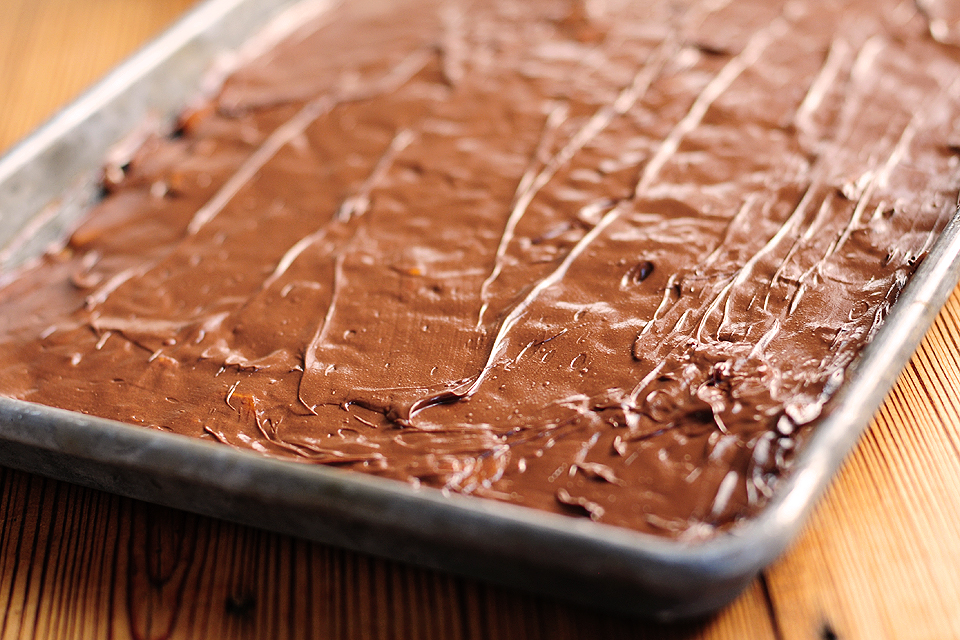 See how far that little bit of chocolate chips goes? Amazing.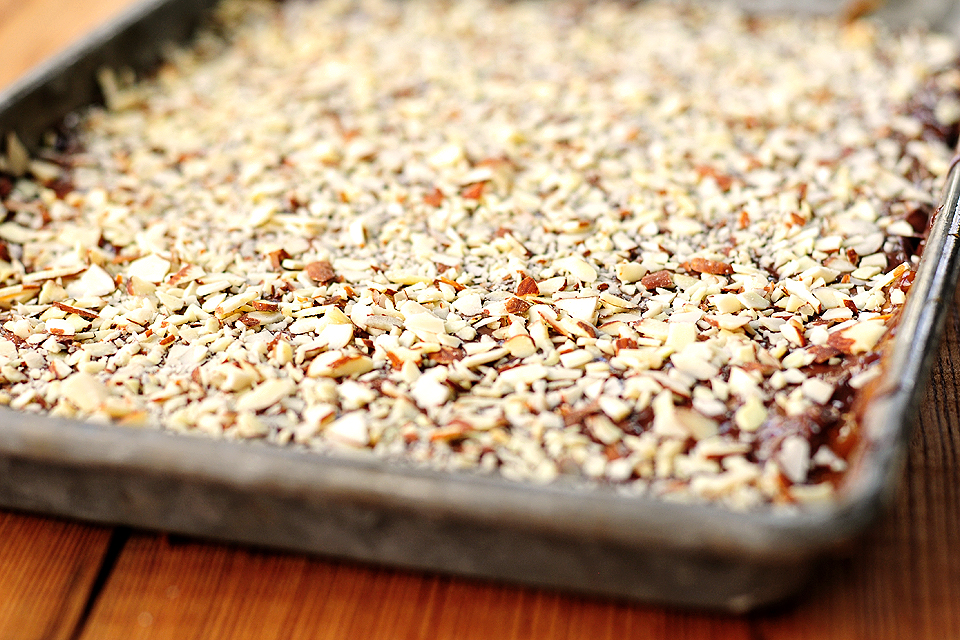 Top the melted chocolate with the finely chopped almonds. If you want even-sized Almond Roca pieces, score the candy with a knife while it's still warm and soft. I'm all about the rustic look, so I let it be.
Now comes the hardest part: waiting. Wait until the roca has cooled. But after about 10 minutes, because I was impatient, I stuck my batch in the freezer for about 5-10 minutes to finish cooling. It worked fine.
Once it's cooled and the chocolate has solidified, if you're going for the rustic look, flip the baking sheet upside down on a cutting board or surface.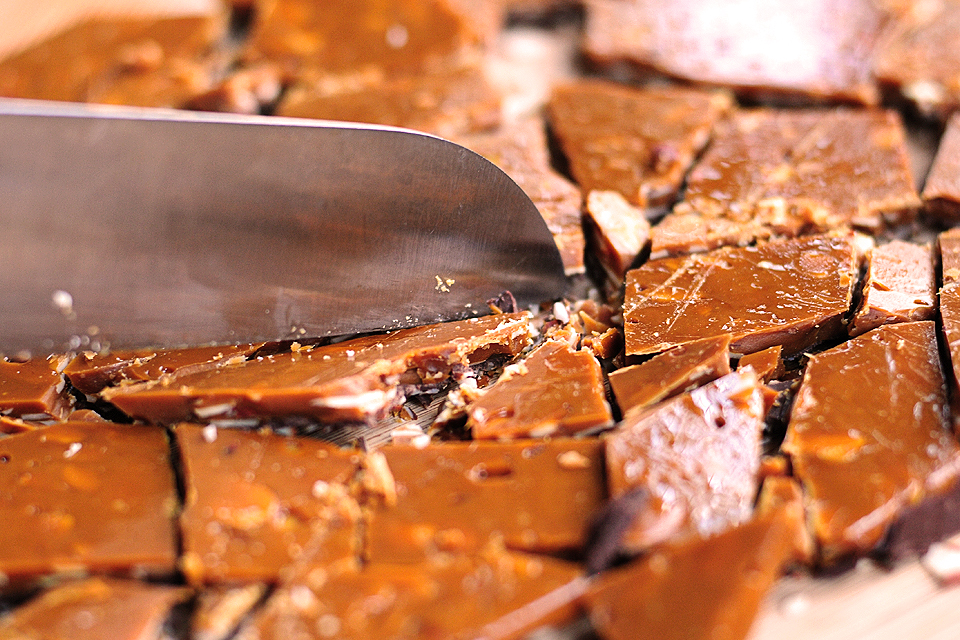 It will break apart some on its own but use a knife to break it into smaller pieces. If you've scored your candy, carefully separate the pieces. And you're finished!
This piece is all I ate … that minute. We enjoyed our share, packed up the rest and sent it far and away. It's dangerously delicious.
A big thanks to mdatwell for helping me get over my fear of candy making. I'll definitely be making more batches of this over the holiday season. And maybe afterwards too! Happy cooking y'all!
Printable Recipe
Description
This is a super easy, quick candy recipe I make every Christmas. It does contain a whole pound of butter, so I can't make it too often. The recipe is easily halved or doubled for different occasions.
Ingredients
4 sticks Butter
2 cups Sugar (rounded)
4 Tablespoons Water
2 cups Almonds, Chopped
1 cup Chocolate Chips
½ cups Almonds, Finely Chopped, For Sprinkling
Preparation Instructions
Combine the first 3 ingredients and cook on high, stirring constantly through 3 stages:
1. Runny
2. "Cheesy"—it will look like melted white cheese
3. Runny and smooth, caramel brown color
Make sure you have the fan on your stove going, cause you'll probably set off the smoke alarm towards the end.

When it is runny, smooth and caramel brown in color, remove it from the heat and add the almonds. Stir until combined and pour the mixture onto greased cookie sheets. Spread it into an even layer. It will harden as it cools.
While it is still warm, sprinkle chocolate chips on top and let them melt enough to get soft. Spread the chocolate in an even layer across the candy. While the chocolate is still "wet," sprinkle the finely chopped almonds on top.
At this point, while it is still warm and soft, you can score the candy with a butter knife to make it break evenly, or just let it harden and break it into rustic pieces.
Store in airtight containers. Enjoy!


_______________________________________
Amy Johnson is a blogger who writes about food, travel, the home (both inside and out), and various observations and random musings about anything and everything. Visit her blog She Wears Many Hats for a dose of deliciousness, practicality, hilarity, or just plain fun. She lives in South Carolina with her husband and two children.