Getting dinner on the table can be a royal struggle. Sometimes it's exhaustion and an empty fridge, other times it's a lack of inspiration or time. In any event, one hand starts gravitating towards the phone and the other starts reaching for the take-out menu drawer. Then come the pangs of guilt. It's expensive. Not as healthy. I should really make my husband a home cooked meal. He's worth it. So am I.
Beaten by my conscience, I open my fridge and stare at the contents hoping a dinner idea will jump out at me. Languishing vegetables, milk, pickles, chocolate, condiments and a Tupperware filled with long-forgotten leftovers. Not promising. When that fails, I close the fridge and open the freezer hoping I'll find dinner there. Ice cubes, peas, ice cream, unidentifiable thing in a Ziploc bag, chicken breasts. I nearly close the freezer, but stop myself: "Chicken breasts. OK, that's a start."
But a chicken breast is a blank canvas, so all home cooks need a few good chicken breast recipes in their arsenal. That's why this Tasty Kitchen submission by spygirl jumped out at me. I'm always looking for a weeknight dinner that starts with chicken breasts, and Thai Honey Peanut Chicken sounded mighty good.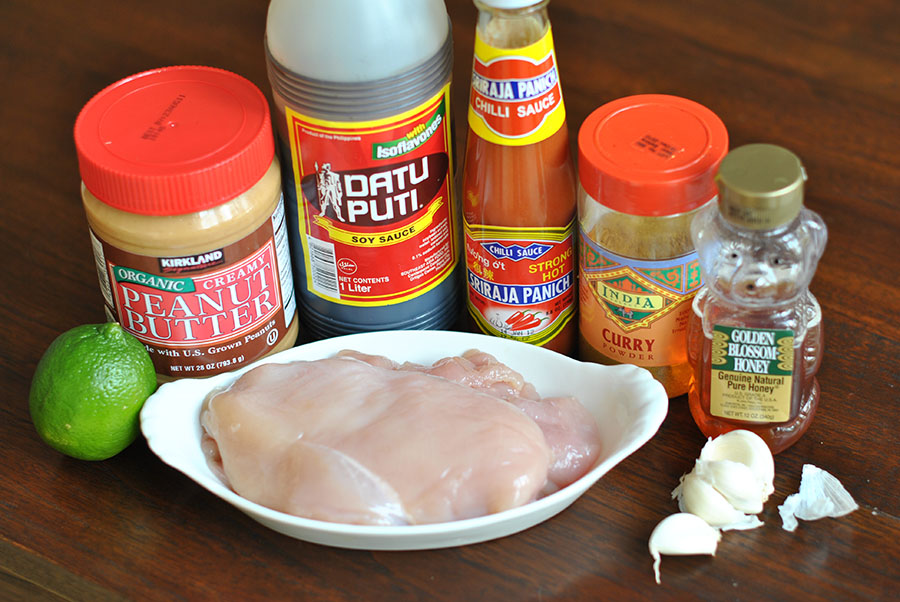 This recipe was particularly attractive not only because Thai food is my absolute favorite, but also because I had everything else for the recipe in my pantry or fridge.
First cut your chicken into pieces. Here's a neat little trick: Cut off the tip of the chicken breast, then cut the breast down the middle, making it easier to cut even, square pieces.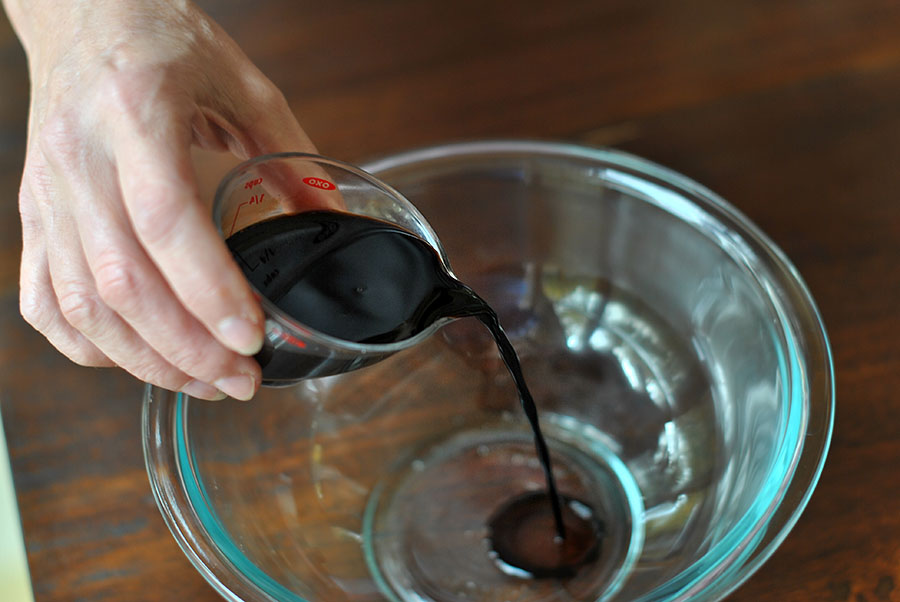 In a medium bowl add the soy sauce. This is Filipino soy sauce, which I think is superior to all other soy sauces, thanks to a friend of mine. She's got me hooked. But all soy sauces will work just fine.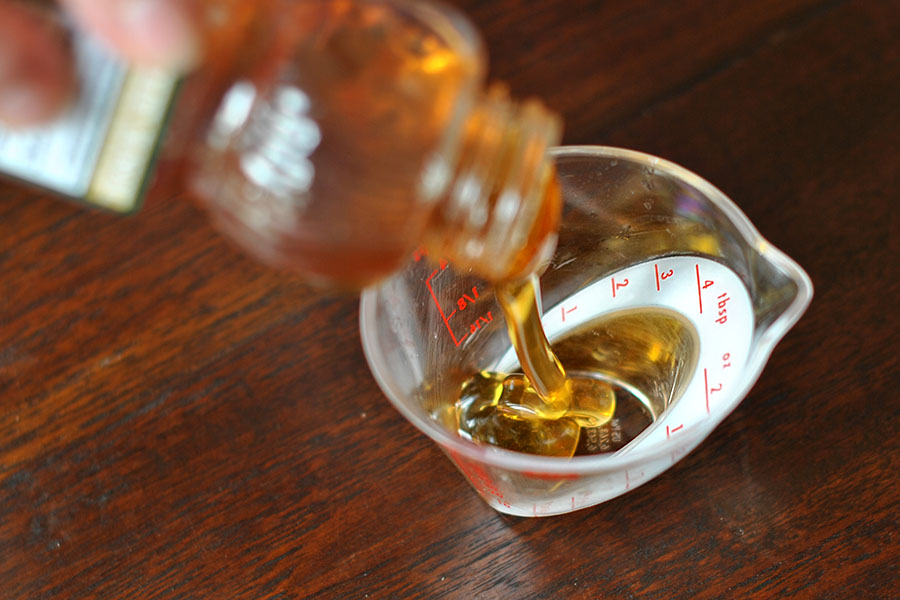 Then add the honey. Spray your measuring cup or spoon with vegetable cooking spray before you squeeze in the honey and it will slide right out instead of sticking to the cup.
Add the lime juice next. If you don't have a juicer, use a whisk to get the juice out of your lime.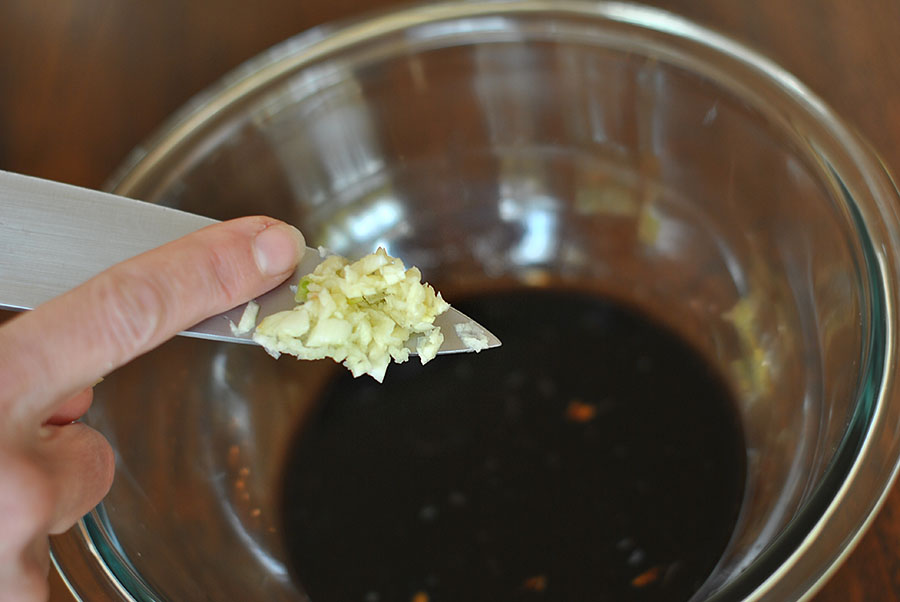 Then add the minced garlic. (Here is a quick tutorial on how to mince garlic like my Mom does. You want to learn. It's like magic).
Add the peanut butter and curry powder, then finally the Sriracha. The latter is optional, but I promise it doesn't make the dish too spicy.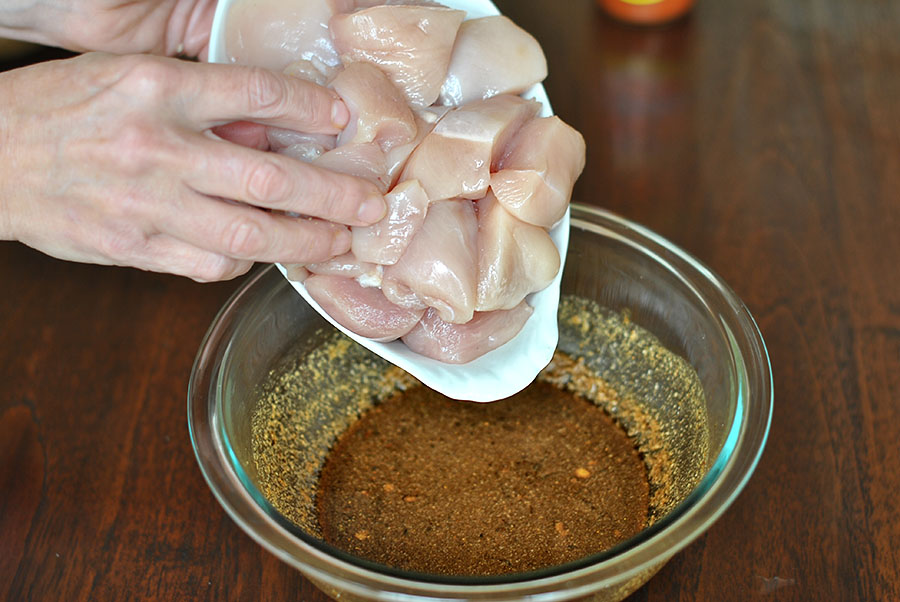 Whisk the ingredients together. Add the chicken pieces and then marinate for 2-3 hours.
Heat a large skillet over medium-high heat, add the chicken (along with all that good sauce) for 7-8 minutes or until the chicken is done.
Serve with rice and top with sesame seeds. We added chopped cilantro too because we love it and it adds some color to the plate.
I made this dish in about 30 minutes, and it didn't disappoint. As long as I keep a spare chicken breast or two in my freezer, I know I'll be pulling this recipe out whenever that I find my hands reaching for the phone and the take-out menu drawer.
Thank you spygirl for this lovely dish!
Printable Recipe
Description
Quick, sweet, optionally spicy stir fry—scales up and down, accommodates veggies or tofu, and best with homemade peanut butter.
Ingredients
1 pound Chicken, In Chunks
¼ cups Soy Sauce
2 Tablespoons Honey
1 Tablespoon Lime Juice
1 teaspoon Minced Garlic (approximately 1 Large Clove)
1 Tablespoon Natural Peanut Butter (heaping Tablespoon Even Better)
½ teaspoons Curry Powder
1 teaspoon Sriracha (optional)
Preparation Instructions
Mix ingredients and marinate chicken for 2-3 hours.
Cook chicken in the sauce over medium-high heat for 7-8 minutes or until chicken is done. Reduce heat to medium-low and add precooked veggies if desired. Serve topped with sesame seeds.
To thicken sauce if needed: reduce heat to medium-low and add a cornstarch slurry (1 teaspoon cornstarch in 1 tablespoon water).
Substitutions: replace chicken with tofu; replace peanut butter with tahini or another nut butter; if using regular peanut butter (i.e. Skippy) instead of natural peanut butter, reduce honey by 1 tablespoon.


_______________________________________
Three Many Cooks is the always-entertaining food blog of Pam Anderson and her two daughters, Maggy and Sharon. Pam is a well-known and much-respected food writer and author, Maggy is a "hippy adventurer meets 1950s housewife," and Sharon refers to herself as a recovering food snob learning to survive on a graduate student's budget. Theirs is a strong relationship both inside and outside the kitchen, and it shows in the food they create and the stories they tell.