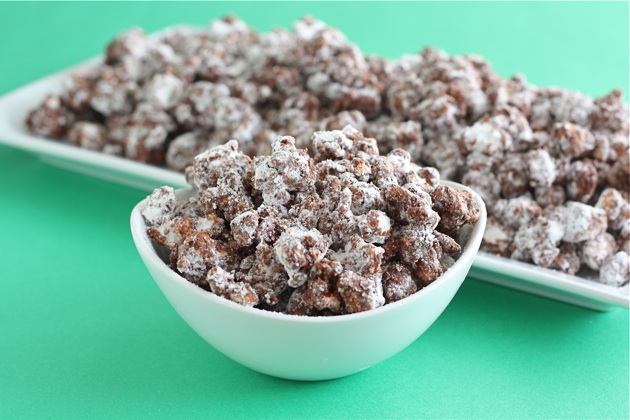 One of my favorite snacks as a child was puppy chow. Not the dog food, but the cereal snack that is covered in chocolate, peanut butter, and powdered sugar. (My brother did dare me to taste real dog food once. I don't recommend it, bleh!) Whenever it was my turn to choose a snack for movie night or for a slumber party, I always asked for puppy chow. I love chocolate and peanut butter together. I also had fun making a mess with the powdered sugar. I usually ended up with a stomach ache after eating too much but just I couldn't stop myself, it is so good!
When I saw ZoeDawn's recipe for Poppy Chow on Tasty Kitchen, I immediately bookmarked it. (ZoeDawn blogs at Whole Eats & Whole Treats. What a beautiful blog!)
The recipe calls for popcorn instead of the traditional cereal, hence the name Poppy Chow. Genius idea! I had to give it a try.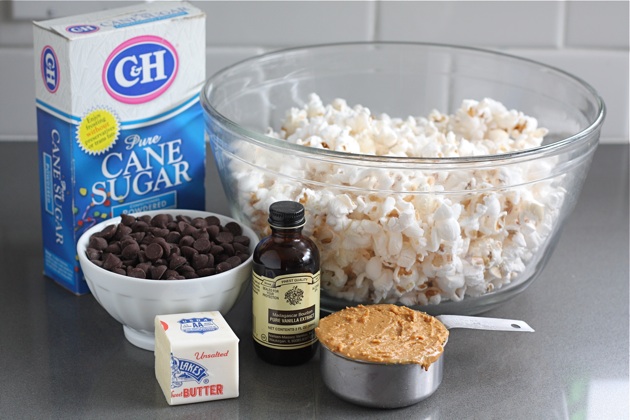 Here is what you will need to make Poppy Chow: popcorn, peanut butter, chocolate chips, butter, vanilla extract, and powdered sugar.
For a complete list of ingredients, measurements, and instructions, please view the recipe link at the end of this post.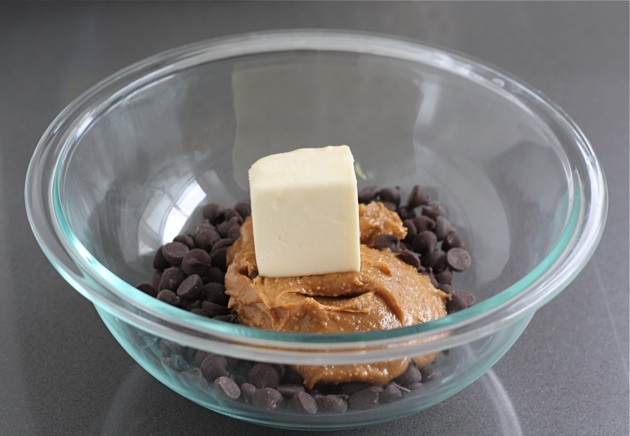 Place chocolate chips, peanut butter, and butter in a microwave safe bowl.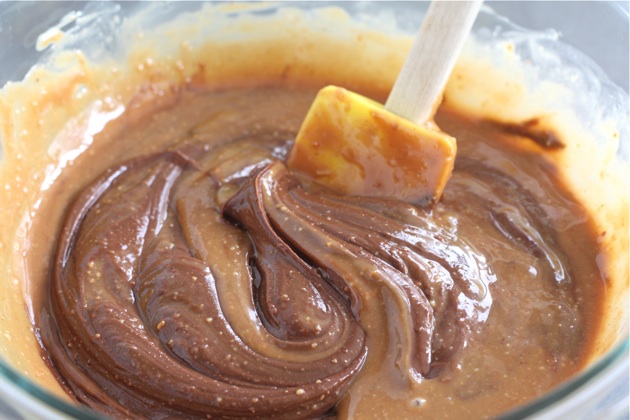 Put the bowl in the microwave for one minute. Stir and heat for another 30 seconds, or until ingredients are melted. You can also use a double broiler-but I was feeling lazy.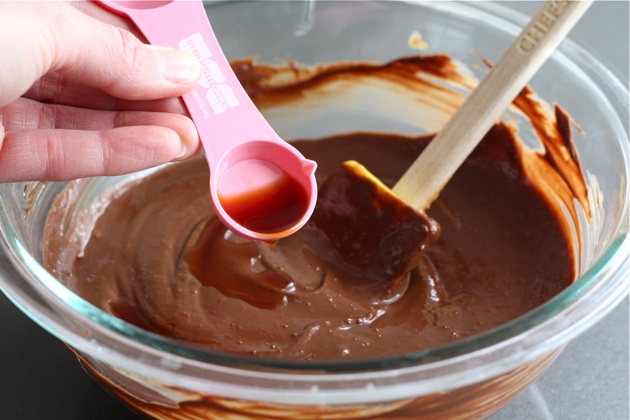 Add the vanilla extract to the mixture.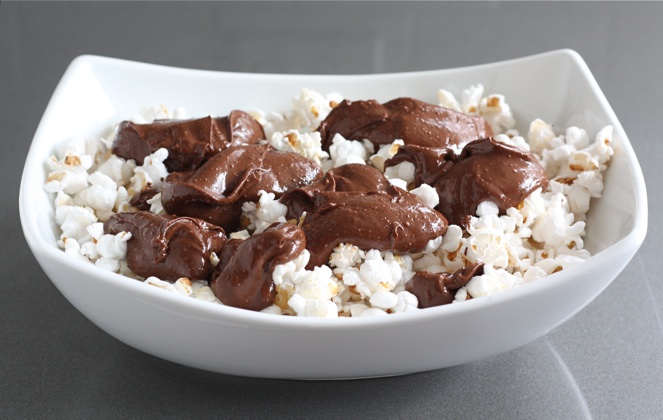 Pour popped popcorn into a large bowl. Make sure there are no unpopped kernels in the bowl. Pour the chocolate peanut butter mixture over the popcorn.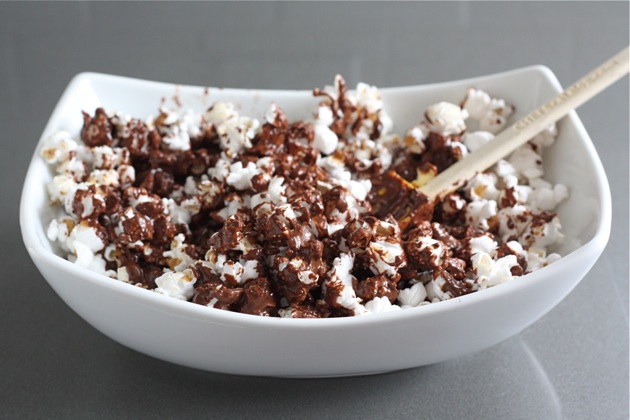 Stir popcorn until the kernels are evenly coated.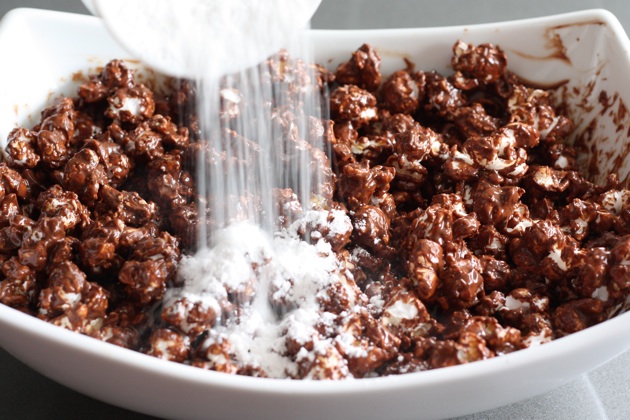 Add the powdered sugar.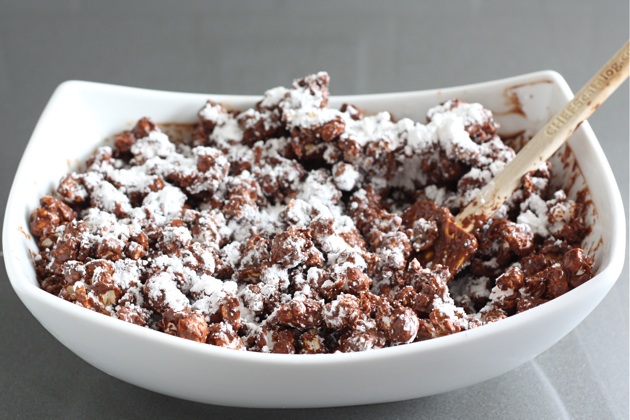 Gently stir until all of the pieces are well coated.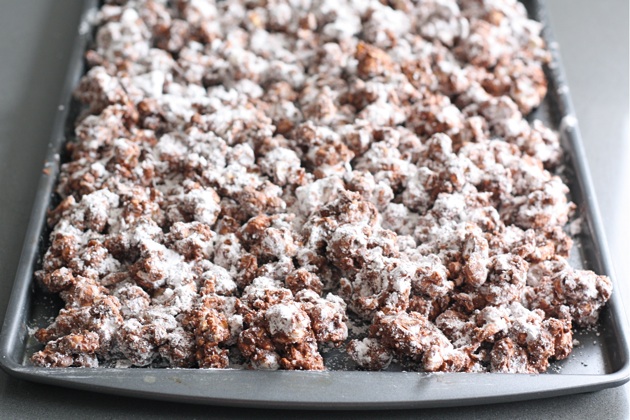 Spread popcorn onto a large baking sheet and let the chocolate set.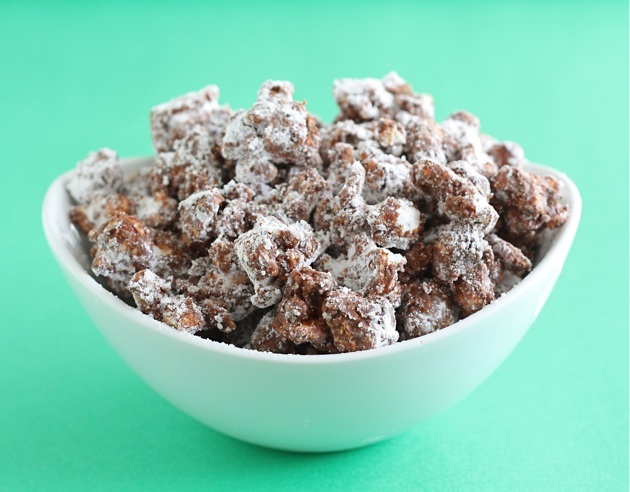 Eat and enjoy!
If there are any leftovers, store in an air-tight container. I didn't have any left over; I still haven't learned to back away. This Poppy Chow is addicting! First, you get an explosion of chocolate, then a kick of peanut butter, and last comes the sugary sweet ending. This popcorn melts in your mouth. It is easy and fun to make; kids and adults will love it.
Poppy Chow is a great treat to make for the holidays. Enjoy it while you watch holiday movies, serve it at your holiday parties, or wrap it up in cute little bags to give away to your friends and family.
Thanks ZoeDawn for bringing me back to my childhood with this recipe. I will be making Poppy Chow from now on. Poppy Chow sounds so much better than Puppy Chow, don't you think?
Printable Recipe
Description
No, that's not a typo in the title…this is puppy chow made with popcorn! My husband recently had a craving for puppy chow but I never keep Chex on hand so he suggested using popcorn. It is a delicious, healthy alternative!
Ingredients
9 cups Air-Popped Popcorn
1 cup Semi-Sweet Chocolate Chips
½ cups Natural Peanut Butter
¼ cups Butter (1/2 Stick)
1 teaspoon Vanilla Extract
1-½ cup Powdered Sugar
Preparation Instructions
In microwave or double boiler, melt chocolate, peanut butter, and butter until melted. Stir in vanilla. Place the popped popcorn* in a large bowl and pour the chocolate mixture over all. Stir until evenly coated. Add the powdered sugar and stir until each piece is covered. Spread out on cookie sheets to set the chocolate. Try not to eat the whole batch immediately. If you have any leftover, store in an airtight container.
*Be sure to first remove any unpopped kernels from the popcorn! We don't want any broken teeth!


_______________________________________
Maria and her husband Josh (who she affectionately refers to as her "dough boy") blog at Two Peas and Their Pod. They've been featured on Saveur, Eatocracy, Gourmet Live, Glamour, and the Los Angeles Times, to name just a few. We're so glad to have them here!