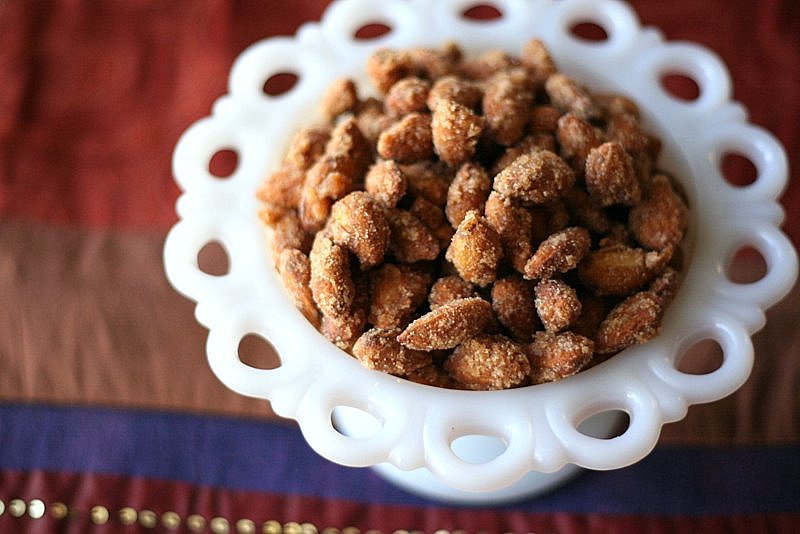 These Burnt Sugar Almonds (Gebrannte Mandeln), in my opinion, are the only redeeming quality of a crowded shopping mall during the holidays. Luckily, they're a cinch to make at home and will put all of your scented candles to shame. This recipe was submitted by Tasty Kitchen member Birgit Kerr, who is originally from Germany. These almonds are found roasting at the Christmas markets in Germany as well as Austria, where I spent about 18 months (a long time ago). I about fell out of my chair when I saw this recipe.
There are other variations of these almonds which use beaten egg whites, but I really liked this non-fussy approach. Plus, I didn't have to turn on my oven.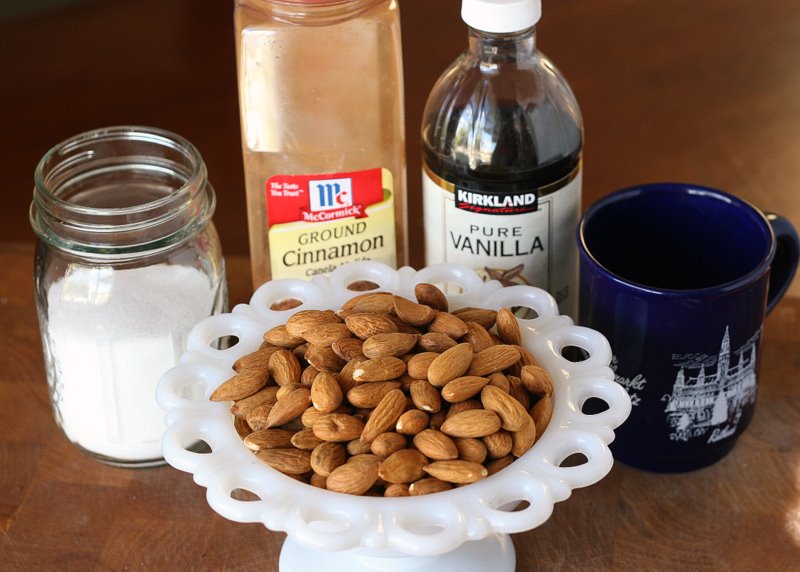 Five ingredients is all you need: raw almonds, sugar, cinnamon, vanilla, and water. For real.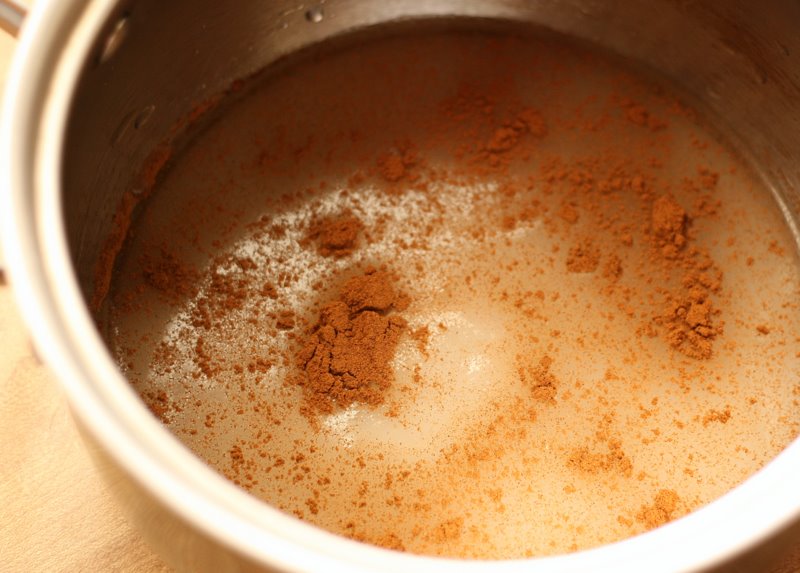 To start, grab a medium-sized pot (not non-stick) and a big wooden spoon. Add the water, cinnamon, and 1 cup of sugar. Bring to a boil over medium heat.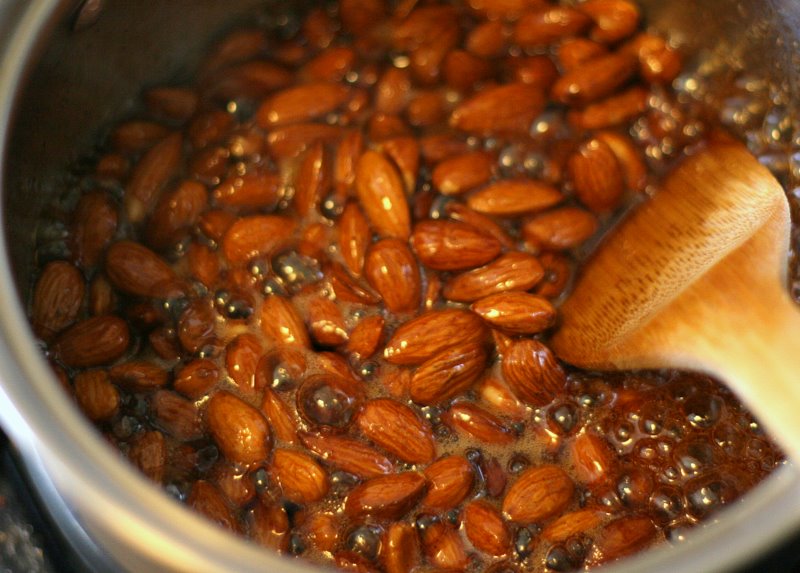 Add the almonds, crank up the heat, then stir. And stir. And stir. And . . . stir. Don't stop stirring. Especially to take pictures.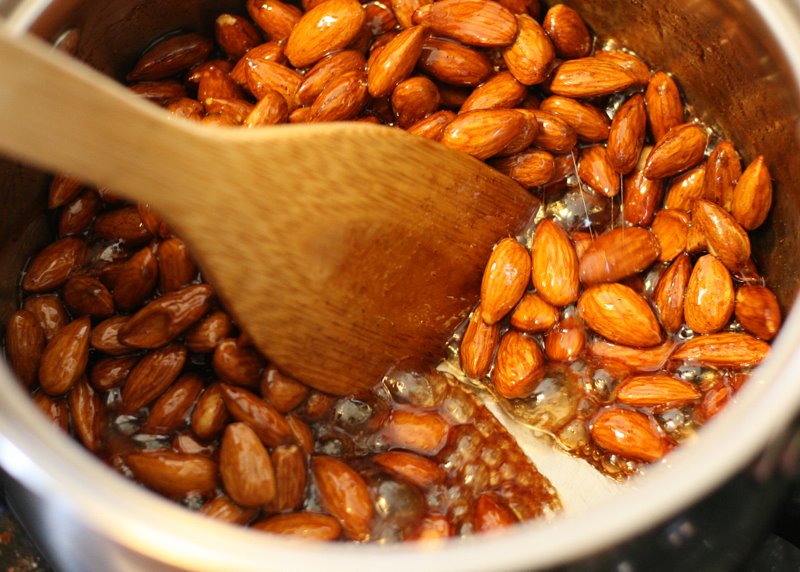 After about 5-7 minutes of constant stirring, the water will have begun to noticeably evaporate. It'll start to look like the almonds are swimming in syrup, and when you drag your spoon across the bottom, you'll be able to see the bottom of your pot. When it looks like this . . .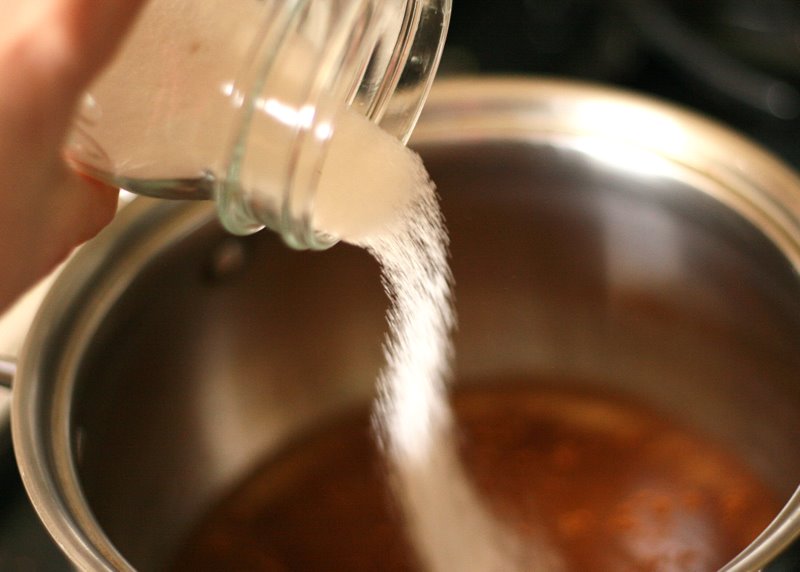 Lower the heat, then add the vanilla and the remaining sugar. Because, despite what you may think, there isn't enough sugar.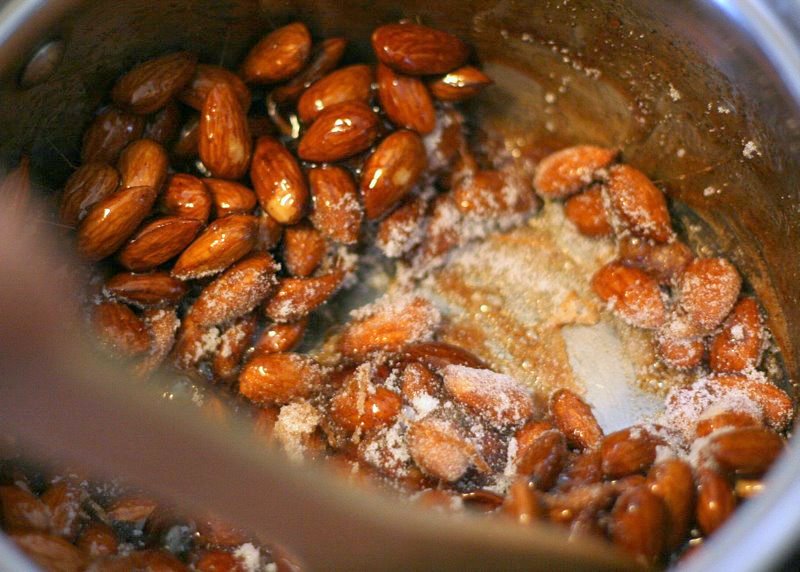 Stir it around to get it incorporated. Yep, keep stirring.
After a minute or so, the almonds will be coated in a sandy-looking sugar mixture and the pot will appear very dry.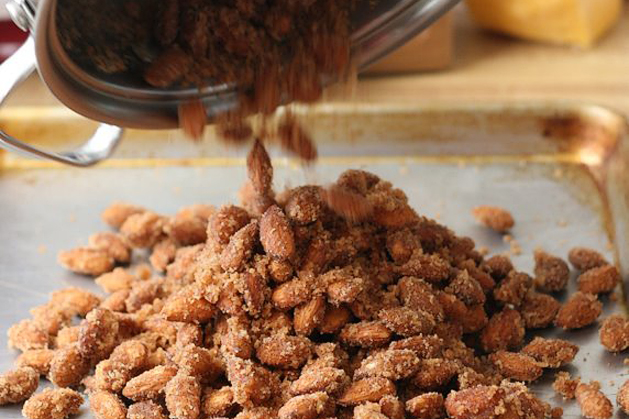 After three batches of these nuts, I can testify to you that now is the time to remove them from the pot. If you stir any longer, the sugar clumps will fall off the almonds and there may be some tears involved. We need that sugar.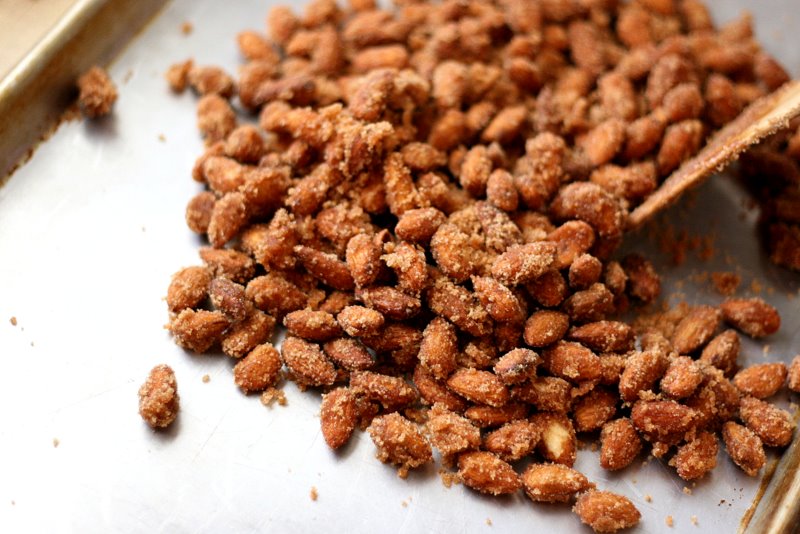 Spread the almonds out on a cookie sheet and let them cool. Chances are they'll cool just long enough for you to pop one in your mouth and only wince slightly.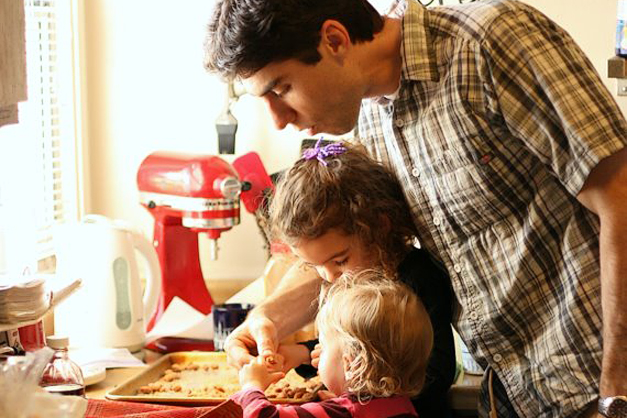 They taste even better than they smell (especially while they're still warm!), and you'll soon be surrounded by snitching fingers and whining children and/or husbands.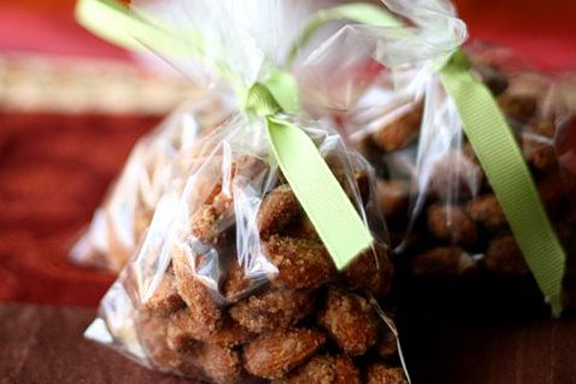 If you happen to have a few leftover (or if you were smart and made a triple batch), wrap some up and give them away. You'll make some new friends. Maybe even a few best friends. Perhaps a stalker or two, but they may be peeking in your windows just to get a better whiff.
Many thanks to Birgit Kerr (who blogs at Scrapalicious Bytes) for a wonderful recipe!
Recipe notes: I used this recipe as a starting point and reduced the amount of sugar to 1 1/3 cups. I also added the remaining sugar into the almonds when the mixture looked syrupy instead of dry, and I only cooked it for another minute or two before I spread them out to cool.
Printable Recipe
Description
There are many things I associated with Advent/Christmas time growing up in Germany. But none more than the deliciously enticing smell of fresh "burnt" almonds walking through a Christkindlmarkt (German Christmas markets). They are actually quite easy to make at home, and presented in cute little cellophane or paper cone bags, they make lovely favors or hostess gifts around this time of year, too!
Ingredients
⅓ cups Water, Plus 2 Tablespoons
1-⅓ cup Sugar, Divided
1 teaspoon Cinnamon, Ground
2 cups Raw Almonds
1 teaspoon Vanilla Extract
Preparation Instructions
Use a heavy saucepan (NOT the nonstick kind) and a wooden spoon.
First add the water, 1 cup of sugar and the cinnamon and stir. Bring it to a boil over medium heat. Add the almonds to the mix, raise the temperature to high heat and stir CONSTANTLY until the water is boiled away.
The sugar will dry out a little but start to stick to the almonds. Keep stirring them around, so that the almonds don't burn on the bottom of the pan.
Turn the heat under the pan to medium-low, to keep the sugar from browning too fast. Keep stirring until the almonds start having an even shiny coat.
Don't be distracted by the heavenly aroma that is enveloping your kitchen—you need your full concentration on the task!
Now dump in the rest of your sugar. Keep stirring, and add your vanilla. At this point, I like to mention that if you have vanilla sugar or a powdered type of vanilla flavoring, do feel free to use that over the liquid kind. It tends to work better. If you do, mix it with the 1/3 of a cup of sugar you are using for the second lot of sugar.
At this point, there might be quite some noise ensuing from your pan. Some crackling and popping, but hopefully no snapping. It depends on how fresh your almonds were. Really fresh almonds will make a popping noise and the coat may start to crack. That's the water in the almonds escaping. If the almonds are older, there won't be as much of that!
Keep stirring until the almonds are fairly shiny, but still a bit lumpy. You don't want them completely smooth. The best ones are the ones that are shiny in some areas with some delicious lumps of cinnamon sugar on other parts of the almond.
As soon as you see that happening, take them off the heat and transfer the almonds to a sheet of parchment paper. Spread them apart as much as you can, but don't worry about some of them sticking together initially. BE CAREFUL, however. These are extremely hot, so only use a spoon. These babies can really burn you!
While they are cooling down, keep on breaking them apart with your spoon(s) until they are all separated. Fair warning: these are totally divine when they are still ever-so-slightly warm. There, you've been warned!
Once they are cooled, hide (ahem, I meant store) them in a dry, closed container. Theoretically, they keep for several weeks. I've never had an opportunity to test that theory.


_______________________________________
Be sure to check out Natalie's own beautiful food blog, Perrys' Plate, where you can see her growing collection of lovely recipes. There's always something new to see there. Go visit now!