We're so excited to have a growing group of fantastic contributors here on Tasty Kitchen. Today I'd like to welcome Natalie (Perry's Plate), who has contributed nearly sixty scrumptious dishes to Tasty Kitchen over the past year. We've featured so many of Natalie's recipes on Tasty Kitchen, many of them are permanently committed to my memory. For her inaugural post, Natalie shares a delicious Thanksgiving-friendly recipe from Tasty Kitchen member kvmolen. Thank you to Natalie and kvmolen for bringing us this yummy dish! –PW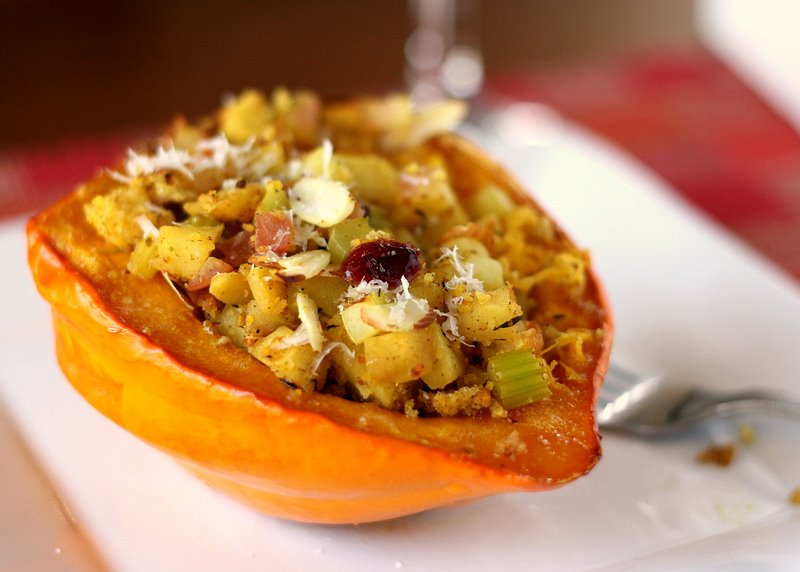 As a reformed squash hater, it still surprises me when a squash recipe gets lodged in my head and won't leave until I've prepared it. That's how I felt when I ran across this Acorn Squash with Cranberry-Cornbread Stuffing from TK member kvmolen. It didn't help that I'd picked up a couple of gorgeous golden acorn squashes at a farm stand on the way home from the beach the day before.
(Doesn't that sound like a lovely place to live? I never thought in a million years I'd say anything like that, hating squash all my life and growing up in Idaho, which has a severe shortage of beaches. We're really enjoying the coast right now!)
This squash is a cinch to prepare and the stuffing has a lot of great flavors. I was surprised by how not-sweet it was, despite the many ingredients that impart a sweeter flavor. Like apples. And corn muffins. Oh yeah, and sugar.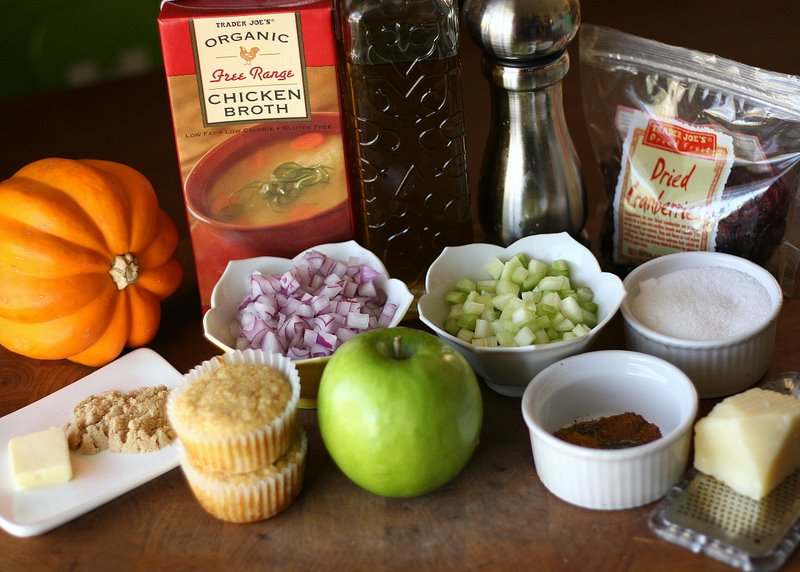 Here's what you'll need: one beautiful acorn squash (usually dark green—the one above is a golden acorn), chicken broth, olive oil, salt, pepper, dried cranberries, fresh Parmesan cheese, spices (curry powder, cinnamon, and thyme), celery, onion (the recipe says yellow, but my cupboard said red), one tart apple, a couple of corn muffins leftover from chili night, a touch of brown sugar and some butter.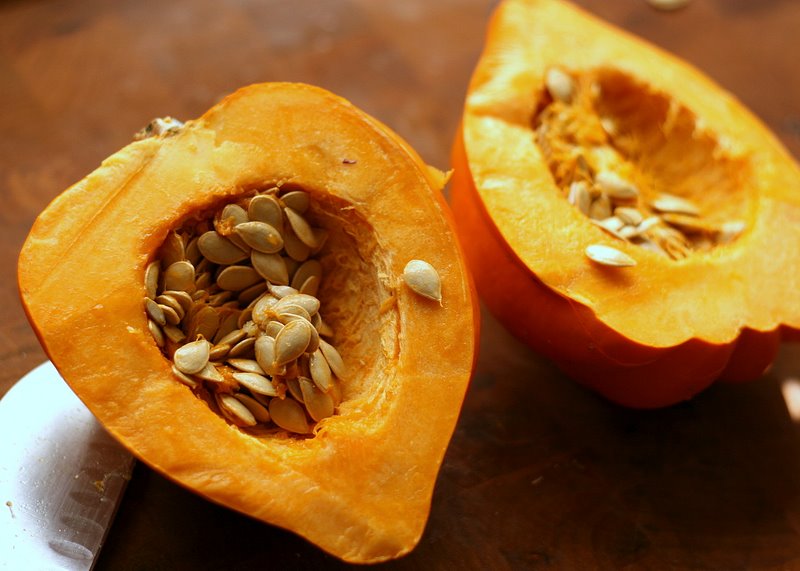 First preheat your oven to 400 degrees F.
Alright folks, here's the hardest part of the entire process: opening that blasted squash. Acorn squashes are pretty hard, so you'll need a nice, sharp knife and some triceps. Stick the knife in it and work your way down, turning the squash and reinserting the knife as needed.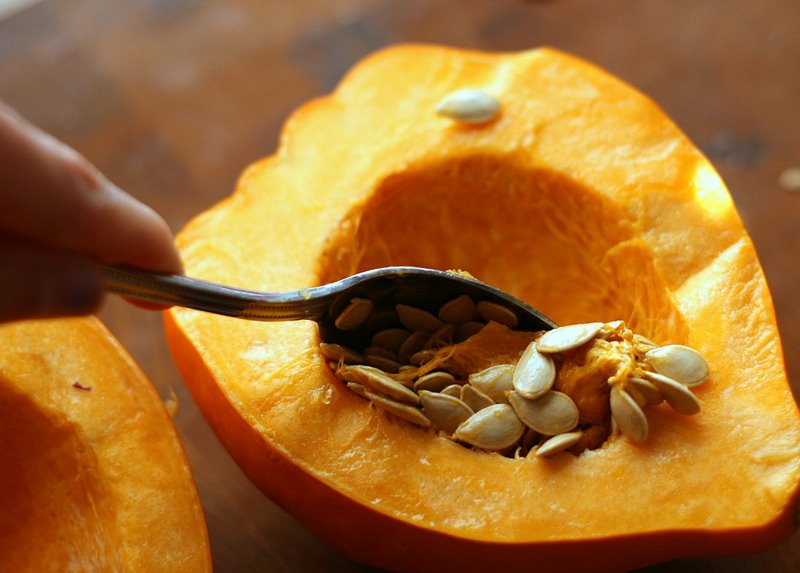 Just scoop out the seeds with a spoon and try to get most of the stringy bits out as well. Once you get it cleaned out, run and grab a small baking dish. I used an 11×7 glass one.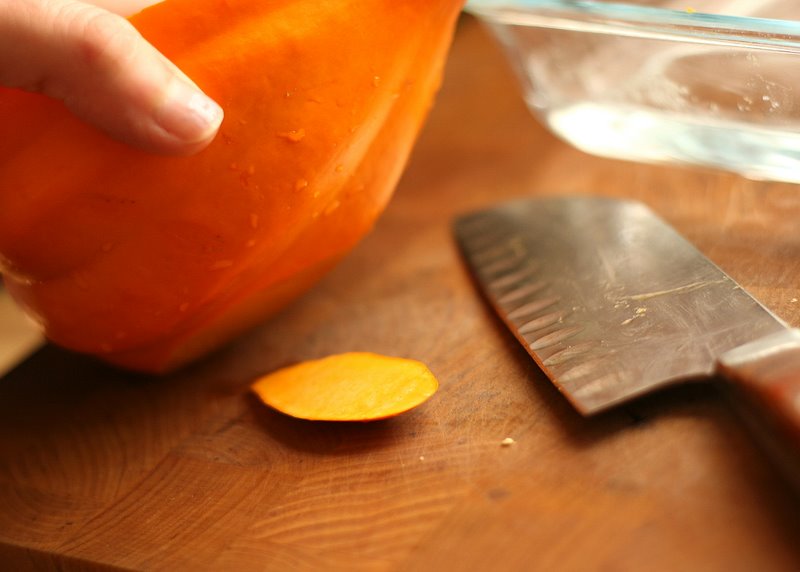 Lay the squash halves cut-side up in the baking dish. If you find that they roll around, just slice a small piece off the bottom (shown above) to create a flat surface.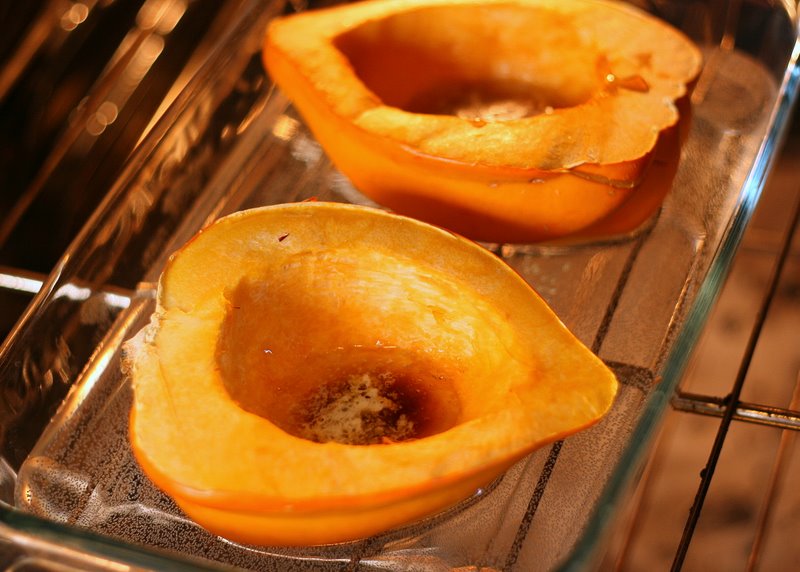 Put a little butter and brown sugar in each half, fill the dish with about an inch of water and bake for 15 minutes. (No, you don't have to melt the butter and sugar before they go in the squash.)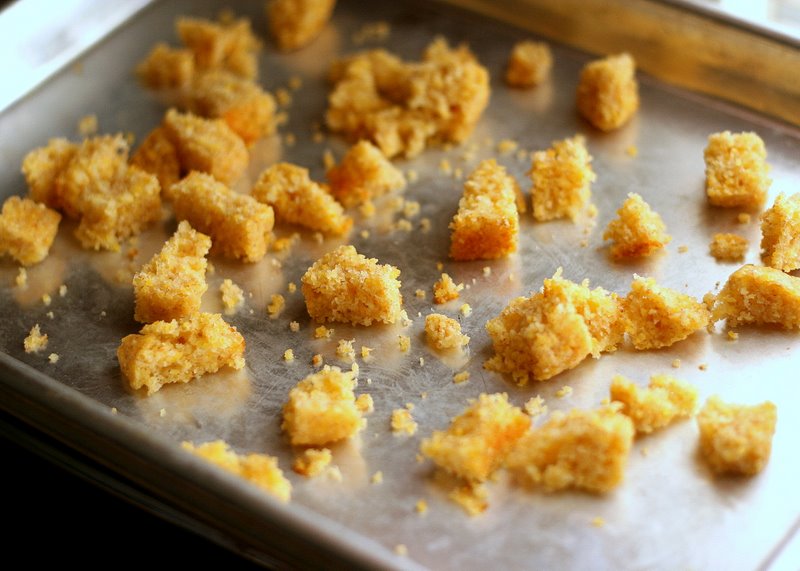 Meanwhile, cut the corn muffins into bite-sized pieces and lay them on a small baking sheet. I used a quarter sheet pan. I love those.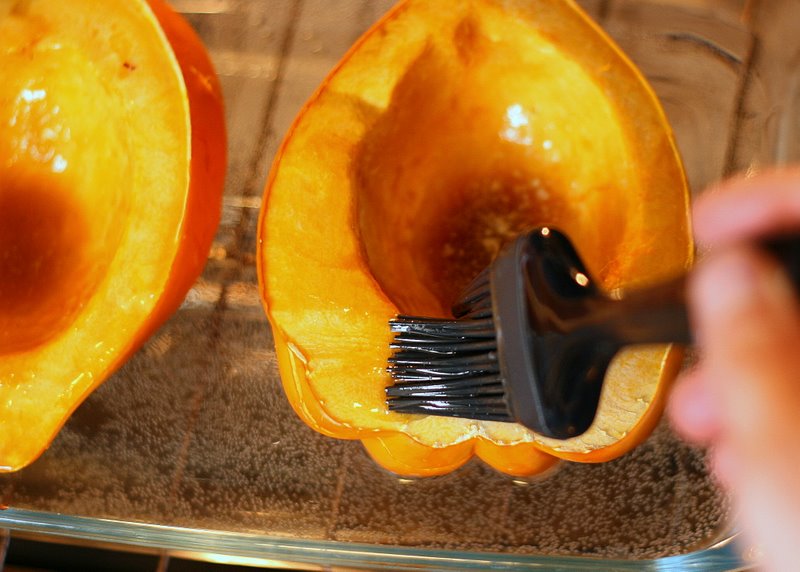 After the squash has baked for 15 minutes, pull it from the oven and baste the top with the melted butter and sugar from the center. Mmm.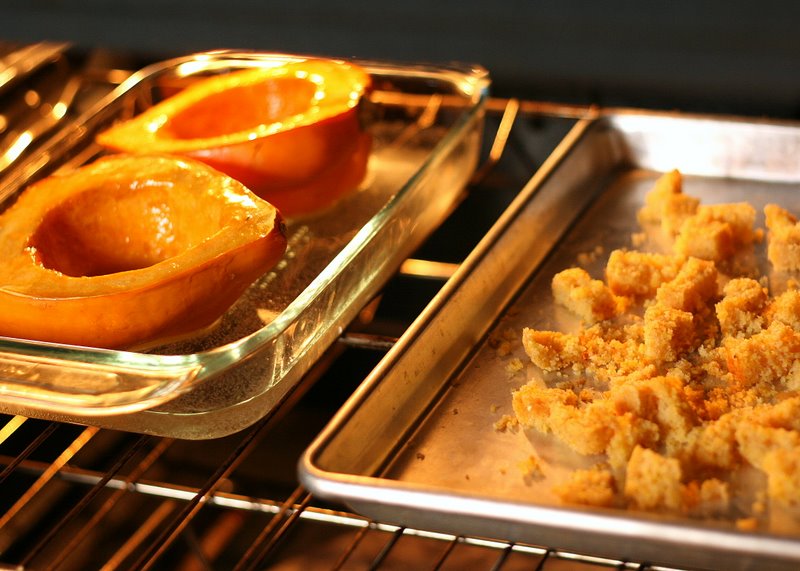 Return the squash to the oven and place the pan with the cornmeal right next to it. Take the cornmeal out after about 10 minutes or so or until it gets golden and a little crunchy. Leave the squash in for 35-40 minutes or until fork-tender.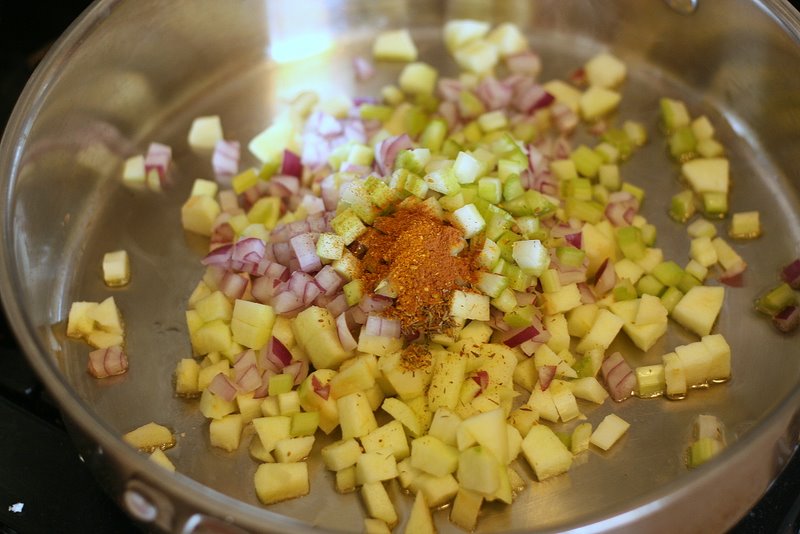 While the squash and the cornbread are hanging out in the oven, start on the stuffing. Grab a skillet or saute pan and heat the olive oil over medium-high heat. Add the apples, celery, onion, and spices. All at once.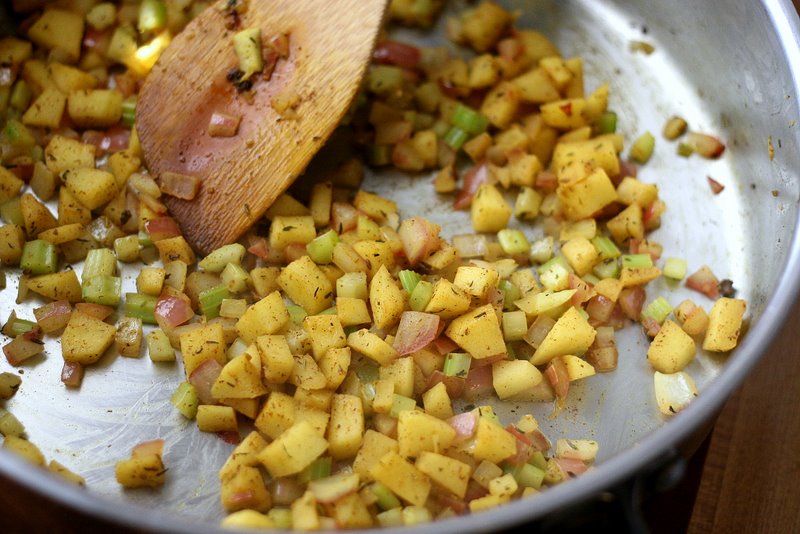 Cook, stirring occasionally, for about 8-10 minutes or until everything is softened. (I needed to add a couple splashes of chicken broth to keep it from sticking.) Remove from the heat and set aside until the cornmeal is finished baking, then bring the skillet back up to medium-high heat.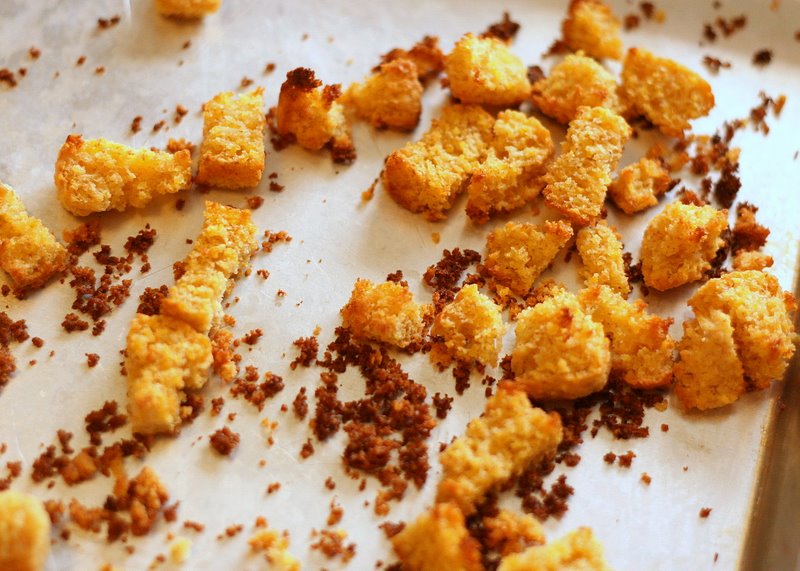 Here are the finished cornmeal bits. You'll want to take these …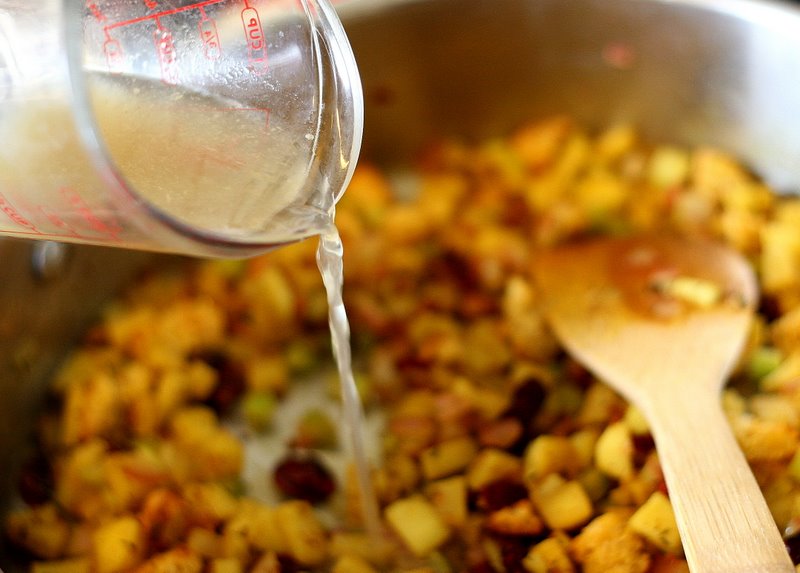 The chicken broth …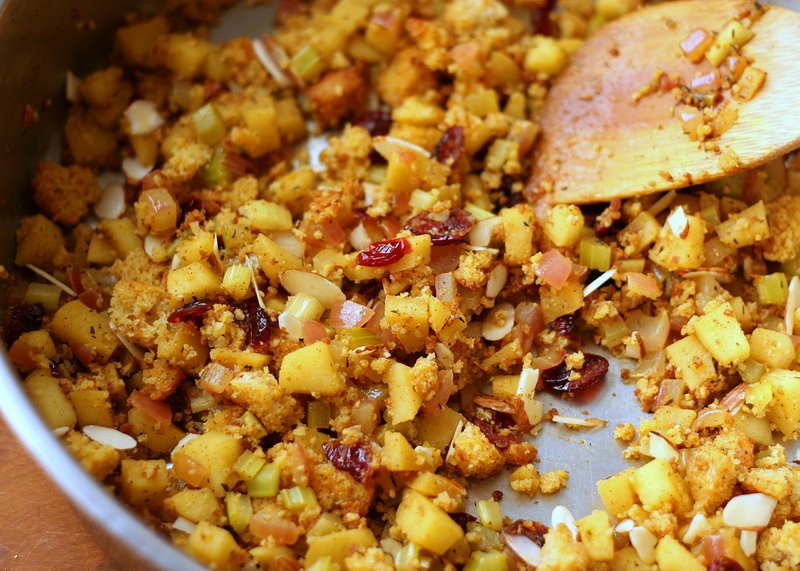 And the cranberries. Add them to the skillet. Cook until the chicken broth is all soaked up and the cornmeal is soft. This wasn't in the recipe, but I threw in a handful of sliced almonds for kicks. Salt and pepper to taste.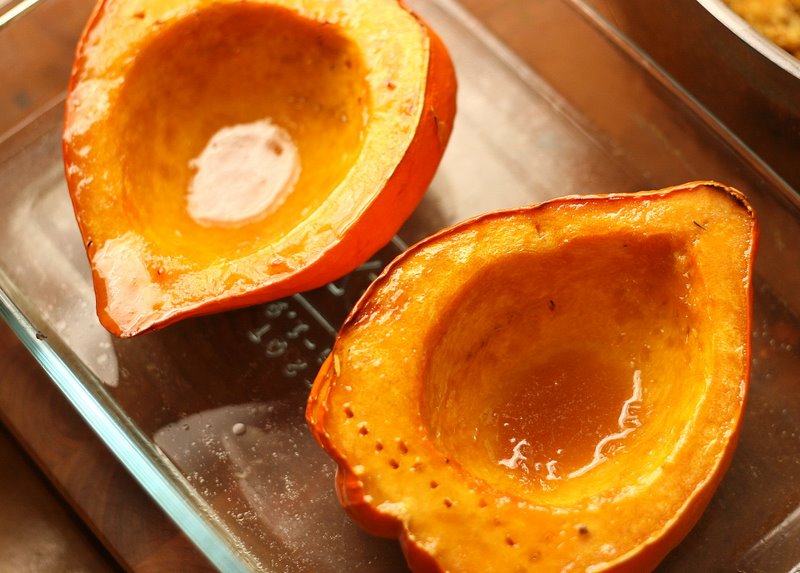 When you think the squash may be done, stick a fork in it to see if it's tender. You can do it about eight times like I did. Just to be sure.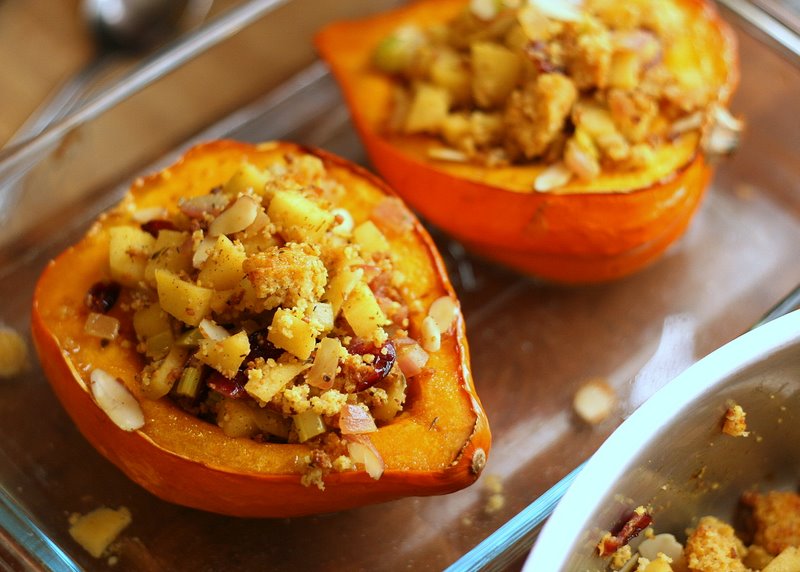 Leave the squash in the pan and spoon some stuffing into each cavity. You'll have some stuffing leftover. I had enough leftover for two more squash halves! It's nice to go back for refills, though, so maybe you'd be better off with just two halves. If your stuffing has cooled of completely, return the pan to the oven for 5 minutes or so to heat through.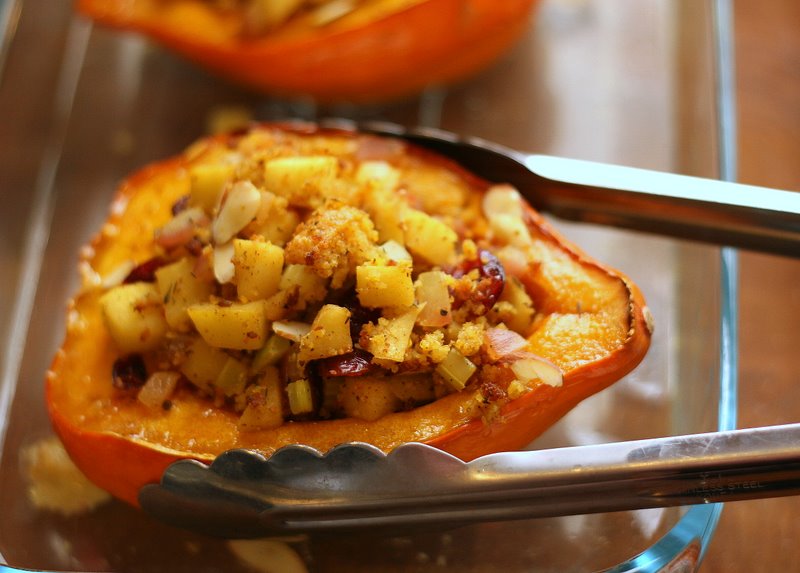 If everything's ready to go, take a pair of sturdy metal tongs (or pansy plastic ones at your own risk—these things are heavy) and transfer to a plate. Top with a little grated Parmesan cheese if you feel so inclined.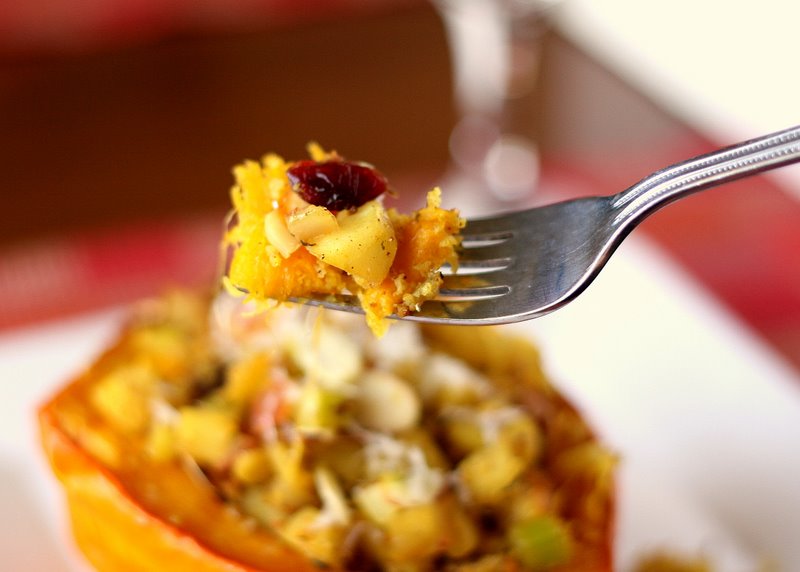 And dig in.
Squash, apples, cranberries … doesn't that just scream autumn? We really enjoyed these, and thought it was a solid vegetarian dish with a lot of fun flavors. The stuffing would also be great with some chicken-apple sausage in place of half the apple to satisfy your inner carnivore.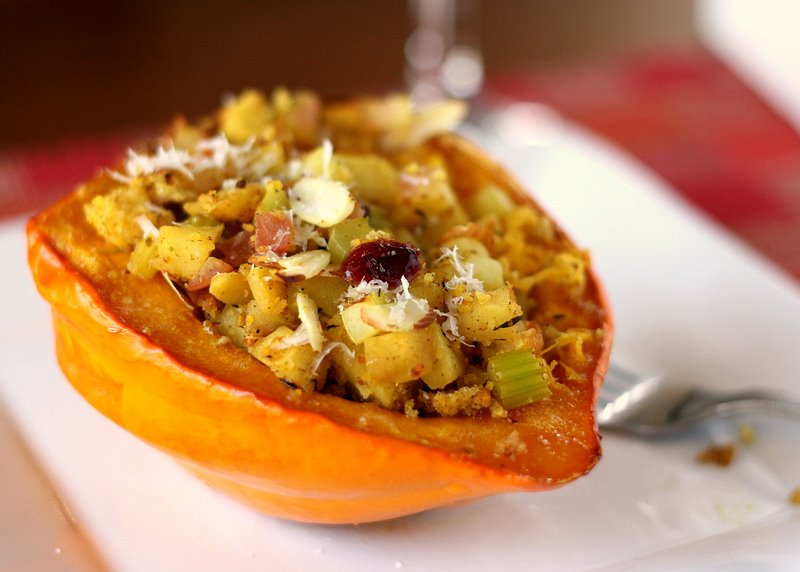 Thanks for posting such a wonderful recipe Katie!
Printable Recipe
Description
Great fall flavors packed into one tasty dish!
Ingredients
1 whole Acorn Squash, Cut In Half Lengthwise
2 teaspoons Brown Sugar
2 teaspoons Butter
1 Tablespoon Extra Virgin Olive Oil
½ cups Celery, Diced
½ whole Yellow Onion, Diced
1 whole Tart Apple, Peeled, Cored, And Diced
½ teaspoons Dried Thyme
½ teaspoons Curry Powder
¼ teaspoons Cinnamon
2 whole Cornbread Muffins, Cut Into Bite-sized Pieces
¼ cups Dried Cranberries
½ cups Chicken Stock
Salt To Taste
Freshly Ground Pepper, to taste
Sprinkle Of Parmesan Cheese (optional)
Preparation Instructions
1. Preheat oven to 400 degrees.
2. Scrape seeds and stringy flesh from squash. Place squash in a baking dish, cut sides up. Pour about an inch of water in the bottom of the dish. Put one teaspoon butter and one teaspoon brown sugar in each half.
3. Place in the oven for 15 minutes. Baste squash with the butter and sugar mixture after the 15-minute mark to prevent drying. Put back in the oven for another 30 to 45 minutes, or until fork tender.
4. Meanwhile, heat olive oil in a skillet and add the celery, onion, apples, thyme, curry, and cinnamon. Cook until softened. Remove skillet from heat and set aside.
5. Place cubed cornbread on a baking sheet and set next to the squash in the oven. Bake for about 10 minutes, or until golden and crunchy.
6. Add cranberries and the toasted cornbread to the skillet mixture and gently stir to combine. While stirring, slowly add the chicken broth. Season with salt and pepper.
7. Fill the fork-tender squash with cornbread stuffing and place back into oven until heated through.


_______________________________________
Be sure to check out Natalie's own beautiful food blog, Perrys' Plate, where you can see her growing collection of lovely recipes. There's always something new to see there. Go visit now!