Amy does it again, bringing us beautiful step-by-step instructions for Scalloped Sweet Potatoes, submitted by Tasty Kitchen member quincyskeeper. Thank you, Amy! –PW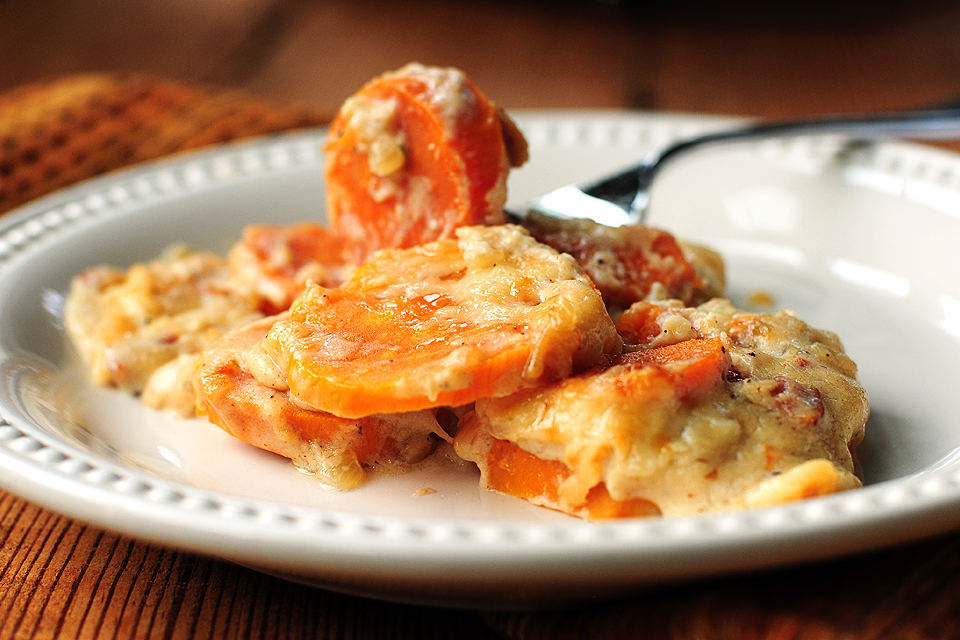 When I think of sweet potatoes, I think of the holidays—in particular, Thanksgiving. So when I stumbled across this recipe for Scalloped Sweet Potatoes, submitted by Tasty Kitchen member quincyskeeper, I thought it would make the perfect side dish for a holiday spread. Instead of waiting until Thanksgiving day to give it a go, I tested it on my willing family first.
Boy was I surprised. To begin with, I'm not usually a big sweet potato fan. I grew up with them being mashed to pieces and topped with marshmallows. But this recipe has changed my mind a bit. It's a savory bite of goodness, and was perfect served alongside a nice steak and fresh crispy salad. Certainly not a recipe to save only for the holiday table.
Wanna give it a go? Well, alright then. Let's get started.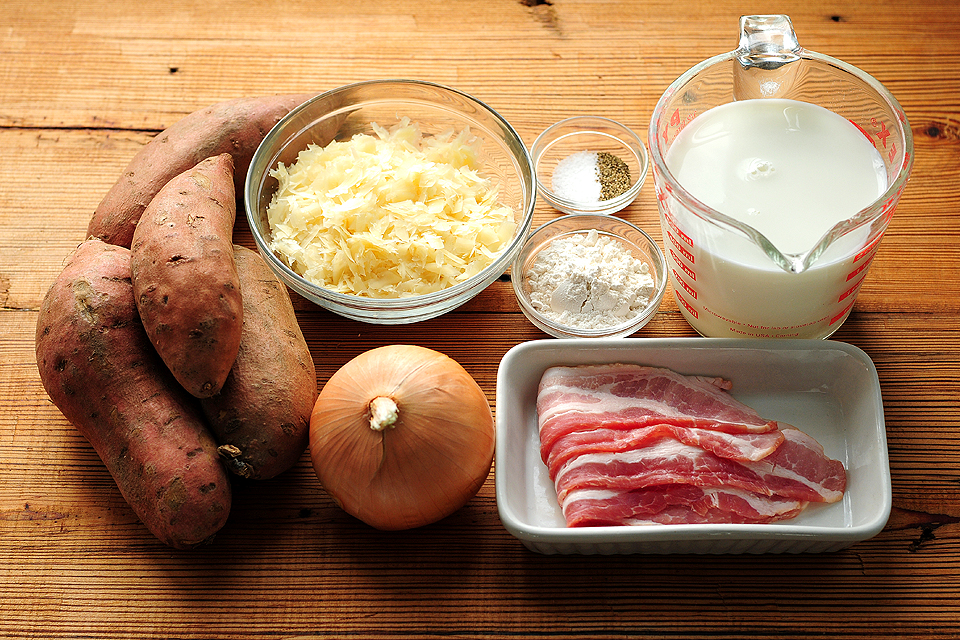 You'll need sweet potatoes, bacon, an onion, flour, salt, pepper, milk and parmesan cheese. All yummy stuff for sure. (Be sure to look for the link to the full recipe, including all ingredient measurements, preparation details, etcetera at the end of this post.)
Go ahead and preheat your oven to 325°F.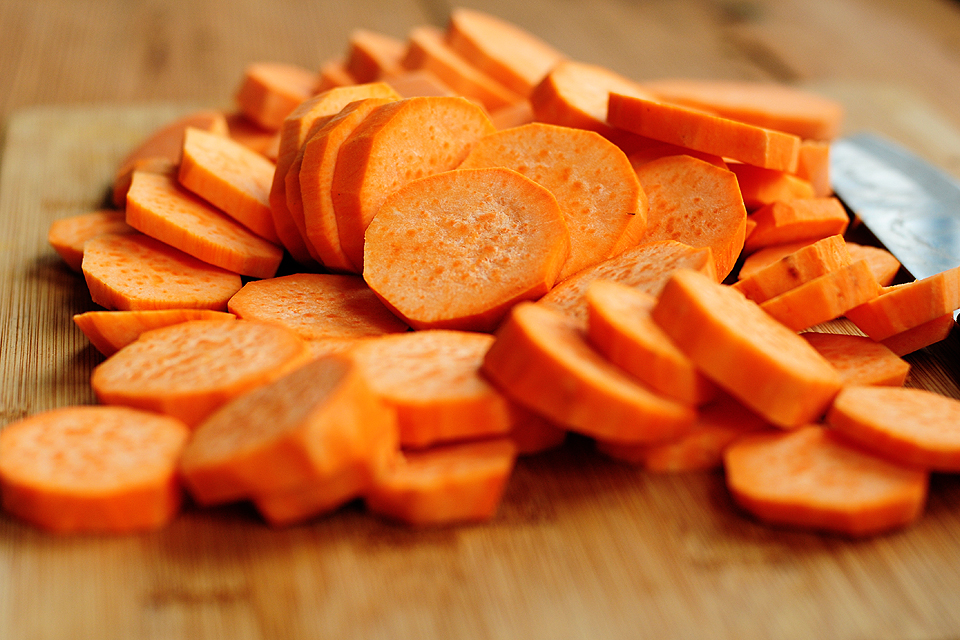 Begin by peeling the sweet potatoes and slicing them about 1/4″ thick.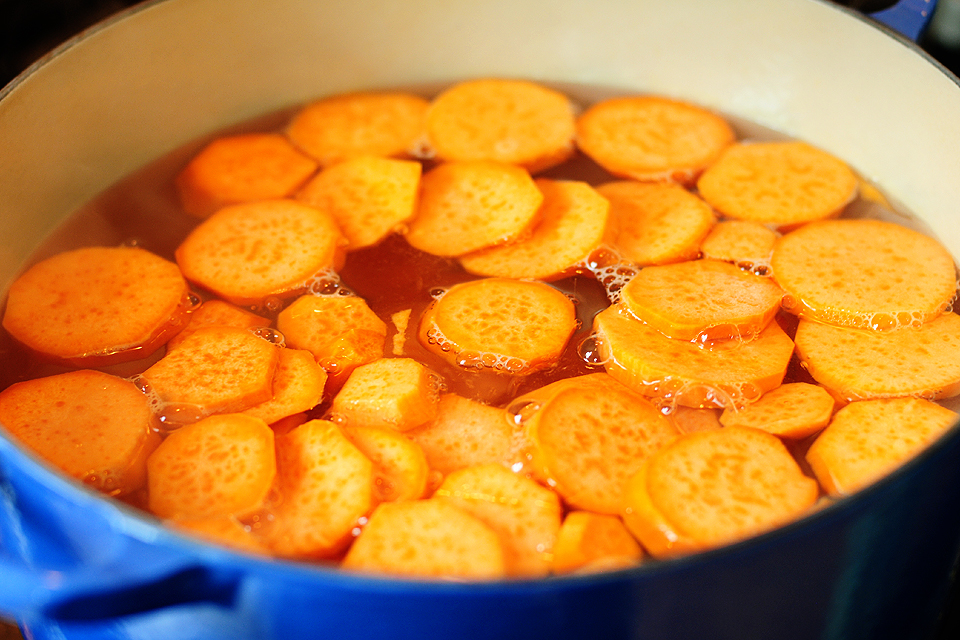 Cook the sweet potatoes for about 5-10 minutes in boiling water.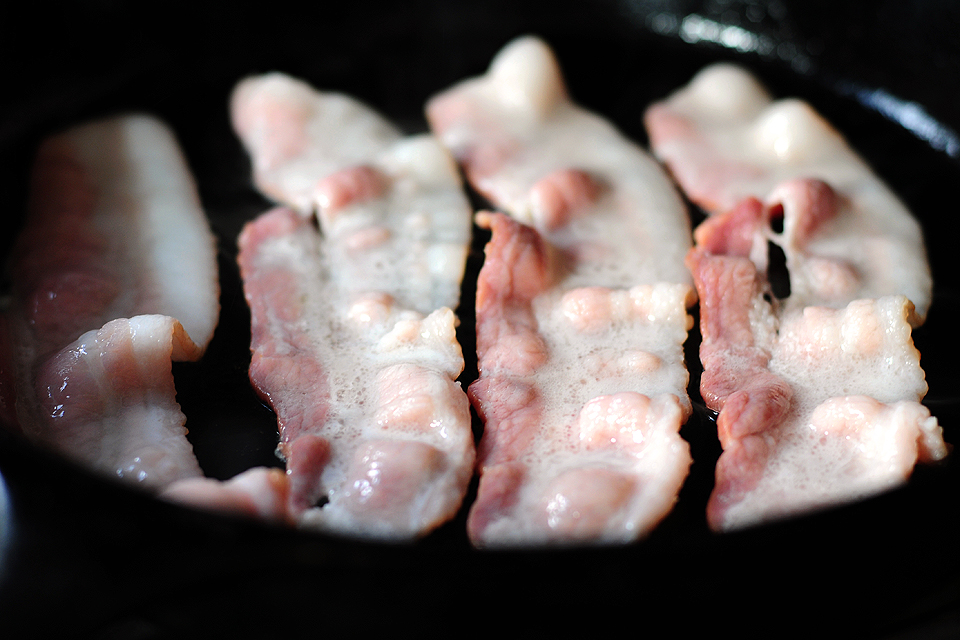 While the sweet potatoes are boiling, fry the bacon until crispy.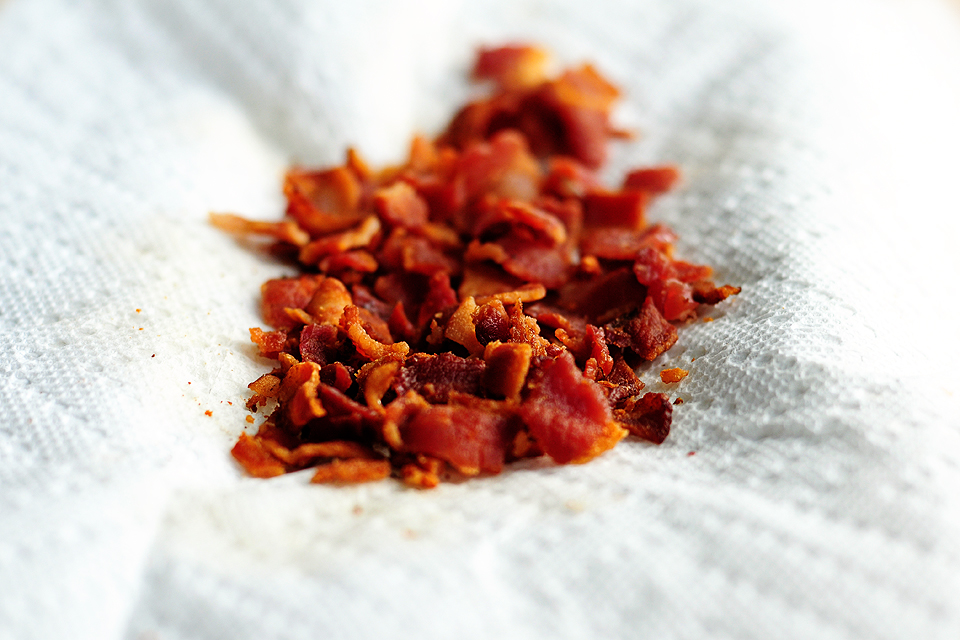 When bacon is done, place it on a paper towel to cool. After it has cooled, crumble it up. No nibbling! The sweet potatoes need it. They need all that bacon goodness. You'll see. And don't clean out the pan you fried the bacon in. You'll need that in a few.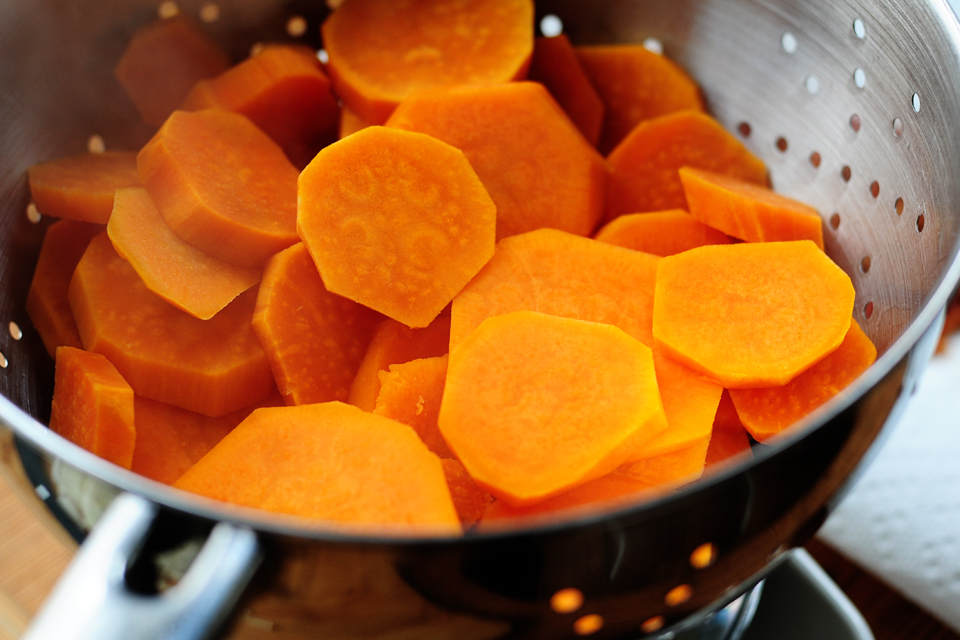 The sweet potatoes should be ready now. Drain them and set aside.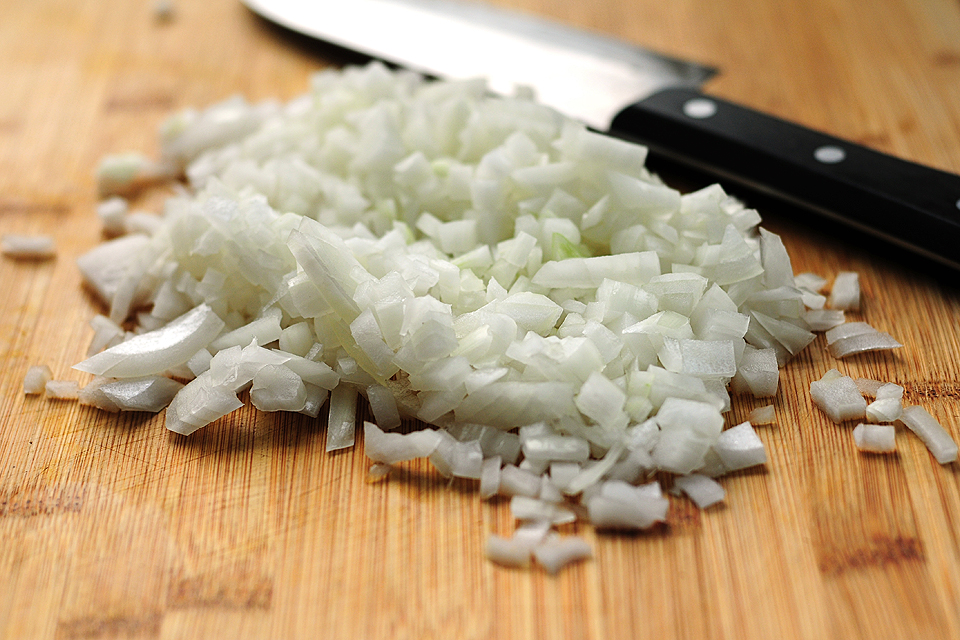 If you haven't already done so, dice the onion.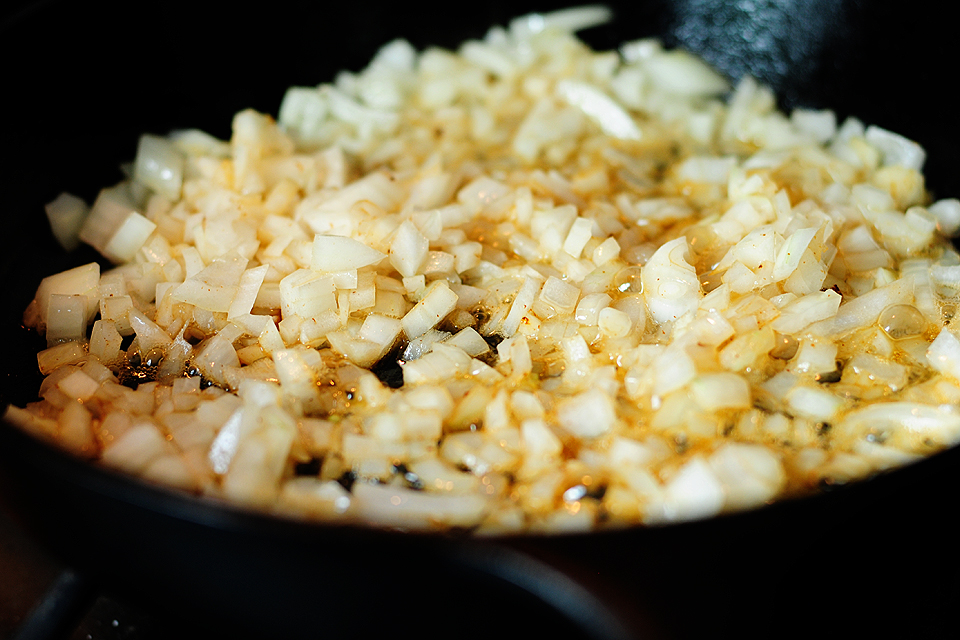 Add the onion to the bacon drippings.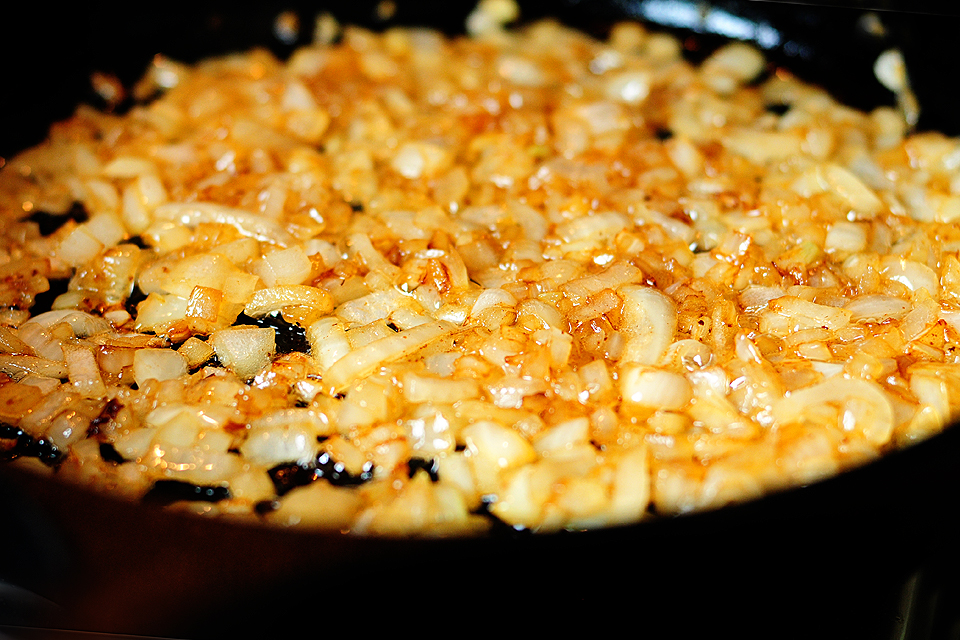 Cook the onions until tender and yumilicious. One of the best aromas ever: sautéed onions. Yum.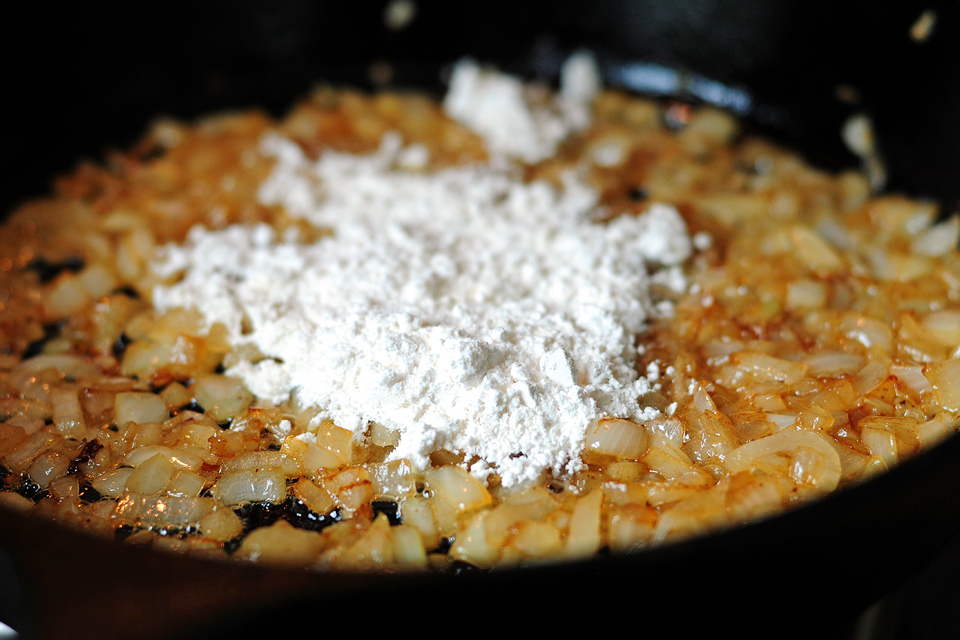 Next, lower the heat, and add the flour to the onions.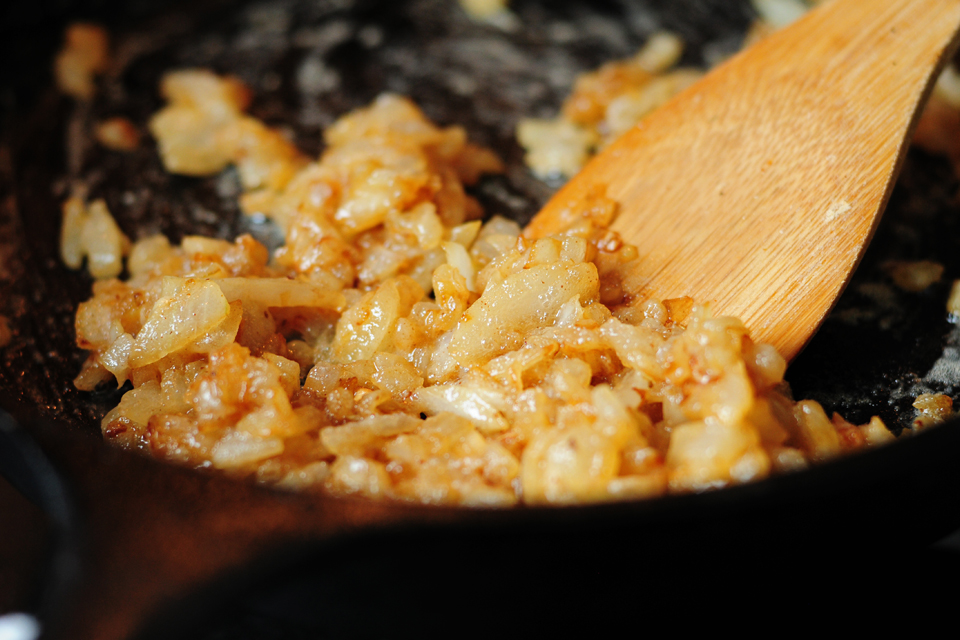 Combine well. It'll turn into a paste-like mixture.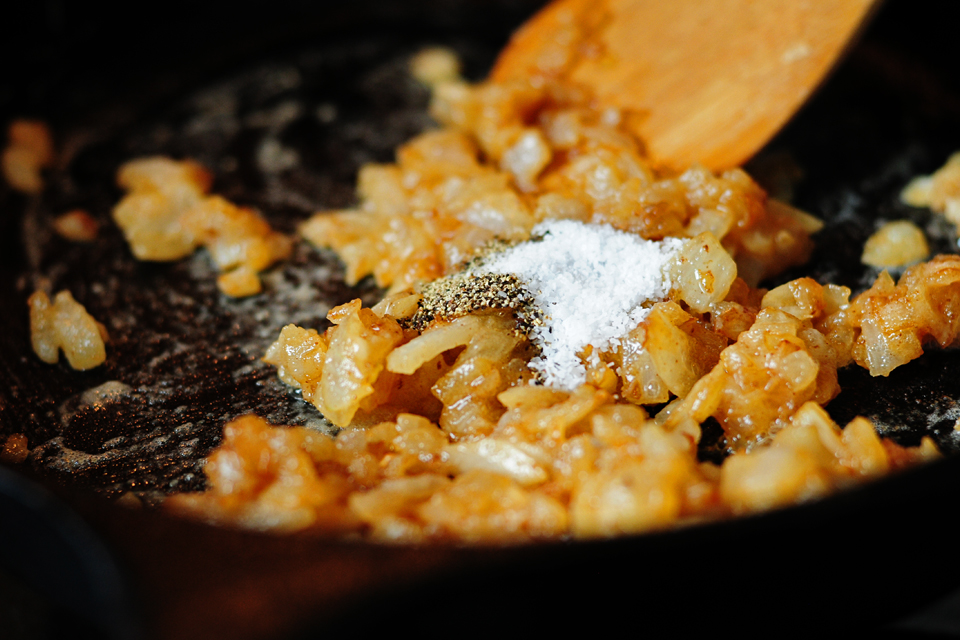 Add the salt and pepper next.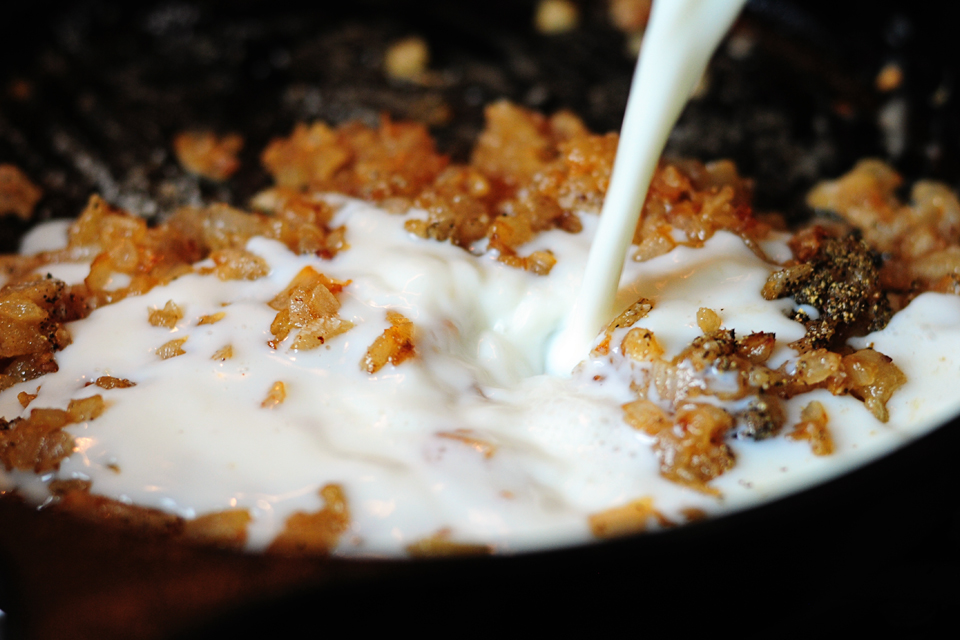 In goes the milk.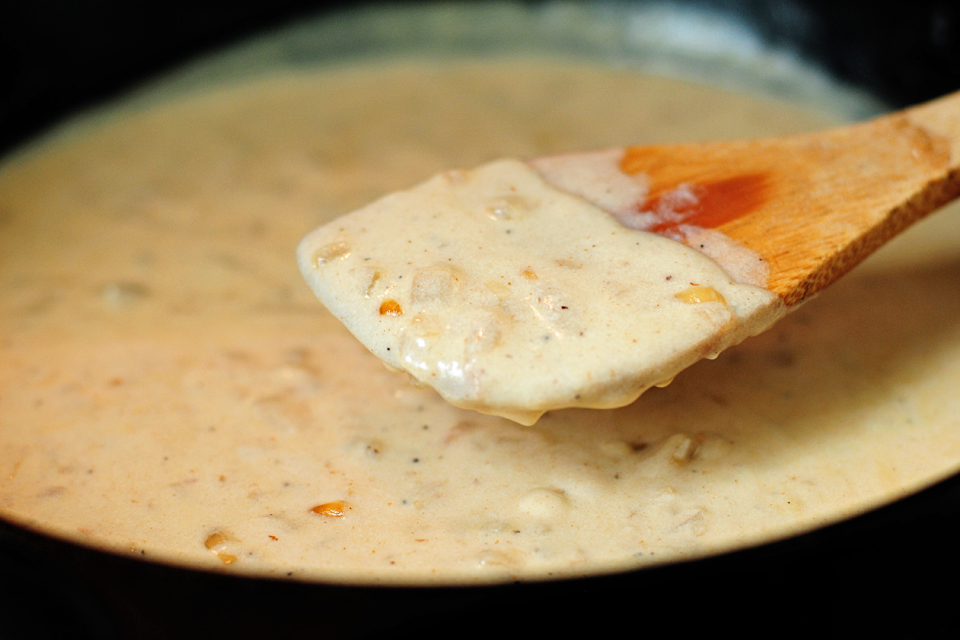 Stir the milk in and cook, stirring occasionally until mixture thickens. It should have the consistency of gravy. Not too thick but not watery either.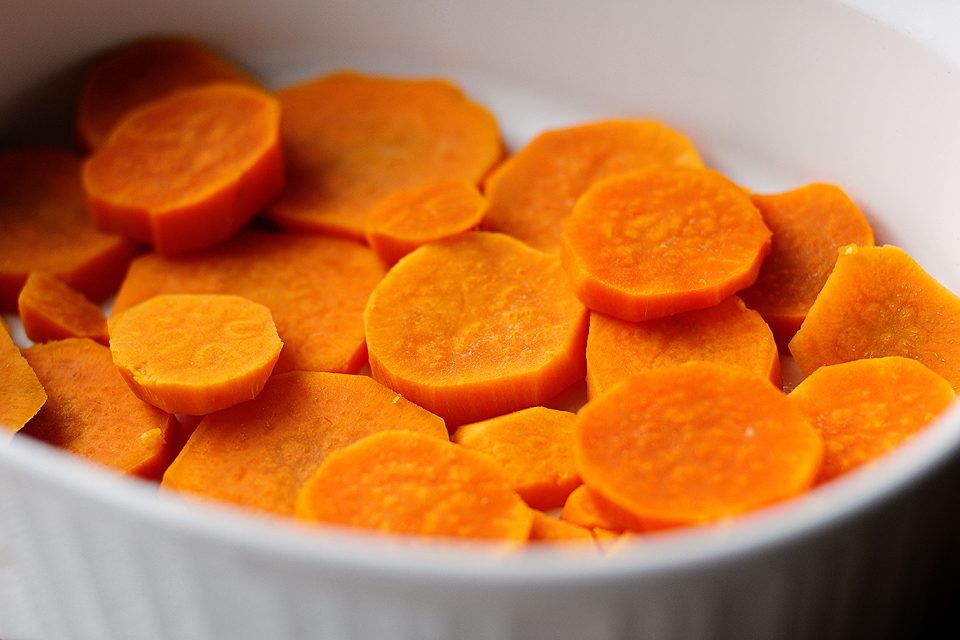 Now begins the assembly of the dish. Layer the bottom of a 11×7″ baking dish with sweet potatoes.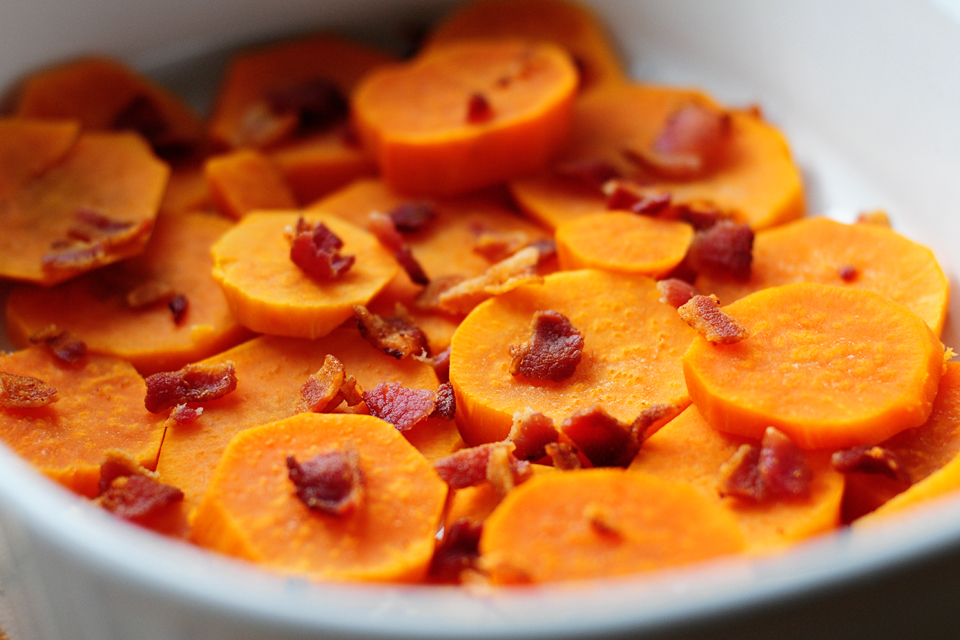 Half of the crumbled bacon goes on next.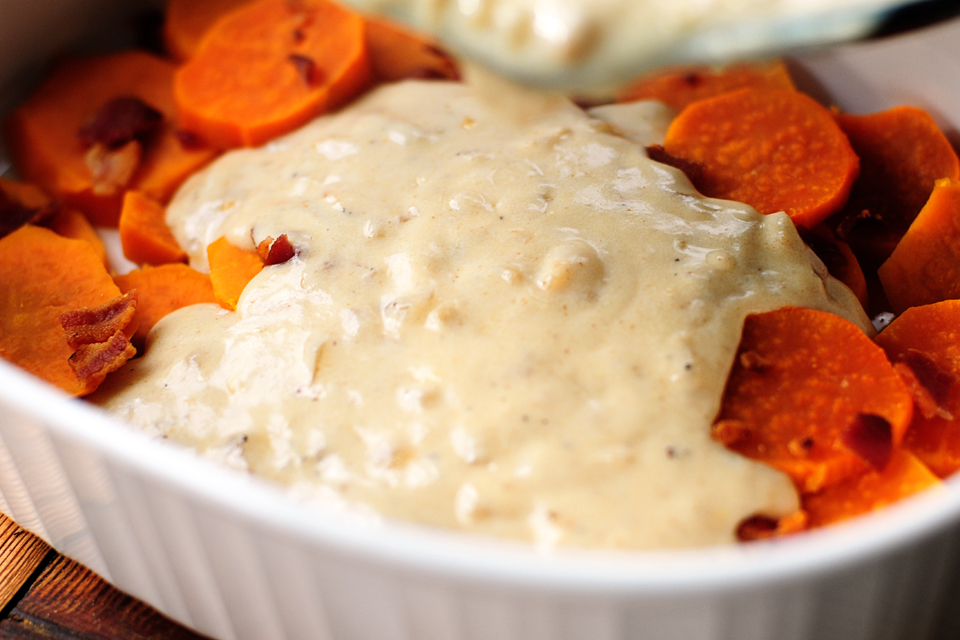 The yummy gravy mixture goes on now.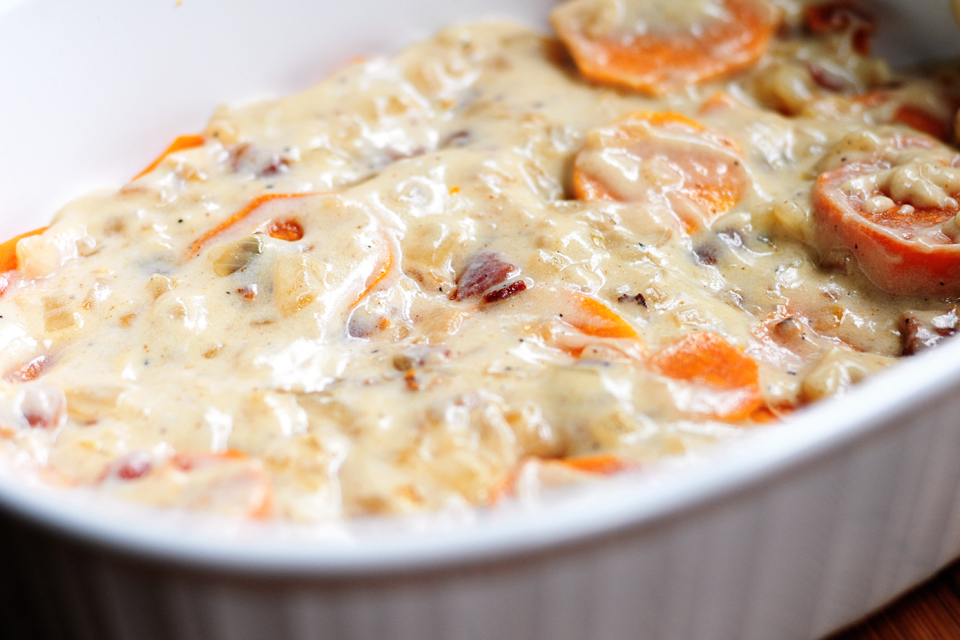 Spread out half of the gravy mixture.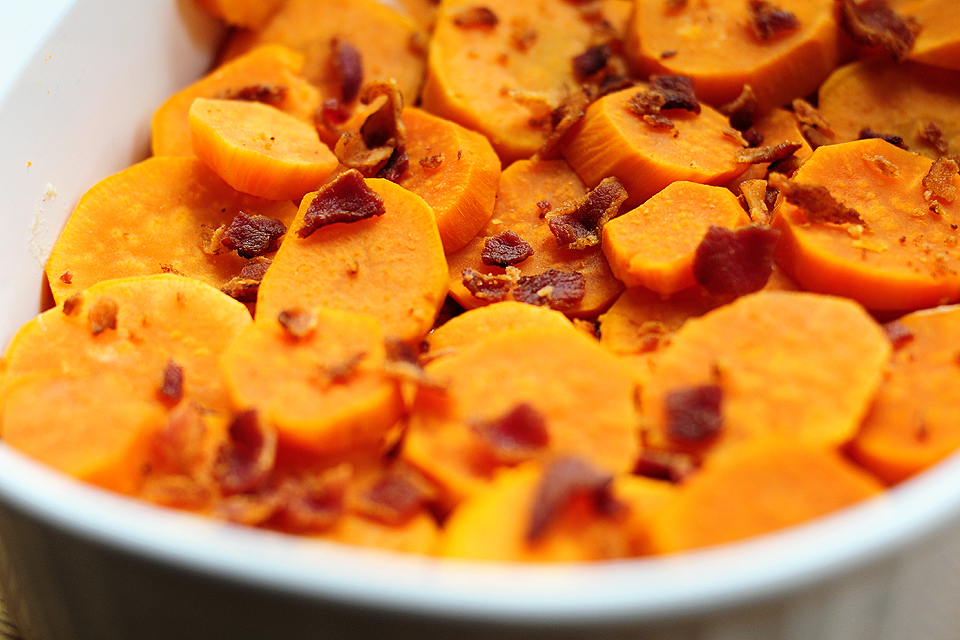 After that, arrange a layer of the remaining sweet potatoes and the crumbled bacon. It's all about the layering folks.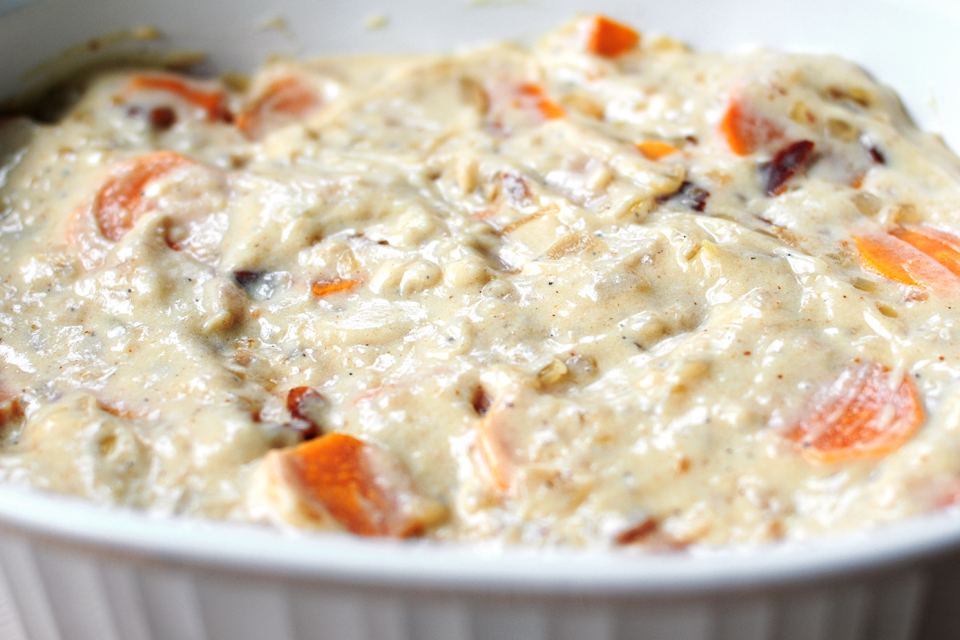 Next goes another layer of the rest of the gravy mixture.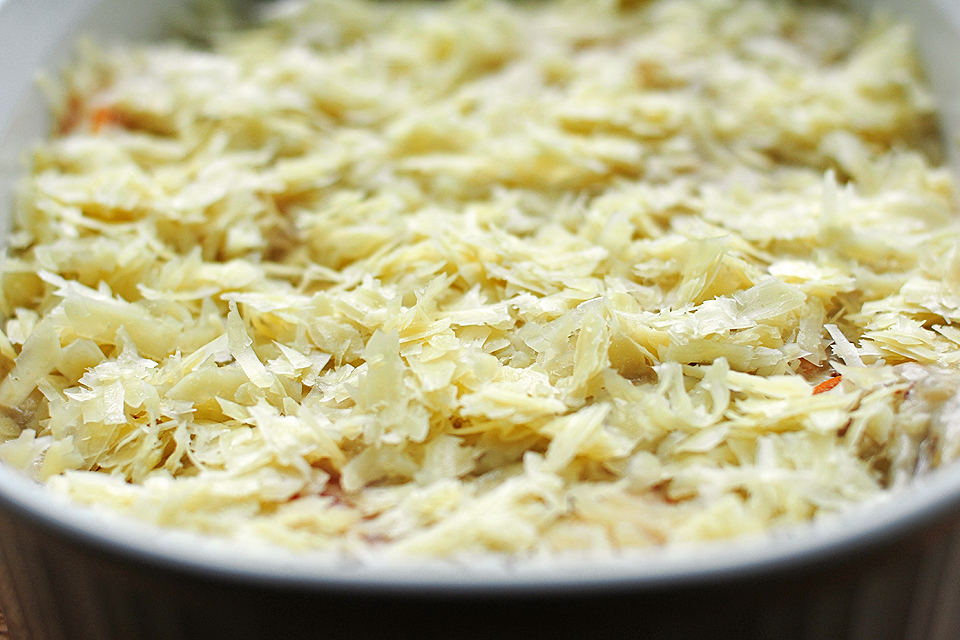 Top everything off with the grated cheese.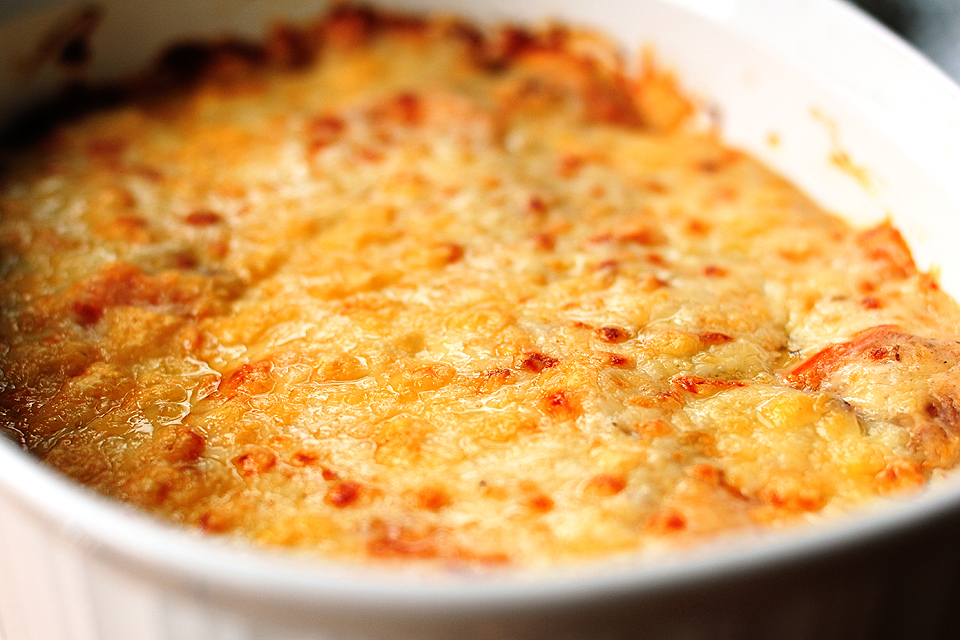 Bake for about 20 minutes, plus another 2-5 minutes under the broiler to brown the cheese if desired.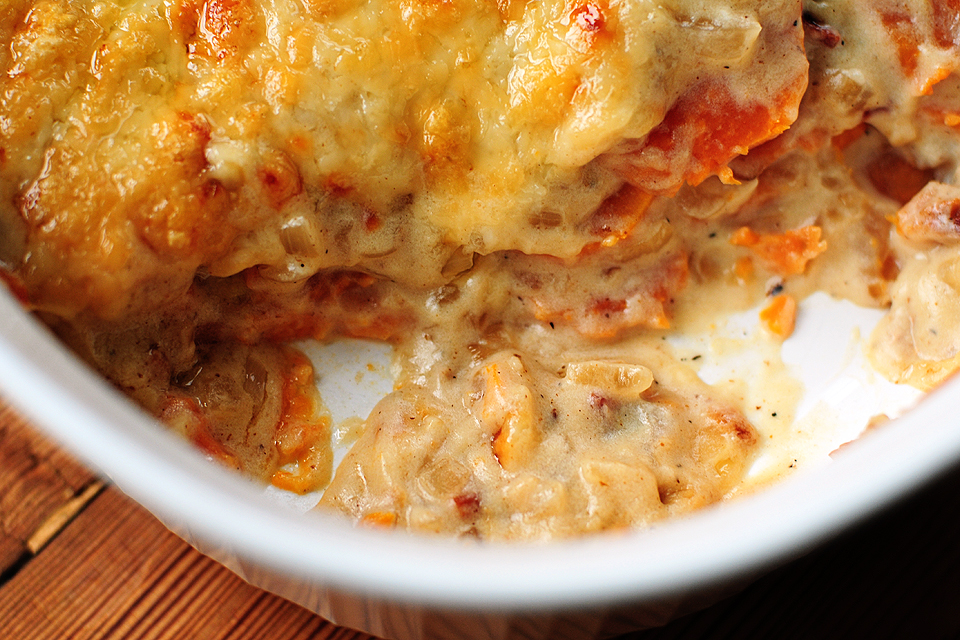 Yum!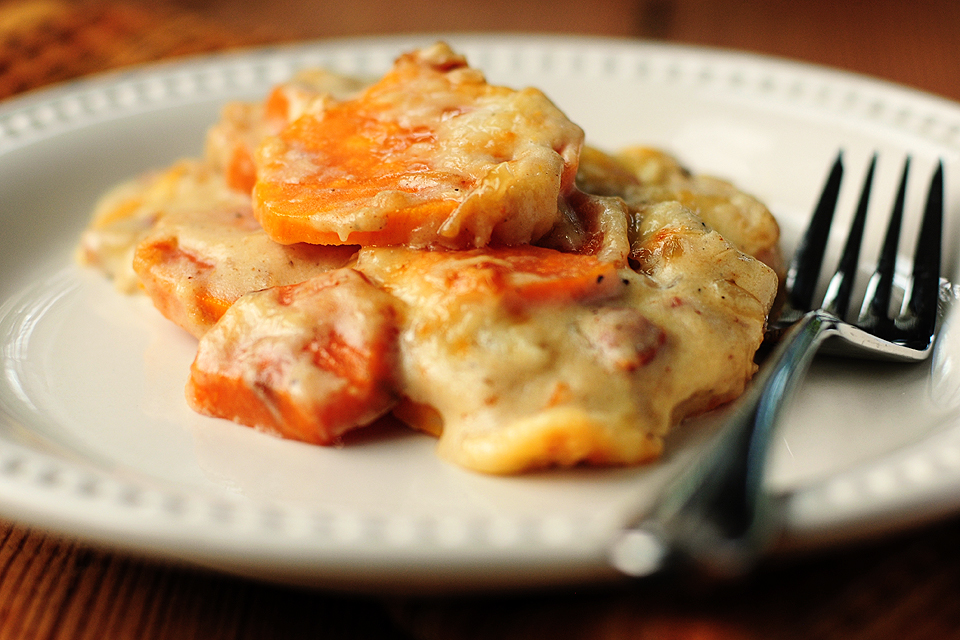 This is a nice change of pace to the regular sweet potato casserole or sweet potato pie. Try it. I bet you'll like it!
Thanks again to quincyskeeper for submitting this delicious recipe.
Printable Recipe
Description
These will change your mind about sweet potatoes forever.
Ingredients
2 pounds Sweet Potatoes
4 strips Bacon
1 whole Onion, Chopped
2-½ Tablespoons All-purpose Flour
½ teaspoons Salt
¼ teaspoons Black Pepper
2 cups Reduced-fat Milk
1-¼ cup Grated Parmesan Cheese
Preparation Instructions
Potluck tip: if prepared in advance, bake as directed, cover and refrigerate for up to one day. Reheat at 325 degrees for 15 minutes covered, then remove cover and continue heating until warm.
1. Preheat oven to 325 degrees. Peel potatoes; cut into 1/4 inch slices. Place potatoes in a large pot of boiling water. Cook for 5-10 minutes or until just tender. Drain well and set aside.
2. Meanwhile, fry bacon in a large skillet over medium-high heat until crisp. Drain on a paper towel, crumble and set aside.
3. Add chopped onion to bacon drippings and cook until tender. Stir in flour over low heat and cook to a paste. Add salt and pepper. Add milk and cook until mixture thickens slightly.
4. Arrange half of the sweet potatoes in the bottom of an 11×7 inch baking dish. Sprinkle on half of the crumbled bacon. Pour on half of the milk mixture. Arrange remaining potatoes, sprinkle with remaining bacon and pour the rest of the milk mixture over the top. Sprinkle with cheese. Bake for 20 minutes or until potatoes are tender. If desired, brown cheese for 1-2 minutes under the broiler.


_______________________________________
Amy Johnson is a blogger who writes about food, travel, the home (both inside and out), and various observations and random musings about anything and everything. Visit her blog She Wears Many Hats for a dose of deliciousness, practicality, hilarity, or just plain fun. She lives in South Carolina with her husband and two children.