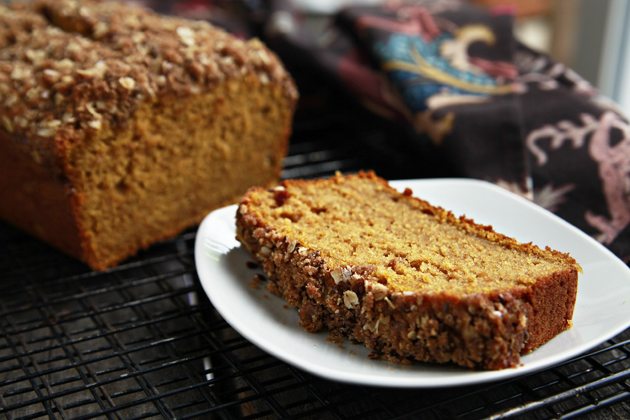 Fall has arrived with all her glory and I guarantee there is an oven somewhere baking a scrumptious pumpkin treat. Today I'm sharing a really … really … REALLY awesome Streusel-topped Pumpkin Bread which I absolutely love, submitted by TK member Shaina of Food For My Family.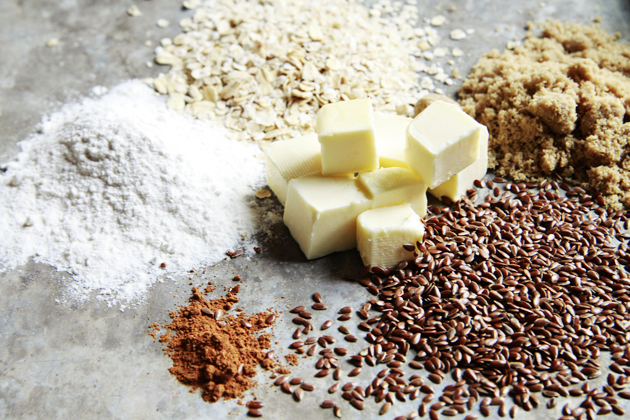 The recipe has two parts to it: the streusel topping …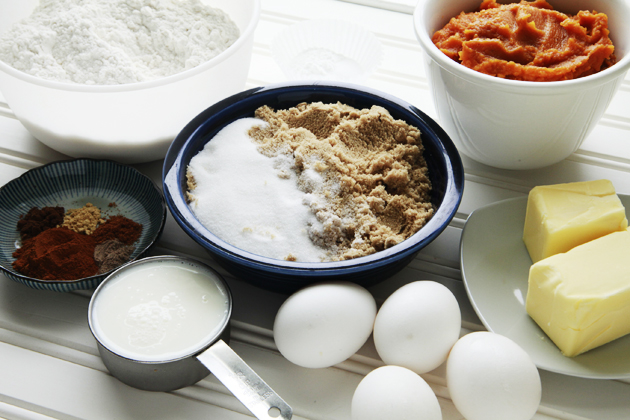 And the bread.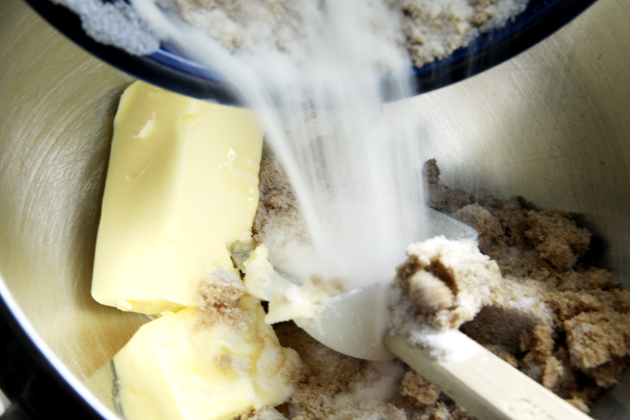 To make the streusel topping, mix butter, brown sugar, flour, and flax seed using a food processor, pastry cutter, fork, or fingers until combined.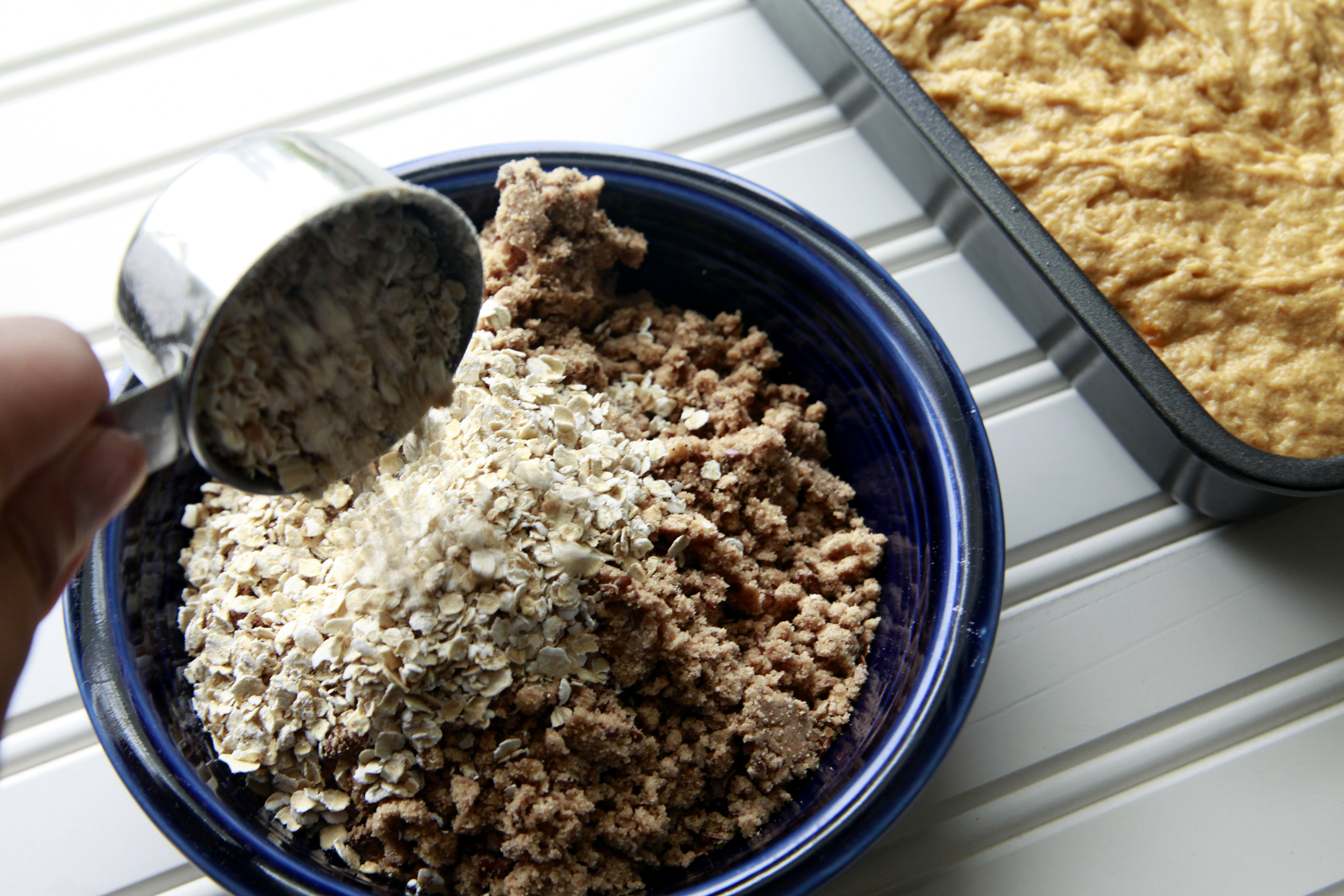 Mix in the oats. The reason I add the oats after everything else is combined is because I didn't want the food processor to grind the oats. Set this mixture aside. We'll bring it back in the end.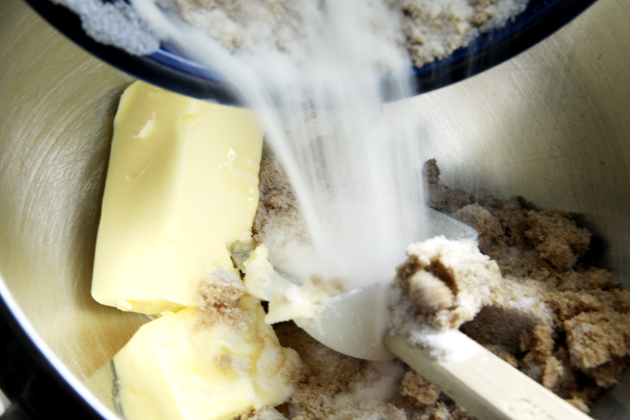 For the bread, cream the butter and sugars …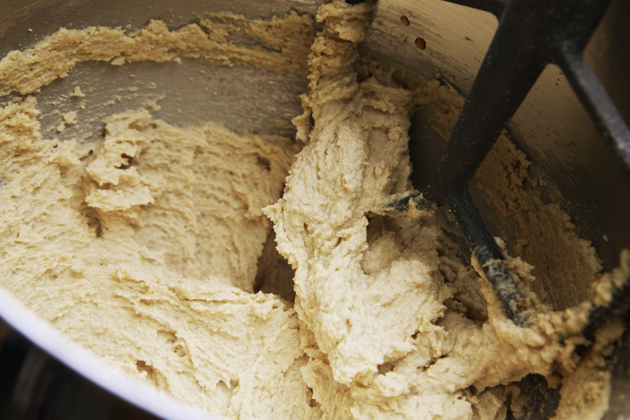 Until light and fluffy.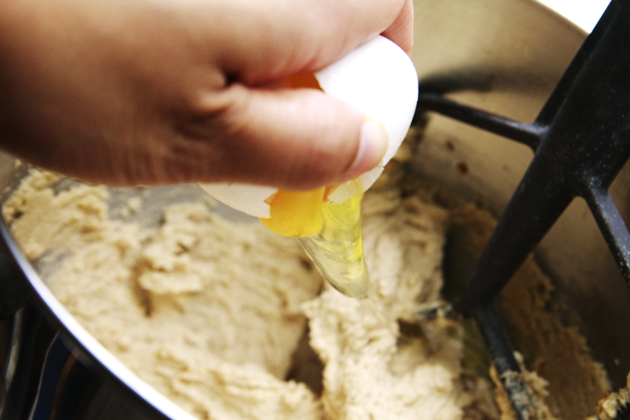 Add vanilla and add eggs one at a time, making sure to scrape down the bowl until batter is well combined.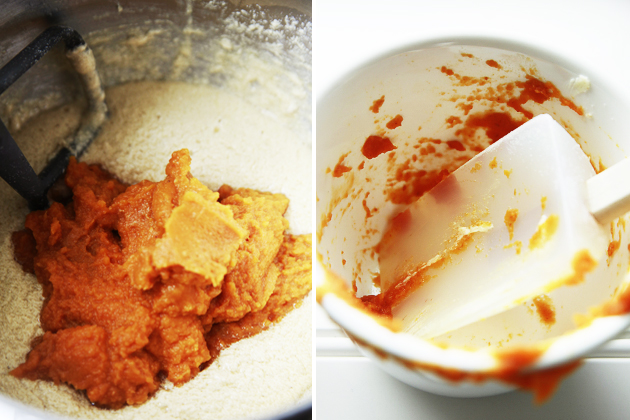 Mix in the pumpkin puree …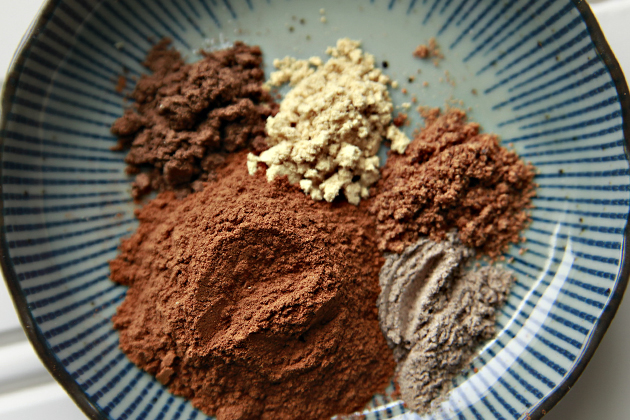 Spices …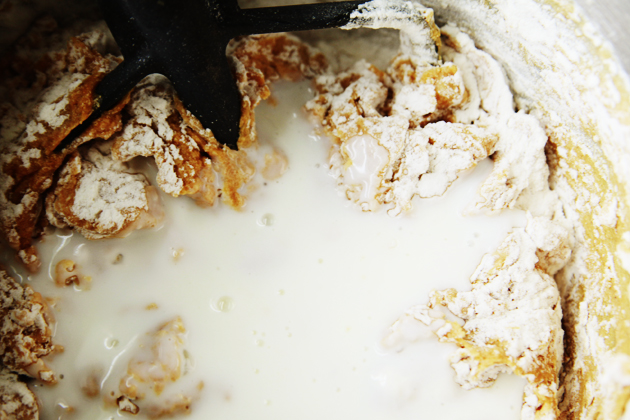 And then flour and buttermilk.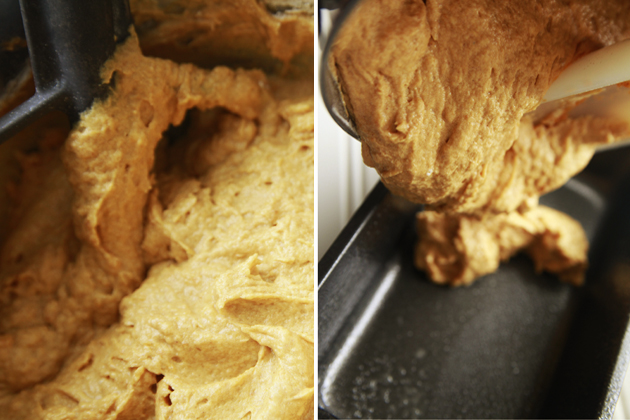 Batter should be light orange and thick. Divide batter between two prepared loaf pans.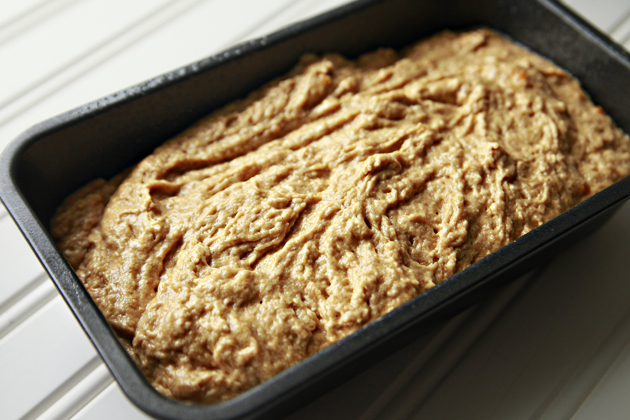 Fill the pans approximately 3/4 full.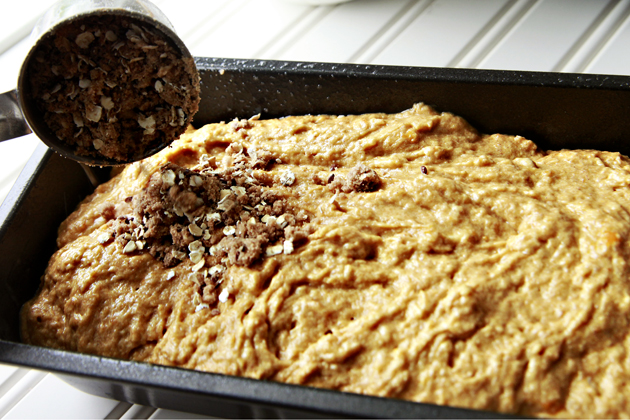 Top off each loaf with half the streusel mixture.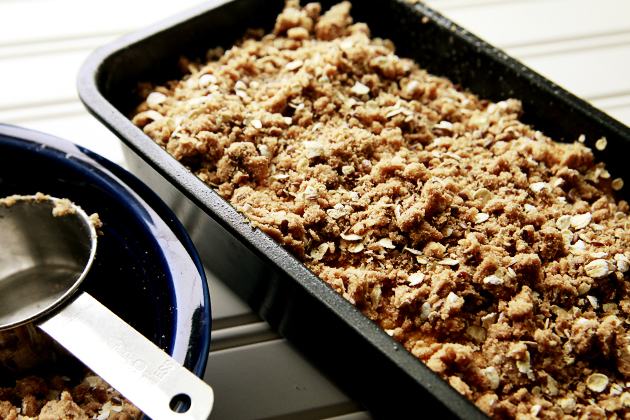 Bake for 70-80 minutes. Be sure to check and see if the bread is done by inserting a toothpick into the center of the cake. If the toothpick is clean when you remove it, the bread is ready to be pulled from the oven. If any raw batter sticks to the toothpick, allow the bread to bake 8-10 minutes longer and test again.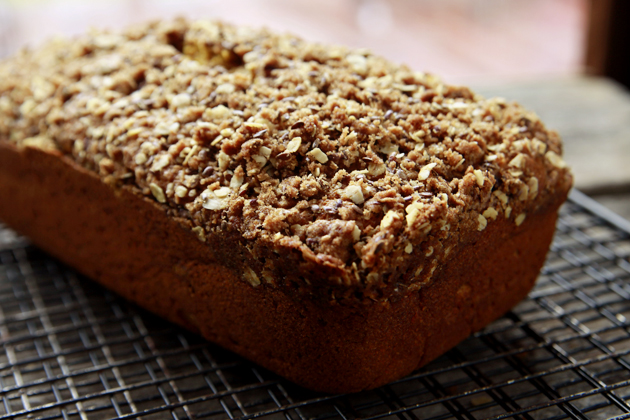 Once the bread is removed from the oven, allow the bread to cool for 10 minutes before removing from the pan.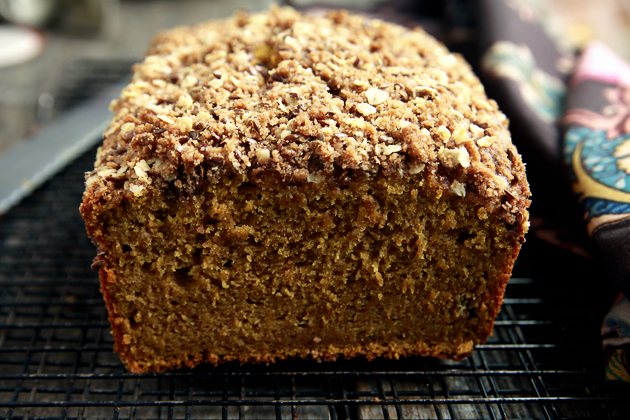 This bread can be served warm or at room temperature and will stay moist for a few days if stored in a Ziploc bag or container.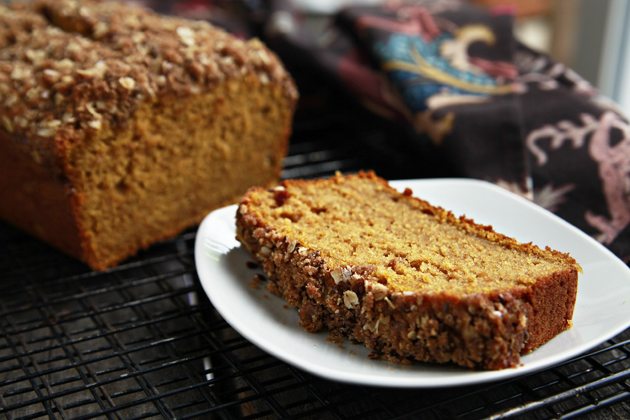 The streusel topping on the pumpkin loaf is the perfect balance of wholesome goodness and sweetness without overpowering the flavor of the bread. I found the texture, sweetness, moistness, and spice blend to be in perfect harmony. If you plan on baking one pumpkin bread recipe this fall, this is the one for you!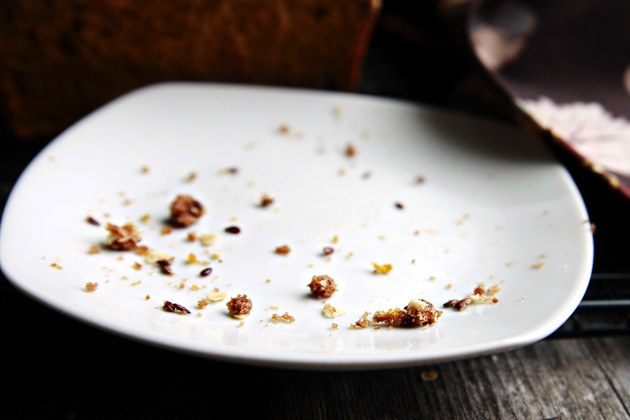 Thanks again, Shaina. I love your blog, Food For My Family, and this recipe!
Printable Recipe
See post on Food for My Family's site!
Description
A moist and dense pumpkin bread perfect for a cup of coffee on a cold fall morning but delectable enough to make the dessert table.
Ingredients
¾ cups Butter, Softened
¾ cups Granulated Sugar
¾ cups Dark Brown Sugar
1 teaspoon Vanilla
4 whole Eggs
2-½ cups Pumpkin Puree
3 cups All-purpose Flour
3 teaspoons Baking Powder
¾ teaspoons Baking Soda
1 teaspoon Salt
1-½ teaspoon Cinnamon
¼ teaspoons Ground Ginger
¼ teaspoons Allspice
¼ teaspoons Grated Nutmeg
⅛ teaspoons Cardamom
½ cups Buttermilk
_____
FOR THE STREUSEL TOPPING:
¼ cups Butter, Softened
½ cups Brown Sugar
¼ cups Oatmeal
¼ cups All-purpose Flour
1 teaspoon Cinnamon
3 Tablespoons Ground Flax Seed
¼ cups Chopped Pecans (optional)
Preparation Instructions
Preheat your oven to 350º F. Grease and flour the bottom of two 8″ loaf pans. To make the topping, mix together all the topping ingredients using a fork or pastry cutter until combined thoroughly.
In a large bowl or mixer, cream together butter, granulated sugar and brown sugar. Add vanilla and eggs and mix until incorporated. Stir in pumpkin puree.
In a separate bowl, add flour, baking powder, baking soda, salt, cinnamon, ground ginger, allspice, nutmeg and cardamom. Whisk together until no lumps remain. Add half of the flour mix to the pumpkin mix, blending well. Beat in buttermilk. Add remaining flour mix and beat lightly until smooth.
Pour batter evenly into the two prepared 8″ pans. Cover each with half of the topping mix. Bake at 350º F for 70-80 minutes until a toothpick inserted in the center comes out clean. Slice and enjoy.


_______________________________________
Alice Currah is the force behind Sweet Savory Life and Everyday Alice. She and her husband Rob are the proud parents of three children: Abbi, Mimi, and Elli. Alice is the winner of Saveur's Cover Contest and is on the Forbes.com list of Eight of The Very Best Food Bloggers. She's the best-est.