Help me welcome our new guest contributor, Three Many Cooks, stopping by to share with us an easy (yet unforgettable) dessert that Pam Anderson makes and that her daughter Maggy just can't get out of her head. Read on and you might start dreaming about it too. Take it away, TMC! So glad to have you and your wonderfulness here on the TK Blog. –Ree/PW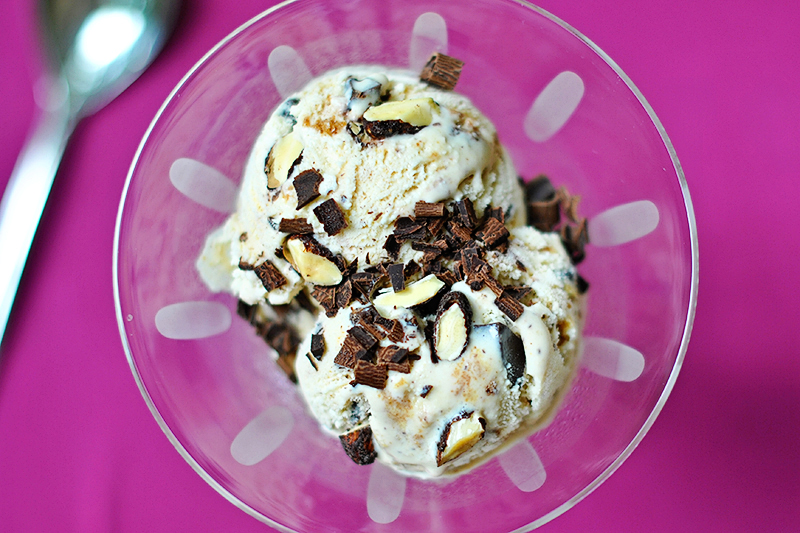 Ever tasted something so good that the memory stuck with you for days, weeks or even months? A meal so incredibly delicious that you're still thinking about it years later? I get this a lot. I usually pine for the pizza I once had at Dar Poeta in Rome, or warm clotted cream and scones with jam from the English countryside in Devon. I've often thought of the best grilled cheese I ever had when I was eight years old at a friend's house, or my grandmother's banana pudding. I want nothing more than to eat these things again. But sadly, with these dishes, the secret ingredient(s) evades me. They are simply impossible to recreate.
But there was this one dessert my mom made for us back at the beginning of March that I was still thinking about months later in August. She said it was called Semifreddo. "What the heck," I asked, "is a Semifreddo?" She told me it's Italian for "semi-frozen." Semifeddo is an ice cream-based dessert that has whipped cream folded in, preventing it from freezing solid. So it's soft and creamy and easy to fold in delicious add-ins, like chocolate and almonds.
Unlike the other unforgettable, un-recreateable meals and foods in my life, this one was easy. Oh so easy. I had a recipe, readily accessible ingredients and I could make it myself in less than 20 minutes. It was just as amazing the second time around. So good that I kept sneaking to the freezer with a spoon and stealing just one more bite. The English have a word for things like this Semifreddo: "More-ish"—because you just want more. It's highly addictive and incredible delicious. So I thought I would share it with you too.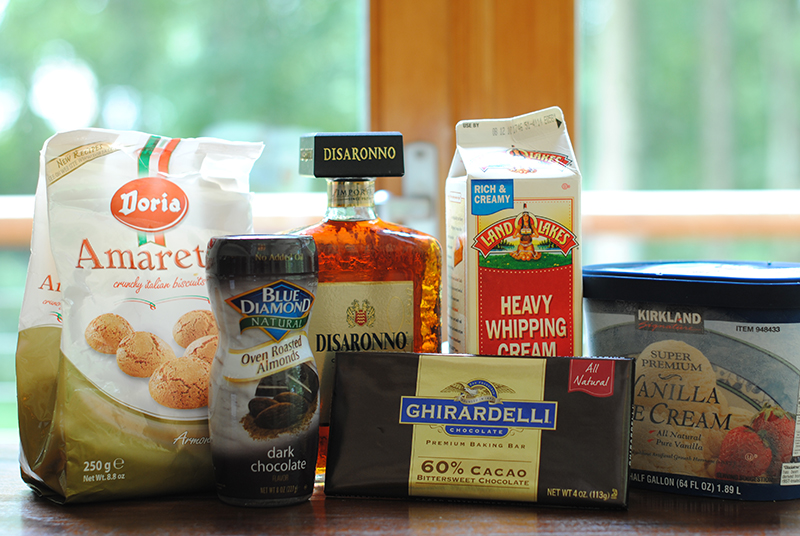 Here's what you'll need to make this Amaretti Semifreddo with Chocolate and Toasted Almonds.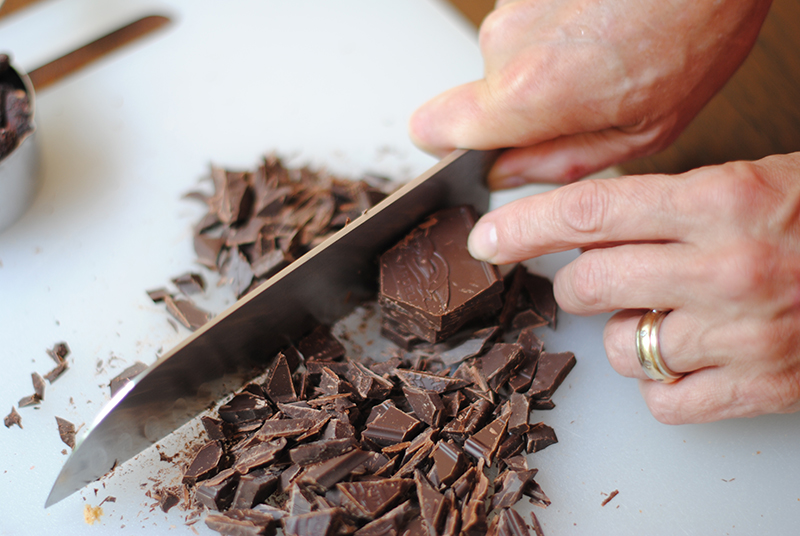 Start by coarsely crushing the biscuits and rough chopping the chocolate and almonds.
You can use regular roasted almonds; we just found some dark chocolate almonds at the store and thought the extra chocolate could only help, not hinder (for the record, we were right about that).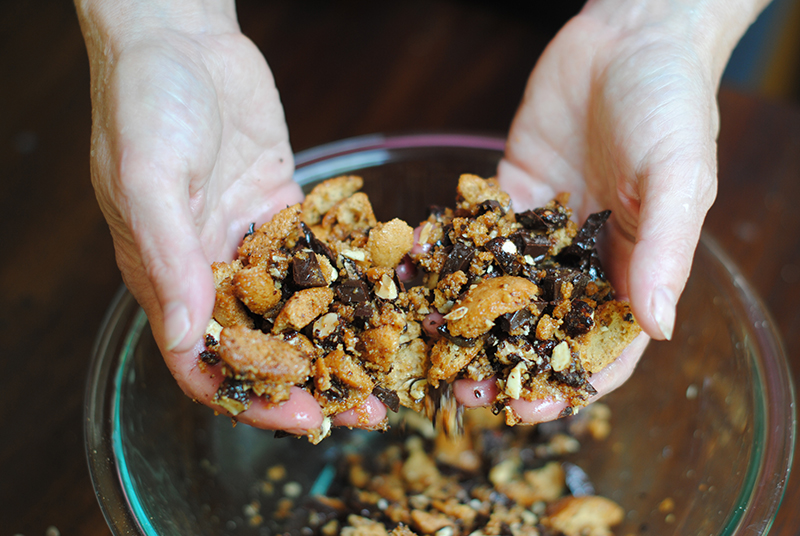 Place the crushed amaretti cookies in a medium bowl and toss with 2 tablespoons almond liqueur. Add almonds and chocolate and toss to coat again.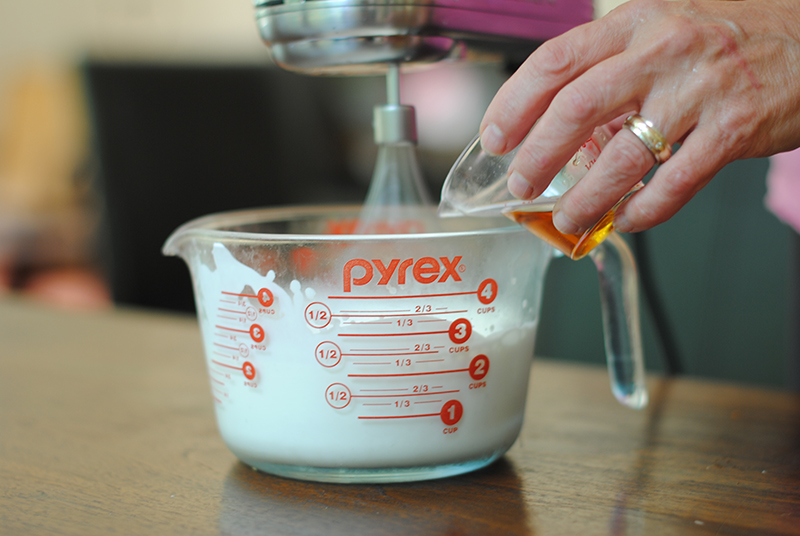 Whip cream and 1 tablespoon almond liqueur with an electric mixer to stiff peaks in a medium bowl.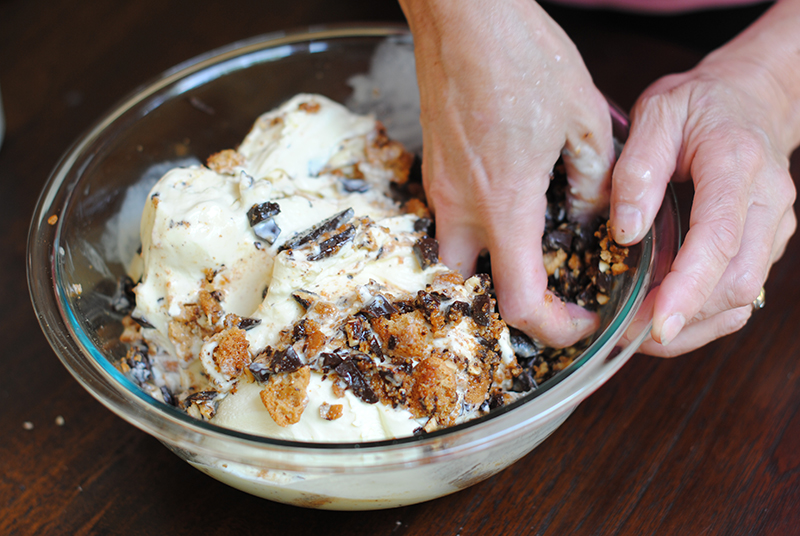 Fold the softened ice cream into cookie mixture. You can use a spatula or a spoon, but my mom has always considered her hands her favorite kitchen utensil and she's got the scars to prove it.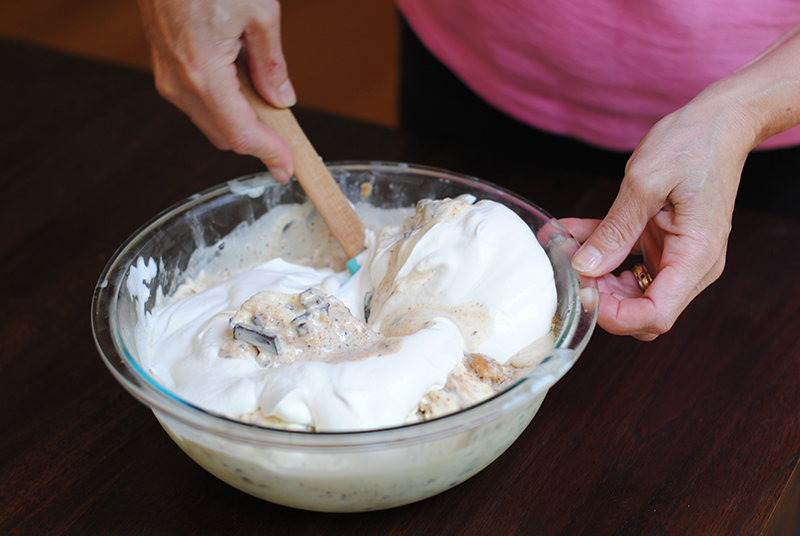 Once that mixture is completely incorporated, gently fold in whipped cream.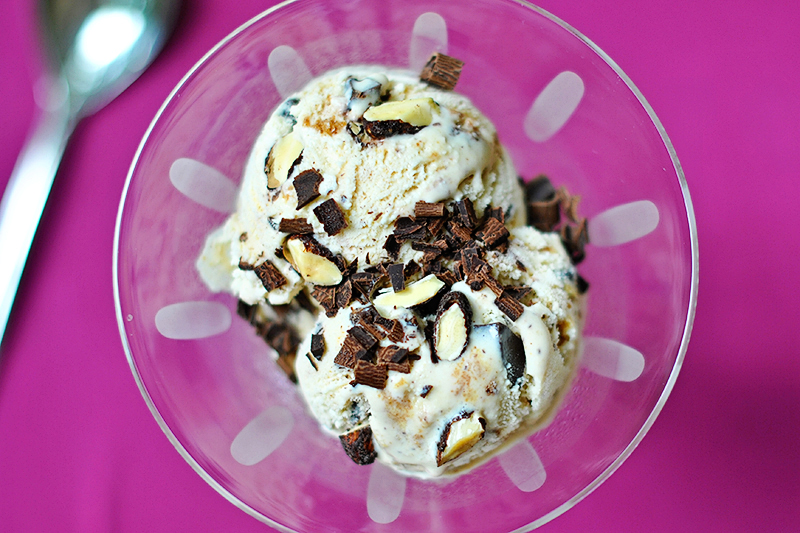 Using an ice cream scoop or spoon, divide the Semifreddo between eight goblets or bowls or cover and freeze until serving. Garnish with chocolate shavings if you like.
I wish I could recreate all of the memorable foods and meals of my life, but for now, I'm happy to sit with a big bowl of this.
Printable Recipe
See post on ThreeManyCooks's site!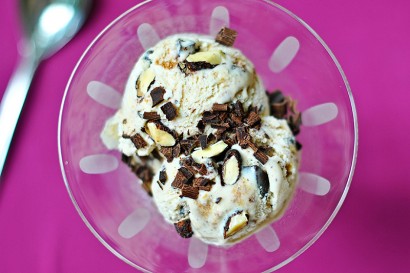 Description
The best simple dessert you will ever make.
Ingredients
2-½ ounces, weight Amaretti Cookies (about 25 Cookies), Coarsely Crushed (about 1 1/4 Cups)
3 Tablespoons Almond Liqueur, Such As Disaronno, Divided
¼ cups Coarsely Chopped Salted Or Unsalted Roasted Almonds
2 ounces, weight Bittersweet Chocolate, Chopped Into Small Chunks
½ cups Heavy Cream
1 pint Premium Vanilla Ice Cream, Softened Slightly (microwave On High Power For 15 To 30 Seconds)
Preparation Instructions
Place cookies in a medium bowl. Drizzle 2 tablespoons of the almond liqueur over the cookies; toss to coat. Add almonds and chocolate; toss to coat again. Whip cream and remaining 1 tablespoon almonds liqueur to stiff peaks in a medium bowl; set aside. Fold softened ice cream into cookie mixture until completely incorporated. Gently fold in cream. Spoon into goblets and serve or cover and freeze until ready to serve.


_______________________________________
Three Many Cooks is the always-entertaining food blog of Pam Anderson and her two daughters, Maggy and Sharon. Pam is a well-known and much-respected food writer and author, Maggy is a "hippy adventurer meets 1950s housewife," and Sharon refers to herself as a recovering food snob learning to survive on a graduate student's budget. Theirs is a strong relationship both inside and outside the kitchen, and it shows in the food they create and the stories they tell.