Today's post comes from Amy of She Wears Many Hats and she's doing a recipe from Tasty Kitchen member sweepea for us. Thanks, ladies!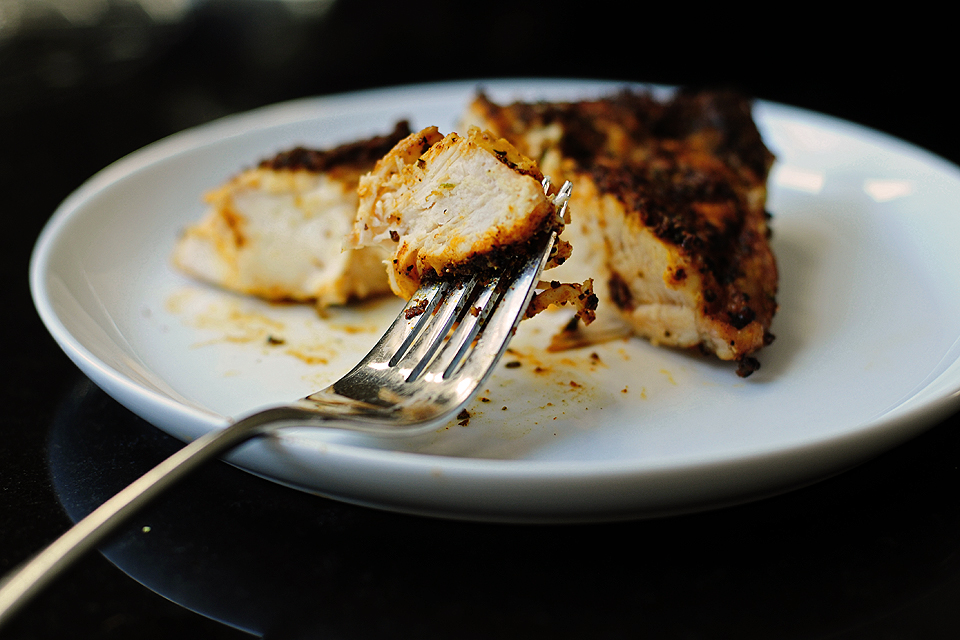 Strolling through the Tasty Kitchen recipes a few weeks ago, I ran across this recipe titled Lazy Chicken. Of course I had to take a peek. Not that I have a tendency to be lazy or anything. Nah. Not me. Okay, maybe my pile of clean laundry is taller than I'd like to admit, but it's clean, right?
Anyway, the recipe caught my eye and I thought I'd give it the good ole lazy try. Sweepea, the Tasty Kitchen member who authored this recipe, speaks so highly of the ease of "Lazy Chicken," I just couldn't pass it up. And to be able start with frozen chicken?!? How many evenings have I been faced with no dinner plans in the works? Yes, I have good intentions. I do. But we all have those days where time gets away from us, or you're just too worn out to mess with anything complicated.
Not-to-mention the kazillion times I've forgotten to take meat out early enough to thaw for dinner that night. But thanks to Sweepea, now there's no excuse. "Lazy Chicken" has come to save the day. Or at least dinner.
Here's what you'll need: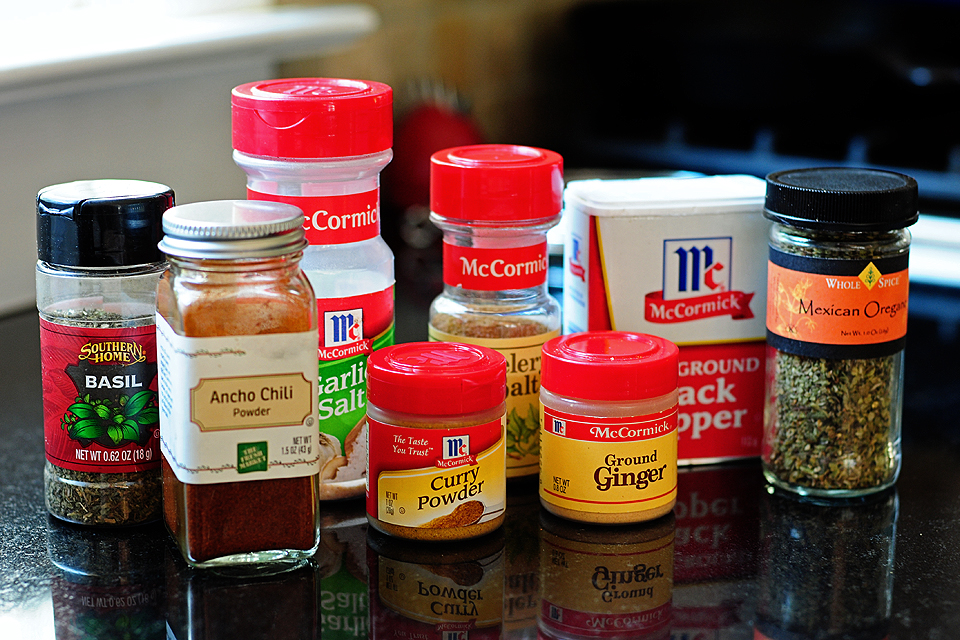 Your favorite dry herbs and seasonings …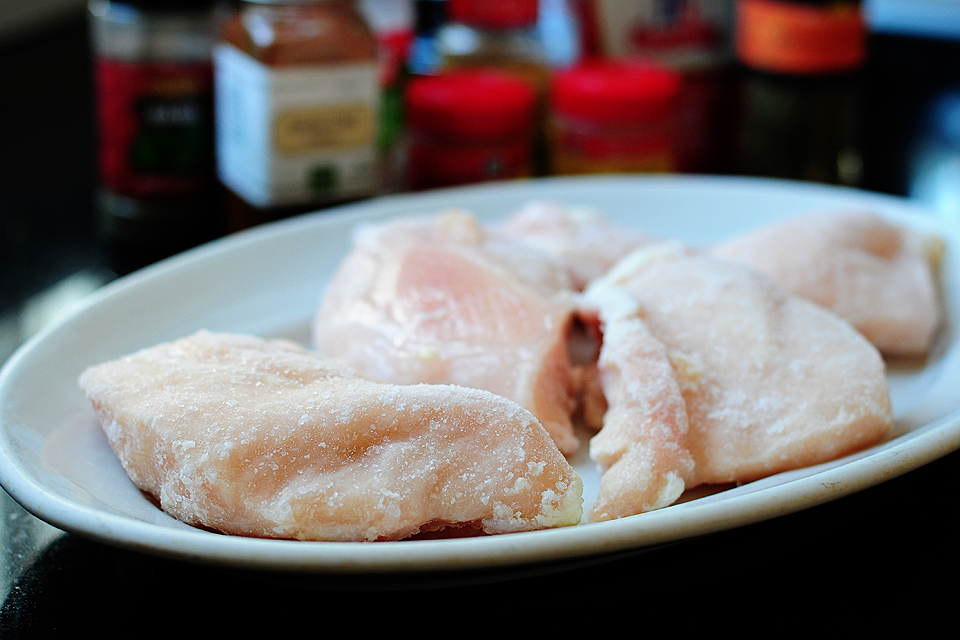 And chicken pieces (frozen or thawed). I started with frozen, and for the record I halved the original recipe since I only had about a pound of chicken on hand and I didn't feel like driving to the grocery store for more, because, you guessed it, I was being lazy.

So let's get to it. Or not. If you're too lazy, get your children to handle it for you—it's that easy. Begin by preheating your oven to 350°F.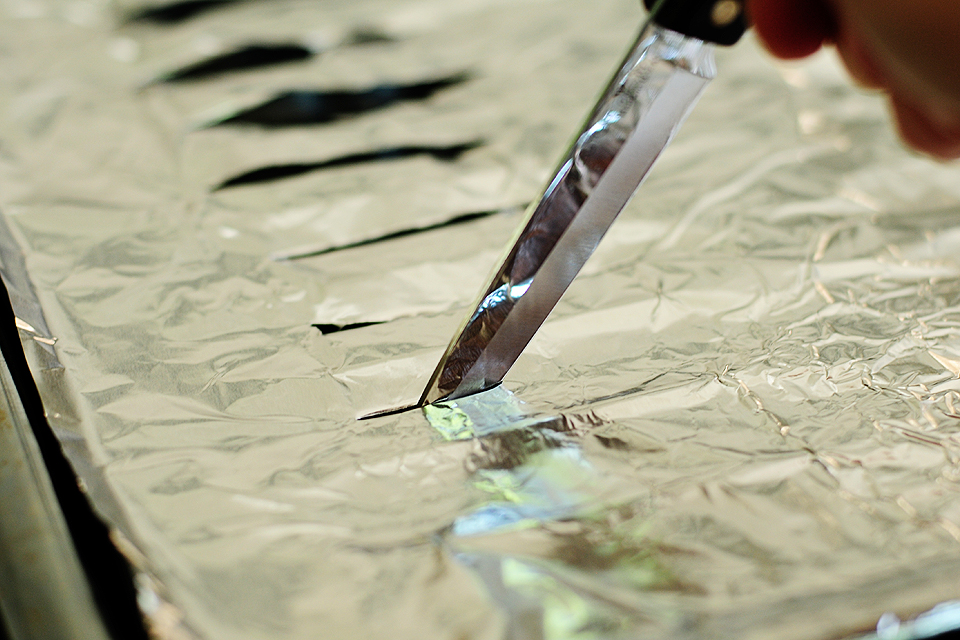 Next line a broiling pan with aluminum foil. Cut slits through the foil and boiler pan.
Now you're ready to prep the food. Start by mixing up your favorite dry herbs and seasonings to total 6 tablespoons (or 3 tablespoons if you're halving it like me) in a small bowl or measuring cup.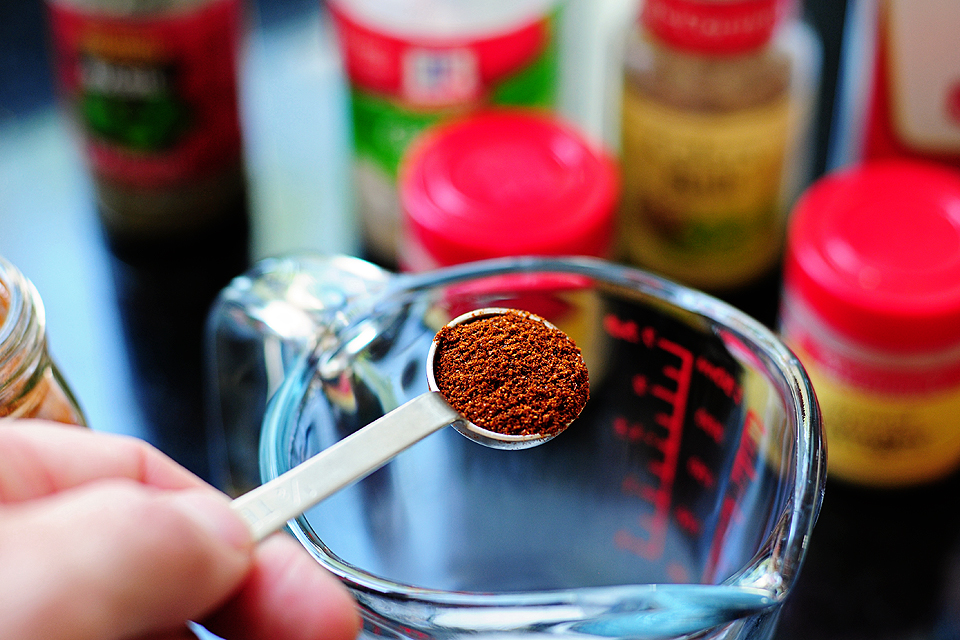 Add a little of this.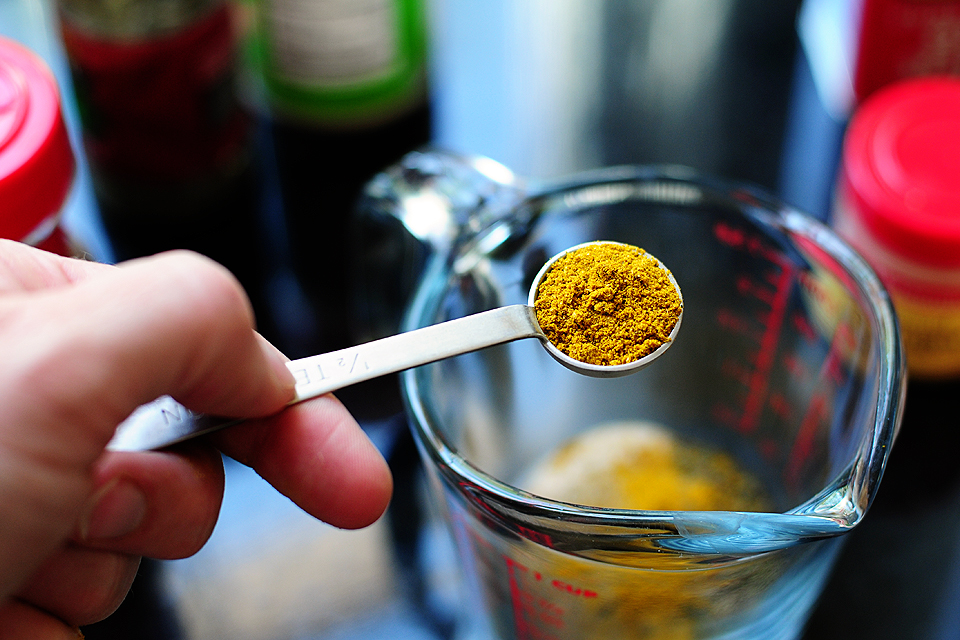 And a little of that. It's like science class all over again, without the Bunsen burners.
Or if you have plenty of your favorite seasoning, like Lawry's or Old Bay (sweepea's favorite), use that by itself. I made a spicy blend using curry powder, ginger, chili powder, garlic salt, celery salt, oregano, basil, salt and pepper. I had no plan in mind. I just grabbed what looked good and went with it. I'll list the combination and proportions I used below, but be forewarned, it was spicy—good 'n spicy!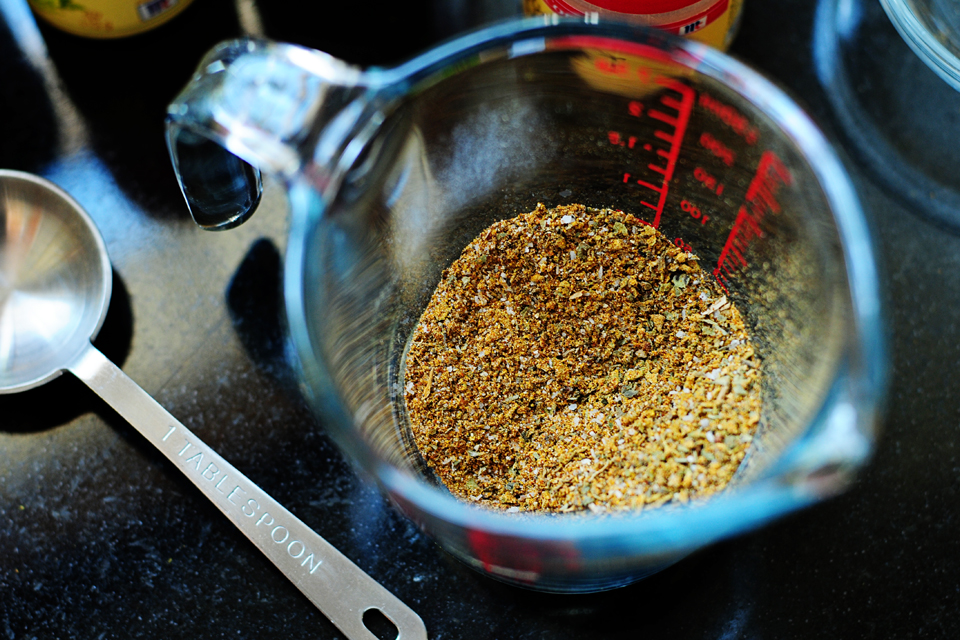 Mix all the seasonings together.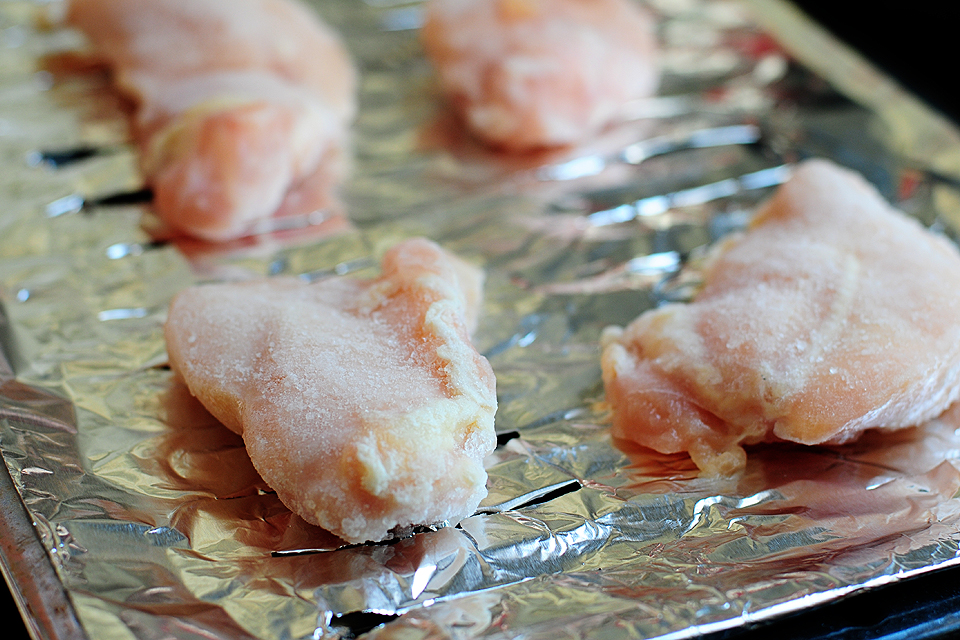 Next, place the frozen chicken (or thawed if you're not being too lazy), directly on the broiler pan.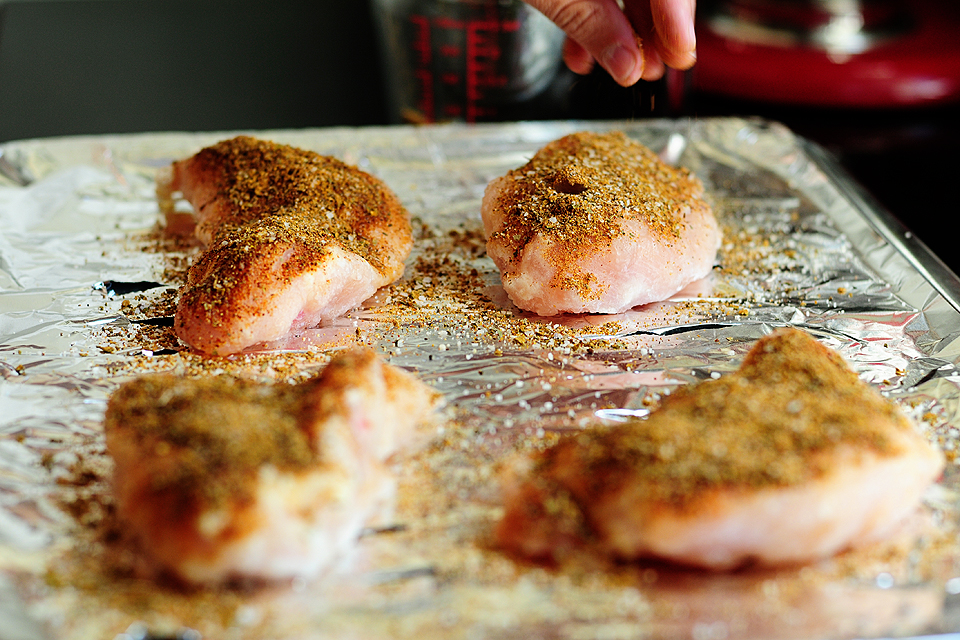 Using about 1/2 of the seasonings, coat the top side of each piece of chicken well. Place broiler pan in the oven on the middle rack and set timer for 30 minutes.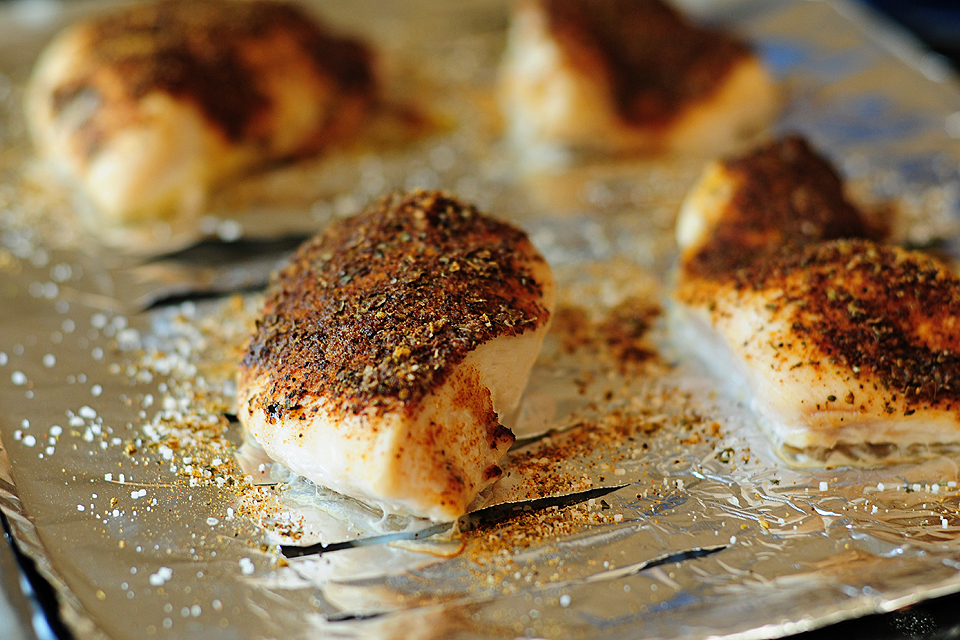 After 30 minutes, remove broiler pan from oven. Yum! It should be smelling tasty about now.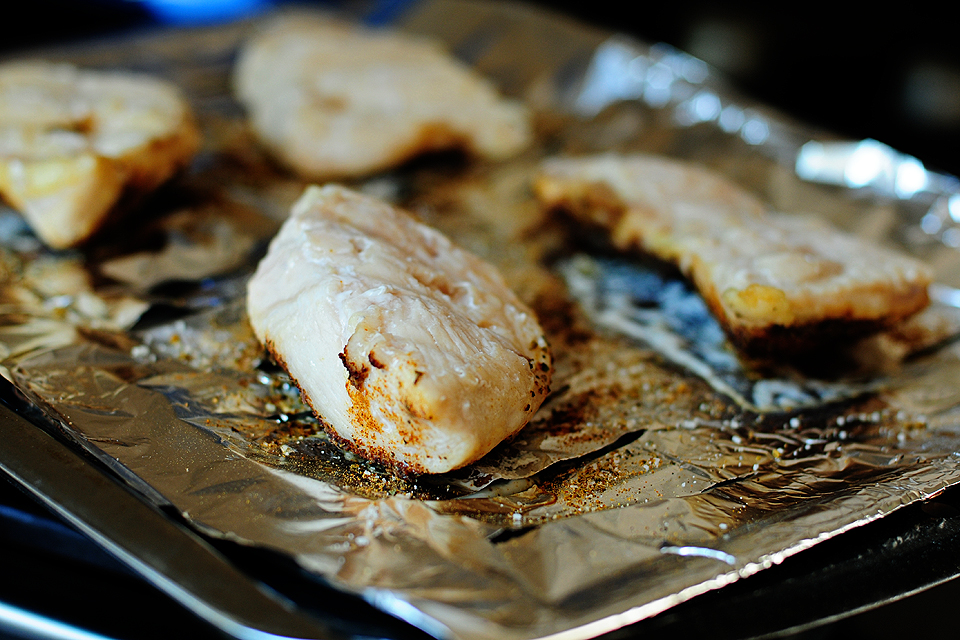 Gently turn over each piece of chicken.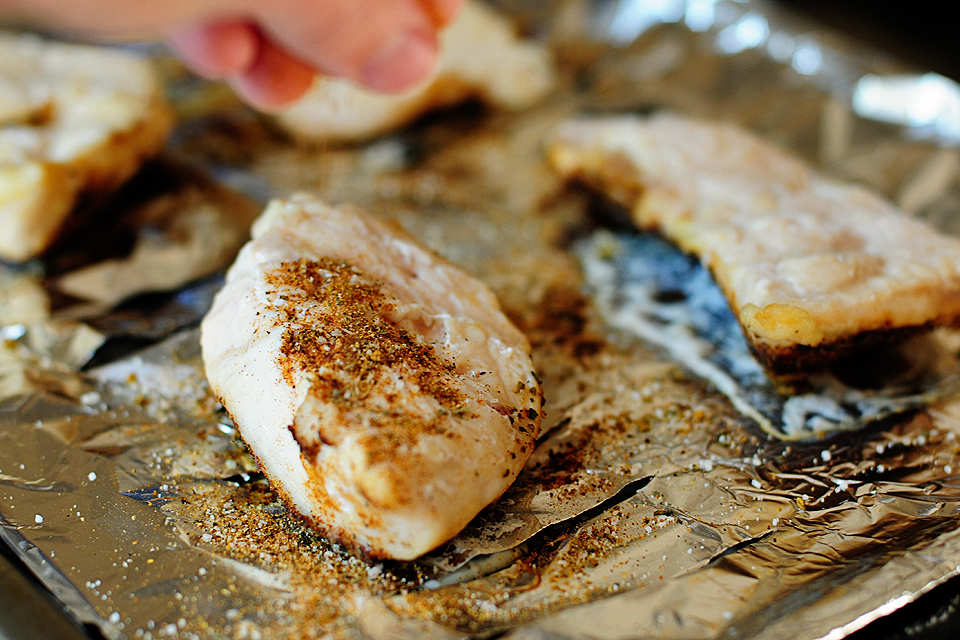 Coat the other side with the remaining seasoning mixture.
Return chicken to oven, and continue cooking for 30 minutes.
Please note, sweepea's preparation instructions didn't include flipping the chicken over halfway through cooking to coat the other side, so if you don't feel like messing with it (it is "Lazy Chicken" after all), use all seasonings when coating the first side and let cook for the full hour without turning the chicken pieces.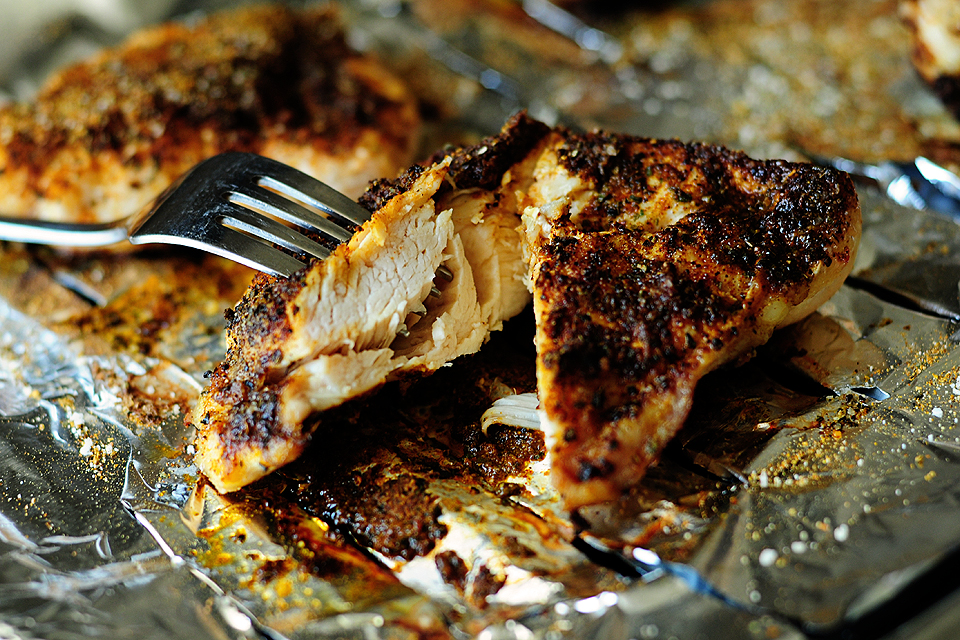 When chicken has cooked for a total of an hour, check it for doneness. Chicken will be done when center is not pink.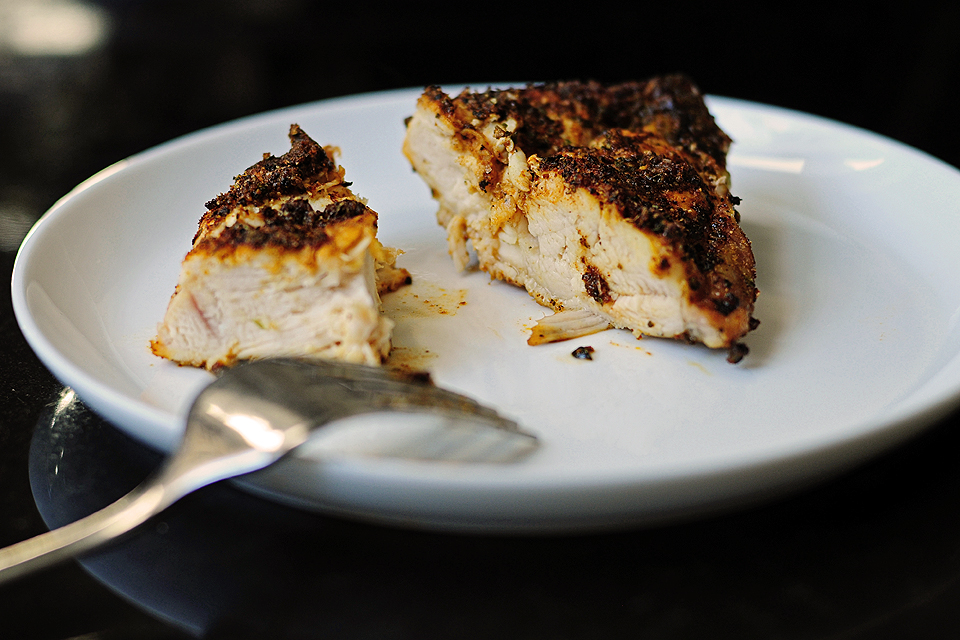 I gotta say, I was little skeptical of starting with frozen chicken. I was. But it worked quite well. The chicken was done, tasty and not dry. And, believe me, I'm a dark meat girl. I don't like dry meat.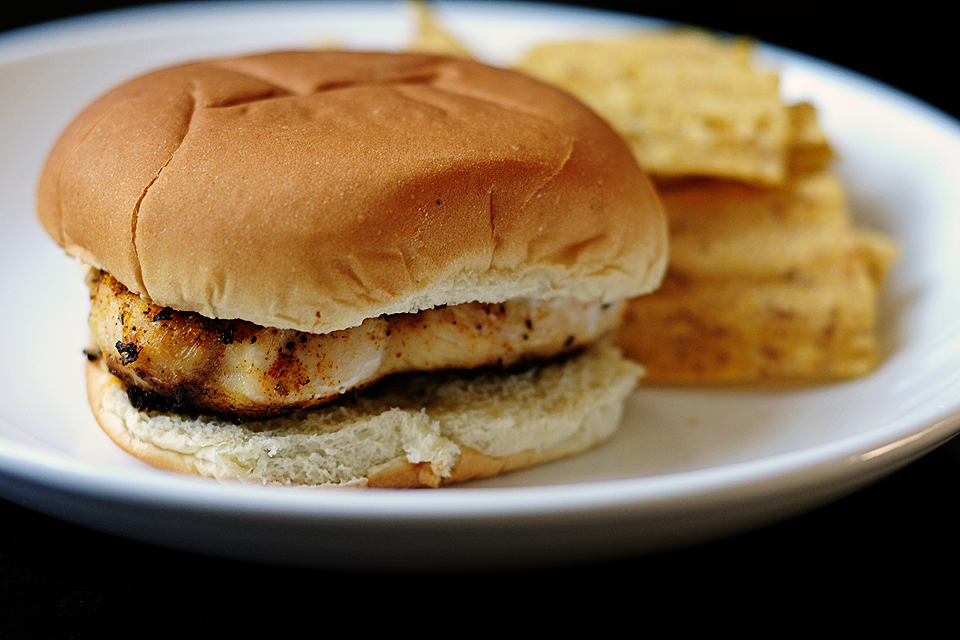 And guess what? I rolled on with the lazy theme and added it to a plain bun (not even toasted or warmed), with a side of chips, and called it a spicy chicken sandwich. The kids need not know that I was being lazy. They never knew.
So give the "Lazy Chicken" a try the next time you're not up for thinking about dinner. And send a note to sweepea to thank her for looking out for all of us.
Here's the combination of dry seasonings that I used. Again, this mixture totals about 3 tablespoons as was used for approximately 1 pound of boneless chicken breasts.
1 teaspoon ancho chili powder
1 teaspoon basil
1/2 teaspoon celery salt
1 teaspoon curry powder
1/2 teaspoon garlic salt
1/2 teaspoon ground ginger
1 teaspoon oregano
1 teaspoon pepper
1 teaspoon salt
Printable Recipe
Description
Thinking not required.
Ingredients
2 pounds Bone-in Chicken, Fresh OR Frozen Raw Pieces, Chef's Choice
6 Tablespoons Spices On Hand
Preparation Instructions
This is the easiest chicken recipe ever. It uses what you have on hand and is foolproof. Try it on a night when thinking is no longer possible!
1. Preheat oven to 350°F. Yawn …
2. Line the top of your broiler pan with foil, and cut slits in the foil to allow fat to drain. This can be cathartic, depending upon your day.
3. Place fresh or frozen chicken pieces on top of the foil, with all parts tucked inside the broiler edges, so that fat doesn't spill onto the oven floor. That would make more work, and this is lazy chicken.
4. Grab handfuls of spice mixtures or herbs from the shelf and toss a tablespoon on each piece of whatever satisfies your whims. Or is closest to you at that moment. Or which will incite the least amount of complaints. Whatever. (See note below.)
5. Pop the broiler pan in the oven, and chicken will be cooked through in approximately an hour. This is long enough to make side dishes, or: take a nap, sit on the porch swing, or briefly daydream about having the time to do any of the above.
6. After an hour, chicken should have a golden skin. Take a knife and fork and test the middle of the largest piece for done-ness. Pink is too lazy. Food poisoning takes more energy, so cook a wee bit longer, until no longer pink.
7. Eat.
Notes/updates:
– In the interest of TK happiness, I have "researched" alternate methods (in frantic desperation) and added some tips for the laziest and latest of cooking chicken. These techniques work well with very frozen chicken!
First method: It is possible to crank up the oven to 375 F to 380 F if the chicken can be fully encased by an upside down 13 X 9 clear glass oven-safe cake pan, so as to retain as many of the juices and to prevent overheating while steaming the chicken, thereby skipping defrost of chicken. If a crispy skin is desired, uncover it in the last few minutes and broil on high for just a couple of minutes, to prevent drying out the chicken.
Second method: If using the suggested (manufacturer provided) 2 piece broiler pan, pour a cup or so of tap water in the bottom of the pan, cover with the top of the broiler rack, and load and cook the chicken as in the original recipe. The only difference for this method is that you should set oven to 375 F. The steaming action is great, but take care when removing pans from the oven to avoid hot water burns. Ahem.
Third method: If chicken pieces are too large, or too many pieces are crowded on the pan, this may cause the chicken to take longer than an hour to cook. This can happen if trying to make Lazy Chicken into 2 Night Lazy Chicken. Ahem. This makes more work for you, but if you watch the temperature, and when chicken has internal temperature of around 150 F crank the oven to Broil/High, move to a lower rack in the oven and broil for a few minutes until skin is browned to your liking.
Tips: No matter the method, an hour is typically what it takes for safety, at least with bone-in chicken. I always use a meat thermometer, but if it getting close to done, take the chicken out to rest to prevent drying. Often it will reach the right temperature in a few minutes, or if not a quick High/Broil will finish the job.
Always verify with your thermometer! Bone-in (and cheaper) pieces often are the tastiest using this method. Also, smaller pieces, like drumsticks, cook especially fast in a pinch. If small pieces are mixed with other larger cuts, put them in the center of the pan if possible, and bigger bulges of meat towards the outside.
The important thing is that you didn't have to think too much to make it happen, and picky people have their mouths filled with food and cannot complain much. Yeah, You! Now go take a nap, since I did the work for you so you wouldn't have to!
Note regarding the spices: Rosemary, thyme, oregano, parsley, paprika or favorite spice blends or flavored salts, like garlic salt (very popular) work well. I tend to make one piece of each spice or blend I choose. My favorite seasoning is Old Bay. And feel free to pack that pan full of pieces for even lazier, 2 Night leftover chicken!
You're welcome x 2.
(No image available. Lazy Chicken is too lazy for a photography session.)
.


_______________________________________
Amy Johnson is a blogger who writes about food, travel, the home (both inside and out), and various observations and random musings about anything and everything. Visit her blog She Wears Many Hats for a dose of deliciousness, practicality, hilarity, or just plain fun. She lives in South Carolina with her husband and two children.