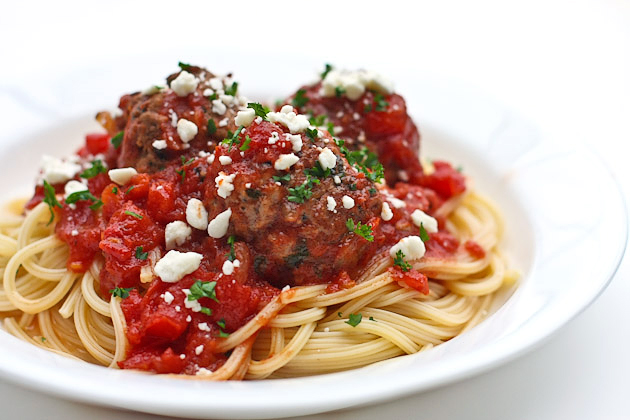 Italian spaghetti and meatballs is as classic as classic can get, and here I go changing it up! The truth is, I get bored and restless, and either I vent out my creativity by repainting my whole house or I head to the kitchen to Greek up a recipe.
I know for sure that my husband is dang happy that I chose the kitchen instead of the paint can!
The recipe for the Greek-fied meatballs comes from morphing a recipe from one of my favorite cookbooks that I acquired this year, How To Roast a Lamb: New Greek Classic Cooking by Michael Psilakis. The original recipe was for Greek-Style Hamburgers (you must make!) but it's just as good rolled into meatballs.
Ground cumin and coriander are subbed for the normal Italian oregano. Feta cheese and fresh parsley stand in for parmesan.
The secret to this recipe is slowly sautéing the onions until soft 'n sweet. Then mince!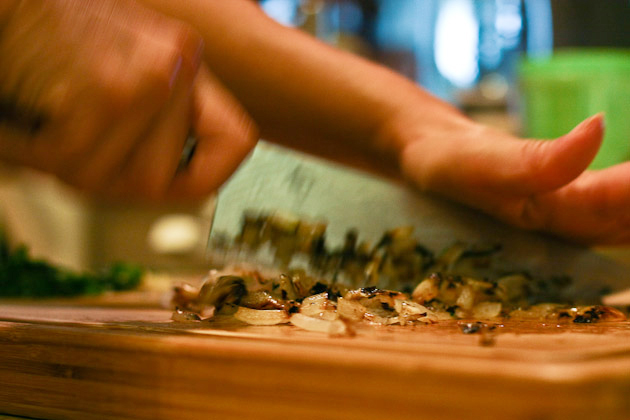 You've got to mince them finely as they'll need to be blended into the meat. See the difference between the right (chopped) and left (minced)?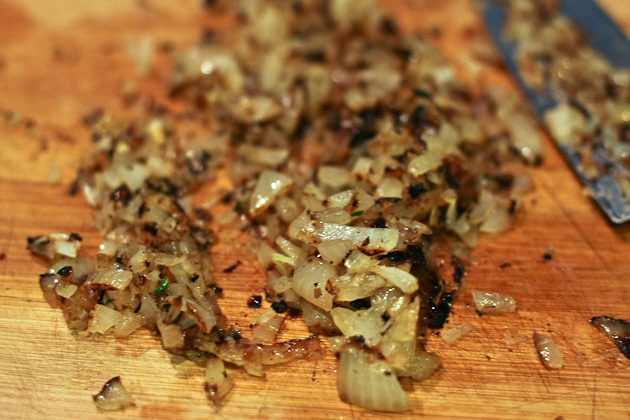 To any type of meat that you want—ground chicken, turkey, beef, lamb or pork—add in the minced onion, salt, garlic, cumin, pepper, mustard, coriander and parsley. (Though if you only added the onion, garlic, salt and pepper, it's just as good).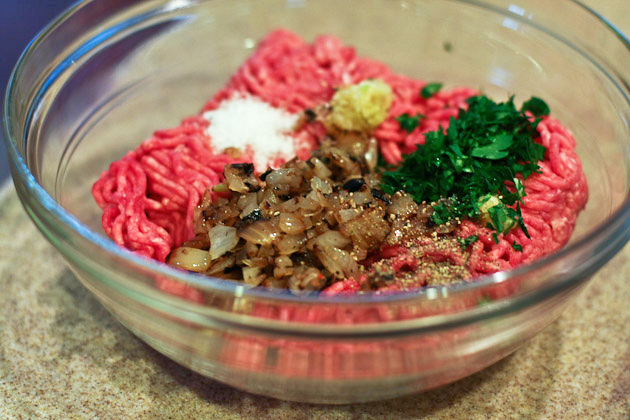 Roll 'em into 1 1/2-inch meatballs. Try to keep them all even in size.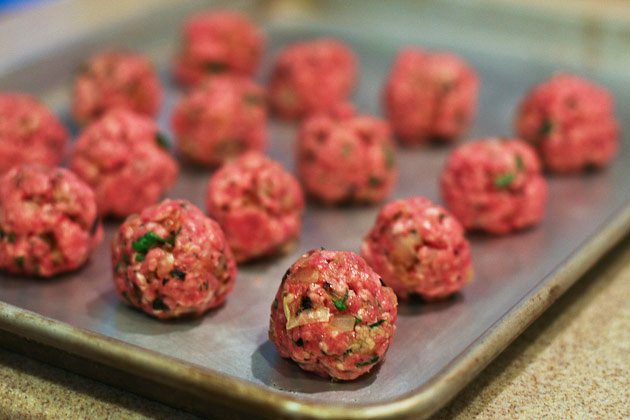 Brown them in a pan …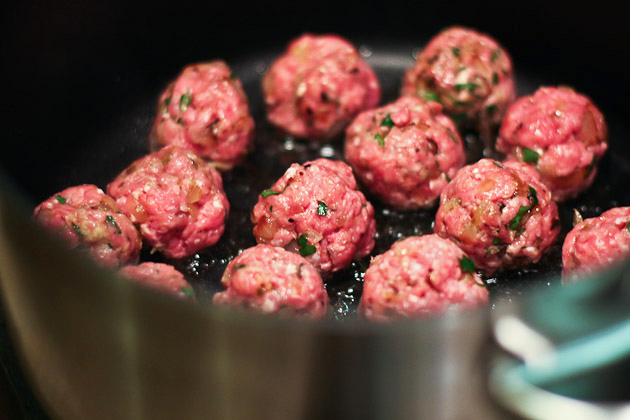 On all sides …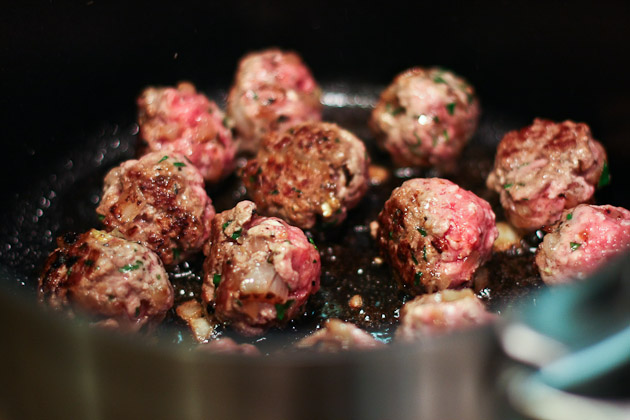 Then pour in your favorite tomato sauce. Your favorite marinara sauce from a jar will do just fine.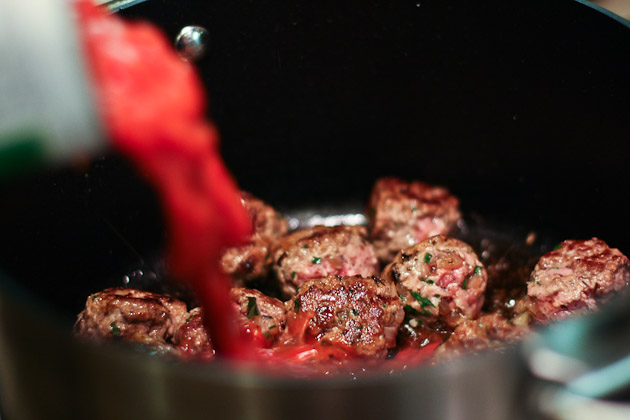 I'd love to know: how would you change up the regular ol' spaghetti dish? Would you make it Moroccan? Swedish? Tex-Mex? Or would ya keep it as is—a classic untouchable!


—–
Spaghetti 'n Greek Meatballs
Recipe adapted from How To Roast a Lamb: New Greek Classic Cooking by Michael Psilakis
Serves 4

1 pound dried pasta
2 tablespoons olive oil, divided
1 sweet onion, sliced
1/2 teaspoon kosher salt
freshly ground black pepper
1 1/2 pound ground meat (choice of ground turkey, chicken, pork, beef or lamb)
1 tablespoon Dijon mustard
1/2 teaspoon ground coriander
3 tablespoons finely chopped fresh parsley
1 garlic clove, finely minced
1/2 teaspoon ground cumin
4 cups your favorite marinara sauce
1/2 cup crumbled feta cheese

1. Cook pasta according package instructions. Drain and set aside.
2. Heat a large saute pan over medium heat. When hot, swirl in just 1 tablespoon of the olive oil. Add the onions and cook until browned, soft and tender. The longer you cook, the sweeter the onion will taste. Remove from pan to a cutting board and finely mince the onions.
3. In a large bowl, combine the minced onions, salt, pepper, ground meat, Dijon mustard, coriander, garlic, cumin and 1 tablespoon of the parsley. Use your hands to mix thoroughly.
4. To form the meatballs, put a good handful of the meat onto the palm of your hand and shape into a tight ball. Try to keep all the meatballs 1 1/2 inches in diameter to make sure they cook evenly.
5. Heat a large saute pan over medium-high heat. When hot, swirl in the remaining olive oil. Add the meatballs (not touching) and cook for 2 minutes. Roll the meatballs and fry the other sides for 2 minutes each. When all sides are browned, pour the tomato sauce over the meatballs and bring to a simmer. Cook for an additional 5 minutes until the meatballs are cooked through.
6. Serve over pasta topped with feta cheese and the remaining chopped parsley.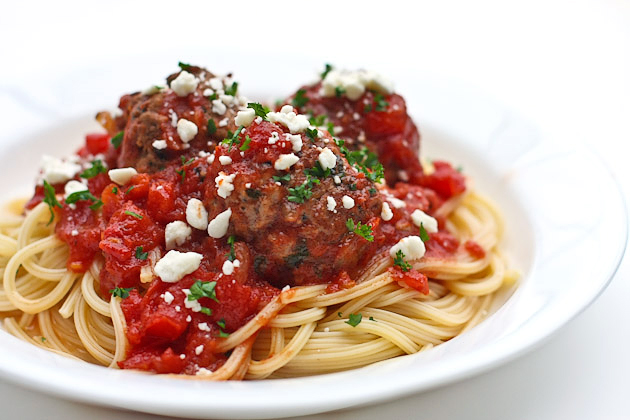 _______________________________________
Jaden Hair is a food writer, television personality, and food photographer based in Tampa Bay, Florida. Find more of her recipes in her blog, Steamy Kitchen, where you can also read more about Jaden's new book, The Steamy Kitchen Cookbook, and the rave reviews it's received!