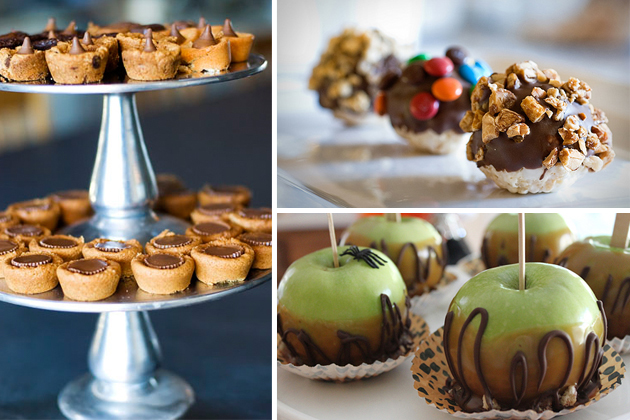 Once upon a time, there was a child named … Zee. Zee was a middle child in a family of busy adults, three pesky siblings, two hamsters and a lazy dog that thinks it's a fat cat, so they call him Whiskers.
One hot summer day, Zee walked into the kitchen, sat on a chair, and sighed a very long sigh. He rested his foot on Whiskers, who barely budged.
"Mom, I'm bored."
"Bored?"
"There's nothing to do! It's too hot to play outside, and I already played with all my toys yesterday. See, even Whiskers is bored." Zee pouted, and started to almost whine.
"Honey, Whiskers always looks like that." Whiskers was too comfortable in his favorite position to protest, much less attempt to meow.
"I know! Maybe you can make me something."
"Well, Zee, what do you want me to make?"
"I don't know. Just … something. Something good. And yummy." Now things were getting interesting. Zee always loved everything Mom made in the kitchen.
"I have a better idea, Zee. Why don't we make something together? I'm sure we can make something up with stuff we already have in here. How does that sound?"
"Cool! What can we make? Maybe some cookies or brownies?"
"I think I have a few recipes that are simple enough for us to make," Mom said as she reached for her beloved binder of recipes. "We can definitely make some cookies or brownies if you want."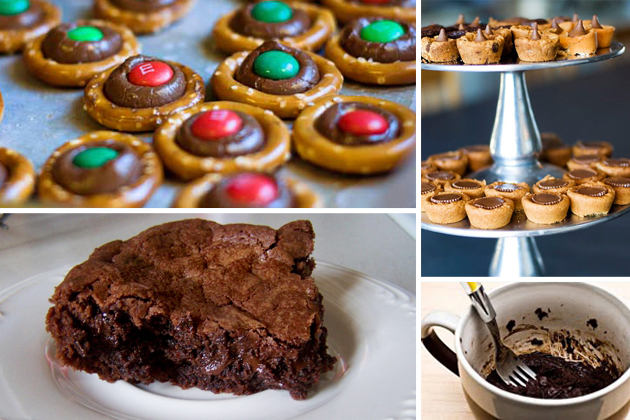 Clockwise from top left: Buttons from Karly Campbell, Ree's Quick Candy Cookies, Microwave Mug Brownies from eggy, and Easy Cocoa Brownies from 2kidsandtired (Holly).

"Now, Zee, remember: if you pick one that needs to be baked, you'll have to be extra careful around the hot oven, okay sweetie?"
"Oh. Okay. Do you have something we can make outside the oven? Because Metsy might come into the kitchen and get burned." Zee was always looking out for his younger sister, even though she was sometimes a punk, and clearly, Mom's warnings about touching a hot stove made a deep impression on him.
"Well, that's very nice of you, Zee. It makes me happy to see you taking good care of your sister. And yes, we have more recipes to choose from that don't have to be baked in the oven."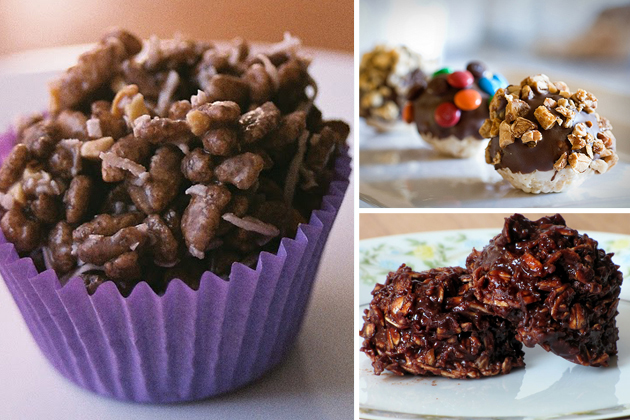 Clockwise from left: Choc Crackles from Mummy Is Cooking, Rice Krispies Treats from Stephanie, and Figure-Friendly No-Bake Cookies from Cooking Ventures.

"Mom, those sound really good. What else? What else can we make? What about about something nice and cold? Something with ice cream? And peanut butter?" Zee was getting excited, and even Whiskers stirred. No, wait. He was just shifting positions. False alarm.
"Oh, we can definitely do something like that too. It'll be wonderful in such a hot day as today." Zee was still too excited to notice that Mom suddenly started constructing sentences as if she were in the late 1800s.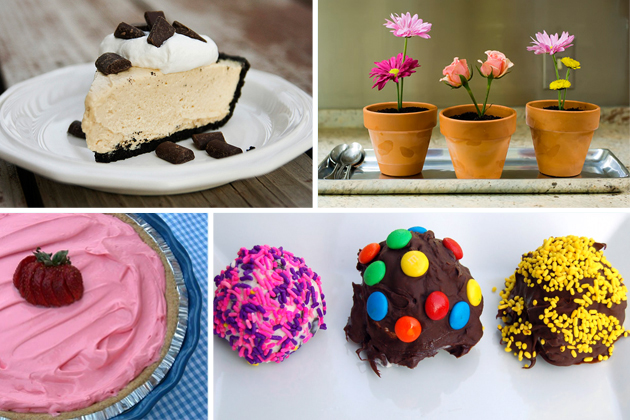 Clockwise from top left: Peanut Butter Pie from mcmom, Ree's Springy Flower Pot Desserts, Ice Cream Balls from soufflebombay, and Strawberry Kool-Aid Pie from Mommy's Kitchen.

"Mom, those are going to be yummy! I can't wait to make these and then eat them right away!"
"Well, Zee, usually when working with frozen ingredients, you have to wait a bit and let them thaw, then sometimes, you have to wait again after making them to let them freeze. We can make these, and then have them after dinner. And we can tell everyone that you made dessert!"
Zee liked that idea. As a middle child, the thought of everyone knowing that he made dessert made him very happy. But the thought of waiting until after dinner made him not-so-happy, which, of course, Mom sensed. Because moms are like that.
"Or, we can make dessert, but also make something really simple to snack on right now. How does that sound?"
Zee beamed. Mom sure was full of great ideas today. "How about something with fruit?" Zee knew Mom would be pleased with the suggestion.
"Zee, what a wonderful idea! And you know what, I think I just might have the recipe for us to try."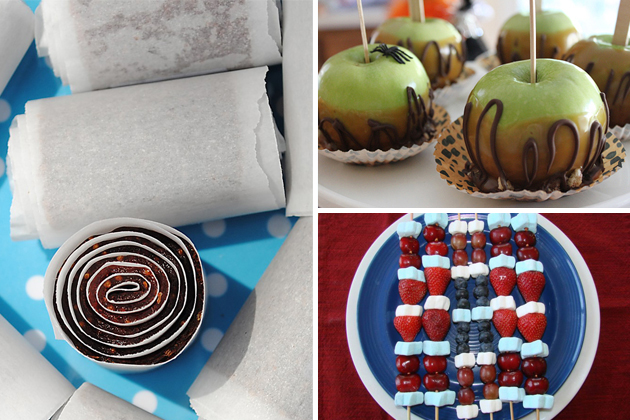 Clockwise from left: Homemade Fruit Roll-ups from 5 Forks, Easy Chocolate Candy Caramel Apples from Amy Locurto, and Fruit Kabobs from Heidi (The Frugal Girls).

So Zee and Mom spent their afternoon making that night's dessert, and a nice little snack as a reward for all their hard work. Zee was so happy after everyone at the dinner table congratulated him on his beautiful dessert, and he vowed that someday, when he was old enough to learn how to type, he might consider starting a food blog.
The end.