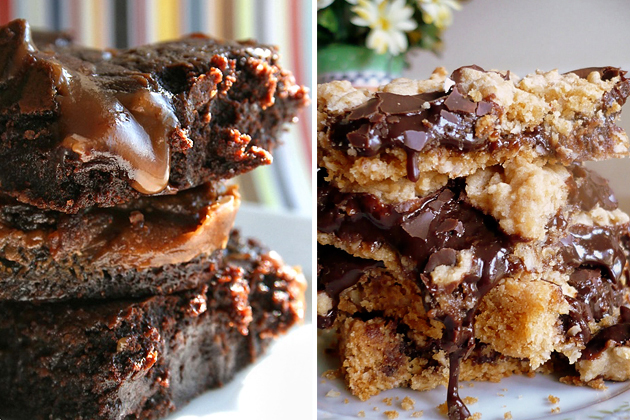 I'm sorry.

I'm just going to come right out and apologize in advance for all the ooey, gooey, sweet, chunky, crunchy, dense, moist, rich goodness you'll see in this post. If you think the Sea Salt Caramel Brownies from doughmesstic and mandybird80's Fudgy Revel Bars above are too much torture, then you may want to view this post in installments.

We're celebrating brownies and bars today to highlight our new Desserts subcategory: Brownies and Bars. It was high time they got their own home. Just look at the little sweethearts. Don't they look happy to have a place to call their own?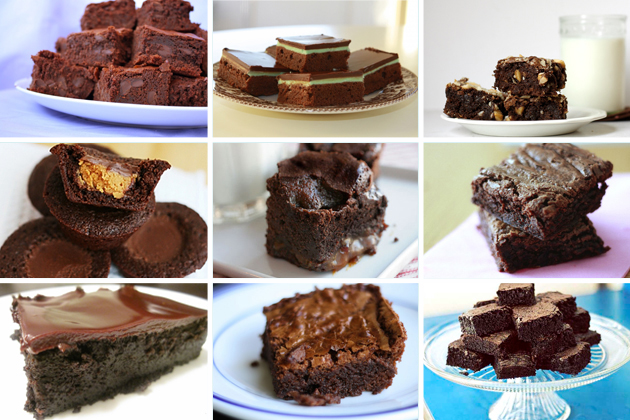 Top row, from left to right: Brownies, As They Should Be from rainydaygal, Famous Mint Brownies from callimakesdo, and Macadamia Nut Brownies from ericalea. Middle row, from left to right: Peanut Butter Cup Brownie Bites from savorysweetlife, Bacon Salted Caramel Brownies from savourfare, and Peanut Butter Nutella Brownies from Chrystal. Bottom row, from left to right: Chocolate Mascarpone Brownies with Chocolate Ganache Top from Rox, Milk Chocolate Brownies from Karenpie, and Best Basic Brownie from lydiajo.



Interestingly enough, although brownies are more popular, blondies apparently arrived at the scene first. While brownies obviously get their color from cocoa or chocolate, blondies have a base of butter and brown sugar or molasses, which are the same base ingredients for butterscotch. I found many wonderful recipes that fall under this group, and you all just do crazy magic with that simple base.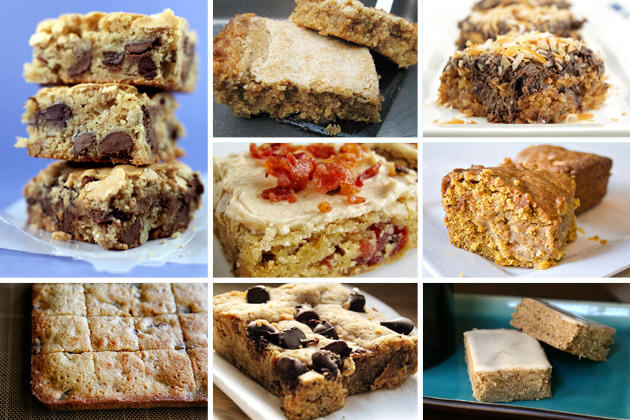 Left column, top to bottom: Congo Bars from Bakerella and The Bar (or Food for the Gods) from ivoryhut. Middle column, top to bottom: Chai Gingerbread Bars from nika, Peanut Butter Bacon Blondies from HowSweetEats, and Coffee Toffee Bars from nhsweetcherry. Right column, top to bottom: Toasted Coconut and Chocolate Chip Blondies from Kelly @ EvilShenanigans, Pumpkin Blondies from Tracy (sugarcrafter), and Chai Bars from savourfare.



Then there are those other types of bars that don't quite fit into an obvious group. Bars that are part candy, part cake, part petit four, and pure decadence.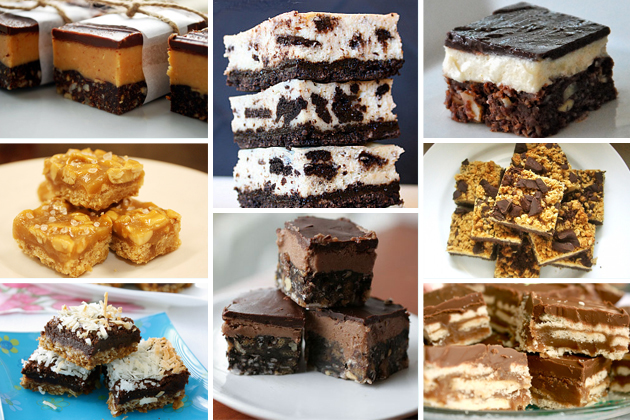 Clockwise from top left: Idle Hand Bars (Sweet and Salty) from guiltykitchen, Cookies and Cream Cheesecake Bars from RecipeGirl, Nanaimo Bars from myrecessionkitchen, Chocolate Peanut Butter Bars from golokitchen, Kit-Kat Bars from Chloe, Nutella Nanaimo Bars from savourfare, Coconut and Chocolate Fudge Bars from cookincanuck, and Salted Butterscotch Shortbread Bars from Dandy.



Maybe a fruity kind of bar is more up your alley. Especially with so many wonderful fruits in season right now. Many of the bars below can easily be adapted to your favorite fruit. Fruit is healthy, yes?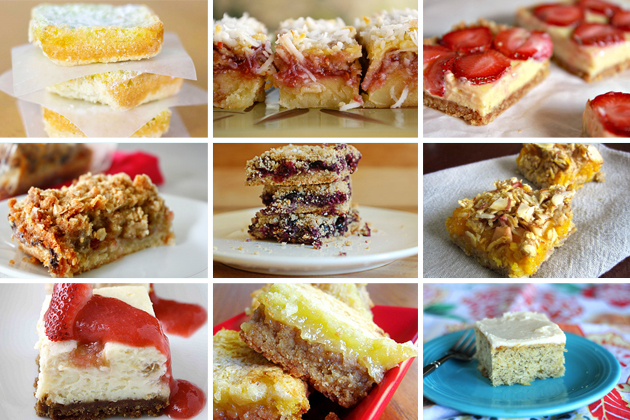 Top row, from left to right: Lemon Lime Squares from sweettooth, Raspberry Coconut Bars from sugarlovegirl, and Strawberry Lime Squares with Almond Graham Cracker Crust from The Noshery. Middle row, from left to right: Rhubarb Crisp Bars from adenscrazymom, Blueberry Crisp Bars from A Cozy Kitchen, and Apricot Orange Squares from foodandwhine. Bottom row, from left to right: Rhubarb Cheesecake Bars with Gingersnap Crust from cookincanuck, Lemon Walnut Squares from Frances Swiecki, and Frosted Banana Bars from dineanddish.

Don't they look so pretty and colorful?

And finally, in case you need something special, like a gluten-free brownie, or dairy-free, or vegan, I found some recipes for you too. Or maybe you want a bar but just don't feel like firing up that oven in the heat of summer. Don't despair; I made sure I found a few recipes to rope you in. You didn't think you'd escape that easily, did you?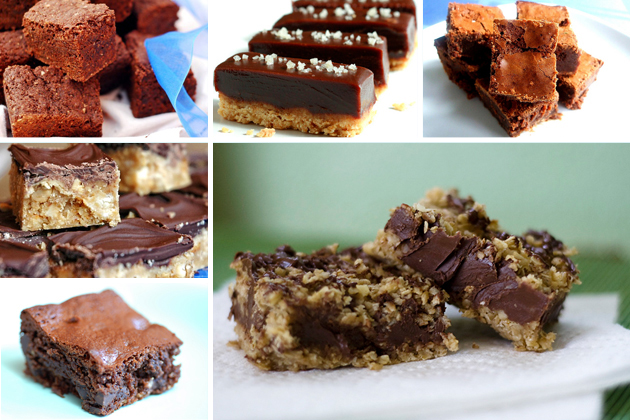 Clockwise from top left: The Ultimate Vegan Brownie from guiltykitchen, whole wheat and all organic Chocolate Caramel Bars from Carrie @ Deliciously Organic, Fudgy Gluten-Free Brownies from glutenfreegirl, No Bake Chocolate Peanut Butter Oatmeal Bars from Karly Campbell, Gluten Free, Dairy Free Brownies from elanaspantry, and another no-bake treat, Peanut Butter Bars from Grandma posted by megstermeter.



And that's it! Just some of the goodies waiting for you in our new Brownies and Bars category. Okay, you can breathe now. I'm done tempting you. Seriously. It's safe to come out now.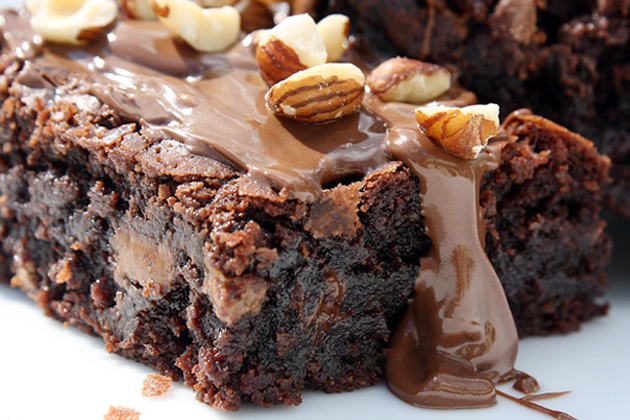 Nutella Caramel Hazelnut Brownies from bell'alimento

Oops. Sorry again!

(The chocolate made me do it.)