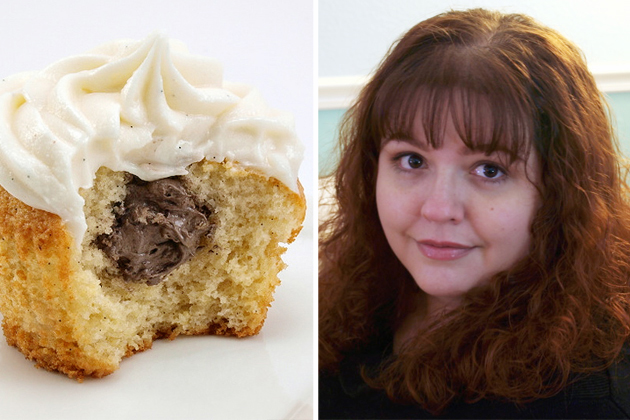 The lovely face you see above belongs to Kelly @ EvilShenanigans. She assures us that none of her shenanigans are terribly evil, "unless you are watching your calorie intake, where it takes a decidedly evil turn!" Let's all wave hello to Kelly, then showcase her recipe box and get ready for that turn.
Kelly Jaggers was born in Harlingen, Texas, and her family moved quite a bit within the state. "But I consider myself a Dallas girl," she says, "because I have been here the longest, and I have stayed of my own free will." Her blog, Evil Shenanigans, gets its name from the move "Super Troopers." It started as a way for her to blog about her adventures in cooking school, and eventually turned into a blog about her cooking "shenanigans."
Growing up, the biggest culinary adventure she had was Chinese take-out, which she despised. But then she tried Thai food, loved it, and decided that "being afraid of food is like being locked in a box with no light or sound; yes, you can live that way, but why would you?" So now she takes every opportunity to try new food. She's even tackled Chinese take-out, with what looks like glorious results.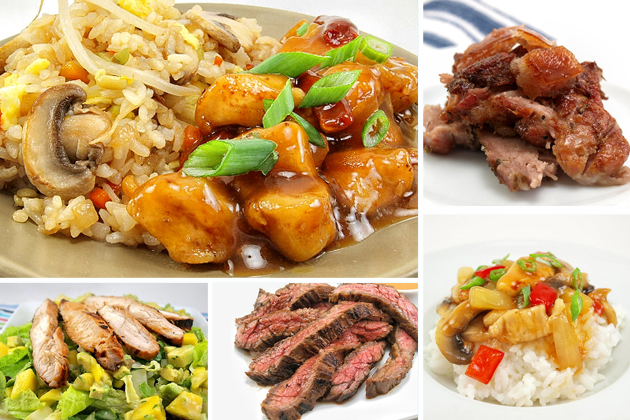 Clockwise from top left: Orange Chicken with Fried Rice, Porchetta, Sweet and Sour Chicken, Triple Citrus Skirt Steak, and Honey Lime Grilled Chicken Salad.



Cooking is Kelly's escape and her joy. When she has a bad day, she escapes to the kitchen. "Often, when I am working out a problem or struggling with a decision," Kelly says, "I can clear my mind while cooking and I find the answer more easily." She comes from a long line of women who express love and affection through food: her grandmother who always had a box of warm apple fritters and a pot roast waiting every time they visited, and her great aunt who always greeted them with freshly fried chicken and homemade pecan pie. She loves making something for other people to enjoy, and says that you will know if she likes you based on the size of the meal she prepares for you.
I'd like to pipe in and say that even if she served me a meal of small portions of these sides, I'd consider myself liked. I'd consider myself very well-liked indeed.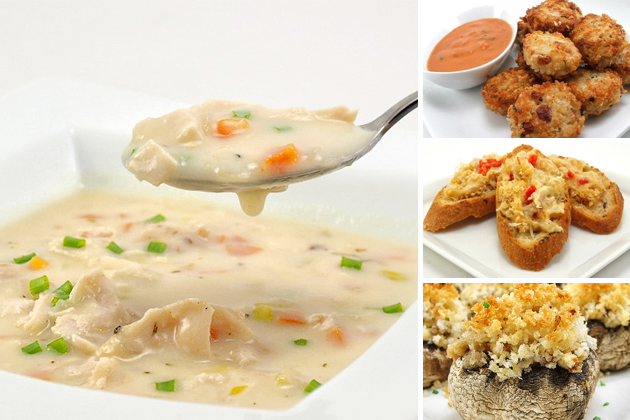 Clockwise from left: Cream of Chicken Soup, Pancetta Risotto Cakes, Crab Cake Dip, and Jalapeno Bacon Stuffed Mushrooms.



Kelly went to culinary school in 2007, and says that it has taught her that failure is absolutely part of the process, and that you often learn more from abject failure than you do from success. It has also taught her not to dwell on failure, and that if she doesn't put it behind her, she will never grow. But don't think of her as a food snob because of her culinary school background. She just as easily admits to loving hot dogs and macaroni and cheese. "I grew up with it and it is one of those dishes I still eat when I need some comfort." When asked about her favorite food pairings, she confesses: "Really, bacon and anything. I may have a problem with bacon."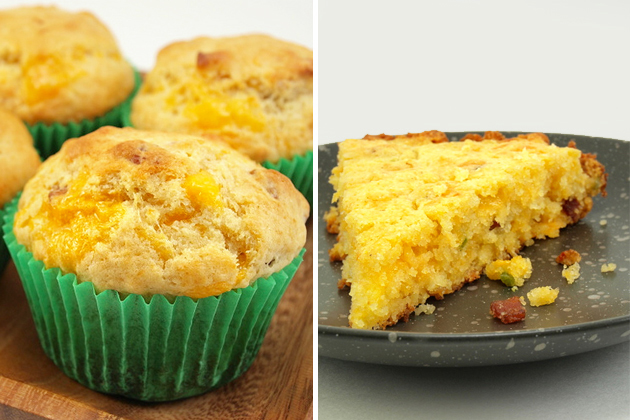 From left to right: Cheddar Bacon Muffins and Jalapeno, Bacon and Cheddar Cornbread.



Her passion for food leans a tiny bit toward dessert or bread, which is likely why the one ingredient she always must have on hand is butter. She loves her whisks and has them in all shapes and sizes, and she can't get along without them. Some of her other favorite food pairings, like bananas with caramel, are wonderfully featured in her dessert recipes.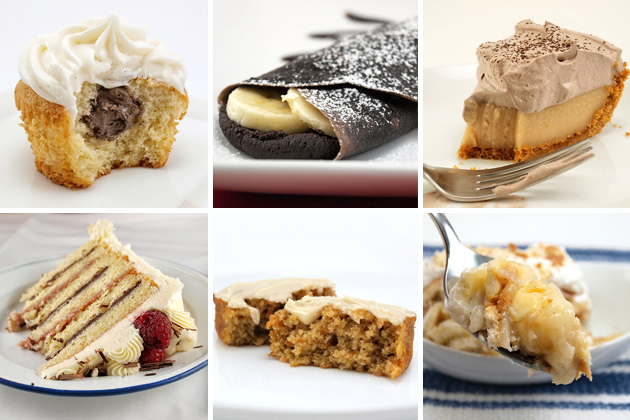 Clockwise from top left: Chocolate Cream Filled Vanilla Bean Cupcakes with Vanilla Bean Frosting, Banana and Chocolate Mascarpone Crepes, Peanut Butter Cream Pie with Chocolate Whipped Cream, Southern Banana Pudding, Apple Carrot Maple Cakes with Maple Cream Cheese Frosting, and Raspberry and Chocolate Ganache Cake with White Chocolate Buttercream.

There's so much more to this proud Texan who used to sing opera and bellydances for fun. So let's get her into the hot seat (or … just seat) and get to know her even more!


Q: Any favorite chefs or food celebrities? Who inspires you?
A: My mom is my number one food inspiration. She taught me to cook, in an effort to make sure I did not starve when I moved out, and taught me a love of cooking and sharing food. She also taught me to make a perfect pie crust, for which my husband will be forever grateful! My favorite television food celebrity is, hands down, Nigella Lawson. Aside from being beautiful, she is well-spoken, intelligent, and she makes food I want to eat. A few years back I got to meet Nigella at a book signing and she was so sweet and terribly humble. I aspire to be as glamorous as she is in the kitchen, but I often fail. It is hard to be glamorous with flour on your nose!

Q: If you had to eat something right now and had only 3 minutes to get it ready, what would it be?
A: Bean and cheese nachos. I always have cheddar cheese in the fridge, I always have a can of beans in the pantry, and I am never without pickled jalapenos. Living in Texas, I think it is mandatory, actually, to have all those ingredients in hand at all times! This dish has saved me on a number of occasions from starvation. It also makes a good late-night or after school snack. Believe me, when you get out of school at 10pm after working a full day, you do not want a snack that takes longer than about three minutes to be ready.

Q: Do you have a most memorable kitchen disaster?
A: Once I created a recipe for a Mascarpone Dark Chocolate Bundt Cake. The batter was lovely, so I was very excited to try the finished cake. After it had cooled, I tried to slice it and the cake collapsed into what I can only describe as dust. Literally, it just turned into a pile of crumbs. I have never had anything like that happen before or since. I was quite crushed!

Q: What else, besides mascarpone bundt cakes, gives you trouble in the kitchen?
A: Making homemade mayonnaise. It almost always breaks. I have tried countless recipes/methods and I inevitably mess it up so I have given up on homemade mayo. It is ok, however, because I have discovered Duke's Mayonnaise which is better than anything I have made. It makes the shame easier to tolerate, and it tastes damn good!

Q: What food item do you always make at home and never buy at the store anymore?
A: Salad dressing. About five years ago I decided that I needed to stop buying salad dressings because they would just languish in my refrigerator after one or two uses. So wasteful of me! Making my own came out of a desire to save money, but it has also improved my relationship with salads for the better. A yummy dressing means more salad consumption in my house. My favorite dressing to make at home is honey mustard. Three ingredients, give it a little whisk, and you have an all-purpose dressing/dipping sauce. It is fantastic on salad, but also good for dunking homemade chicken nuggets.

Q: Give us one of your favorite kitchen tips that you wish you'd always known.
A: Brown meat BEFORE you put it in the slow-cooker. It seems like such a no-brainer, but I never knew. Browning the meat means that your roast will: a) taste better and; b) look better. For a long time I served anemic-looking, flat-tasting, slow-cooker pot roast. Not anymore!
_______________________________________

Thanks, Kelly!

Kelly's recipe box here is full of all sorts of wonderful food, and there's even more to enjoy in her blog, Evil Shenanigans. As you take unhurried, longing glances at her baking section, remember that she says one day, she'll open her own bakery and that we're all invited. Then maybe send her your RSVP now, to grab a slot in that guest list.