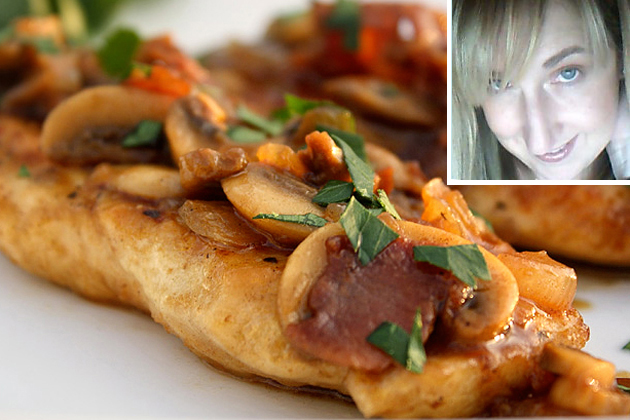 She's a food writer and recipe developer whose passion for food is unmistakable. So is her creativity, as well as her pursuit of authentic Italian recipes, like her Chicken Marsala that you see above. Her name is Paula Jones. We know her here as bell'alimento, and today, we'll all get to know her a little better.
Paula, as you probably already know, loves any and all things Italian. She was born in Georgia, but with a father in the military, she had the great opportunity to travel wherever the Air Force sent them. One of those assignments was Italy, and for her it was love at first sight (or love at first landing). After years of living there (she's fluent in Italian) and subsequent trips to visit, she's learned quite a bit about authentic Italian cuisine. She shares her recipes with us here at Tasty Kitchen and in her blog, bell'alimento. (Bell'Alimento is Italian for "beautiful food.")
Her approach to food is anchored in the belief that beautiful food doesn't need to be complicated. She loves using simple, quality ingredients, which is evident in some of her simple recipes below for common homemade items.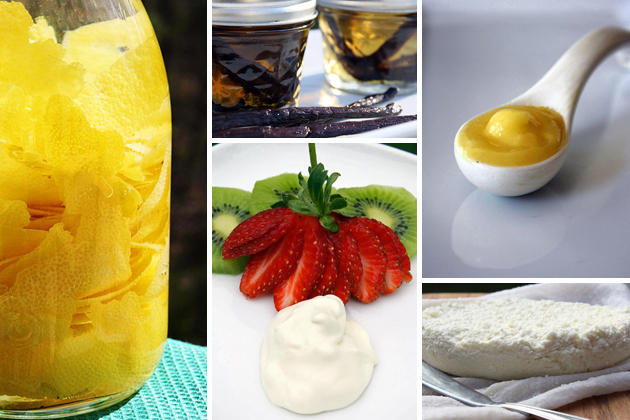 Clockwise from top left:Limoncello, Homemade Vanilla Extract, Lemon Curd, Homemade Ricotta, and Mascarpone.



Paula loves the creativity in cooking. She says the process of preparation, bringing ingredients together, stirring, simmering and cooking that results in something that the entire family can enjoy together is both therapeutic and rewarding. I say that if I had any of the main courses below, even just the eating part would be therapeutic and rewarding. She has more than the typical Chicken Marsala and Chicken Cacciatore in her recipe box. Believe me, she's got much more.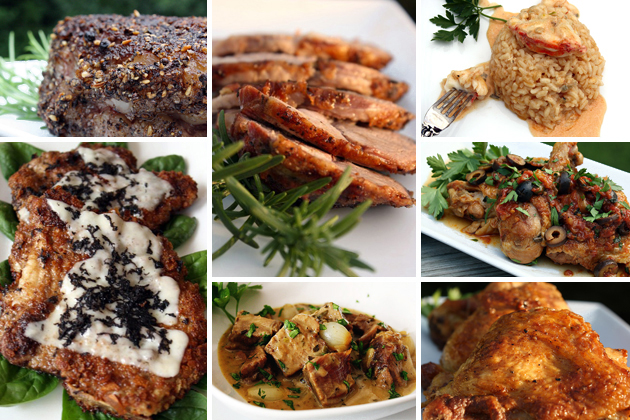 Clockwise from top left: Pepper Encrusted Steak, Roasted Leg of Lamb, Lobster Risotto, Chicken with Olives, Chicken with Rum, Lamb Stew, and Veal Chops.



She also has the sides and starters to complement any main course. From soups to salads and vegetable sides, any one would make a light meal in itself.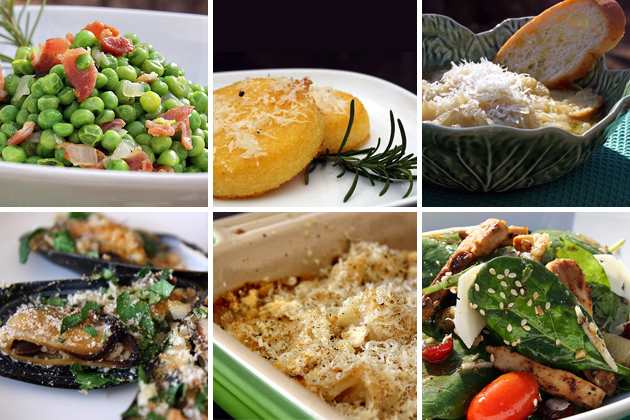 Clockwise from top left: Peas with Pancetta, Polenta Cakes, Tuscan Onion Soup, Spinach Salad with Walnuts and Craisins, Cauliflower au Gratin, and Stuffed Mussels.



Of course, an Italian recipe box wouldn't be complete with pasta. She's got an impressive selection there too, ranging from elaborate seafood linguine to a spaghetti dish so simple it only calls for four ingredients.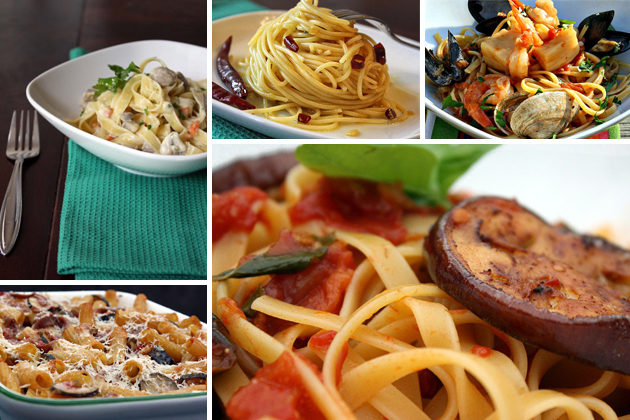 Clockwise from top left: Fettucine Profumate, Spaghetti Aglio Olio e' Peperoncino, Seafood Linguine, Pasta alla Norma, and Pasta au Gratin with Vegetables.



Paula also has a wicked sweet tooth. Although her Microplane grater is hands down her favorite kitchen tool (she grates a lot of cheese), her KitchenAid stand mixer is a close second. Which is a good thing, because then we get to enjoy some of the delicious desserts below from her recipe box.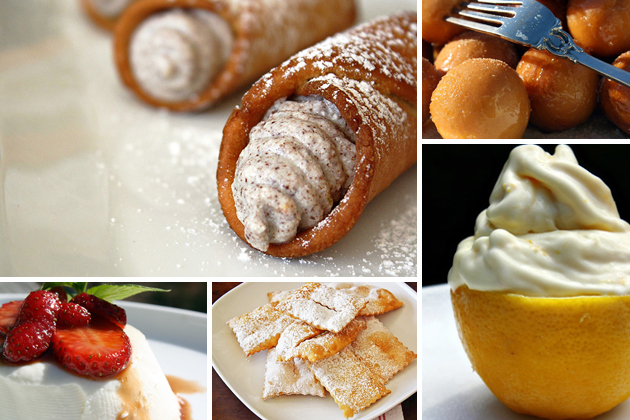 Clockwise from top left: Cannoli, Struffoli (Honey Balls), Lemon Gelato, Crostoli, and Panna Cotta



But do you know what she loves most of all? That one thing that she always has to have on hand? Nutella. In fact, if she were starving and only had 3 minutes to make something, she'd make a Nutella Strawberry Panino. I, for one, am glad she's a self-proclaimed Nutella-holic. Just … just try to look at the collage below and tell me it doesn't make you want to grab a jar yourself.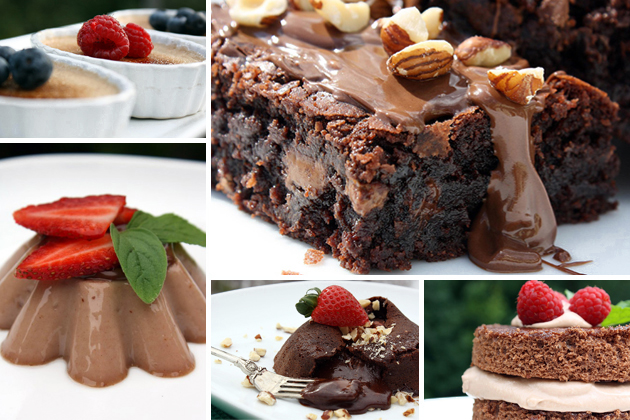 Clockwise from top left: Nutella Creme Brulee, Nutella Caramel Hazelnut Brownies, Chocolate Torte with Nutella Mousse and Raspberries, Chocolate Nutella Molten Lava Cake, and Panna Cotta alla Nutella.

I rest my case.
Paula shared a few other interesting personal tidbits about herself, so let's hear from her directly and get to know more about the awesome lady behind all these wonderful recipes!


Q: Tell us a little more about yourself.
A: I try to convince my family daily that we need a vacation home in Italy. I am addicted to my cell phone, I love Cinnamon Altoids, and don't ever leave the house without lip gloss! I have a shoe and bag problem. I am fascinated by all things hot pink (both my laptop and cell phone are hot pink). Something that few people know about me is that I am enamored with the PBR (Professional Bull Riders Association). Gasp. Yes, it's true. Really. My favorite bull is Chicken On A Chain! I would love to secretly go to the PBR Finals to cover what the cowboys are eatin', but don't tell.

Q: Do you have any favorite chefs or food celebrities? Who inspires you?
A: My mom and grandma were huge cooking inspirations. I learned what a pinch, a smidge, a dash and a little bit were from them!

Q: What is your go-to dish or meal?
A: Spaghetti alla Carbonara any day of the week.

Q: Do you have a memorable kitchen flop?
A: Well, I try to put those out of my mind, but my family assures me there have been some. Most recently, it was a fish dish that they made me promise not to ever make again.

Q: What gives you the most trouble in the kitchen?
A: Making gravy. I just can't do it, much to the dismay of my very southern mother.

Q: Is there something that you always make at home and never buy at the store anymore?
A: Pesto, and now jelly! I have recently started canning and am hooked! Who knew it was this easy? Clearly my grandmother's generation was on to something. Next up, I'll be tackling canning tomatoes from my garden.

Q: Give us one of your favorite kitchen tips that you wish you'd always known.
A: Don't be afraid to experiment! Some of the best meals are accidental.
_______________________________________

Thanks, Paula! And now, I'm off to Google "Chicken On A Chain."

Take a peek into the bell'alimento recipe box here at Tasty Kitchen. It's bulging with mouth-watering recipes that your family is sure to love. Then visit her blog, bell'alimento, for even more of her cooking. Oh, and in her spare time, she also freelances as a contributor for another Paula: Paula Deen.