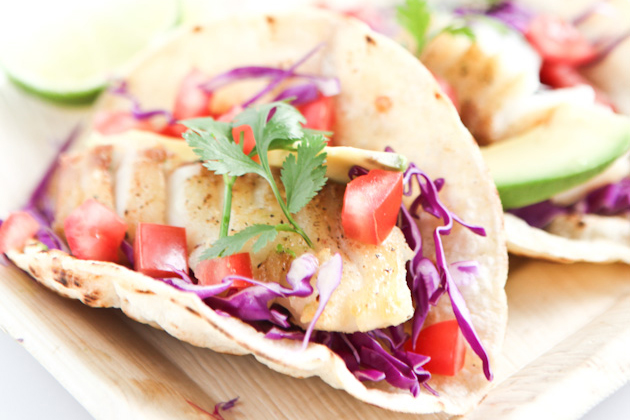 It's taco time! We make tacos quite often for dinner, and I'm going to admit that sometimes when short on time, I'll fill the tortilla with something a little unexpected but convenient. In a pinch, I'll grab a cooked Mojo-seasoned rotisserie chicken from the deli department, a package of corn tortillas, shredded cheese and sour cream.
I don't even bother carving the chicken at all, I'll just stick the entire chicken, still in its plastic container right in the middle of the dinner table. We just each rip, tear, grab chicken pieces to put on our tortilla.
So barbaric, yet so good.
I also love making grilled fish tacos (photo above) and any fish on sale will do. Just season the fish with some taco seasoning, throw it on a grill pan and eight minutes later, I've got fish tacos. It goes really well with thinly shaved crunchy red cabbage, a sliver of avocado and diced fresh tomatoes. If I need a sauce, sometimes I'll cheat and do a mixture of mayonnaise and Thousand Island dressing. It's not authentic I know, but hey, after admitting the rotisserie chicken bit, I'm not afraid to tell ya all my shortcut secrets!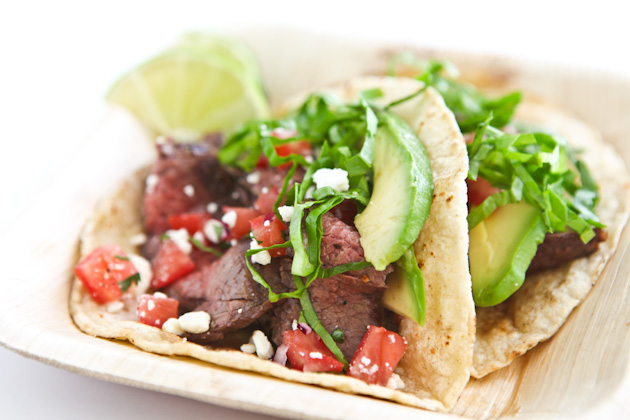 Leftover steak gets re-sizzled in the frying pan for 30 seconds and then thrown in a tortilla with crumbled Mexican cheese, shredded lettuce and tomatoes spiced with minced jalapenos.
And then there's my favorite: carnitas. Pork slow cooked so tender that it practically falls apart. A zesty, spicy corn relish pairs great with the melt-in-your-mouth pork!
So those above are my standby taco recipes. I don't stray too far off from these combinations. Now that I've gotten the normal stuff out of the way, I'll also admit that I once tried making tofu tacos. !!MASSIVE FAIL!!
Now it's your turn. What's your favorite taco stuffin' AND what's the biggest taco fail ever? Please tell me I'm not the only one with massive taco fail! Pleeeeze?


_______________________________________
Jaden Hair is a food writer, television personality, and food photographer based in Tampa Bay, Florida. Find more of her recipes in her blog, Steamy Kitchen, where you can also read more about Jaden's new book, The Steamy Kitchen Cookbook, and the rave reviews it's received!