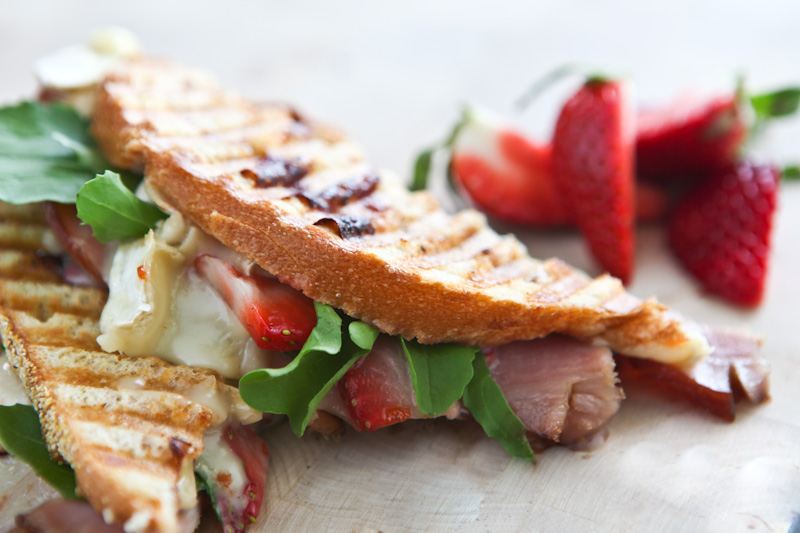 If you celebrated Easter this past Sunday and served a centerpiece ham, you must have leftover ham sitting in your fridge. By now, you're probably a little tired of the usual: ham sandwiches, egg 'n' ham, ham casserole, etc. Or perhaps you've already banished the remaining ham to the freezer?!
So yesterday, Erika posted The Theme is…Grilled Cheese! and I thought I'd play off the warm sandwich idea and make a panini with leftover Easter ham, strawberries and brie cheese, an idea my little eye spied in Southern Living Magazine.
I also threw in some arugula growing in my backyard (which grows like a weed! My goodness, I can't keep up with the arugula production at my home!) and spread some raspberry habanero jelly from this lovely lady who makes them in small batches.
So imagine this:
Slightly salty ham + sweet fresh strawberries + melty oozy brie + a gentle spicy sweet heat + satisfying crunch of the bread
I think your leftover ham would be darn proud to be in this sandwich!

What's in this Strawberry Ham Brie Panini:
1 brie wheel
good crusty Italian bread
nice thick slices ham
big ol' handful of baby arugula
fresh strawberries, sliced
raspberry habanero pepper jelly (or pepper jelly of your choice)

I know you probably have even better ideas for leftover ham. Send 'em on this way!


_______________________________________
Jaden Hair is a food writer, television personality, and food photographer based in Tampa Bay, Florida. Find more of her recipes in her blog, Steamy Kitchen, where you can also read more about Jaden's new book, The Steamy Kitchen Cookbook, and the rave reviews it's received!