I first made Tasty Kitchen member The Noshery's Individual Scalloped Potatoes during a day last year when I had some guests over to cook. We selected two Tasty Kitchen recipes to make together (you can read about the fun here) and wound up loving these nifty little layered potato dish, made in muffin tins. So yesterday, when I had a chunk of ham in my fridge and needed a clever way to use it up, I thought of The Noshery's recipe.
Here's how I made it.
Here's what you need: ham, potatoes, cheddar cheese, green onions, salt, pepper, green onions, half & half, and butter.
First thing you need to do is nuke some russet potatoes for 10 to 15 minutes. They need to be partially cooked but still firm (not mushy and falling apart.)
(Ignore the greenness of my potatoes. Pretend you didn't see it. I avoided the green parts in the finished dish, and besides that, a 100-pound human would have to eat a fully green potato that weighed 1 pound in order to see any signs of stomach upset—and pounds and pounds of fully green potatoes before more detrimental effects would start to show up. Again: pretend you didn't see it!)
Cut the ham into slices, then cut the slices into strips…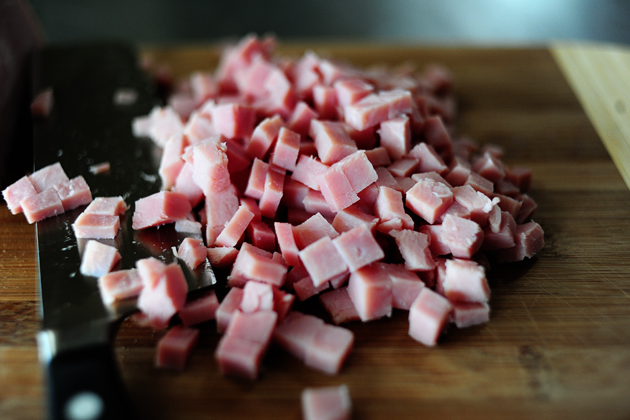 Then cut the strips into small cubes.
Small is the key!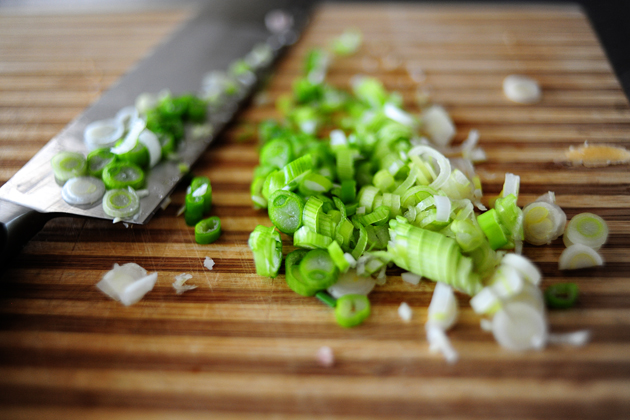 Then slice up the green onions and grate up the cheese.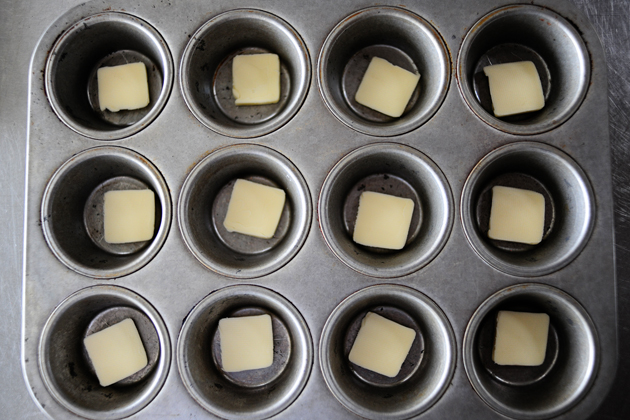 You want to put half a pat of butter into the bottom of each muffin cup, so cut half a stick of butter into twelve equal "half-pats".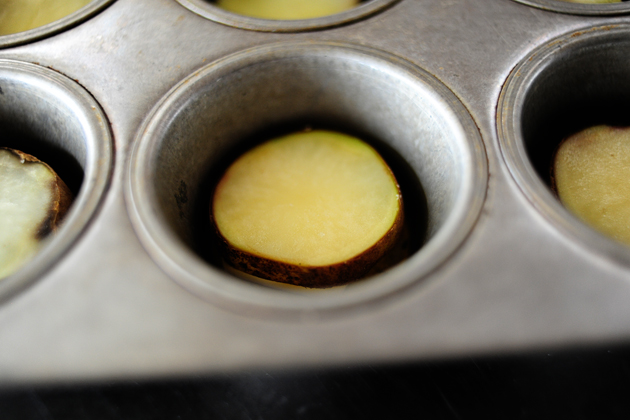 Next, set a slice of nuked potato on top of each half-pat of butter.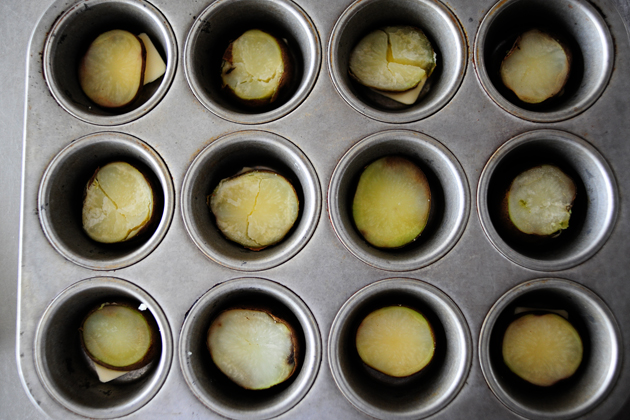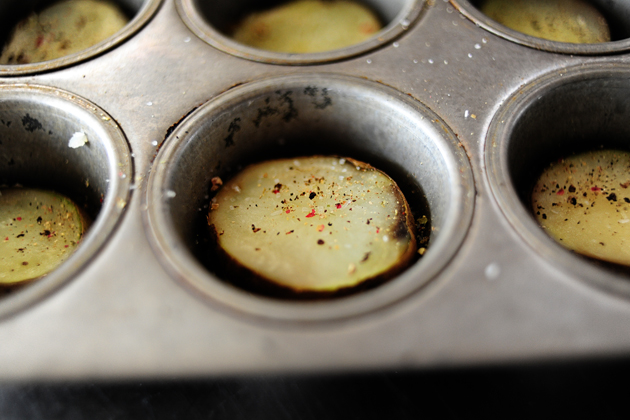 Sprinkle each slice with salt and pepper.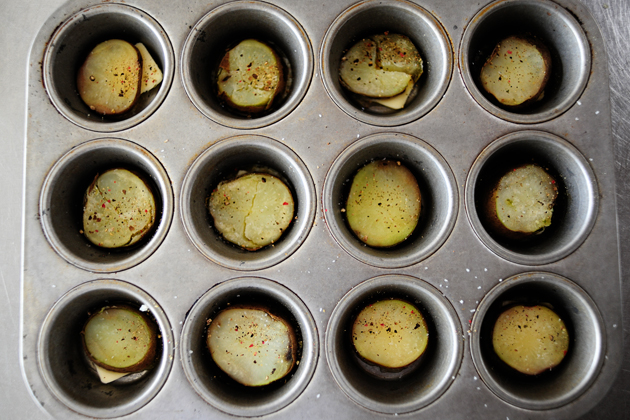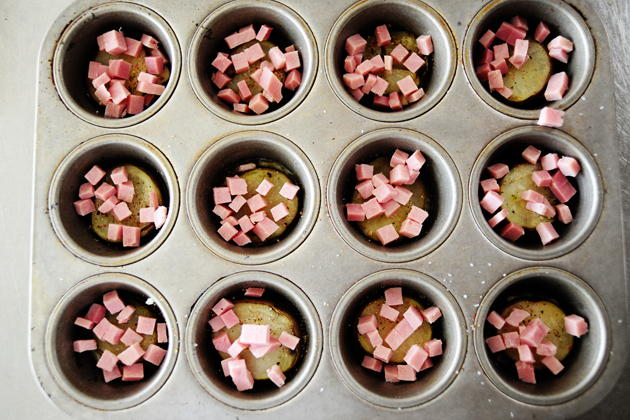 Sprinkle in the finely diced ham…
Green onions…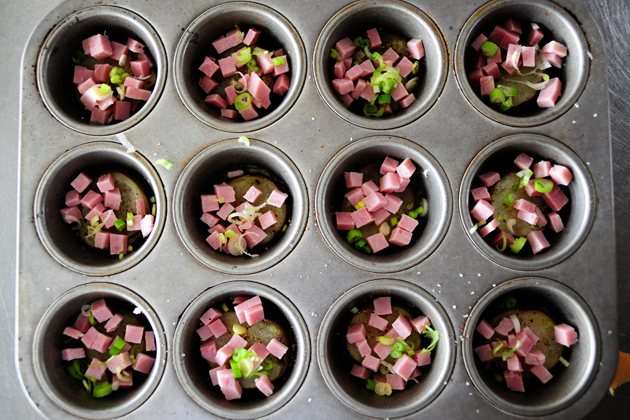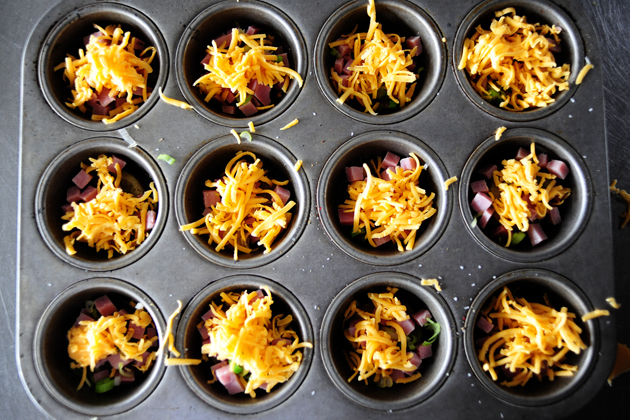 And cheese.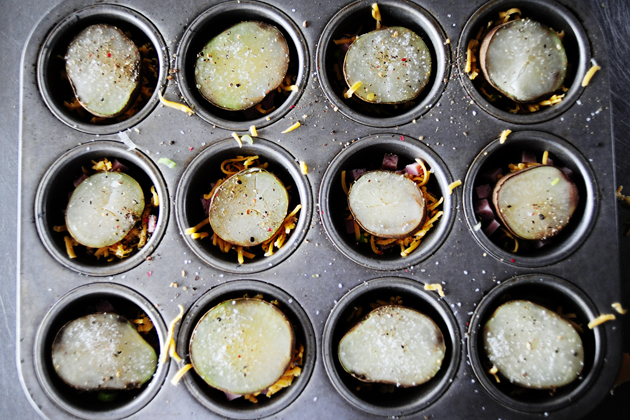 Then repeat the layers: potato slice…
Ham…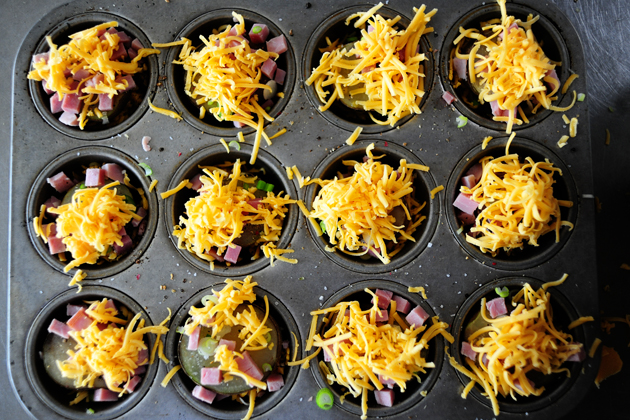 Scallions and cheese…
And another half-pat of butter.
Yes. You heard me.
And finally—yes, this is really happening—a teaspoon of half and half over the whole thing.
And that's it, baby! Pop 'em into the oven for about 20 to 25 minutes.
Pull them out when the cheese is nice and bubbly. Then faint right there on the spot.
And they're…delicious! You can serve a couple of them with a big green salad for lunch or dinner, or you can do what I did on the Monday after Easter: served 'em right next to a big, juicy steak!
Yes. You heard me.
Enjoy these! They're a fun way to use up your ham and they're really fun to make.
Thank you to The Noshery for the inspiration!
(Here's Noshery's original recipe here on Tasty Kitchen. Just add in the diced ham and follow the rest of the recipe as is: Individual Scalloped Potatoes, by The Noshery – Printable Recipe.)