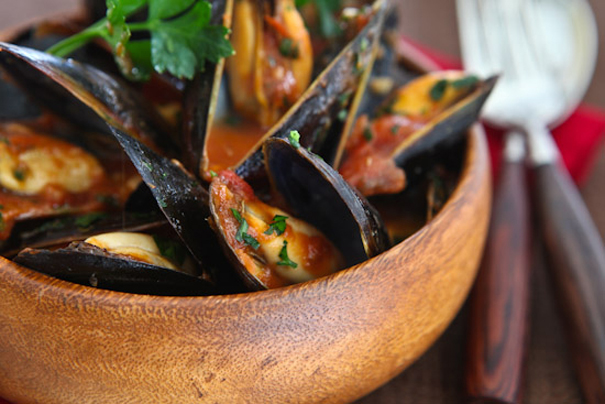 Tomato sauce for pasta is one of the easiest things to make. Everything gets dumped into one pot, then you turn the heat to low and let it simmer to mellow out its tomato-y-ness (pucker!) and richen its flavor. I've yet to make a pot of tomato sauce without leftovers, and the remaining always goes into the freezer.
So what to do with leftover, frozen tomato sauce? Well, you can make another batch of pasta (yawn) or grab a pound of mussels, a few cloves of garlic, a glug of wine and 15 minutes later, you've got a fabulous dish like the one you see above!
Alright, here we go.
I love garlic, so I use lots. In a pot or sauté pan (basically a frying pan with high sides and a hopefully you'll have a lid, too), add a good drizzle of olive oil and garlic. Turn the heat to low. YES—add the olive oil and garlic first before you turn the heat on. As the oil warms, the garlic will infuse the oil and slowly cook (i.e. not burn). Burnt garlic is bitter. Bitter is baaaaad.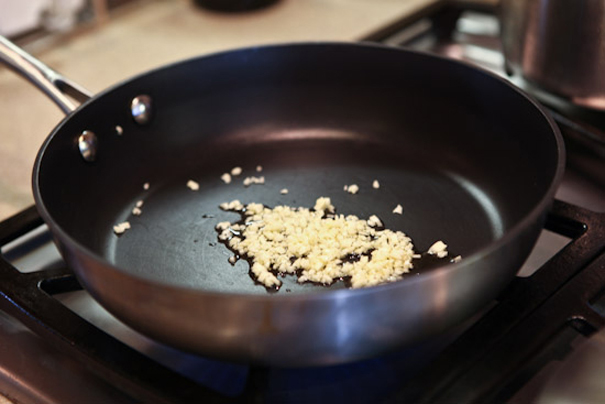 Keep watching the garlic and the heat! No burning!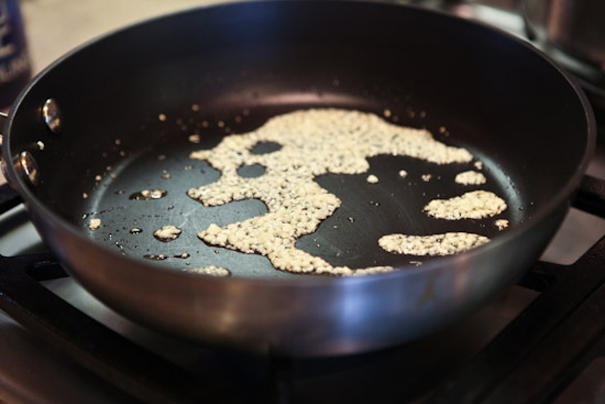 As you see the garlic starting to brown, immediately add in the mussels (make sure you've already scrubbed, picked over and discarded shells that won't close or are cracked).
Do it now! If you wait any longer, the garlic will burn! (Okay okay, I'll stop with the garlic lecture!)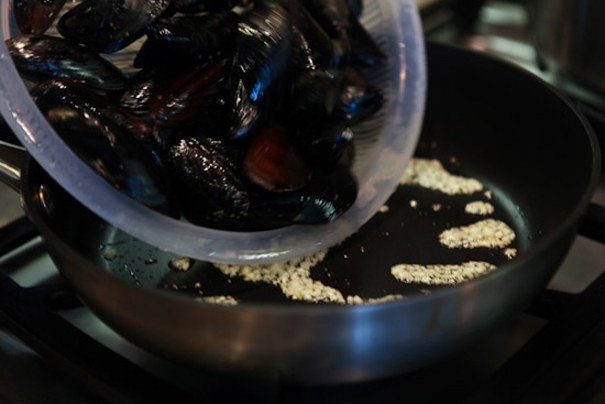 Use your spatula to toss the muscles in the garlicky goodness (oops, there I go again with the garlic!).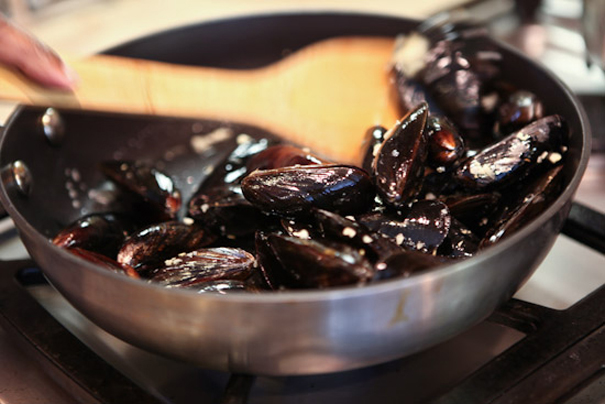 Turn the heat to high and pour in some white wine, vegetable broth, clam juice or beer. About 1 cup for 1 pound of mussels will do just fine. Add in a generous pinch of salt, stir and bring to a boil.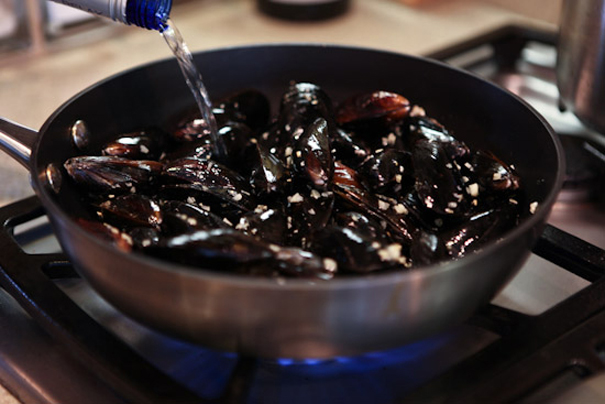 Cover and cook for 2 minutes. Uncover, and now take a peek at the mussels. Discard any that have not opened.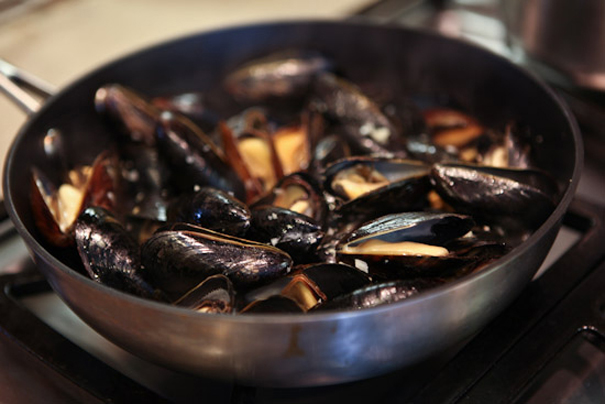 Like this little bugger.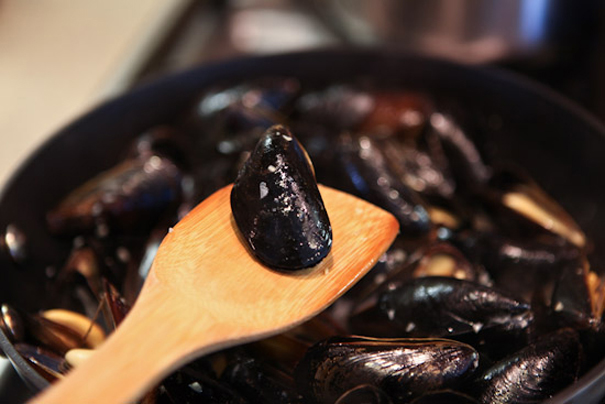 Before you add the tomato sauce, I want you to taste it. Is it puckery? If so, add a generous pinch of sugar to tame down the acidity.
Add in your tomato sauce (ooohhh … about 1 1/2 cups or so), stir and bring the whole thing to a simmer. Let it go for another minute or so.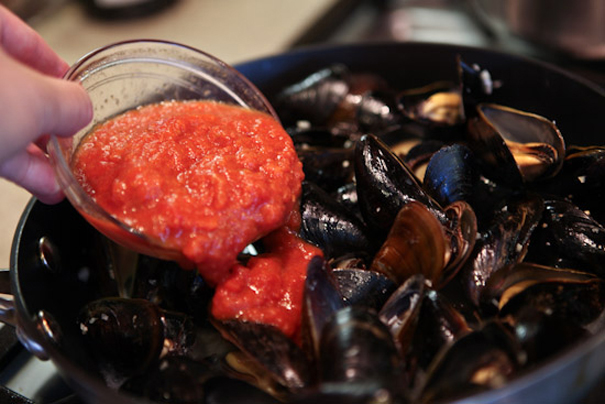 Add in some minced parsley or basil, and you're done!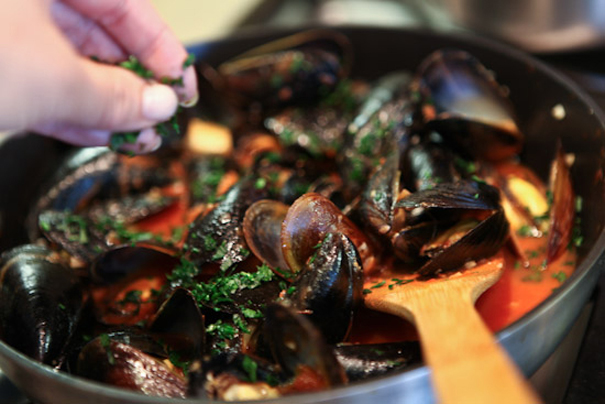 Do you love? Do you love? Please tell me you love!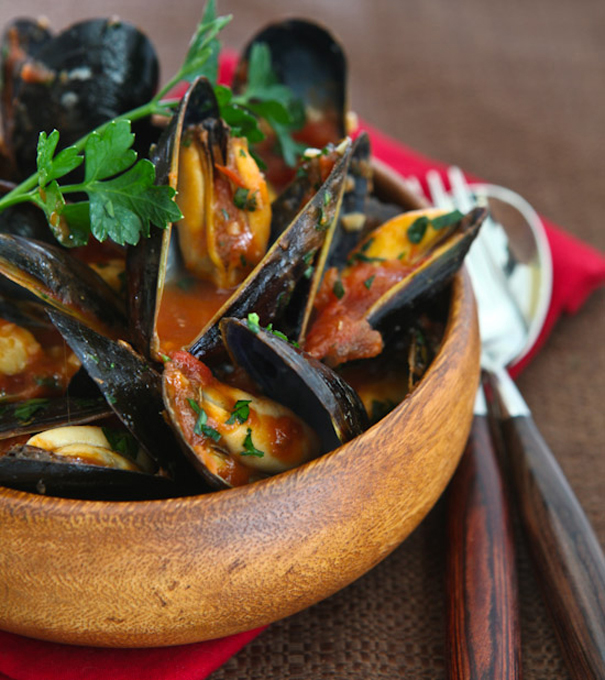 Okay, the reason why you DON'T cook the mussels in the marinara sauce (we simmered them in wine first) is that one bad mussel can ruin the poor diner's entire meal. Cooking the mussels in the wine lets you see very clearly which mussels have not opened. If you had cooked them in thick red sauce, it might have been more difficult to see.

So there's one of my favorite ways to use leftover marinara sauce! What's yours? Send me some ideas!


_______________________________________
Jaden Hair is a food writer, television personality, and food photographer based in Tampa Bay, Florida. Find more of her recipes in her blog, Steamy Kitchen, where you can also read more about Jaden's new book, The Steamy Kitchen Cookbook, and the rave reviews it's received!