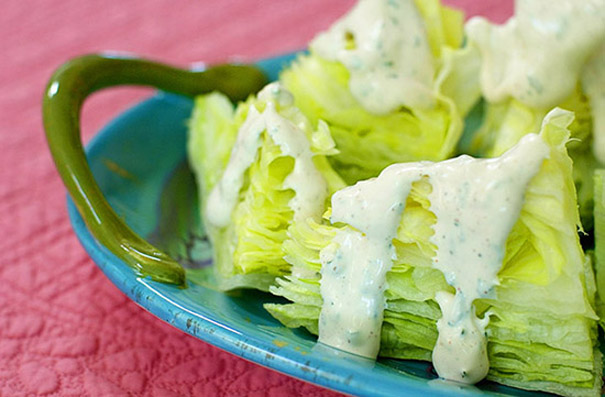 A long time ago, Ree posted the recipe for her Homemade Ranch Dressing that you see above. It was a recipe born of necessity, considering the vast distance she'd have to drive just to get a packet of ranch dressing mix.
The result was not only yummy but undoubtedly healthier to boot. No benzopropenoleumfragillistic acid in it—just good ol' herbs, garlic, sour cream, and mayonnaise. And the recipe has saved me a few trips to the (in)convenience store myself.
Which brings us to today's theme. Tasty Kitchen has a wealth of incredible recipes for all kinds of dishes, and we love that it's becoming a regular resource for recipe ideas and meal planning. But we also have a number of homemade ingredient recipes that members have shared, just for those emergency situations when you're out of something that you need. Or maybe you just want a homemade alternative, which often is also the healthier alternative.
Let's start with baking. To give you an idea of what we have in here, take a look at these: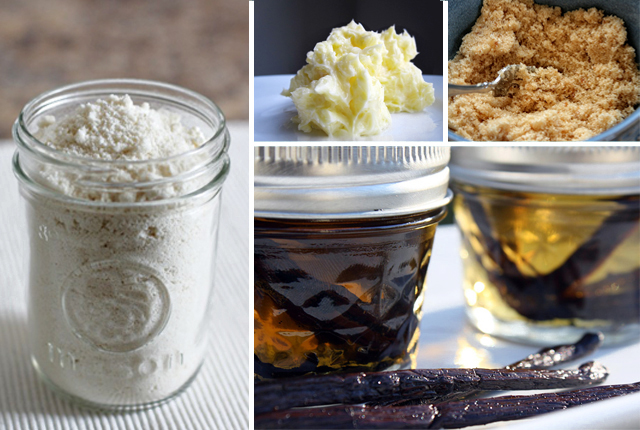 We've got Homemade Baking Mix (Bisquick, anyone?) from Noshings, Homemade Butter from Jerseycook, Homemade Brown Sugar from damselindisdress (who knew it was so simple?), and bell'alimento's Homemade Vanilla Extract.
(I think I'll stop typing the "homemade" part of the recipe titles now, since that is the theme for today.)
All we have to do now is throw in some baking powder and powdered sugar and you pretty much have all you need to make something yummy in the oven.
What if you're making lunch or dinner, and need something for your dish? Some ricotta cheese maybe? Or perhaps pizza sauce? Maybe you want to make some pasta but don't have any of those boxes of noodles. Yep, we've got you covered there too.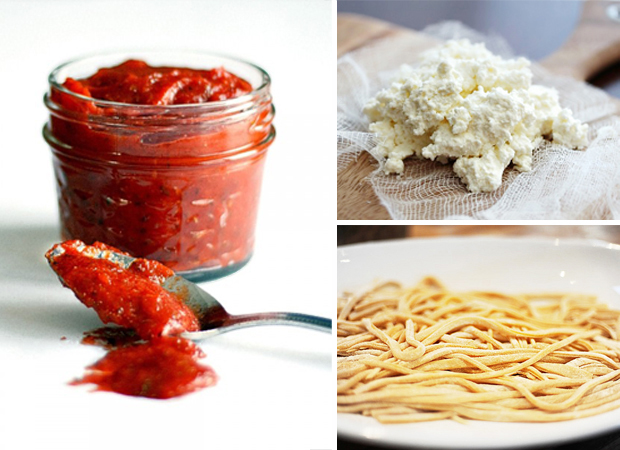 Clockwise from the left: ericalea's awesome-looking Pizza Sauce, Ricotta Cheese from whatsgabycooking, and Pastor Ryan's incredibly easy and amazingly yummy Pasta.

Oh, and if you're like me and you never have wonton wrappers around when you need them, we've got those too. (Thanks, Bob.)
Doing Mexican night instead? Now there's no need to fret anymore if you run out of taco seasoning, hot sauce, refried beans, or even flour tortillas. (You can even take those flour tortillas and make your own tortilla chips. Then dip them in your homemade sour cream. Which would add mucho, mucho points to your awesomeness factor.)
What if your missing ingredient is a bit harder to find, and the problem isn't so much the distance to the store but whether or not you can actually find what you need? From marzipan to mascarpone, Nutella to Kahlua, you may be surprised at the list of ingredients you can make at home.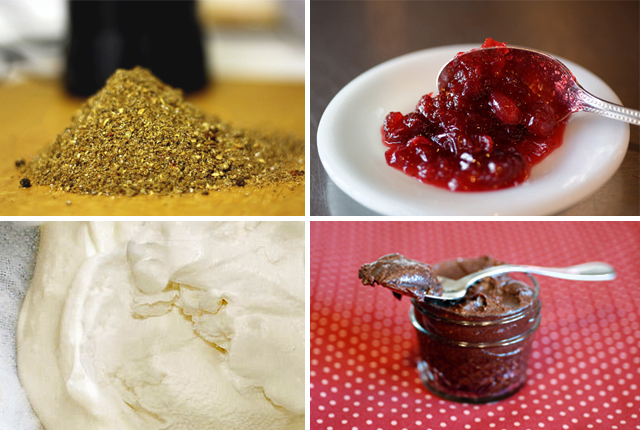 Clockwise from top left: Garam Masala from ilikemonkeys, Ree's Cranberry Sauce, Nutella from elanaspantry, and Birgit Kerr's Mascarpone Cheese.



So whether it's marshmallows that you need, or mayonnaise, or even yogurt, next time you think you might have to make a quick trip to the store just for one item, come visit here first! You just may save yourself that extra drive.
Now it's your turn. Do you have any ingredient substitutions to share? Any secret tips that you don't mind making not-so-secret anymore? We'd love to hear them all!


Update: We have a new Homemade Ingredients category at Tasty Kitchen! Check back for new additions from time to time. Keep those suggestions and tips coming!