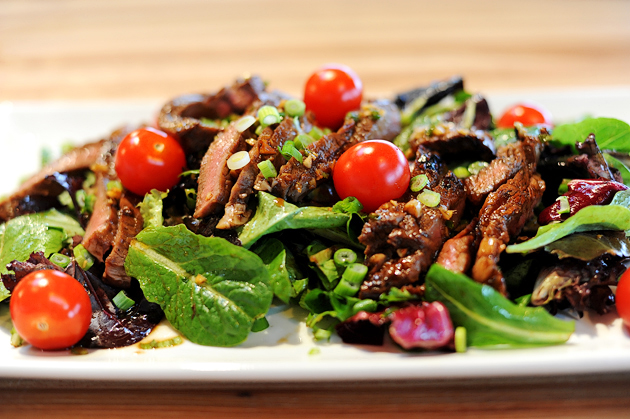 To atone for all the sinful chocolate I inflicted on you last week, today we'll talk about salads. Healthy, hearty, satisfying Main Dish Salads, like Ree's Ginger Steak Salad pictured above. The kind that even some serious eaters might be willing to consider a full meal.
Main dish salads are a great meal option that tend to get overlooked, or relegated to "exclusively for ladies luncheons" status. Which is unfortunate, because a main dish salad has a lot going for it. It's often a one-skillet meal (if at all), and most of it can be prepped ahead of time. Because of that, it can get thrown together in a flash, and you can easily change it up by simply changing the dressing. It's also an all-food-groups-in-one meal, often including the protein, veggies, dairy (cheese), healthy oils, and sometimes fruit all in that one salad bowl (easy clean up, too!). It also covers almost all of the different tastes in the flavor rainbow: salty, sweet, savory, even bitter, creamy, tart, crunchy, and silky. (Those last two are more textural, but our flavor rainbow is friendly like that.)
Apparently, main dish salads also cause you to make up phrases like "flavor rainbow."
So let's look at some of the wonderful salads we have in Tasty Kitchen. There are lots of different ideas here, and hopefully you'll find something that inspires you.
First, let's look at this Grilled Chicken Salad with Chipotle-Lime Vinaigrette from Natalie (Perry's Plate). It has grilled chicken, cotija cheese, avocado, red onions, spicy-smoky chipotle, corn … help me, I might start talking about rainbows again!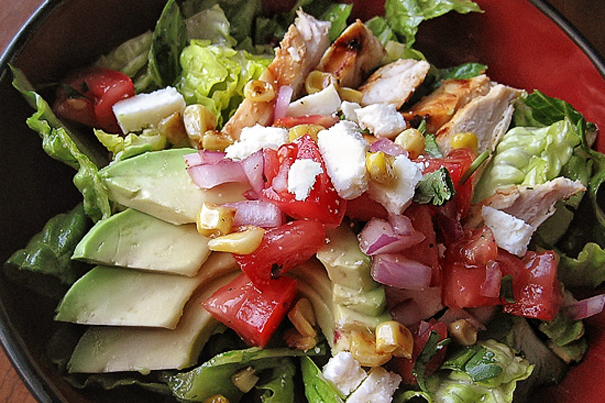 Or you can skip the usual salad greens altogether and use crunchy green vegetables instead! Like this Crunchy and Cold Bean Salad from jenmenke. She says that it keeps for several days in the refrigerator, and actually tastes better with age.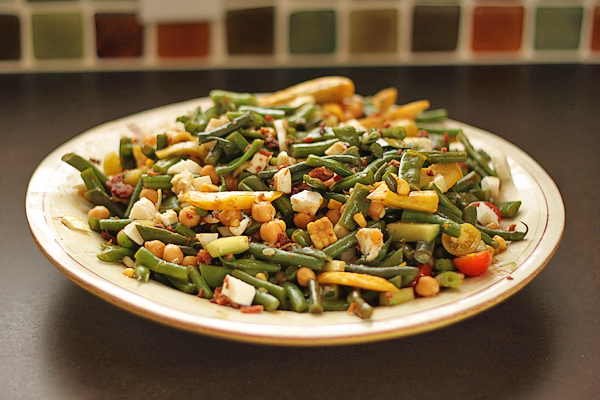 I don't know. I'm not sure this would last days in my house. I might end up sneaking a bite or two from the refrigerator every half hour or so.



Now, let's say you have kids who are suspicious of anything that's too … green. If so, The Noshery's got just the salad for you. Here's a Pecan Encrusted Chicken with Apple Salad and PB & Maple Dressing that just might be a hit with the entire family, kids and picky eaters included. It's got crunchy chicken tenderloin, apples, carrots, maple syrup, and peanut butter.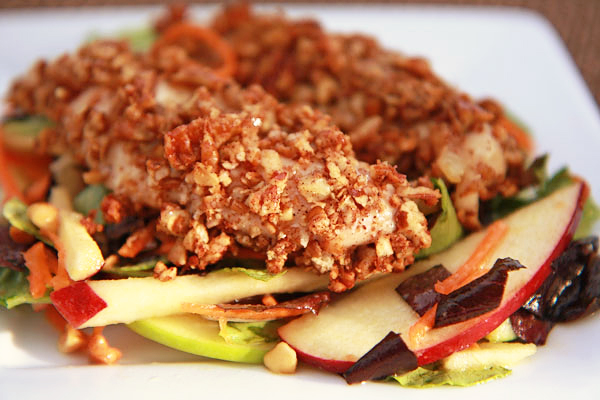 If you're in the mood for something simple with Asian flavors, Kelsey Barnard shares her Oriental Chicken Slaw. Trust me. This is absolutely delicious. Light and crunchy, and full of wonderful flavor.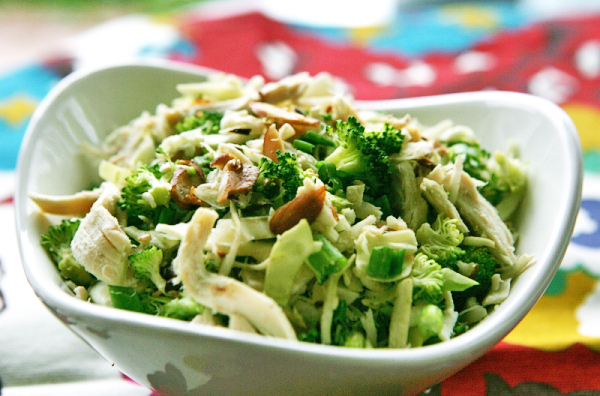 Of course, main dish salads don't always have to include meat. Here's a vegetarian Quinoa Taco Salad from goodlifeeats, using crunchy, nutty quinoa to put a healthy spin on the typical taco salad.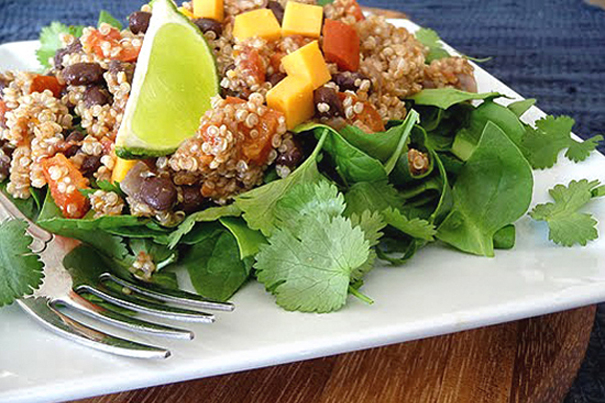 And there you have it! Those are just a handful of the great main dish salads you can find here.
So, where do main dish salads fit in your weekly menu? Do you wish you could serve them more often, but are afraid that might not go over well with everyone else in the family? (I'd be in that group.) Do you already have them in your regular lunch or dinner rotation? Do you have any favorite salad ingredients? (I like mine with a simple vinaigrette, a bit of cheese, something sweet like halved grapes or figs, and with a nice crunch from toasted walnuts, pecans, or cashews.)
Check out the Main Dish Salads category and see if something in there strikes your fancy. I hope you find some good ideas, or at the very least, let me off the hook for the chocolate overload last week.
I may have to find another way to make up for "flavor rainbow," though. Stay tuned.