This Sunday is not only Valentine's Day. It's also Chinese New Year—the Year of the Tiger! Since the Chinese calendar is based on the solar and lunar patterns, every year the holiday falls on a different day. Luckily, the color red is popular for both Valentine's Day and Chinese New Year.
It's good luck to eat specific foods on Chinese New Year (we are very superstitious people), and different dishes have different meanings. I'm not the type of person to take chances on ruining my good fortune, so whether I absolutely believe the superstitions or not, I'm going for it. Plus, if I didn't, my Mom would be on my case for sure. She's in California and I'm in Florida, so our phone conversations the day before go like this every single year:

"Are you going to make some lettuce for prosperity?"
- Yes Mom.
"How about shrimp for happiness?"
- Yes Mom.
"Make sure you don't sweep the floor on Chinese New Year! You'll sweep out all the good fortune!"
- Okay Mom.
"And take the children for a haircut today, not tomorrow or they'll cut off their good luck!"
- I already did Mom.
"Did you buy some Chinese candy to bring in joy?"
- Yup.
"AYYAHH! But don't let the children eat too much candy or they'll get bad teeth!"
- (Sigh.)

My loving mother always makes sure that I'm following the rules our ancestors have followed for generations! And I gotta say, so far so good. We're happy, healthy and always have more than enough.
If you're looking for some fantastic recipes for Chinese New Year, how about these: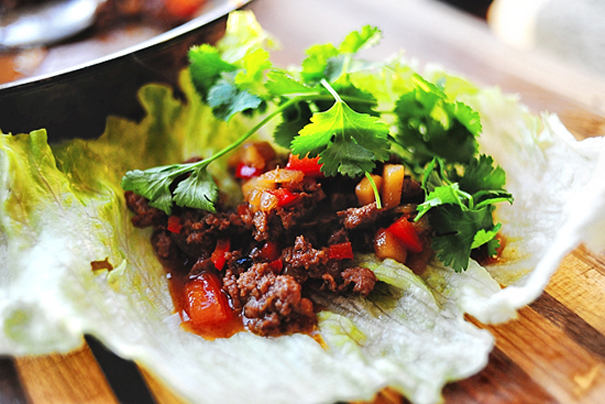 Lettuce Wraps by tfenger: These lettuce wraps symbolize growing wealth!
Or you can also make Chinese Takeout Garlic Shrimp by Joolsey. Shrimp in Chinese is pronounced "haa"—symbolizing laughter and happiness!
Cheesecake Chinese Style by shecancook2: Here's a twist on cheesecake. The great thing about this dessert is that they look like golden bars, which of course means wealth and prosperity!
Asian Orange Chicken from Blog Chef: Eating oranges symbolizes wealth. This is a perfect recipe that I think I'll be making for Chinese New Year!
Or try some Tangerine Beef by saucyblonde. This is a great dish for attracting wealth. Tangerines are always part of a Chinese New Year tablescape.*
Asian Dumpling Soup with Vegetables by Lauren: For prosperity, make sure you have some dumplings on the table! And you don't even have to make the dumplings from scratch. Your local Asian market, Whole Foods and many supermarkets will have frozen dumplings.
Ree's Asian Noodle Salad: For long, long life. But remember, do not cut the noodle strands. Leave 'em long. Otherwise you'd be "cutting your life short!"

*Oh. My. Did I really use the word "tablescape"? What's next? Interchangeable curtains in my kitchen window to match my outfit every day?

_______________________________________
Jaden Hair is a food writer, television personality, and food photographer based in Tampa Bay, Florida. Find more of her recipes in her blog, Steamy Kitchen, where you can also read more about Jaden's new book, The Steamy Kitchen Cookbook, and the rave reviews it's received!