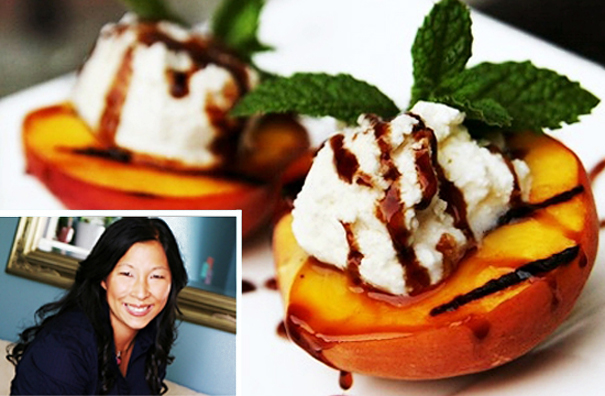 How well do you know your fellow Tasty Kitchen members?
Everyone, say hello to Alice, known here at Tasty Kitchen as savorysweetlife. She's shared some amazing recipes with all of us, ranging from, well, from savory to sweet. And sometimes, all those flavors are in the same dish, like the Grilled Peaches with Ricotta Cheese and Balsamic Reduction pictured above.
A quick look at her Tasty Kitchen profile will tell you that Alice was born in Seattle, where she also lives. Her musical tastes are varied, she loves chocolate and coffee, and loves to bake more than cook. But did you know that aside from her restaurant experience, she's also worked in 3D animation? That she's a stay-at-home mom with three adorable children, and that she bakes and decorates all of their birthday cakes?
It's those little bits of interesting, personal things that make us feel like we're truly starting to get to know each other. Which is important in a community. It's nice to know that the awesome member whose recipes always make you drool shares your secret love for crushed potato chips on top of her mac and cheese. (Yes, Alice does.) Or that time you left the stove on with a pot on a burner and ended up deforming your pot, leaving a nasty smell in your house? Yep, she's been there too. And she shares your pain.
Don't you feel better now?
So we're going to start regularly introducing you to your fellow Tasty Kitchen members, and give you a chance to learn more about them. We're hoping it will be a way for all of us to connect with each other in a more personal way.
Now, let's all get to know Alice! But first, how about a quick look at some of the treasures in her recipe box?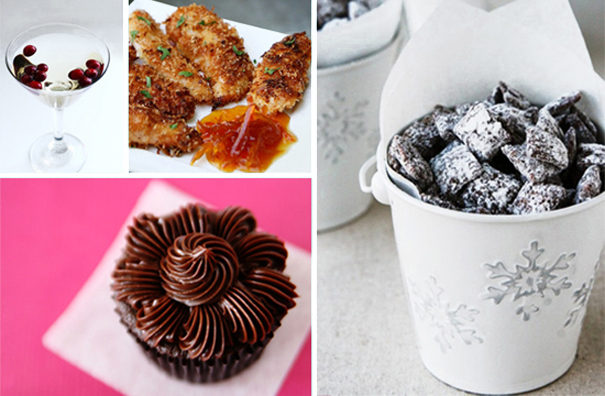 Clockwise, from top left: Absolut Pear Champagne Cocktail, Coconut Chicken Tenders with Honey Marmalade Dipping Sauce, Muddy Buddies, and Chocolate Ganache Recipe.


Q: First of all, what do you enjoy most about cooking?
A: I love when the people I cook for enjoy my food.

Q: So what's your go-to dish or meal?
A: Steak and mashed potatoes. We eat steak seasoned with just salt and pepper each week, with a nice helping of mashed potatoes on the side. I particularly like using London broil because it is very inexpensive, yet very tender if prepared correctly.

Q: Okay, what if you had to eat something right now, and had only 3 minutes to get it ready?
A: That'd be Glorified Top Ramen. I'd cook top ramen according to the package directions, drop an egg in there and top with green onions. Yummos!

Q: Give us one of your favorite kitchen tips that you wish you'd always known.
A: I wish someone would have told me that having a nice knife would make my life so much easier. I've always owned cheap knives; I invested in a couple of new ones which have made cooking more enjoyable.

Q: Complete the sentence: "I panic when I realize I'm out of …"
A: Chocolate!
_______________________________________

Thanks for answering our questions, Alice!
For more of Alice, her wonderful cooking and insightful writing, check out her awesome sites, Sweet Savory Life and Everyday Alice. And when you do, you may find out that Alice and her husband Rob just celebrated their 10th wedding anniversary. Happy anniversary!