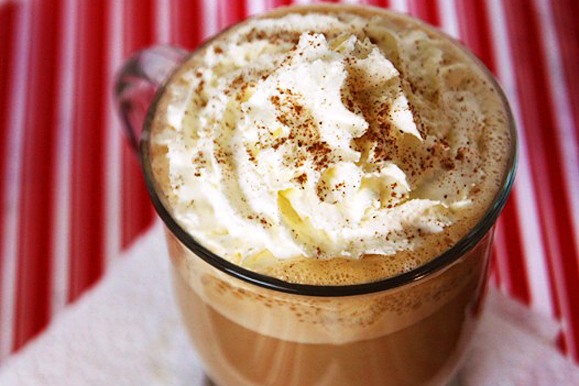 Around this time of the year, appetizers, gift trays or baskets, and meal plans get a lot of attention. Drinks? Sometimes they're an afterthought. Or sometimes we just default to the standard fare we get at the store. The planning that goes into it pretty much involves figuring out how many bags of ice to get, whether to use disposable glasses or risk possibly losing one or two pieces of our glassware, and where in the world did you stash that punch bowl that Aunt Martha gave you for your wedding.
Drinks just don't get the respect they deserve.
But we've got lots of wonderful drink recipes here. And I'm not just referring to the kind that can make you loopy if you've had too much. Lovely recipes for egg nog, coffee drinks that are off the hook, and some that combine both. Like Savory Sweet Life's offering above. It's a wonderful Eggnog Coffee Latte concoction that spreads happiness in your mouth as soon as you take that first sip. It warms you up inside out too, with or without the rum. It's excellent both ways. Trust me, I know of which I speaketh. (That's not a rum-induced lisp there, in case you were wondering.)
How about you? Do you have any special drink recipes that go beyond popping a can, uncorking a bottle or twisting off a cap? We'd love to hear your favorites!

Cheers,
Erika