I think when you hear "easy as pie" it's in reference to this pie—this very pie, French Coconut Pie, submitted by eastmemphismama. This pie is as easy as is it gets, and mighty, mighty good too. I mean real, real, good. Like "slap your pappy, call the news, hide in the closet to eat the whole thing, not caring that you have to run ten miles to work it off" kind of good.
And I did say easy, right? Easy as pie.
(I've never been known to be obnoxious. No, not me.)
Let's get started.
Begin with basic ingredients: beaten eggs, sugar, flaked coconut, melted butter, white vinegar, vanilla extract, salt, and a 9″ uncooked pie shell (I used a prepared frozen one from the grocery store—NOT deep dish). Be sure to check the recipe page for the full list of ingredient measurements.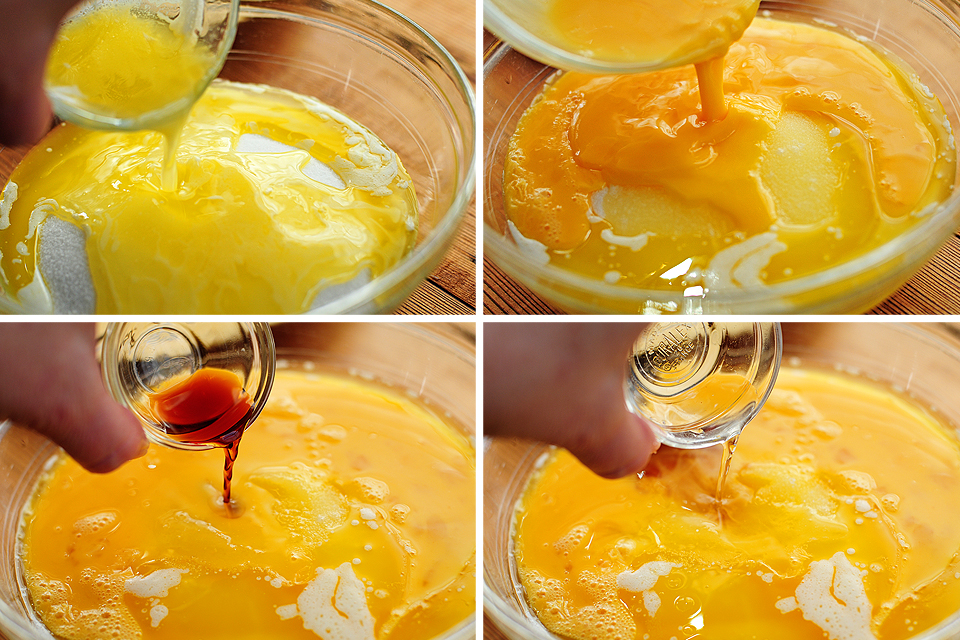 Grab a bowl large enough for mixing all the ingredients. To the sugar, add the melted butter, beaten eggs, white vinegar and vanilla extract. And don't forget the pinch of salt.
Then goes in the flaked coconut.
Mix all together well.
Don't think I didn't think about taking a large bite. The raw eggs stopped me.
Pour the pie filling into the unbaked prepared pie crust. Bake for an hour at 350°F. I placed the pie on a cookie sheet for baking to avoid any spillage or bubbling over.
How easy was that? Now you just have to wait.
For a whole hour.
Bake until golden brown. There's nothing quite like toasted coconut is there? Total yumminess.
Cool (if you can wait that long) and enjoy!
Many thanks to eastmemphismama for sharing this recipe with us all. My husband couldn't be more thankful.
Printable Recipe
Description
This is a recipe passed down to me from my great grandmother Pearl. I absolutely love this pie and I hope you do too!
Ingredients
3 whole Eggs, Beaten
1-½ cup Sugar
1 cup Flaked Coconut
1 stick Butter, Melted
1 Tablespoon White Vinegar
1 teaspoon Vanilla Extract
1 pinch Salt
1 whole 9" Uncooked Pie Shell
Preparation Instructions
Mix filling ingredients well and pour into the pie shell. Bake at 350F for 1 hour.


_______________________________________
Amy Johnson is a blogger who writes about food, travel, the home (both inside and out), and various observations and random musings about anything and everything. Visit her blog She Wears Many Hats for a dose of deliciousness, practicality, hilarity, or just plain fun. She lives in South Carolina with her husband and two children.