Note: The wonderful Alice strikes again, selecting a fantastic cookie recipe from among Tasty Kitchen's (almost) 20,000 recipes (wow!) and taking photos for us, step-by-step. These look so incredibly delicious.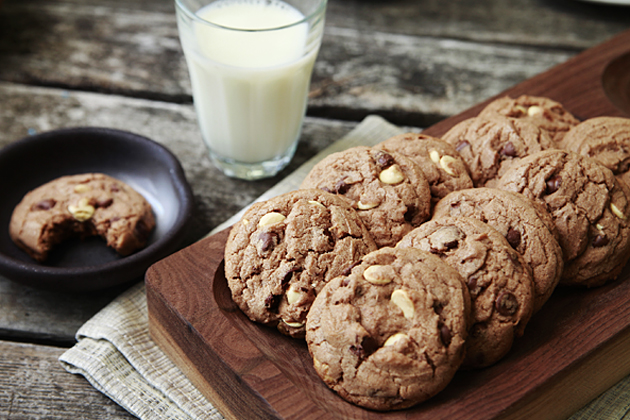 What exactly is a hot chocolate triple chocolate chip cookie? This cookie addict just had to find out! Browsing through all the delicious cookie recipes here on Tasty Kitchen, I was very intrigued by this creative adaptation for the traditional chocolate chip cookies. Not only does it use pre-made hot chocolate packets, it also uses three different types of chocolate chips. Now you're speaking my love language.
Tasty Kitchen member, Alison Anderson, is the genius behind this great cookie. When you bite into the cookie, it tastes exactly like hot chocolate and a chocolate chip cookies. This is a fusion of the very best kind! So let's get started.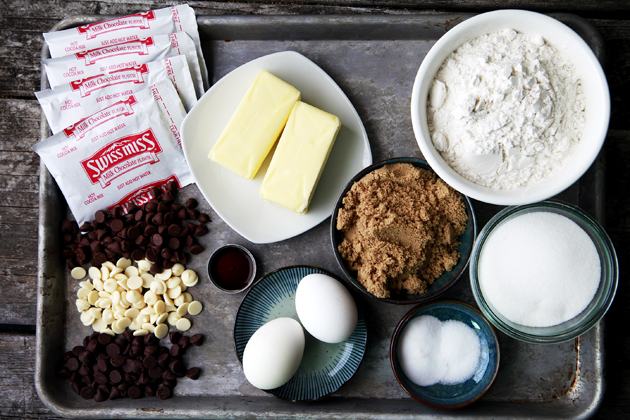 You will need butter, white and brown sugar, vanilla extract, eggs, hot chocolate packets, flour, baking soda, salt, and three types of chocolate chips: milk, semi-sweet, and white.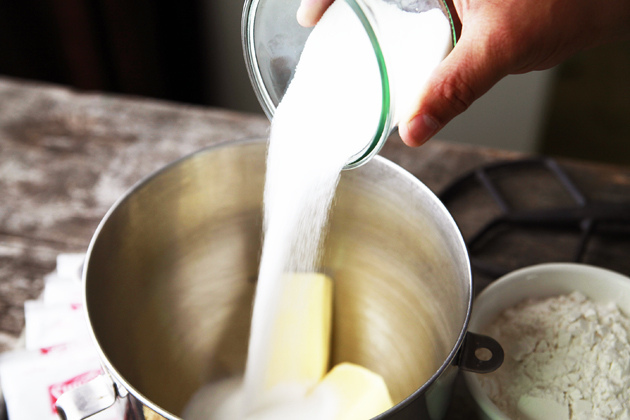 Cream the butter and sugars.
What you're looking for is a nice and light texture. Typically when you begin to cream butter and sugar together, the mixture is very dense.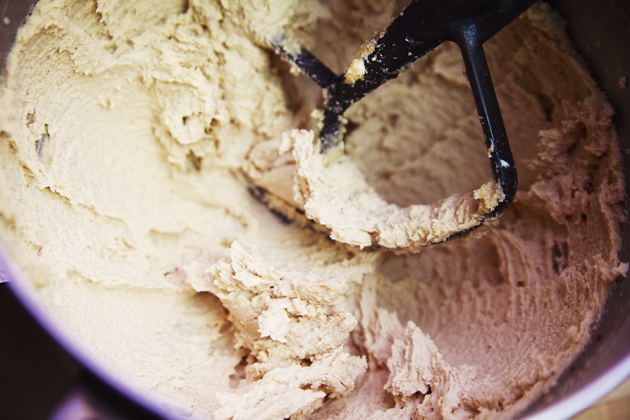 By beating them for a few minutes longer the dense mass transforms itself into a frosting-like (light and fluffy) texture.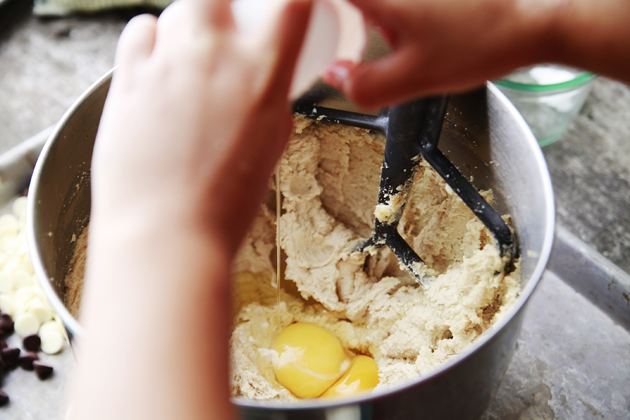 Add eggs and vanilla making sure to scrape down the sides of the bowl. Mix until it is well combined. The recipe calls for mixing all the dry ingredients into a bowl before adding it to the wet ingredients.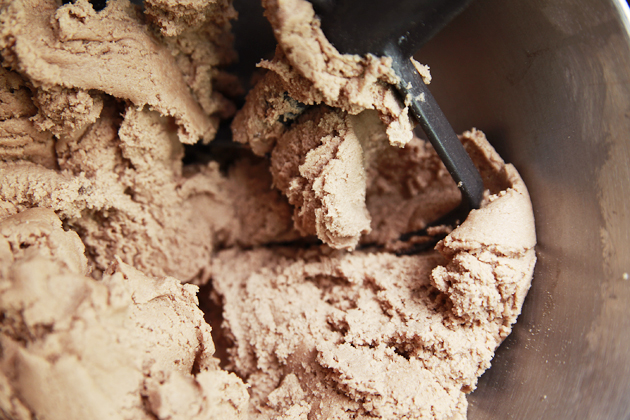 The mixture should resemble chocolate ice cream in color and visually.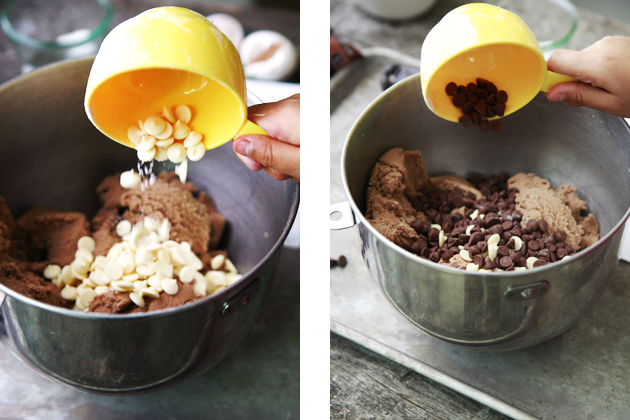 Add chocolate chips and slowly mix them in. If you have kids they will love helping with this part because they will steal chocolate chips when you're not looking. Go ahead and let them have fun. This is the only time I will advocate stealing anything. We're talking about chocolate here—I get it.
The recipe calls for chilling the dough for an hour. I allowed mine to chill for a little bit shorter. Chilling dough helps for a few reasons. It gives the ingredients time to come together, makes for an easier time for scooping, and also helps retain its shape when baking.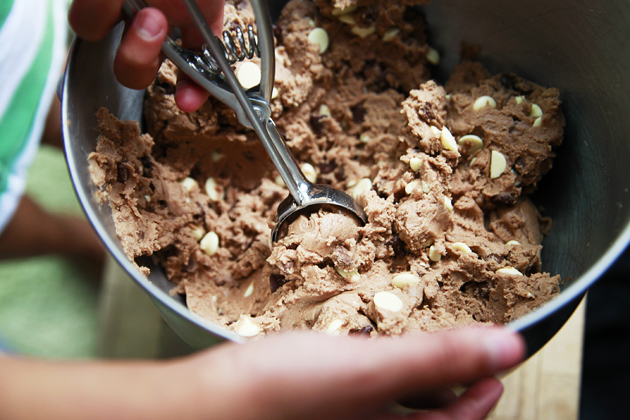 When I bake cookies I always use a cookie scoop to form uniform dough balls. It helps for the cookies to be the same size. This way my kids don't complain that the other one got a bigger one. If you want to avoid the 'Mom, Suzie got a bigger cookie than I did!' battle, do yourself a huge favor and invest in a cookie scoop. They are very inexpensive and will become one of your most valuable kitchen tools—I promise.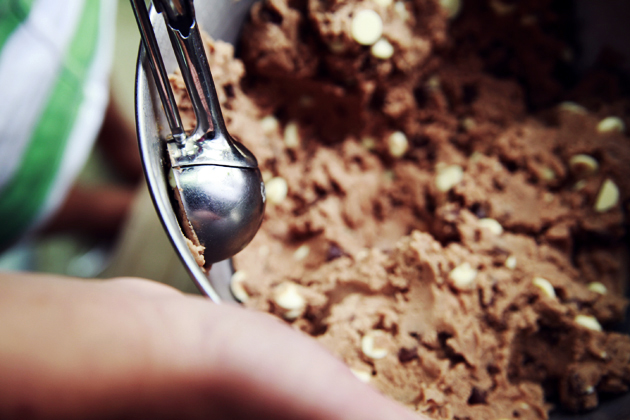 The key to scooping uniformed dough balls is to make sure the scoop is packed with dough.
Like this!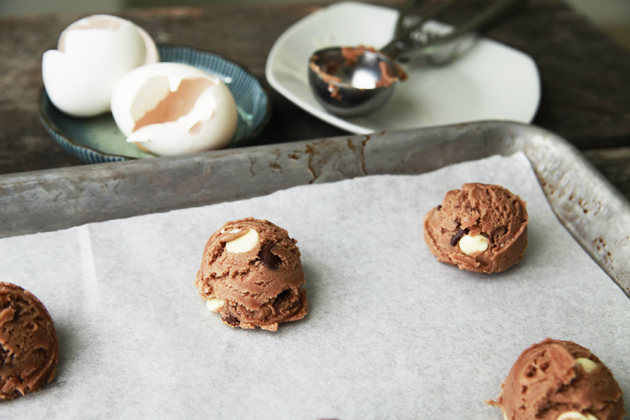 Be sure to scrape the scoop alongside your mixing bowl so any excess dough is removed.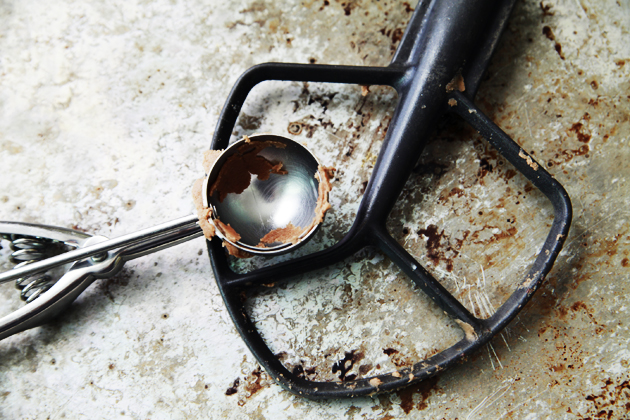 Feel free to lick and eat the batter of the beater and the scoop. It's a baker's reward.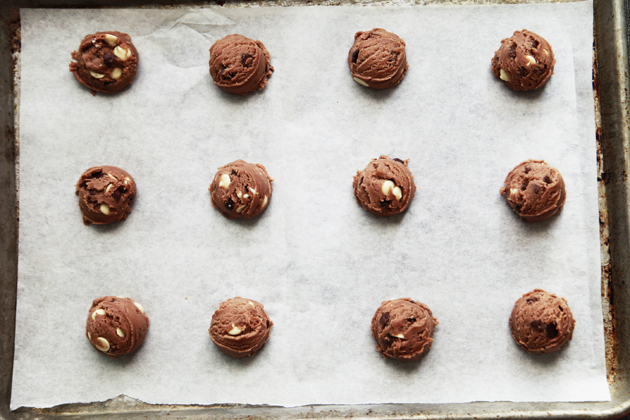 Bake cookies 9-11 minutes or until golden brown. Some ovens may take longer so be sure to check after the recommended times. Mine took 13 minutes.
And make sure you have a glass of milk ready when they come out of the oven.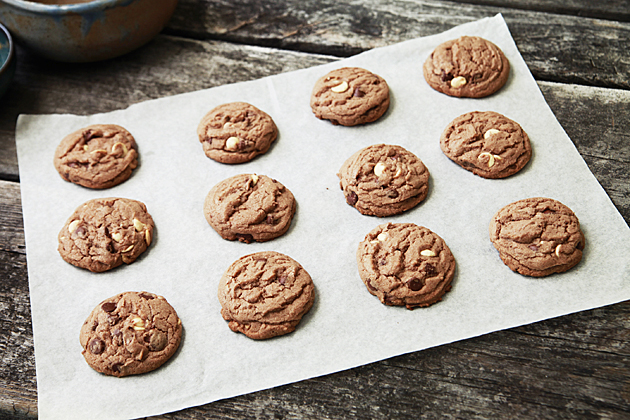 Enjoy!
This recipe makes a lot of cookies. I cannot tell you an exact amount because I chose to freeze some of my cookie dough for a rainy day, but I'm guessing it probably makes about 4 dozen.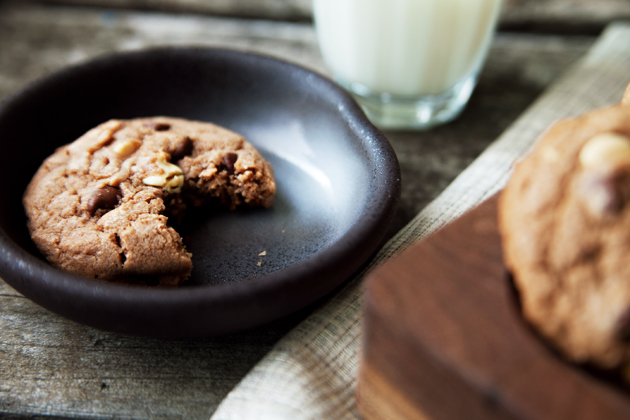 Just for fun, I suggest adding a teaspoon of cinnamon or an additional ½ teaspoon of sea salt. The cinnamon would make it more like a Mexican hot chocolate and the hint of sea salt adds is nice because it offsets all the sweetness from the chocolate.
Thanks, Alison. My kids loved your cookie recipe!
Printable Recipe
See post on elimaxandlela's site!
Description
I decided to see what happens if you add hot chocolate mix to cookie batter. AMAZING things, that's what.
Ingredients
2 sticks Salted Butter, At Room Temperature
1 cup White Granulated Sugar (I Like Baker's)
⅔ cups Packed Light Brown Sugar
2 whole Large Eggs
1 teaspoon Pure Vanilla
3-¼ cups All-purpose Flour
4 packages (1 Oz. Packets, NOT Sugar-free) Hot Chocolate Mix
1 teaspoon Salt
1-¼ teaspoon Baking Soda
1 cup Each White, Milk, And Semi-sweet Chocolate Chips
Preparation Instructions
Heat oven to 350 degrees F. Cream butter and sugars until smooth. Beat in eggs and vanilla until combined. In a separate bowl, combine flour, hot chocolate mix, salt and baking soda. Add to wet ingredients in 3 to 4 parts, making sure all is incorporated. Fold in chips. Chill the dough for an hour or so. Use a 1/4 cup as a scoop to scoop dough onto baking sheets lined with parchment paper. Bake for 9-11 minutes or until edges are golden brown. Let cool for 5 minutes before removing from pan.


_______________________________________
Alice Currah is the force behind Sweet Savory Life and Everyday Alice. She and her husband Rob are the proud parents of three children: Abbi, Mimi, and Elli. Alice is the winner of Saveur's Cover Contest and is on the Forbes.com list of Eight of The Very Best Food Bloggers. She's also a weekly writer for PBS Parents' Kitchen Explorers. She's the best-est.