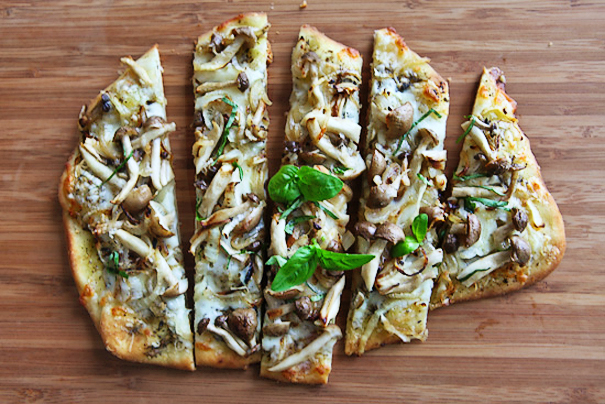 Restaurant chains like California Pizza Kitchen or Wolfgang Puck's make a killing out of gourmet pizza creations, and it is pretty fun to explore different flavor combinations that veer off the standard pepperoni and cheese combo. The problem is, most of these gourmet pizza creations are not by the slice. So, if you've got a family of four, you're pretty much stuck with ordering just one or two … and most likely if you've got a husband like mine, one of them is bound to be sausage and pepperoni.
Instead of going out to eat pizza, we have pizza parties at home. I know many of you love to make your own pizza dough; sometimes when you're pinched for time or are lazy (me), another alternative is to buy pre-made flatbreads or naan bread. The naan flatbread is personally my favorite. It's got that nice satisfying chew similar to pizza crust.
I'll lay out an entire table full of aspiring pizza toppings, and each person can make their own mini pizza. The kids have a blast assembling their own me!me!mine!domyself! dinner (are your kids in that stage too?).
My husband … well … he's forced to go all wild and crazy with artisan pepperoni and chicken-apple sausage. What a good sport—he plays along anyway—but I know he's thinking: "Meat. Woman. Just want plain meat."
So I wanted to throw out a few global pizza ideas for toppings. All of them start with flatbread brushed with olive oil all over, which is then baked in the oven for 7-10 minutes at 400F.

Japanese (photo above)
Sauté a combo of thinly sliced shallots and Japanese mushrooms, like enoki, white beech, shiitake, or king trumpet with a little butter and a touch of soy sauce. Assemble the pizza with a base of shredded cheese and then sauteed mushrooms. Bake and then sprinkle julienned shiso leaf (or a basil/mint combo) on top. Shiso is a Japanese fresh herb also known as perilla.

Thai
Saute chicken breast strips with a bit of soy sauce and honey. Assemble the pizza with cheese of choice, then chicken. Bake and top with chopped peanuts, crunchy fresh bean sprouts and fresh cilantro.

Moroccan
Brush a thin layer of harissa sauce (a Moroccan red pepper sauce that you can find at gourmet markets) and cheese of choice. Add whole roasted garlic, olives, sliced red bell peppers and maybe sliced dried apricots that have been rehydrated in warm water (and drained). Bake.

Argentinean
Hmmm … how about sauté sausage with bell peppers and onions, then assemble the pizza with cheese, followed by the sausage/peppers. Bake and before serving, drizzle just a bit of chimichurri sauce on top.

Tell me more! I want to hear your global pizza ideas!

Here's a list of countries. GO!


_______________________________________
Jaden Hair is a food writer, television personality, and food photographer based in Tampa Bay, Florida. Find more of her recipes in her blog, Steamy Kitchen, where you can also read more about Jaden's new book, The Steamy Kitchen Cookbook, and the rave reviews it's received!