Prep Time
Cook Time
Servings 16
Difficulty Easy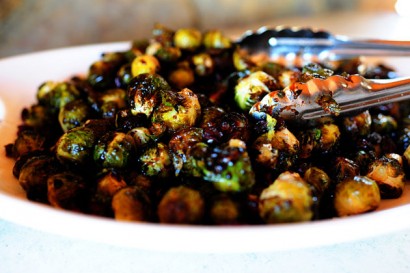 Ingredients
3 pounds Brussels Sprouts
½ cups Olive Oil
Salt And Pepper
1 cup Balsamic Vinegar
½ cups Sugar
1 cup Dried Cranberries
Preparation Instructions
Trim/clean Brussels sprouts, then cut them in half if desired (or you can leave them whole). Arrange on two baking sheets and toss with olive oil. Sprinkle with plenty of salt and pepper and roast at 375 degrees for 25 to 30 minutes, or until brown.
Combine balsamic vinegar and sugar in a saucepan. Bring to a boil, then reduce heat to medium-low and reduce until very thick, about 15 to 20 minutes.
Drizzle the balsamic reduction over the roasted sprouts, then sprinkle on dried cranberries. Toss and serve immediately.